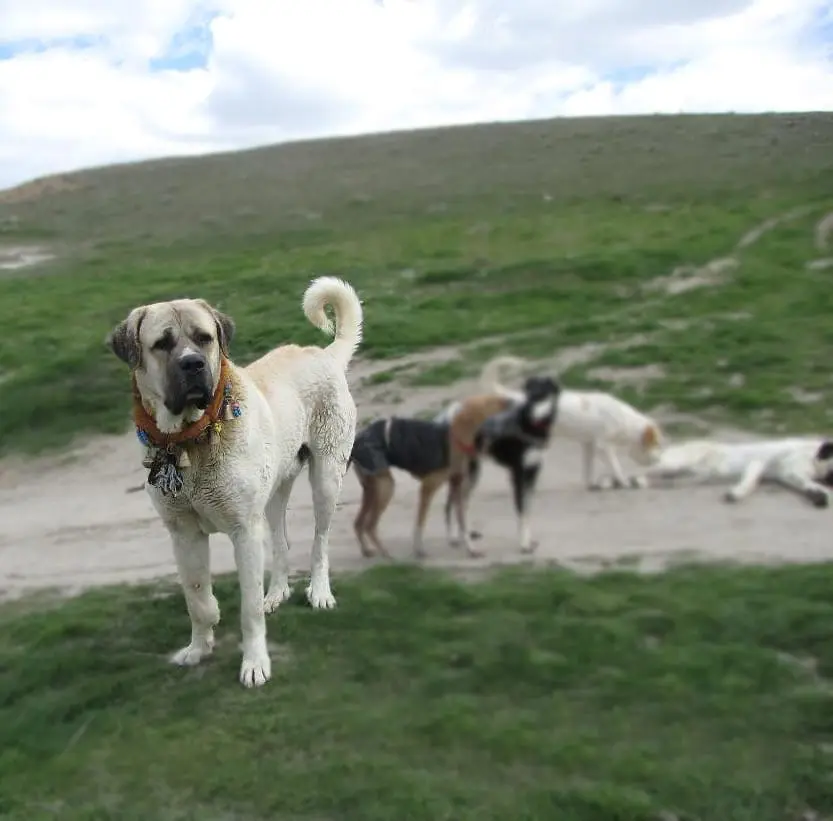 Historia qualified Aksaray
Sheepdog from Turkey, was developed in the province of Aksaray, an of the 81 provinces Turkey. The provincial capital is the city of Aksaray, Hence the name of the race. While his name is Aksaray, the breed spread throughout the area which comprise the borders of its neighboring provinces. It borders the provinces of Konya the south and west, Nigde to the south east, Nevsehir east and Kirsehir to the North.
It is a dog cowherd. Cattle has been the most important source of livelihood of the natives for centuries, then there were many herds of sheep and cattle in general, and these beautiful dogs were dedicated to the protection and guard flocks together with their owners, from time immemorial.
The Aksaray Malakli, "in the native region often was called"Kangal Shepherd Dog", why call it that is was not because Aksaray (City) and its surroundings in the heart of Anatolia but because being very similar to race Kangal Shepherd Dog (known as Karabash in the area), many breeders to sell to farmers interested in copies of Kangal Shepherd Dog, prospective buyers said it was not that race and Aksaray Malakli.
I.e., for many years you were selling dogs Aksaray Malakli They are saying they were of the race Kangal Shepherd Dog.
But this custom was reaching everyone's ear and things changed, they began to regulate breeding programs and hardened the requirements in the show ring, Since many breeders make claims.
These claims began to be taken into account, especially since while retaining some resemblance there are obvious differences in head and big feet Aksaray Malakli and hanging lips.
Physical characteristics Aksaray Malakli
They are big dogs, bulky, at first glance seems to be lazy, but in reality they are very agile and fast. The male measured 75 - 95 cm de altura a la cruz y las hembras de 53 a 66 cm.. The weight should be proportional to the size and bone structure. In general, the weight varies from 20,5 a 31,75 kg. Males are usually larger and heavier than females bones. 65 - 85 cm.. The males they weigh in 70 - 120 kg and females of 50 - 80 kg.
Its fur It has a double layer. Like all dogs of this geographic region, they need a fur enabling them to withstand the temperatures and extreme climates in the area. The colors supported are several: Brown and wheat, yellow.
unique dog, accustomed to think and act for himself, has strong character. He did not hesitate to attack if he sees part of his flock is in danger (among the herd be family, children, Propiedades…). It´s suspicious with strangers.
According to bibliographic sources, and comments on forums, It is a very dog territorial . They can often be aggressive with other dogs, that may be the most ruthless legacy of the human. This breed of dog was used almost, exclusively, for dogfighting Perhaps that is the reason for his fame dog "aggressive".
1.

Central Anatolian shepherd, Aksaray Malaklısı, Turkish mastiff

(English).
2.

Aksaray Malaklisi, mastife turco, Malakli

(Portuguese).
3.

Mastiff d'Anatolie, Malaklı, Mastiff turc

(French).
4.

Aksaray Malaklısı, Türk Mastifi (Türkischer Mastiff), Malaklı

(German).
5.

Mastín turco, Aksaray Malaklısı, Pastor de Anatolia Central

(Spanish).