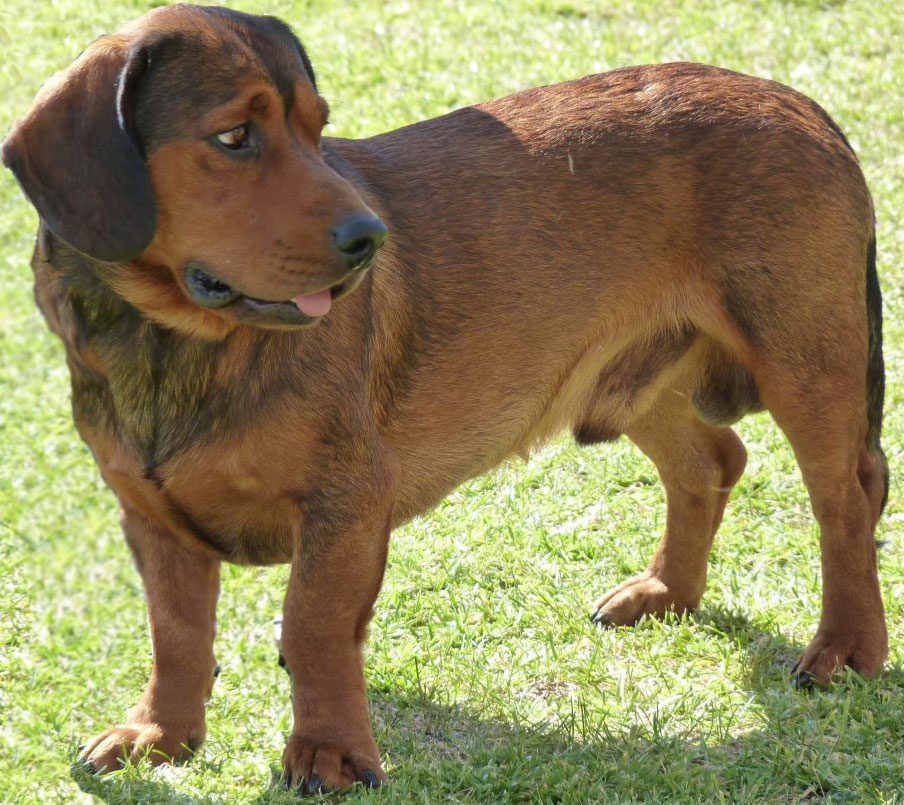 The Alpine Dachsbracke (the German, Alpenländische Dachsbracke) is a small breed of dog Hound, originally from Austria. The Alpine Dachsbracke was raised to help in the hunt following the trail of injured prey (Deer, wild boar, hares and foxes). It is very efficient following traces, even though the dam has cooled down.
The Alpine Dachsbracke, like the other Basset, Since the 19th century. It used to be one of the favorite breeds of German royalty. During the Decade of 1880, Alpine Dachsbracke, He accompanied the Crown Prince Rudolf of Habsburg on hunting trips to Egypt and Turkey.
The Federation Cynologique Internationale It recognizes the Alpine Dachsbracke in the Group 6 hounds, Section 2 "hounds Leash" with the Bavarian mountain Hound (Bayrischer Gebirgsschweisshund, NO. 217) and the Hanover Hound (Hannover ' scher Schweisshund, NO. 213).
A race is quite unknown outside Austria.
Otros nombres:
Alpenländische Dachsbracke / Alpine Dachsbracke / Basset des Alpes / Perro Tejonero Alpino
Group 6 / Section 2 – Trail dogs
This little dog has a slight resemblance to a Dachshund, by long body and short legs. The pelage is dense, short, but smooth except for the tail and neck. The round eyes with lively expression. The Alpine Dachsbracke in a dog very robust, visibly strong and has a large bone structure.
[stextbox id="info" float="true" width ="340″]The Alpine Dachsbracke weighs in 15 to 18 kg and measures of 34 to 42 cm in height to the cross. Often compared to the Dachshund, they are very similar in appearance.
Common fur colors are:
Dark red (or reddish brown), with or without black hair - slightly- interleaved.
Black with reddish brown on the brand, in the head, on the chest, legs and tail. Also, they may have a White Star on the chest (According to the American Rare Breed Association standard).
It is not very common to have them as pets, because they are - especially- Hunting dogs.. It is used to track wounded deer, this breed could work even in difficult terrain and high altitude.
It is a good companion, a great Hunter in General, those who tend to have this dog are hunters. It has a bold personality, friendly and intelligent.
The Alpine Dachsbracke are excellent with children and good with other dogs and pets, in general.
Images Alpine Dachsbracke
Vídeos Alpine Dachsbracke