The puppy suffered traumatic head injury, trauma to the chest causing fractures of the ribs and damage to the lungs
The next 21 September will declare as charged a man for beating with a stick a puppy of only three months of age which caused the loss of an eye. After the instruction of the Civil Guard in El Espinar, the Court No. 5 Segovia opened criminal proceedings for an alleged crime of mistreatment of animals, in a case in which the refuge claimed as private prosecution, According to a release of this organization.
The events occurred the 8 April, When the refuge received a call from the Guardia Civil of El Espinar and the Local police of San Rafael requesting help in rescuing a dog who had allegedly received a brutal beating and was seriously injured in the bus station in San Rafael.
The protectionist organization volunteers moved immediately to the scene and found a hound puppy, about three months of age, with serious injuries on the head and a large wound on one of his eyes. 'Bus', What is called the dog, He was transferred to veterinary Center shelter emergency, where he was stabilized and confirmed his serious injuries, among others the loss of the right eye, acute traumatic brain injury and trauma to the chest causing fractures of the ribs and damage to the lungs.
Man who acknowledges having beaten bus shall declare as accused and facing an alleged crime of animal abuse. Now 'Bus', Despite the loss of the eye, He is completely recovered and expects to find a family to take, said the President of the refuge, Nacho Paunero. The protectionist organization is immersed in more of 150 criminal proceedings, Civil and administrative in different autonomous communities.
NOTICE: THE IMAGES CAN HURT YOUR SENSITIVITY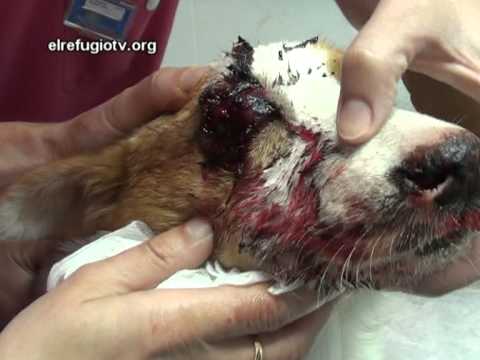 Source: elnortedecastilla
Photos: elrefugio.org