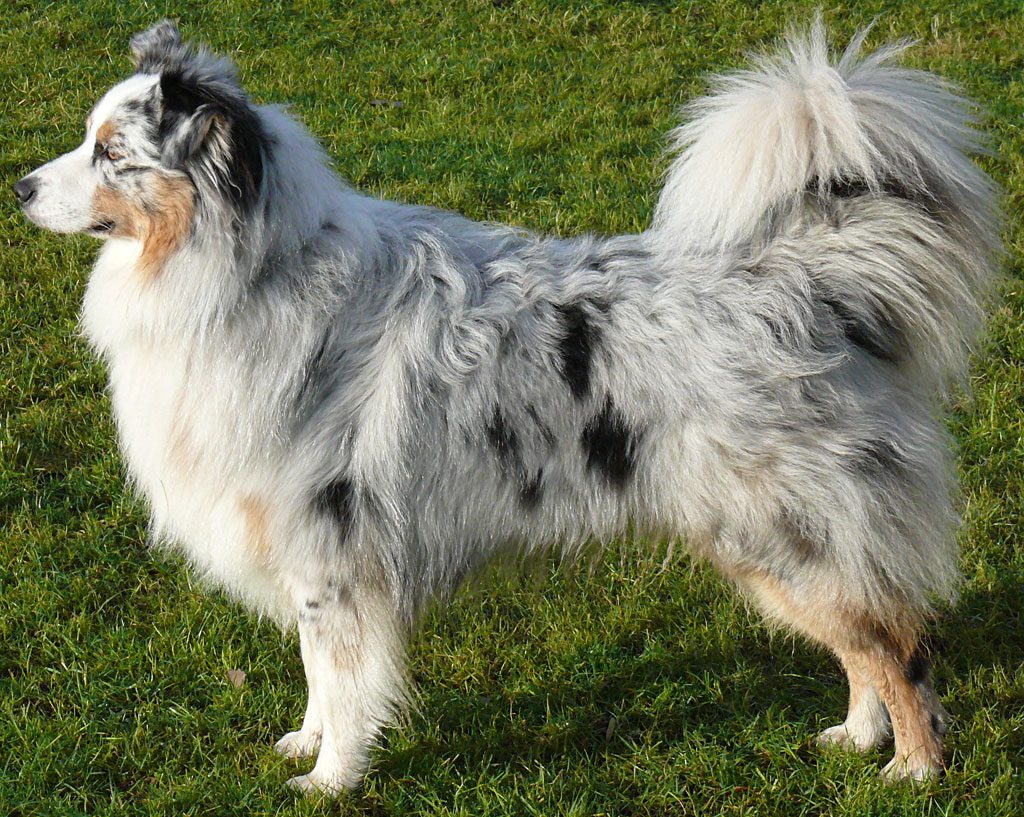 The Australian Shepherd It is a breed of dog of grazing which has developed on ranches in the West of United States. Despite its name, the race, commonly known as the Australian Shepherd, did not originate in Australia.
It acquired its name because some of the dogs, Australian Shepherds arrived in United States with shipments of Australian sheep.
Race gradually rose in popularity with the rise of the riding following the first world war western.
For many years, the Australian Shepherd, has been dog valued by farmers for its versatility and capacity of training inherent.
The race has gained recognition, with its training capacity and the desire to please, and are highly respected for his skills in obedience.
Became known to the public in general through rodeos, horse shows, already through Disney movies made for television.
The Australian Shepherd is a dog of medium-sized and solid construction, known for its natural 'bob' or amputated tail. He is an active breed of grazing, generally very good with pets and other well-known people, but they can be reserved with strangers. They are not a fair race, tender, I prefer the company of their owners.
Its mantle is double layer, and the colors are black, red (sometimes called the liver), tricolor (black marble, White and grey), and the Red merle (red marble, White and beige), each of these colors may also have copper and / or white spots in various combinations in the face, the chest and legs.
The wide variety of color combinations comes from the interaction between the color of one allele, that is recessive, dominant or red black color, and the dominant allele marble. Together, They provide the color of the fur, and they can appear in any combination:
Black, with spot color fire and / or white markings on the face, neck, legs, chest, belly. Copies of a black are equally valid as the Tan and / or white.

Red (liver), with or without points bronze and / or white markings on the face, neck, legs, chest, belly. White or Brown points are required.

Blue Merle (a mottled patchwork of black and grey) with or without stain color fire and / or white markings on the face, neck, legs, chest, belly.

Red Merle (a variegated mosaic of the cream and the Red of the liver) with or without stain color fire and / or white markings on the face, neck, legs, chest, belly.
There is also great variety in the color of the eyes the Australian Shepherd, they can be of any color or shade of brown or blue, You can have two different colored eyes, or even having "eyes split" or bicoloured (for example, Brown half, Blue half).
The race is usually is highly energetic, they require a large amount of exercise, education and care. The Australian Shepherd is playful, that is why it is good that training included days of games.
Like all races work, the Australian Shepherd has considerable energy you need to spend, therefore, need a job to do. Often stands in canine sports, such as agility, the Flyball and the Frisbee . Also, are good as rescue dogs, disaster dogs, detection dogs, Guide, service and therapy dogs.
They are very loyal to their owners, and they are grateful when they receive a good deal, and love. Because the breed was developed to serve at the ranch, a work that includes being protective of its property, usually always alert and slope of the movements of the environment.
The Australian Shepherd, is a dog Intelligent, learn quickly and loves to play. It is important to who has the responsibility for having a dog as well, values that detail, because if you do not receive the necessary daily exercise, When they get bored they can become very destructive.
They require a minimum of 2 or 3 hours to the day of play, exercise and attention. They need space to run and play, If living in an urban environment.
It is a hardy breed that, It can live in a wide variety of terrain. For this reason they are a very popular choice for Trail dogs and working dogs.
Imágenes del Pastor Australiano
Videos del Pastor Australiano
Otros nombres: Aussie / Little Blue Dog Australian / Shepherd
Group 1 / Section 1 – Shepherd dogs
Dogs breeds: Australian Shepherd