The Caucasian Shepherd Dog It is a healthy animal and stable temperament.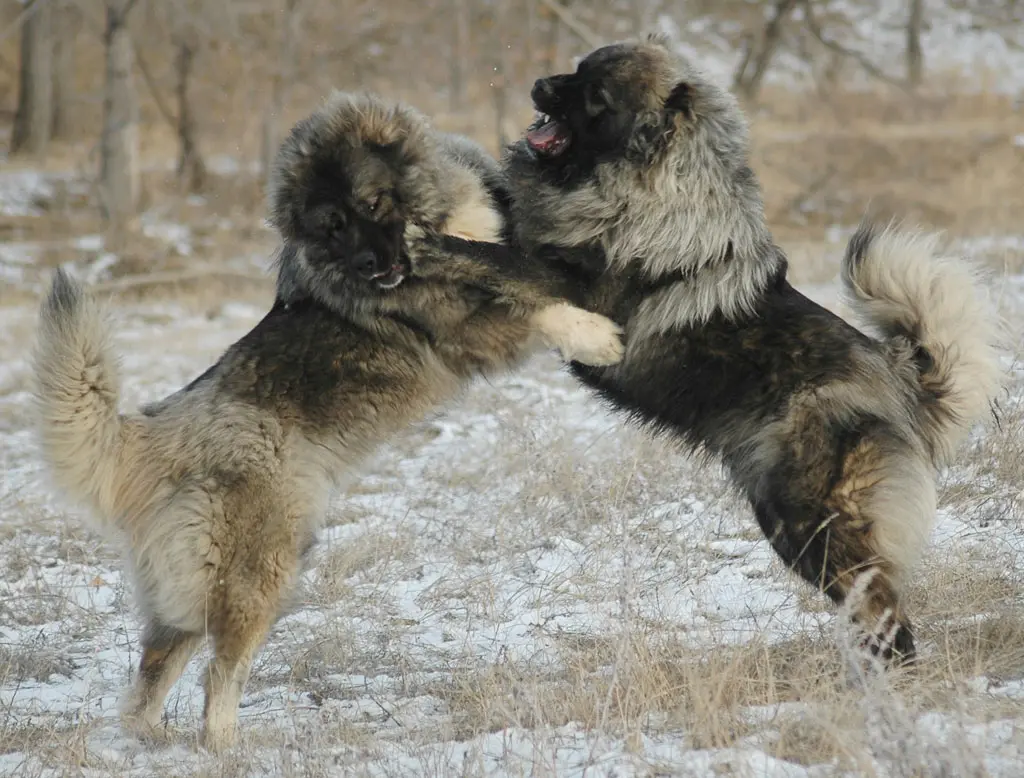 Characteristics "Caucasian Shepherd Dog"
Coexistence is important that you have with your new friend. Before considering the acquisition of a dog of the breed "Caucasian Shepherd Dog" you know certain factors. Not all breeds of dogs are apt to live in an apartment, you must take into account his character, their need for exercise, their interaction with other pets, their care and if you have small children, their level of tolerance towards them.
Adaptation ⓘ

4 out of 5 stars (based on 1 review)

friendly dog ​​ⓘ

2 out of 5 stars (based on 1 review)

hair loss ⓘ

3 out of 5 stars (based on 1 review)

Affection level ⓘ

4 out of 5 stars (based on 1 review)

Need for exercise ⓘ

2 out of 5 stars (based on 1 review)

Social need ⓘ

2 out of 5 stars (based on 1 review)

Home ⓘ

2 out of 5 stars (based on 1 review)

Toilet ⓘ

2 out of 5 stars (based on 1 review)

Friendly with strangers ⓘ

2 out of 5 stars (based on 1 review)

barking ⓘ

3 out of 5 stars (based on 1 review)

Health ⓘ

2 out of 5 stars (based on 1 review)

Territorial ⓘ

5 out of 5 stars (based on 1 review)

Cat friendly ⓘ

3 out of 5 stars (based on 1 review)

Intelligence ⓘ

3 out of 5 stars (based on 1 review)

Versatility ⓘ

2 out of 5 stars (based on 1 review)

Child friendly ⓘ

3 out of 5 stars (based on 1 review)

Surveillance ⓘ

3 out of 5 stars (based on 1 review)

joy ⓘ

5 out of 5 stars (based on 1 review)
History "Caucasian Shepherd Dog"
One Caucasian Shepherd Dog it is a large and very strong sheepdog that is very widespread in Russia. In the official standard it is called Kavkazskaya ovčarka. The Caucasian Shepherd Dog they spread over a huge area, which includes the territory of Russia as well as the former Soviet Union. Only in the polar areas you can hardly see. In his homeland., theCaucasian Shepherd Dog are, therefore, quite different in detail and different types have been developed. In the steppe areas this breed is lighter and taller, in mountainous regions heavier and more compact. But in type and character it is the same everywhere. This is the result of your work task, which was and is the only criterion for breeding there for many centuries. At the end, the same requirements resulted in the same dogs. Their tasks are to herd and protect the herds, monitor and protect property and its people. They are archaic dogs, they probably came into existence in this form with the introduction of animal husbandry in the first place, and that was a few 10.000 years.
You can't fool a Caucasian Shepherd Dog. Has a clear understanding of their role. Typically, lies down in a high place next to his flock, to be able to observe everything around him. Her flock, their shepherds, his family and his properties are sacred to him. He is faithful and lovingly devoted to them. He is suspicious of everything else and does not hesitate to attack any sign that he interprets as hostile. It is extremely defensive and fearlessly opposes even wolves and bears. In this way it has protected the herds of cattle and the lonely properties of the shepherds, farmers, hostels, artisans and merchants from time immemorial. This extremely useful feature, even necessary for the functioning of such a society in the vast and lonely country, does not fit into today's tight and hectic society. There is hardly a piece of land large enough to provide the dog with Caucasian Shepherd Dog a workspace. He is used to other scales of the vastness of Russia.
It also, the zeitgeist in today's world demonizes all forms of aggression emanating from a dog. While it only takes one or two generations, larger property owners were proud that their dog was reliable and, in case of emergency, acute, I would fearlessly chase away a thief, such a feature is potentially life-threatening for today's dog. You risk being classified as a "dangerous dog" and in extreme cases euthanasia. This is not an environment for a Caucasian Shepherd Dog. And so you can find it almost everywhere on the lists of supposedly dangerous dogs. It is an archetype of dog to which man owes a lot in his development. As a dog breed it has been described for a long time and in the oldest specialized books on dogs. But, in modern pedigree dog breeding, it was only officially recognized by the FCI in August 1984.
Physical characteristics "Caucasian Shepherd Dog"
The Caucasian Shepherd Dog is a dog of harmonious structure, big and strong with plenty of bone and a powerful muscular system and a somewhat rectangular format. Well pronounced sexual dimorphism.
Males are masculine with a well-developed cross and a larger head compared to that of females. This is why they are more massive, bigger and sometimes their body is shorter than that of the females.
In dogs with a longer coat variety, the male has a distinguished mane.
Size and weight:
Height to the cross:
Males: Desired height 72 – 75 cm.. Minimum 68 cm..
females: Desired height 67 – 70 cm.. Minimum 64 cm..
Higher heights are accepted as long as the conformation is harmonic.
Weight:
Males: Minimum 50 Kg
females: Minimum 45 Kg.
Character and skills "Caucasian Shepherd Dog"
The Caucasian Shepherd Dog is a guardian and protector. The official standard classifies your character qualities unequivocally: "It must be strong, balanced and calm with a well-developed defensive reaction, which is actively expressed. Sharpness and mistrust of strangers are typical". And Caucasian Shepherd Dog is generally incompatible with other dogs! These traits, especially with a big and very strong dog that claims a large territory, are hardly compatible with the social conditions of today's world. It is a great experience to be able to form a close bond with a dog like this.. This also allows you to experience a completely different side of the dog than Caucasian Shepherd Dog, that of an extremely loving friend, loyal and affectionate. But, if one does not have the space and financial means to offer them in our latitudes an environment appropriate to their nature, this will hardly be possible.
Fitness
The Caucasian Shepherd Dog he is extremely undemanding in his attitude, if the general conditions already mentioned are ignored. One Caucasian Shepherd Dog does not need heating, toys or a harness on a leash. This breed is undemanding in its nutrition. That also applies to your accommodation.. You can spend the whole year outside without problems, if you want to spend the whole year abroad – as long as there is a suitable place to hide and "suitable" means here decidedly neither kennel nor even chain. Must be able to move in your territory. One Caucasian Shepherd Dog you accept, it even sensitively protects all the two- and four-legged friends it sees as belonging to its pack or family. But you need a clear boss. At first he is suspicious or even hostile towards everyone else.
Close relationship and competent guidance is required to walk on this dog's leash., which is definitely always stronger, and then be able to seamlessly move on to an aggressively barking terrier. it's possible, but it requires serious upbringing, a good socialization and an experienced teacher or lover, competent and very sensitive and at the same time thorough. The Caucasian Shepherd Dog is widely on the dangerous dog lists. It is forbidden to travel to the Netherlands or Denmark, since there is a risk that the dog will be confiscated on the streets and euthanized. One Caucasian Shepherd Dog not much of a beginner dog. That would even be irresponsible. Even from the hand of an experienced connoisseur, it requires in any case the basic external conditions for an attitude appropriate to its nature.
Education "Caucasian Shepherd Dog"
Raising a Caucasian Shepherd Dog in today's social conditions it is a very special challenge, only proven experts can master with the right framework conditions.
Care and health "Caucasian Shepherd Dog"
The Caucasian Shepherd Dog it has a double layer composed of a bottom layer and a top layer. The inner layer is soft and fine, while the outer coat hairs are long and thick. (The coat of a Caucasian Shepherd Dog It should never feel smooth or appear wavy.) Regarding the length, the coat can be long, medium or short. Dogs with long fur have a mane that surrounds their necks, as well as extensive plumage on the hind legs and tail, that looks thick and fluffy. Dogs with medium length fur do not have as much mane, and they have fewer feathers on the rest of the body. A short coat, the least common type, has no mane or fringe. Twice a year, when you change your coat, you have to brush it well.
Dogs of this breed enjoy very robust health.
Nutrition / Food
The Caucasian Shepherd Dog does not demand anything from your diet. Probably one of the dogs with less demands in this regard.
Life expectancy "Caucasian Shepherd Dog"
In relation to its size, a Caucasian Shepherd Dog has a very high life expectancy of 12 and sometimes more years.
For sale "Caucasian Shepherd Dog"
The purchase of a Caucasian Shepherd Dog it should only be considered by experts who know exactly what they do, who have the appropriate experience and who have the appropriate rearing conditions. The puppies of this breed of dog cost around 1.000 EUR.
Images "Caucasian Shepherd Dog"
Videos "Caucasian Shepherd Dog"
FCI CLASSIFICATION: 328
Group 2: Pinscher and Schnauzer - Molossoid and Swiss Mountain and Cattledogs
Section 2: Molossoid - 2.2 Molossoid, mountain type. Without working trial.
Federations:
– FCI – Pinscher and Schnauzer-Molossoid type dogs – Swiss Mountain Dogs and Cattledogs. Section 2.2 Molossoid, mountain type.

ⓘ

– AKC – FSS (Foundation Stock Service)

ⓘ

– UKC – Watchdog

ⓘ
FCI breed standard "Caucasian Shepherd Dog"
FCI -

Caucasian Shepherd Dog
1.

Nagazi, Caucasian Mountain Dog, Caucasian Ovcharka

(English).
2.

kavkazskaïa ovtcharka

(French).
3.

Kaukasischer Owtscharka, Kawkasskaja Owtscharka

(German).
4.

mastim-do-cáucaso, Pastor-caucasiano, Ovcharka caucasiano, Mastim do cáucaso, Cão montanhês caucasiano, Cão-urso-russo

(Portuguese).
5.

Pastor caucásico, Mastín del Cáucaso, Perro de montaña del Cáucaso, Perro Pastor caucásico

(español).