The Congenital heart disease in the dogs they are malformations of the heart or great vessels. The injuries that characterize the congenital heart defects present at birth and can develop more thoroughly during the perinatal period and the growth.
Many birth defects of the heart, It is believed, They are transmitted genetically … Read the rest
One of the most critical responsibilities for persons engaged in the care and protection of animals is to provide the most humane death possible for pets when euthanasia is needed. The term euthanasia comes from the Greek meaning good death. In order to be considered … Read the rest
The Hip Dysplasia It consists of a defective development of the articulation between the hip and femur, usually due to genetic causes, common in medium and large size dogs.
No one can predict when or even if a Dysplastic dog will begin to show clinical signs of lameness due to the … Read the rest
The Pomerania very active, independent, Intelligent, brave and loyal.
The Pomerania (Dwarf German Spitz, Lulu from Pomerania or Deutscher Zwergspitz) It is a dog of the Spitz family, named for the region of Pomerania Central, Eastern Germany, and is classified as … Read the rest
The English pointer It is a dog of great kindness and loyalty to its owner and docile.
The English pointer, Dog shows or Perdiguero, It is a type of dog traditionally used in England.
Originated in the 17TH century, When some Englishmen began breeding of … Read the rest
The Poodle is a CF dog, Alegre, Nice, curious and intelligent.
The Poodle or Poodle It is a breed of dog that is considered to be of exclusive use for the luxury of the aristocrats and nobles from the 15th century to the present day. Until the Renaissance, This was a Retriever's … Read the rest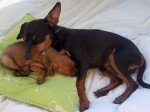 The Pinscher miniature has much temperament, vitality and is an excellent companion dog.
The Pinscher miniature (Zwergpinscher) It is a breed of dog of the family of the original Germany Pinscher, where are called Zwergpinscher.
It's a miniaturization of the Pinscher German that is … Read the rest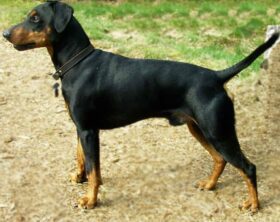 The Pinscher German is a dog, extremely, active and lively, alert and vigilant.
The Pinscher German (German pinscher "bite") It is a breed of dog that belongs to the family of the Pinscher.
This race, whose origins date back to the 15th century and which is also related with the Read the rest