History, physical characteristics, character and skills, images and videos of dog breeds that begin with the letter K
Dog breeds in Alphabetical Order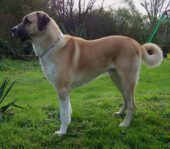 The Kangal Shepherd Dog is quiet, bold, independent, Intelligent, docile.
El Pastor Kangal It is a large and very strong watchdog that is very
The Karelian Bear Dog is a very independent and intelligent dog.
The Karelian Bear Dog, which also bears the name
Karst Shepherd a typical watchdog. Acts largely independently, which is also essential for protection
The Kerry Blue Terrier he is a thoroughbred terrier, brave, alert and with a penetrating expression.
The Kerry Blue Terrier is one of
The Komondor It is a breed of guard dog and pastor, originally from Hungary. Its main feature is the peculiar appearance of its fur,