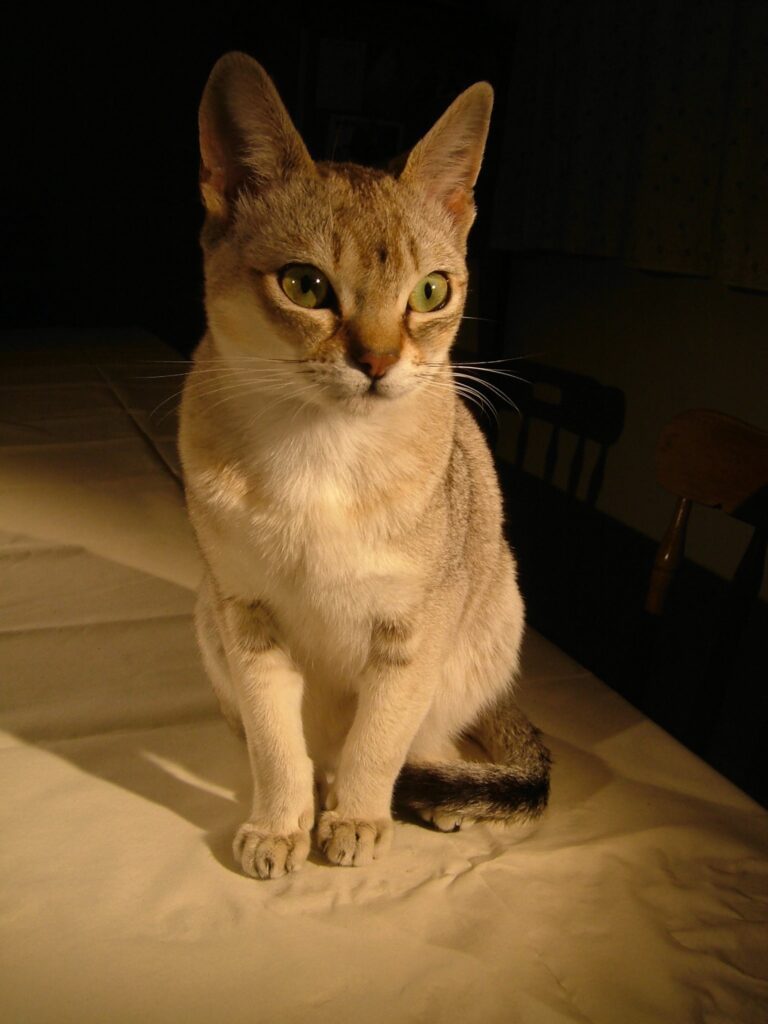 Over time there have been cats that respond to the general description of the singapura cat populations of free reproduction of Singapore. They are a distinctive variety among the wild cats of the city of Singapore, where are known as longkang "drain cats". The founder of the renowned race lineage transported it from Loyang, East of the city, North America Hal meadows, whose wife Tommy bred abisinios, Siamese twins and burmeses. The race took seven years to be recognized in North America, but much more in Europe, where it is still rare. In their homeland, the singapura has been recently adopted as mascot of the Tourism Office of Singapore and declared a national treasure under the name kucinta or «love cat».
The singapura is a dotted striped fur, as the Abyssinian, covered with the pattern of sepia tips of the Burmese to give a coloraciém called sepia agouti. Tommy Meadows had the other two races, which naturally made it an interest in this new Cat, but this has also raised questions about whether they might have done some genetic contribution to the singapura.
The size of the singapura has also been a controversial issue. When these cats captured the attention of breeders and the Western media, his tiny stature was considered, in a fanciful way, It was a genetic adaptation as a result of living in small drainage. However, the breed standard requires a small cat, and the Western singapuras are larger than wild cats of Singapore. It is said that this indicates a hybrid origin of the breed, but forget about the fact that a pet has better food than a wild cat, Therefore it will be larger with more probability. It is also considered that the race has a retracted nature, and this has been attributed to his background wild, he favored the ability to escape from being observed. There may be some truth to this, because the singapuras, Although affectionate, they are generally less noisy and demanding than many other oriental races.
SIZE OF THE CAT
To reach the tiny singapura West, It seemed that the promise of miniaturized races fulfilled. Not happen this, There was an interesting feature of the domestic cat: its range of sizes is small. The limits are maine coon grande (pp. 168-IB9 and small singapura!. One reason may be that the selective breeding of cats is practiced for two hundred years. Rather, attempts to breed giant cats of larger breeds have not succeeded, and even the hybrids take the size of a few generations average housecat, which suggests that the size of the cat is genetically very stable.
Visual guide to cats, Dr. Bruce Fogle