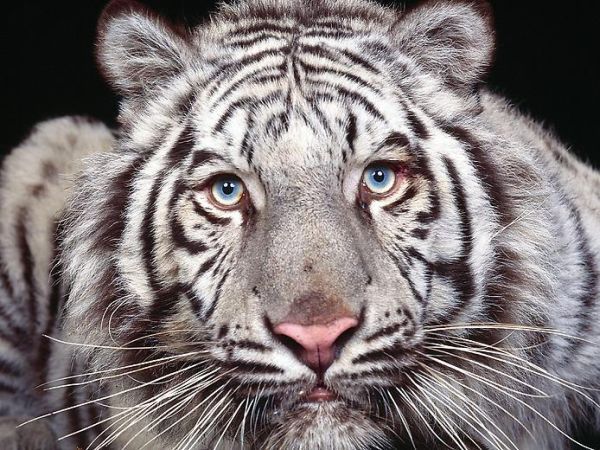 Cubs White Tiger they are very rare.
Due to a recessive gene, they are not considered to be albinos.
As a result of its high price, the demand, the maintenance and shortages, the White Tiger is one of the most difficult to obtain the world animals.
white tigers tend to be … Read the rest
Chimpanzees are highly intelligent primates and are closely related to humans. Chimpanzees weigh around 52 kg and the male is slightly larger than the female.
The natural habitat of the chimpanzee is in West and central Africa. Despite being an endangered species of … Read the rest
The reticulated python is a very rare breed, show co-dominant tiger pattern making them extremely popular in the world of snakes.
This Piton no problems when feeding. At birth, they feed on mice and rats of suitable size and are advised to feed them frequently … Read the rest
The Macaws they come from South America and Central America. They can be divided, roughly in two: of normal size and the dwarves.
This is the largest in the order Psittaciformes species (the parrots and relatives). Length measured between 93 cm and a meter. arrives … Read the rest
The striped ball Python bears his name due to his shyness, as it tends to wrap around herself getting head in the Center by a ball. This Python tends to be very quiet so many people has it as a pet. It is a very strong and easy to maintain, … Read the rest
Its natural habitat is wetlands of central Africa.
Brazzas monkey is easily recognizable by his white beard and yellowish-grey hair.
Males weigh around 7 kg, While the females weigh around 4,5 kg.
It is a shy monkey, territorial, that lives … Read the rest
The natural habitat of the Mona Guenon is within the tropical forests of West Africa, However, This animal is capable of adapting to any forest environment. Therefore, special permits and licenses for the possession of this animal, he is not considered … Read the rest
The Savannah cat, is a hybrid cat, resembling a small Leopard aspect, It is the result of a domestic cat cross, with a cat half African serval and half Asian Leopard, According to Brodie, achieving the highest standards of beauty, height … Read the rest