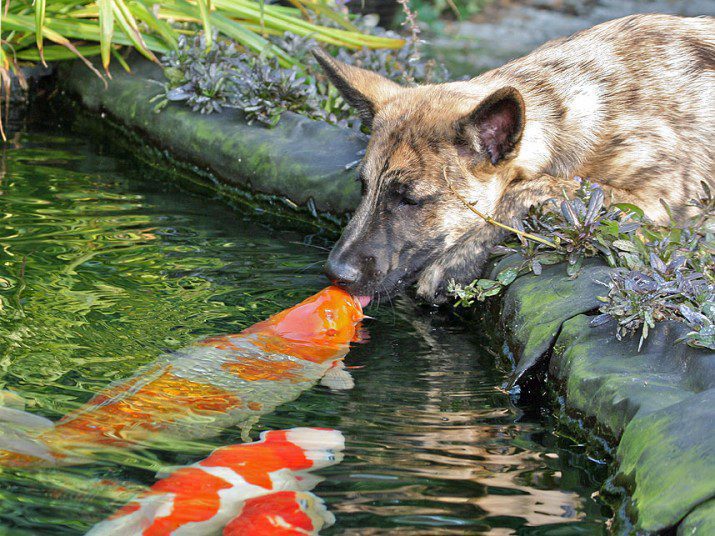 The Dutch Shepherd Wiebe takes to drink water from a pond whenever he returns home after a pleasant ride,
Dorri Eijsermans, the owner of Wiebe, leverages to give food to the fish when both return ride. Fish have associated the moment of drinking … Read the rest
A family Canary posing with copies of this breed of dog that was originally called Tenerife
Some French were exemplary of the island in the years 20 and they called the race, unique in the world, bichon frise
The American researcher Matthew Sell follow the trail in Tenerife's … Read the rest
This miniature dog has his sights put on a great title: Be the smallest dog in the world and be recorded as such in the Guinness Book of the Records.
Suni, the small Yorkshire Terrier, weighed only 45 g at birth, and three more months … Read the rest
Jess, UNS Sprinter Spaniel chocolate, She was trained to help puppies.
The dog "Pastor" is not named on a whim. Normally helps herding the herd, to ward off vermin that may cause irreparable damage and, in cases such as the following, It gives up the bottle to the Lamb.
With … Read the rest
Jesse is a Jack Russell very special you can do, literally, all the household chores, even tea cups, making dinner and fold bath towels.
Jesse is a dog of inexhaustible energy and insatiable curiosity. They require a constant training, consistent and patient that … Read the rest
Here you have a graphics can help you understand some of the signals that you are given your pet.
Dogs were the first animals to be domesticated, and they have always given us help, company and security, but often do not understand what mean us, … Read the rest
6,35 centimeters in height and 170 g. of weight, make the Puerto Rican chihuahua Milly, supposedly the smallest dog in the world.
Milly just have little more than three months old, Although it has maintained the same weight since the third week of his birth, which suggests … Read the rest
The relationship between a person and your pet can be absurd and sometimes petty. Even activities seemingly innocent as push a cat in a buggy or put bonds in the hair of a dog can be a cruel torture for the animal.
Here … Read the rest