The greyhounds that still they bred for racing spend most of their time in boxes, pens or fenced enclosures without the love of a family. We can eliminate greyhound racing through education, compassion and action.
Greyhounds are disadvantaged even before birth. Thousands are raised annually, many more than those needed for racing, in an attempt to create the fastest dogs. Often cruel methods are used to get rid of unwanted dogs and dogs that survive in the industry are forced to live in overcrowded conditions. These social creatures are forced to spend most of their time alone, confined in cages for 20-23 hours a day and denied the opportunity to walk or play. Many dogs are injured while running races and are slaughtered.
What's wrong with greyhound racing?
Greyhound racing is cruel and inhumane and no place for them in the modern era.
When they first emerged at end of the XIX century, supporters did not know that hundreds of thousands of dogs suffer and die.
Since then, our society has evolved and dog racing are not synchronized with the values ​​of society towards animals.
Today, this type of unnecessary and wasteful suffering is rejected as a form of gambling or entertainment. According to government records now available, common injuries in racing include broken necks and backs, dislocations, torn muscles and paralysis. There have also been electrocutions when dogs come into contact with the lure of high-voltage track. Some dogs die on the track while others are euthanized because of the severity of their injuries or simply because of their value decreased as brokers.
Do not greyhounds used for racing manicured?
Racing greyhounds endure lives of confinement, They are subject to standard practices that are cruel and suffer injuries and even death. Greyhounds used for racing are kept in cages, just large enough so they can stop or turn around, until 23 hours per day. Shredded paper or carpet remnants are used as bed.
Do greyhound racing contribute to the overpopulation of dogs?
Yes. From the Platform Not the Chase (NAC) They estimate that in Spain 'left over' annually about 50.000 greyhounds. The racing industry exacerbates an overproduction of dogs, simply displace other homeless animals and diverts resources to address other challenges Animal welfare.
In the State of Florida (USA), the court will decide whether to vote an amendment to ban racing, declining in the US.
In Argentina, greyhound racing are prohibited. The law prohibits throughout its territory performing dog racing, any race. Seeks to end a practice that in many cases, as protectionist, It is accompanied by a cruel treatment to animals. The goal is to sustain economic activity. It does not consider that the life of the animal, raised in extreme conditions, is of 5 years. After that, some try to sell galgueros, often for hunting, where they suffer injuries; otherwise they abandon or kill.
Meanwhile in Portugal, Bill No. 1095 / XIII / 4th determines the prohibition of Bull Dogs best known for greyhound racing. The prohibition extends to the entire national territory, regardless of the race of the dog.
In uruguay, The 20 in December of 2018, President of the Republic sent the National Assembly a bill which prohibits throughout the national territory of the dog races.
In Spain, originally, FEG regulated three modes, Canódromo, Liebre open field and Mechanics, of which there are currently only two last.
It is inhumane greyhound race?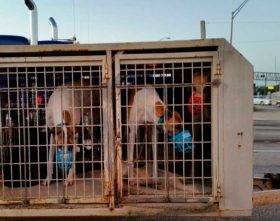 Yes. In the United States, thousands of dogs in this industry are kept in enclosures kennels. These enclosures consist of long, narrow buildings with pens for dogs: Dirt tracks where dogs are fenced "removed" and they allowed them to your needs. In these areas, dogs are kept in kennels style warehouse in rows of cages stacked metal.
In the dog tracks of the different states, Greyhounds often suffer serious injuries. Since January 2008 until April 2018, They have documented a total of 15.273 injuries greyhound. The most commonly reported injury was a broken leg. Other injuries included head trauma, Electrocution fractures and back.