With its almost five meters long, 445 kilos of weight and more than 70 teeth, Pocho is the favorite mascot of the Costa Rican fisherman Gilberto Shedden.
This human relationship –

cocodrilo es única en el mundo y ha atraído la atención de decenas de científicos

.
Make 20

años Shedden encontró al cocodrilo moribundo en un río y decidió curarlo y cuidarlo

.
Pocho has some 50

años de edad y podría vivir unos

30 more.
With its almost five meters long, 445 kilos of weight and more than 70 teeth, Pocho is the favorite mascot of Gilberto Shedden, better known as Chito, un pescador costarricense que se ha dado a conocer como la única persona en el mundo que ha logrado "tame" a crocodile. With a huge smile on his face, Chito, of 54 years, anything calmly with Pocho in a pond on his farm in the town of Siquirres, a few 70 miles east of San Jose. But not just anything with him: He has taught to do various tricks like shooting on his body, give the leg, Sustaining head and tail high and to close an eye.
The relationship between man and Crocodile is cercana y única en el mundo y es la razón por la cual decenas de científicos, experts in animal behavior and journalists visit the home of Chito, his wife, his daughter and his crocodile every year.
I gave him to eat chickens. At first it was all ugly, skinny and malnourished and then proceeded already chubby
The history of Chito and Pocho is pure friendship. Make 20 years found to the dying crocodile en el río Parismina, in the area of the Caribbean, pues un ganadero le había disparado por comerse a sus terneros en la orilla. The fisherman, que entonces tenía 34 years, so he boarded their boat and took him to his house to take advantage of your leather, pero al pasar los días sin que el animal muriera decidió curarlo y alimentarlo.
His wife, Olga Valley, account laughs that the arrival of Pocho was a secret Chito saved for months and that was a mystery where going at night. Now ensures that, Although she feels much respect by the crocodile because "will always be a wild animal", Pocho is without doubt part of his family.
In fact, Chito es la única persona que nada con Pocho. Every Sunday afternoon to make a show for tourists and disbelief people, arriving from all Costa Rica to check if the skill of this "Tico Tarzan" (nombre artístico de Chito) is real or a trick.
Every Sunday afternoon to make a show for tourists and disbelief
Con una característica y contagiosa alegría, Chito puts singing and dancing Caribbean rhythms to curious visitors before launching into the water with complete confidence. He claims that Pocho is grateful to save life and does not hesitate to say that this enormous crocodile is your best friend, and that between both there is a bond that no one else can understand.
Costa Rican authorities are aware of Pocho and their unique behavior and maintain a constant evaluation. The crocodile is monitored by biologists and veterinarians, but none enters the lagoon where it occurs. "They tell me what I have to do and I do it because nobody dares to put on the water", Chito says, speaking of indications which include medical examinations, Food and even give medications if necessary.
Pocho is eaten between six and eight chickens, some more fish, about three times per week. It has some 50 years of age y podría vivir unos 30 more. In 20 years of life "in family", the fisherman has never been hurt by the crocodile, that it does not have the same friendly attitude with other people.
Even, each 1 de enero Chito realiza un truco único: He puts his hand and his head in the huge mouth of Pocho. "Lo hago porque es el primer día del año y sé que él no me va a comer ese día", jokes this daring fisherman, with its endless good humour and her singular smile.
EFE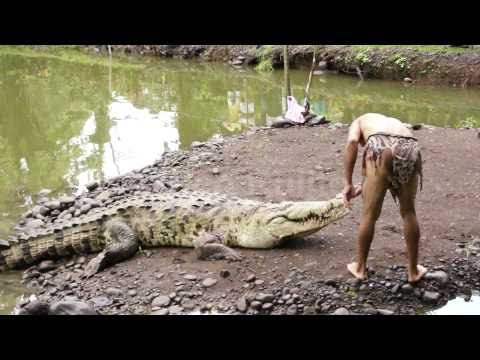 Update
Pocho died in the early hours of Wednesday 12 October of the 2011 for reasons unknown.
Up Siquirres have reached hundreds of letters and calls of condolence. They are aimed at a desolate Chito,

el 'compa

' of the animal, as he liked to define the caretaker.

No hacían falta más que unos minutos de charla para darse cuenta del gran vínculo que les unía

: "

Teníamos una cierta química

.

A veces yo me iba una semana y Pocho estaba decaído

,

pero apenas aparecía y me asomaba entre los árboles

, He fell in action", we entrusted his friend in the intimacy of the Caribbean estate himself developed to take care of Pocho.
The death of the animal occurred when Chito was thinking about retiring. Not for tiredness of the crocodile (its species can reach the century of life),

sino porque quería cerrar su trayectoria con un broche de oro

.

Había pensado en una celebración especial para los

1000

'shows

' together with Pocho, before hanging up the loincloth and create brochures for local schools,

para demostrar a los niños que el hombre puede convivir en armonía con los animales

.

Incluso tenía planificado escribir la hazaña del cocodrilo en el libro 'Guiness

' records.
Via: Elmundo.es