Breeders of German Doge in Spain.
The German Doge, Great Dane or German Alano It is a breed of dog known for its large size and delicate personality, considered as the "Apollo among all races" by the Federation Cynologique Internationale.
The great Dane, even being a giant race, no debe ser torpe … Read the rest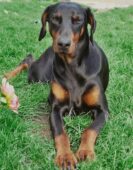 Relatively recent race, It is named after the German sinologist Karl Friedrich Louis Doberman, who at the end of the 19th century, It undertakes the task of creating a new breed of dog to serve effectively their difficult work as tax collector. To get the birth of this new race, is … Read the rest
The English Bulldog or Bulldog breed, It was initially used for betting in dog fights, during the 17TH century (in 1835 This practice was banned in England). In the news, This dog is one of the symbols of England.
Its origin is in the «ancient Greek dog», Kelb Thal … Read the rest
The French Bulldog is a small breed of dog originally from England, established as such by the end of the 19th century. However, Despite its name, America and Great Britain have played important roles in the development of this breed. Estos perros suelen ser apodados "Payasos" o "Perros … Read the rest
The Saluki, commonly known as the Royal dog of Egypt, It is perhaps the oldest known breed of domesticated dog and the oldest in the venátici, It is believed descended from wolves in the wilderness of Ara. Los beduinos los tienen en gran estima y los utilizan para la … Read the rest
Shetland Sheepdog (Dog Pastor of the Shetland Islands) comes from the Shetland Islands (Scotland, United Kingdom), intentionally was raised in small size. At first sight, It seems to be a copy of miniaturized hair long Collie, However, are 2 different races with a similar look.
The Collie of short hair or Smooth Collie (It means smooth Collie), It is a breed of dog developed originally for herding. It's a variety of Border Collie. Some canine organizations, copies of soft hair and wire-haired, las clasifican como variaciones de la misma … Read the rest
The Collie hair long (Rough Collie, meaning rough Collie) is one of the breeds of medium-sized and long-haired Collie who was born in Scotland in the Decade of 1800.
Both the Collie of long hair (Rough Collie) as the Collie's short hair (Read the rest