The American Wirehair cat it is a breed of young cat. This type of cat belongs to the category of domestic cats.
The American Wirehair cat it was created by chance. In fact, the fault is a genetic defect. In 1966, in a litter of American shorthair cats, a male had an atypical coat. The fur was rough, lean and curly at the ends. The cat breeder lived in Verona, in upstate new york. Four of the kittens in this litter died, but the fifth, a red and white male kitten with this rough hair, survived. His name was Adam.
Joan O'Shea, a local breeder, found out about the kitten and immediately fell in love with it. Later he realized that it was probably a new breed and developed a breeding program. Crosses with him American shorthair cat prevented excessive inbreeding and allowed the development of the breed.
In United States, was officially recognized in 1967 by the CFA (Cat Fanciers' Association), but it wasn't until 1978 when this reference organization authorized him to compete in cat shows.
Uncommon in the United States, this cat is also still very rare in Europe, where it is mainly located in the UK, in very small numbers. In France, only a few births per year are recorded in the LOOF.
The American Wirehair cat you can't deny your relationship with him American shorthair cat.
It is a medium to large size cat, semirigid, with an athletic and sporty-looking body and, Therefore, with strong bones.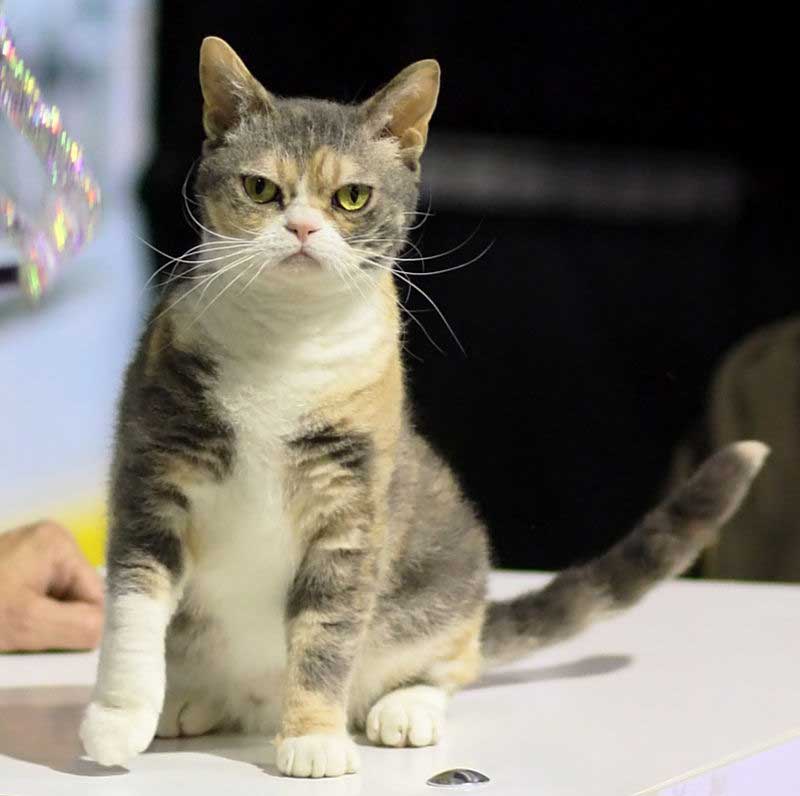 The head It is round, provided to the body, with cheekbones prominent and a snout well developed, as well as slightly wavy whiskers. The eyes they are big and round, very separate, and express a rather gentle character. They can be of any color.
The back it is straight and well balanced, the chest rounded and wide (especially in males), like the neck. The tail it is medium size, proportional to the body, and has a rounded tip, similar to the ears, that are quite separate. The legs they are medium in size but muscular. The legs are firm and round, with large pads.
The fur he is of medium length and has very thick and sticky hair. Their peculiarity is that they are wrinkled, as if they were wrinkled, hooked or curved, and full of vigor. The three-layer coat can be any color, like other breeds of American cats, except for chocolate, the fawn, the lilac and the colourpoint (Dark color, darkened in some parts of the coat).
According to sex, the height ranges between 30 and 35 cm and the weight between 2,5 and 5 kg.
The American Wirehair cat it is robust, vigorous and curious. It is a very active cat, agile and playful, you need to exercise and, Therefore, requires space. Sociable, tender and especially affectionate, is as kind as him American shorthair cat, although it has a great sensitivity of its own. He cannot live alone and will remain very attached to his master.
The American Wirehair cat usually purr, what can be a way to offer support to his owner when he needs it, since a cat's purr is known to be beneficial to its owner.
In addition, having a rather playful character and not being a dominant cat, can live with other feline companions, and he will make friends with children and single people. However, it is important to avoid living with rodents such as rabbits or mice, since they don't mix well.
Care "American Wirehair cat"
Despite its special appearance, coat care does not take much time. A brief brushing of the coat once a week is sufficient. Your cat will do the rest. Removes dead hairs with its rough tongue. Help your feline with cat grass to get rid of swallowed hairballs.
Indoor or outdoor cat?
The American Wirehair is suitable for both types of accommodation. The ideal is to live in a rural area. Here your tiger can become a free wanderer without hindrance. Whenever you want to. Some cats just sit in the open window to the garden and enjoy the opportunity. Soon you will find out. Ask the neighbors if they see your tiger outside the garden.
Do you worry a lot when you are away from home? Then offer your pet a compromise. Fencing a part of the garden (similar to a birdhouse). With free access to the house, of course.
If your purebred cat knows the floor as his living space from an early age, will not miss anything. Another possibility would be an additional cat-proof balcony. If you have your cat in a flat, you will not have problems with the neighbors. The volume of the voice is low. In contrast to the volume of voice of Siamese cats. These contemporaries "talkers" can be heard throughout the neighborhood.
No matter what you choose. Remember: an indoor cat can become an outdoor cat. An outdoor cat will never be an indoor cat again. This is valid for any type of cat, as well as for him American Wirehair cat.
How much activity does the "American Wirehair cat"?
This question cannot be answered in general. The character of American Wirehair cat is individual. Therefore, some specimens are more playful and others are not. For the most part, sleep during the owner's absence. Give them a chance to take care. There are enough toys on the market to stimulate intelligence and hunting instinct. Take enough time to play at night. A second cat will save you from a guilty conscience.
Your home must be furnished appropriately for cats. This includes scratching posts with different levels. There are caves to hide, feathers and stuffed mice to play with and much more. If you have a garden, let your cat use it. The more intensely your American Wirehair cat At night, more you will have to think. Remember that this type of cat plays all its life and demands an activity appropriate to its age.
Due to its origins, the American Wirehair cat you are affected by a hereditary disease called renal polyquistosis or, more rarely, by a Hypertrophic cardiomyopathy, consisting of a thickening of the walls of the heart.
In addition, your hair is especially sensitive to minor allergies, due to its specificity.
Feeding the "American Wirehair cat"
The diet of the "American Wirehair cat" must be adapted according to your needs and activities, but also his age and health.
Feeding your cat in a species-appropriate way is not complicated. However, you should pay attention to healthy ingredients. Your future roommate is a carnivore. The cat's digestive system can't do much with carbohydrates. The ideal combination is muscle meat and offal.
It is important to monitor the rations that are given to prevent the cat from being overweight or even obese.
Buy a "American Wirehair cat"
The American Wirehair cat is almost unknown in Europe. If you want to buy one, you should contact an American breed association. The Cat Fan Association will be happy to assist you.. The price depends on the demand and the population. The price of American Wirehair cat is between 800 and 1.200 EUR. Stay away from offers of "bargains" on the Internet. Cats from these sources are often contaminated with inherited diseases.
Characteristics "American Wirehair cat"
Coexistence is important that you have with your new friend. Before considering the acquisition of a cat of the breed "American Wirehair cat" you know certain factors. You must take into account their character, their need for exercise, their interaction with other pets, your care and if you have young children, their level of tolerance towards them.
Playfulness

4 out of 5 stars (based on 1 review)

Activity level

3 out of 5 stars (based on 1 review)

Friendliness to other pets

3 out of 5 stars (based on 1 review)

Friendliness to children

3 out of 5 stars (based on 1 review)

Grooming requirements

2 out of 5 stars (based on 1 review)

Vocality

3 out of 5 stars (based on 1 review)

Need for attention

3 out of 5 stars (based on 1 review)

Affection towards its owners

4 out of 5 stars (based on 1 review)

Docility

2 out of 5 stars (based on 1 review)

Intelligence

4 out of 5 stars (based on 1 review)

Independence

3 out of 5 stars (based on 1 review)

Hardiness

3 out of 5 stars (based on 1 review)
Videos "American Wirehair cat"
American Wirehair

| Cats 101

American Wirehair

: Character, Health and Care