The Highlander cat is a relatively new breed, the first litter back to the year 2004. This race is a little rare, to remove doubts it is registered with the International Cat Association (TICA) as a new preliminary certification.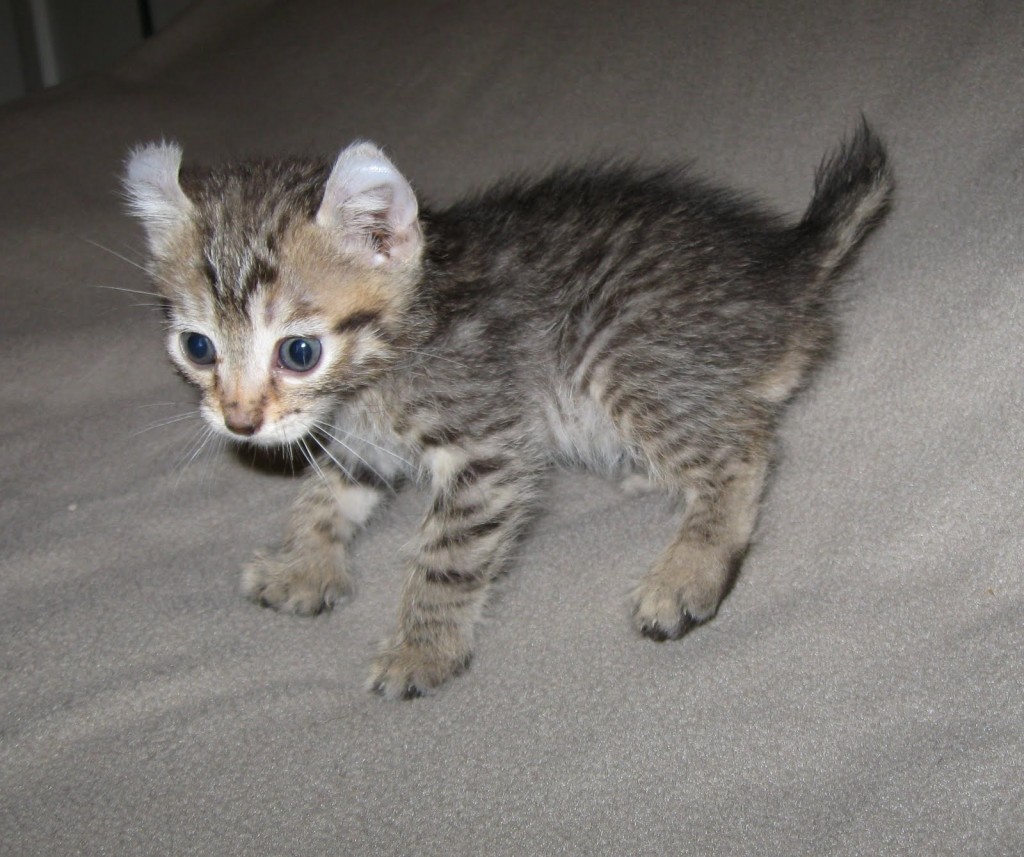 Characteristics "Highlander cat (Highland Lynx)"
Coexistence is important that you have with your new friend. Before considering the acquisition of a cat of the breed "Highlander cat (Highland Lynx)" you know certain factors. You must take into account their character, their need for exercise, their interaction with other pets, their care and if you have small children, their level of tolerance towards them.
Joy

5 out of 5 stars (based on 1 review)

Activity level

5 out of 5 stars (based on 1 review)

Friendliness to other pets

4 out of 5 stars (based on 1 review)

Friendliness to children

4 out of 5 stars (based on 1 review)

Grooming requirements

3 out of 5 stars (based on 1 review)

Vocality

2 out of 5 stars (based on 1 review)

Need for attention

3 out of 5 stars (based on 1 review)

Affection towards its owners

4 out of 5 stars (based on 1 review)

Docility

4 out of 5 stars (based on 1 review)

Intelligence

4 out of 5 stars (based on 1 review)

Independence

3 out of 5 stars (based on 1 review)

Hardiness

4 out of 5 stars (based on 1 review)
The Highland Lynx, más conocido hoy en día como Highlander cat, it was created in 1993 mediante el cruce de dos razas de gatos híbridos, the Jungle Curl and the Desert lynx. However, despite its exotic name, This breed of cat does not have an iota of blood from its distant wild cousin, the Lynx. The desire to create a Domestic cat with the appearance of a wild cat with curved ears was the main reason for its creation and for the choice of its name.
Since the appearance of the breed, the breeders of Highland Lynx han seguido seleccionando y perfeccionando los rasgos físicos de este gato tan especial para distinguirlo de su progenitor, the Desert lynx cat.
Your efforts are beginning to pay off. Like this, although the highland lynx is still considered by the Rare and Exotic Feline Registry as a subgroup of the Desert lynx cat, as the Alpine Lynx and the Mohave Bobs, is starting to emerge at feline shows as a breed in its own right. The name change in 2005 a Highlander was seen by the breeder community as a strong sign of demarcation.
The 1 in May of 2008, the breed was recognized by the International Cat Association (TICA) to participate in the feline shows organized under his auspices in the preliminary class of new breeds, reserved for new breeds that can enter competitions, but do not participate in them. Eight years later, in 2016, ascendió a la categoría de Raza Nueva Avanzada, lo que significa que podía competir pero no ganar ningún premio oficial. The application of the breed to participate in presentations as a competition breed (final status which means official recognition) is being considered in 2019. It should be noted that the TICA divides the Highlander in two varieties: the Highlander Shorthaire for short-haired specimens, and the Highlander Longhair. Other international feline associations, as the Fédération Internationale Féline (Fife), the Cat Fanciers Association wave Word Cat Federation aún no reconocen la raza.
Despite TICA approval and resulting visibility, the Highlander todavía no se distribuye ampliamente fuera de su país de origen, United States. There are some breeders of Highland Lynx in Canada and Europe (France and UK), pero su número sigue siendo confidencial.
The
Highland Lynx
tiene un aspecto físico que seguramente atraerá la atención cuando entre en una habitación
. With his muscles, his curved ears, its short tail and brindle fur reminiscent of its distant wild cousins, the
Highlander
He is as imposing as his cousin the
Desert lynx cat
, if not more.
Bigger than the average cat, the Highlander has a body powerful, con músculos bien definidos que se muestran en cada movimiento. Its torso is quite developed and its long hind legs end in large feet with prominent joints.
The polydactyly in cats, that is to say, To have more "fingers" on each leg than normal, es muy común en los Highlanders, regardless of kinship. Esta particularidad no supone ningún riesgo para la salud del animal. On the other hand, it can even be an advantage, as it provides more stability in your movements.
Otra característica física del Highlander is your tail naturally shortened, to the point of having only between 5 and 15 centimeters in length. It also, it is thick and can be straight or curly. Esta anomalía tampoco influye en el comportamiento diario del gato ni en su salud. He even tends to wag his tail to express his mood, like a dog.
Last, the head and the face of Highlander are generally longer than wide. Its forecrown long, their nose wide and its chin deep and pronounced form a rather rectangular face. The Greats eyes oval and flattened can vary in color between gold, blue and green, and they are especially expressive. The ears, with wide bases and curved tips, are placed high on the skull, alerts and open. Esta última característica se desarrolla en los primeros meses tras el nacimiento de los gatitos, who initially have straight ears.
Last, a wide variety of coat colors and patterns are accepted. Those with short hair tend to have a softer and denser coat than those with long hair..
Size and weight
Size: 25 a 40 cm.
Male weight: 5 a 11 kg
female weight: 4 a 7 kg
Varieties of "Highlander cat (Highland Lynx)"
The standard of the Highland Lynx accepts all feline coat colors: ebony, blue, Brown, leonado, chocolate, lilac, Red and cream, así como todas las variantes de plata, sepia, snow, mink and cameo.
However, the breeders of Highlander currently prefer three coat patterns to maintain the look "Wild" of the race:
The leopard pattern
It consists of a tabby with dark spots on the flanks and belly of the cat. The size of the spots can vary, but they must be evenly distributed. Rosette-shaped spots are preferable (

círculo casi completo

, with a center lighter than the edges).

Una línea dorsal oscura

, ideally made up of small spots, should travel the length of the cat's spine to the tail. The face has brindle markings. Ghost spots (marks that fade as the cat sheds and ages) are preferred for snow colors, cuttlefish and mink.
The leonado pattern
The coat is brindle all over the body, with more pronounced brindle markings on the legs, tail and face. Collar markings are usually present on the neck and chest, but they are not essential.
The marbled pattern (the cloudy leopard)
It is a variation of the brindle brand, but with horizontal guidelines instead of vertical. Colors must be contrasted, with well-defined shapes and contours. The belly is stained.
Accepted Highlanders smooth or brindle, but they are less desirable, as they are closer to the look of a Domestic cat.
Despite his wild looks, the
Highlander
is far from sharing the temperament of his cousins, starting with his circumspection and shyness. In fact, it's the opposite. In fact, it is one of the most affectionate cat breeds. This character trait,
así como su tendencia a seguir a su dueño a todas partes
, has earned him the nickname of "cat dog".
A giant with a kind heart, quickly becomes familiar with his new surroundings and soon demands a lot of attention and caresses from everyone who enters his home. This applies even to strangers, those who do not hesitate to touch, if you are encouraged to do so. Sometimes he even goes out to party with his master and follows him around when he comes back from work., without the noise and the drool. In other words, not a suitable breed of cat for a master who is away often, que haría mejor en optar por un gato independiente.
On the other hand, unlike other affectionate cat breeds, the Highlander not talkative: shows your affection through your movements and attitude, not through your voice.
This personable and patient character makes them ideal for a family with children., provided they are not too agitated in your presence. Moderating the ardor of the youngest is all the more necessary since the mountaineer has an excellent memory and, Therefore, tends to run away from people with whom the first exchanges have been random.
It is possible to have more than one cat at home, since the Highlander is generally sociable with other cats. However, it is important to avoid bringing two unsterilized males together.
La cohabitación de su gato con un perro tampoco debería ser un problema, since they also get along very well with dogs, sharing the same devotion to their master. In fact, It is not uncommon to see that they quickly start playing together once they have been introduced..
It also, his intelligence and excellent memory make him a perfect student to teach your cat tricks and games, like the recovery of balls. Un gato de interior perfectamente adaptado a la vida en un piso y no a la de un gato de jardín, however requires distractions and activities between two naps. Jugar con su gato de forma regular le permitirá canalizar su energía mientras mantiene sus poderosos músculos, and it will prevent you from destroying everything in the house to get your attention.
Last, the Highland Lynx he is a water-loving cat, whether it's watching a faucet run for hours or getting sprayed during a gaming session.
The Highland Lynx es una nueva raza de gatos y los criadores aún no han identificado ninguna enfermedad específica.
However, It's recommended that, before making any purchase, se compruebe el historial de los padres y la cartilla de vacunación del gato para asegurarse de que todas sus vacunas están al día.
Depending on the hair length of the Highland Lynx, maintaining the cat's coat may require more or less work. The longer the coat, more regularly you will need to brush your cat (about twice a week), to help you groom. In any case, it is best to accustom your cat to being brushed from a young age, since older cats do not appreciate this type of attention if they are not familiar with it.
It is also important to monitor and maintain your cat's ears. La suciedad o el exceso de cera pueden acumularse en los pliegues del cartílago, causing discomfort and infections. Limpiar regularmente los oídos de su gato contribuirá en gran medida a prevenir este problema.
The Highland Lynx does not have a special sensitivity to food. It also, provided that the food is of good quality and is adapted to the dietary and energy needs of the cat, there is no risk of him becoming overweight.
However, keep in mind that the Highlander tends to drink more than other cats. So, es aún más importante que siempre tengan acceso a agua fresca.
For sale "Highlander cat (Highland Lynx)"
The price of a kitten Highland Lynx ranges between 700 and 900 EUR.
Videos "Highlander cat (Highland Lynx)"
| | |
| --- | --- |
| | Meet Gadget the Highlander Cat |
Highland Lynx, Highlander Shorthair