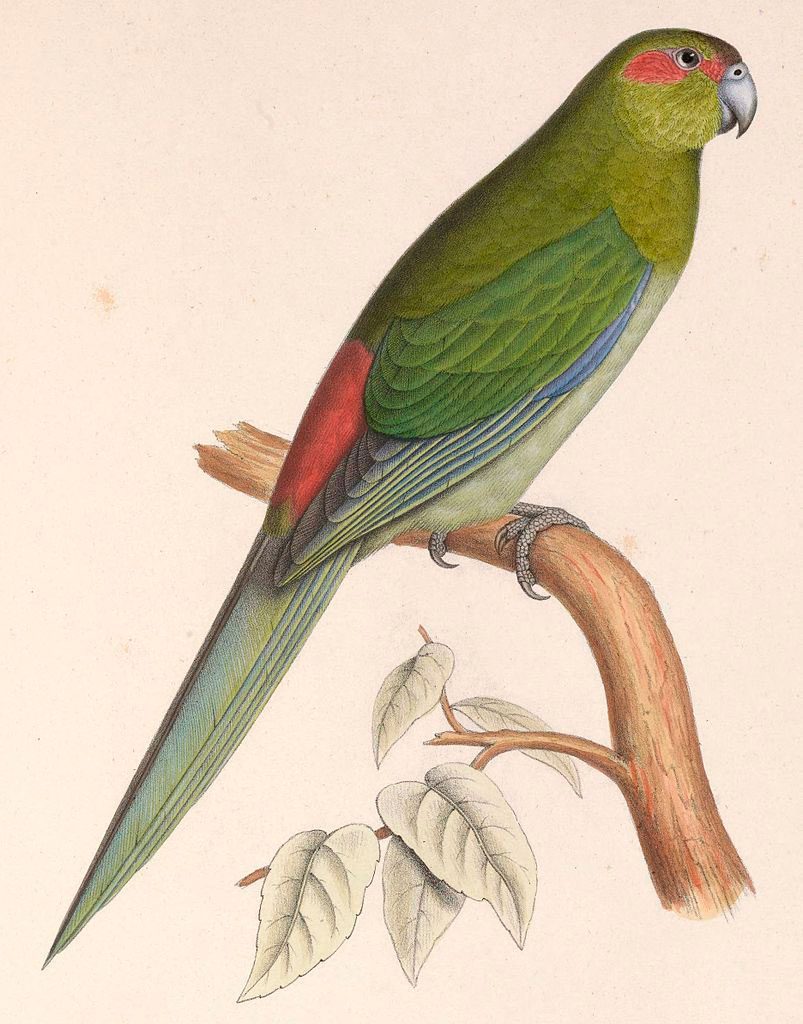 Content
Of 25 cm.. length
The Black-fronted Parakeet (Cyanoramphus zealandicus) They appeared to be very similar to other species Cyanoramphus; They were olive green; the forecrown It was black; the lores (the regions between the eyes and the peak on the sides of the head of a bird) and stretches along the eyes They were red; the lower part of the back It was red; the uppertail-coverts red. the outerweb of the flight feather They were blue violet. The eye rings They were light blue. Adults probably had irises orange, while young birds had eyes dark or brown.
The legs They were brown and gray bill It was pale bluish gray with a blackish tip.
According to Des Murs (1845, 1849), Lt. M. J. Marolles shot three birds Tahiti in 1844, in Port Phaeton, in the isthmus Taravao. The bird was rare at that time, and only he was in the isthmus and the mountains Tahiti you. Marolles saw only four or five individuals in total, and the locals told that parrots lived in large trees in inaccessible cliffs and deep valleys. It is not known nothing about it.
No data
No data
The Black-fronted Parakeet they were from Tahiti, on French Polynesia. Three known specimens collected (two of which are now in Liverpool and one in Tring) collected on the trip Cook in 1773, a fourth collected by Amadis in 1842, now in Perpignan and a fifth collected by the Marolles in 1844, now in Paris (Voisin et al. 1995).
It not registered any specimen from 1844.
• Current red list category of the UICN: Extinct.

• Population trend: Extinct.

• Population size : No individual is not.
Justification of the red list category
The frentinegro Perico were known Tahiti, (French Polynesia), but it has not been seen since 1844 and it is now regarded as a kindextinct. Possible causes include deforestation, the hunting and predation introduced species.
Hume y Walters suggest that as the Tahitians lingo green and red parrot feathers brought from Tonga, it is possible that excessive hunting in the past has been, at least in part, responsible for the disappearance of Black-fronted Parakeet.
– Black fronted Parakeet, Black-fronted Parakeet, Black-Fronted Parrot, Tahiti Parakeet (English).
– Kakariki de Tahiti, Perruche de Tahiti (French).
– Schwarzstirnsittich, Tahiti-Laufsittich (German).
– Periquito-do-tahiti (Portuguese).
– Perico de Frente Negra, Perico frentinegro (Spanish).
Scientific classification:
– Order: Psittaciformes
– Family: Psittaculidae
– Genus: Cyanoramphus
– Scientific name: Cyanoramphus zealandicus
– Citation: (Latham, 1790)
– Protonimo: Psittacus zealandicus
Sources:
• Avibase
• Parrots of the World – Forshaw Joseph M
• Parrots A Guide to the Parrots of the World – Tony Juniper & Mike Parr
• Birdlife
Photos:
(1) – Iconographie ornithologique by Marc Athanase Parfait Œillet des Murs (1804-1878) [Public domain], via Wikimedia Commons
(2) – Watercolour painting by George Forster annotated 'Psittacus pacificus'. Made during Captain James Cook's second voyage to explore the southern continent (1772-75). George Forster [Public domain], via Wikimedia Commons