Characteristics "Snowshoe cat"
Coexistence is important that you have with your new friend. Before considering the acquisition of a cat of the breed "Snowshoe cat" you know certain factors. You must take into account their character, their need for exercise, their interaction with other pets, their care and if you have small children, their level of tolerance towards them.
Joy

5 out of 5 stars (based on 1 review)

Activity level

4 out of 5 stars (based on 1 review)

Friendliness to other pets

4 out of 5 stars (based on 1 review)

Friendliness to children

4 out of 5 stars (based on 1 review)

Grooming requirements

3 out of 5 stars (based on 1 review)

Vocality

4 out of 5 stars (based on 1 review)

Need for attention

4 out of 5 stars (based on 1 review)

Affection towards its owners

5 out of 5 stars (based on 1 review)

Docility

3 out of 5 stars (based on 1 review)

Intelligence

4 out of 5 stars (based on 1 review)

Independence

4 out of 5 stars (based on 1 review)

Hardiness

3 out of 5 stars (based on 1 review)
The Snowshoe cat as we know it today originated in the United States in the 1980s. 1960, but the first Siamese white-legged appeared as early as the nineteenth century. In fact, numerous photographs from the Victorian era show that these cats already existed in Great Britain. More recently, in the decade of 1950, some appeared Siamese cats with white paws under the name of Silver Laces, but they soon disappeared from circulation.
Over the years 60, Dorothy Hinds-Daugherty, a breeder of Siamese from philadelphia ((UNITED STATES)UU.), discovered that three kittens in a litter had white tips on all four paws. Seduced by this new look, decided to cross a Siamese cat with a American shorthair cat bicolor. The resulting kittens did not have the pattern "point" (light colored body and dark colored tips), but they did carry the corresponding gene. So when they crossed cats Siamese, produced kittens with the desired appearance.
Dorothy Hinds-Daugherty decided to baptize these cats with the name of Snowshoe, in reference to its white paws, that give the impression that they have just walked through fresh snow. Although there is little written record of his work, it is accepted that he continued to cross these cats with siamese cats and the American shorthair cat, but also with him Sacred Cat of Burma (Birman), aiming to get a cat of type Siamese with white legs and a more rounded body.
One of these crosses with a American shorthair cat (black with white markings on the belly, the legs and the face) gave rise to the white mark in the form of "V" in the face, which is now a characteristic of the breed.
But, Dorothy Hinds-Daugherty stopped breeding and interest in the breed diminished, so in 1977 there was only one breeder, Vikki Ollander. He had already drawn up the first breed standard and was struggling to develop it. Then he received the support of Jim Hoffman and Georgia Kuhnell, who decided to raise themselves to Snowshoes. They were soon joined by other breeders and got the breed recognized by the American Cat Breeders Federation. (CFF) in 1983.
The Snowshoe arrived in Britain at the same time, and the first kennel of Snowshoe It was established in 1986. Soon a small group of breeders got together to form a breed club in the country., the Snowshoe UK Club. The Snowshoe cat received experimental breed status from the Governing Council of the Cat Fancy (GCCF), the main feline organization in the country. But, just like in the United States, interest declined rapidly to the point that in 1998 Maureen Shackell she had become the only breeder in the whole country. Joined him Mollie Southall, and together, with a handful of copies, decided to revive the Snowshoe cat and recruit other breeders to form a breed club.
In 1995, the TICA (International Cat Association, one of the most important organizations in the world) finally recognized the Snowshoe and granted him the right to compete in cat shows organized under his auspices. The Governing Council of the Cat Fancy (GCCF) waited until 2003 to accept the Snowshoe as a race in its own right, and Fédération Internationale Féline (FIFé) did the same in 2004. curiously, the Cat Fanciers' Association (CFA), the main American organization, still does not recognize the race, despite its local origins and the fact that every other organization in the country does: the American Association of Cat Enthusiasts (AACE), the American Cat Fanciers Association (ACFA) and Cat Fanciers Federation (CFF).
In France, the first litter of Snowshoe born in 2006, but it is still a very rare feline breed, with solo 43 specimens registered in the Official Book of Feline Origins (LOOF) between 2006 and 2019.
In fact, both in France and elsewhere, including your country of origin, still rare. The number of annual registrations in the British GCCF is certainly higher than in France, but the number is still limited: less than a hundred births a year (and even less than 50 in some years), and the trend seems even downward from 2015.
The Snowshoe it is a cat foreign medium-sized.
It has a balanced appearance, a muscular body without being corpulent and great flexibility. His long and muscular legs are those of an athlete made to run and jump. Its tips are white, which gives the impression that the cat is wearing socks, or just walked through the snow, hence its name. The tail is sharp and of a length proportional to the rest of the body.
The head of the Snowshoe cat is shaped like a rounded triangle, with gently contoured cheekbones. It has a more or less well-defined marking in the shape of an inverted V, it should be white. The ears they are medium in size and rounded at the tip. The eyes they are also medium size, larger and rounder than the Siamese, but smaller than those of the Persian. They can be various shades of blue.
The fur is short, soft to the touch and dense. All are allowed colors of fur of the Siamese.
The kitties Snowshoe they are born completely white. Dot mark (darker fur on tail, the legs and the head) begins to appear within a few weeks and develops as the kitten grows.
The white markings on the tips of the legs and on the face differ from kitten to kitten. While the best show specimens have the same size stockings and a perfect V between the eyes, the vast majority of Snowshoes have more random marks, with different socks on each foot.
But, the sexual dimorphism is well marked in this breed, the female being smaller than the male.
Size and weight
Male size: 24 to 28 cm.
female size: 22-25 cm.
Male weight: 4-6 kg
female weight: 3 to 5 kg
Breed standard
The breed standards are documents produced by official bodies that list the conditions that a dog must meet. Snowshoe to be fully recognized as belonging to the race: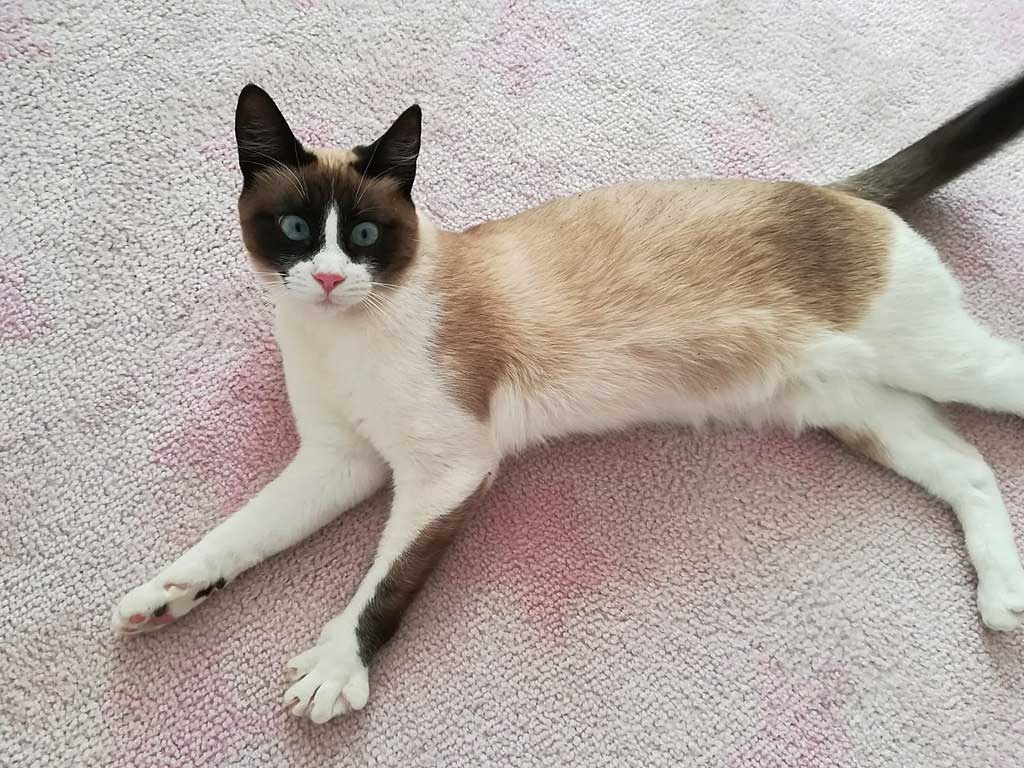 The Snowshoe gets along well and is affectionate with the whole family, but he is quick to choose his favorite human to spend most of his time with. He likes to be with his owner, whether sitting on the couch watching TV or lying at the desk working. This attachment makes him not tolerate loneliness and does not adapt to a person who is absent often.
They are sociable and get along well with other dogs and with other people, and can live in harmony in a home with other animals. But, have a possessive streak and may resent the fact that their owner is paying attention to another animal instead of them.
On the other hand, it is a breed of cat that adores children and, if they have been trained to behave well in the presence of an animal, can spend hours playing with them before taking a nap next to them.
The Snowshoe is intelligent, making it possible to teach your cat tricks, how to go looking for an object. But, it is the ability to teach his owner that makes him such a special companion. The owners of a Snowshoe cat they quickly learn when they want a reward, when they want to play or when they want to be scratched between their ears.
Active, this cat likes to take advantage of his physical abilities by running and jumping. Although they can live in a flat, Ideally, they should have access to an outdoor area where they can exercise freely.
The Snowshoe is also attracted to water and will play with a dripping faucet for a while. They also don't miss the opportunity to admire the eddies in the sink or toilet when someone flushes the toilet.. Some cats even accompany their owners in the shower, and others have learned to swim.
Another peculiarity of this cat is its propensity for kleptomania. Likes to pick up personal items, walk them around for a bit and then put them in one of your favorite spots, usually near your water bowl or in a sink.
Last, It is a breed of cat that meows a lot.: discuss any topic, whether it's dinner time or the newscaster's dress that its owner wants to see quietly. His voice is quite soft and melodic.
The Snowshoe is a robust cat breed with little susceptibility to genetic diseases.
But, there have been some cases of renal polyquistosis, a genetic disease that causes the formation of numerous cysts in the kidneys. The existence of a genetic test for this disease can considerably reduce the risks, since a responsible breeder will systematically analyze the individuals that he considers for breeding and will exclude from breeding those that are carriers.
The Snowshoe has also inherited from Siamese a tendency to squint or have a crooked tail. But, these are purely cosmetic considerations and do not pose a threat to the cat's health.
But, like any indoor cat, the Snowshoe may be vulnerable to the greatest scourge of modern house cats: the Obesity. Although it is not especially prone to it, any responsible owner must ensure that their cat is healthy and does not gain more weight than it should.
Life expectancy
Of 12 to 15 years
The maintenance of Snowshoe It is easy. In effect, as he is used to taking care of his fur himself, a simple weekly brushing to remove dead hairs and distribute the skin's protective sebum well is amply sufficient.
To make sure you stay healthy, it is advisable to take advantage of this grooming session to check their eyes and ears, and clean them if necessary.
It is also a good time to brush your cat's teeth to prevent plaque and the problems it can cause.. Having said that, more frequent brushing is ideal.
Last, when wear and tear and / or the use of a scratching post are not enough and your claws have become too long, must be trimmed with nail clippers to avoid injury.
The Snowshoe it does not present any difficulties in terms of feeding and can be fed with commercial industrial cat food. But, it is important to ensure that the food is of good quality and provides all the nutrients and vitamins that the cat needs.
It also, to fully meet your needs, you must make sure that he eats a diet adapted to his age and activity level, and that the daily amounts recommended by the manufacturer or the veterinarian are respected.
Even if the Snowshoe not particularly prone to obesity, excessive weight gain is a warning sign that the owner should not ignore. If required, You have to go to the vet to rule out a disease and establish a more appropriate diet with him..
Last, like any cat, you must have fresh water at all times.
A kitten Snowshoe it costs about 1.200 EUR, and females tend to be somewhat more expensive than males.