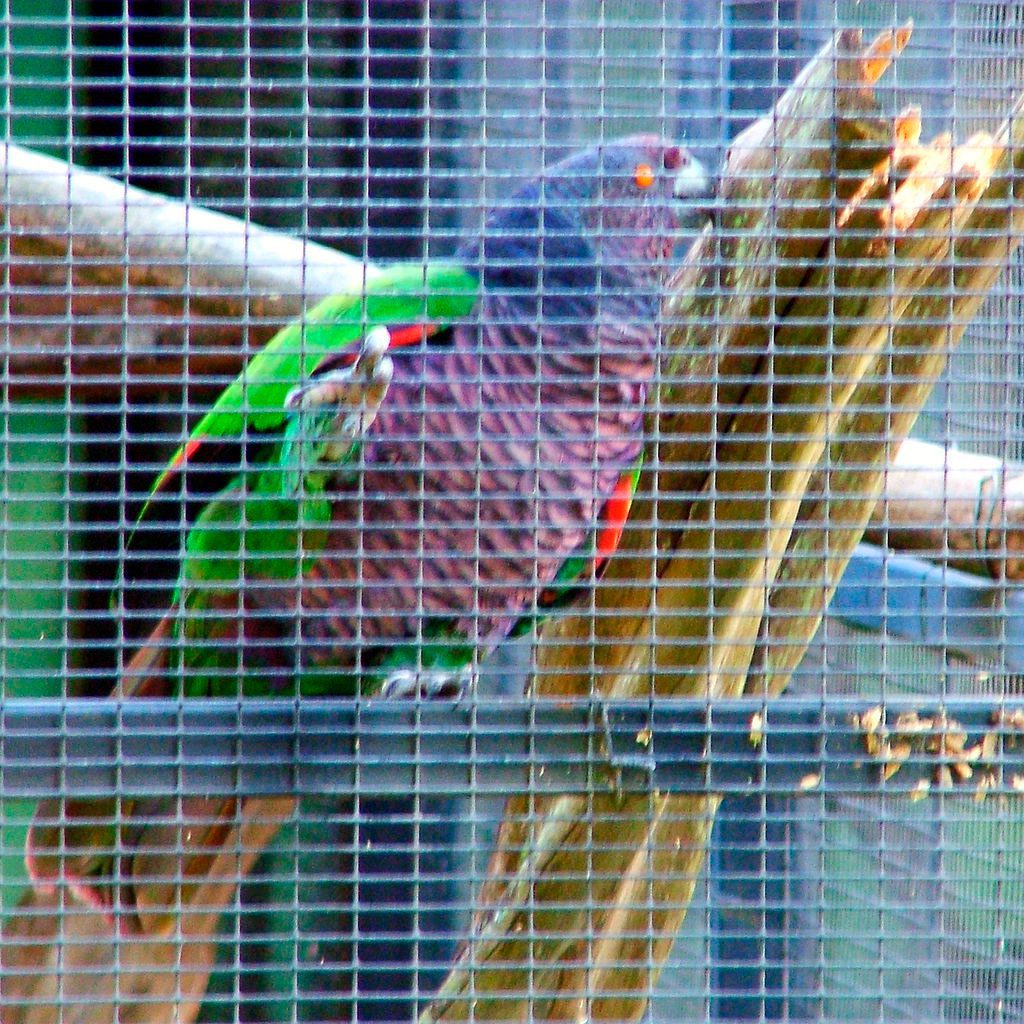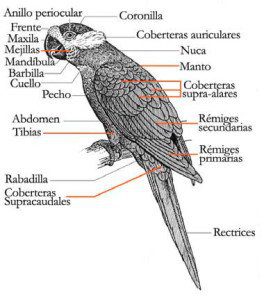 The largest gender Amazona, measuring up 45 cm.. length.
The Imperial Parrot (Amazona imperialis) has the lores and forecrown, deep purple; cheeks and ear-coverts, brown; crown purple with dark emerald edges; sides neck and nape, deep purple with black tips, sometimes with a subterminal band emerald.
Mantle, back and scapulars, green bluish tipped pens some. Wing coverts green with scarlet at bend of wing. Primaries dark brown-black with green at the base of the outerweb; outer secondaries purple with a patch crimson in color outerweb, forming a speculum; inner secondary dark green tipped blue.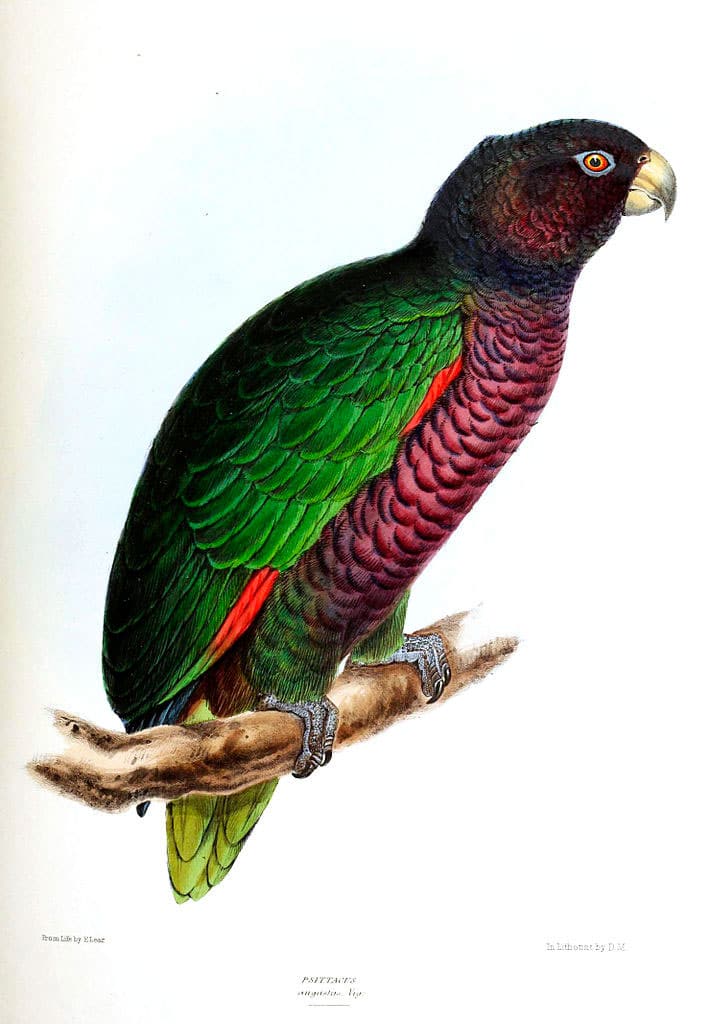 Under wings green, coverts with blue tips. Throat, chest and belly, deep purple with black tips; some feathers (especially in the chest) show the subterminal band pinkish-vinous or olive-green, while others (visible from certain angles) bright blue sides and ends; the thighs and sides belly green with blue tips; undertail-coverts green with blue markings and vinous. Tail green at the base with a subterminal band dull reddish-brown and vinous tip. Bill dark horn, paler at the base; irises orange; legs dark gray.
The female is paler. The immature It has green on crown, the nape and lower cheeks.
Sound of the Imperial Parrot.
Video "Imperial Parrot"
First Captive-bred Imperial Parrot
(Amazona imperialis)
The Imperial Parrot frequents the canopy of primary rainforest mountain, sometimes dwarf forests (above 1.200 m), preferring areas with mature trees Dacryodes excelsa and palms as Euterpe dominicana.
Mainly they distributed in altitudes of 600-1300 m, but reports at altitudes 150-300 meters when birds fall in response to food shortages or food preferences. The communal roosts They form in traditional sites, for example in large trees Dacryodes or Sloanea berteriana, They are using one year to another (but not necessarily throughout the year.
Nest in holes in high forest trees, for example Dacryodes or Sloanea. The nesting territory, probably defended throughout the year. Breeding season usually occurs during the dry season between February June, when resources are more abundant. Clutch two eggs. Possibly they breed only every two years, with one calf usually per clutch.
Foods reported include fruits of Dacryodes, Licania ternatensis, Richeria grandis, Amanoa caribaea, Simarouba amara, Symphonia giobulifera, Pouteria pallida, Tapura antillana, flowers and fruits of Chimarrhis cymosa, nuts and sprouts young palms Euterpe. Usually it is fed in the morning and evening.
Size of its range (breeding/resident): 240 km2
The Imperial Parrot It is endemic to the Dominica Island in the Lesser Antilles. Formerly she lived in the central highlands around Morne Diablotin (1.447 m, the highest mountain in Dominica) in the North of Morne Anglais, in the South. In 1950 It was reduced to two disjoint forest areas, about Morne Diablotin and around Morne Anglais, where the last reliable sight was in 1983. In Morne Diablotin, per se, birds found in increasing altitudes due to habitat loss and alteration on the lower slopes. Probably now absent on the south side, with the northwest side, particularly in the upper valley of Picard River, in the area of Morne Plaisance and Dyer Estates, being of critical importance.
Resident. Early observers believed that the Imperial Parrot It was scarce. further investigation (1870) revealed that it was common to abundant, but the numbers dwindled rapidly due to the loss of habitat, hunting and capture for the pet trade. The census 1975 He suggested a total of 150-250 birds. In 1979, only 16 in Morne Anglais, when a hurricane further reduced the population. In 1987 a survey estimated the total population to 60 specimens. One census 1990 He suggested 80 parrots (possibly, but less than 100), with 80-100 estimated 1993. The species is at serious risk of loss of habitat (mainly due to the conversion of forest tree crop plantations, especially bananas, provided by the new infrastructure) and impacts of hurricanes (to which birds are highly vulnerable in such a restricted range) that destroy food plants and nesting sites. Hunting and gathering for local pet markets have significantly decreased thanks to a Program successful conservation education. Foreign collectors birds remain a persistent threat, but birds are extremely rare in captivity locally or in international trade. Part habitat is protected in the North Forest Reserve, but the important neighboring areas are excluded and remain at risk. Completely protected by national legislation. CITES Appendix I.
State of conservation ⓘ

Endangered

ⓘ
(UICN)ⓘ
• Current category of the Red List of the UICN: In danger of extinction.
• Population trend: Increasing.
• Population size: 160-240
Rationale for the Red List category
Conservation action in recent 30 years has improved the situation of this species. Numbers have increased in recent years, but they can still only stay 250 mature individuals, calling the species as endangered. If the population continues to increase, It will be finally reduced to Vulnerable unless there is concomitant decreases in available habitat.
Justification of the population
The population is estimated at 250-350 individuals in total, approximately equivalent to 160-240 mature individuals (PR Reillo in a bit., 2012).
Justification of trend
No new data on demographic trends, but it is suspected that the species continues to increase at a rate not quantified due to conservation efforts.
The Imperial Parrot captive:
Completely protected by national legislation. CITES Appendix I.
Each captive specimen of this species which is capable of reproducing, It is placed in a well-managed program captive breeding and not be sold as a pet, with the objective of ensure their survival long-term.
– August Parrot, Dominican Amazon, Dominican Parrot, Imperial Amazon, Imperial Parrot (English).
– Amazone de Bouquet, Amazone de la Dominique, Amazone impériale, Amazone sisserou (French).
– Kaiseramazone (German).
– Papagaio-imperial (Portuguese).
– Amazona Imperial (español).
scientific classification:
– Order: Psittaciformes
– Family: Psittacidae
– Genus: Amazona
– Scientific name: Amazona imperialis
– Citation: Charles Wallace Richmond (American ornithologist), 1899
– Protonimo: Amazona imperialis
Sources:
Avibase
Parrots of the World – Forshaw Joseph M
Parrots A Guide to the Parrots of the World – Tony Juniper & Mike Parr
Birdlife
Photos:
(1) – Imperial Amazon (also known as the Imperial Parrot and Sisserou Parrot) at the Parrot Conservation and Research Centre Botanical Gardens, Roseau, Dominica By Amazona_imperialis_-Roseau_-Dominica_-aviary-6a.jpg: Andrew Szymanskiderivative work: Snowmanradio [CC BY-SA 2.0], via Wikimedia Commons
(2) – Amazona imperialis By David William Mitchell (1813–1859) (The Genera of Birds. Volume 2) [Public domain], via Wikimedia Commons
Sounds: Jesse Fagan, XC188165. accessible Sound of Imperial Amazon