The Cordoba Fighting Dog was combative, tremendous control value and resistance.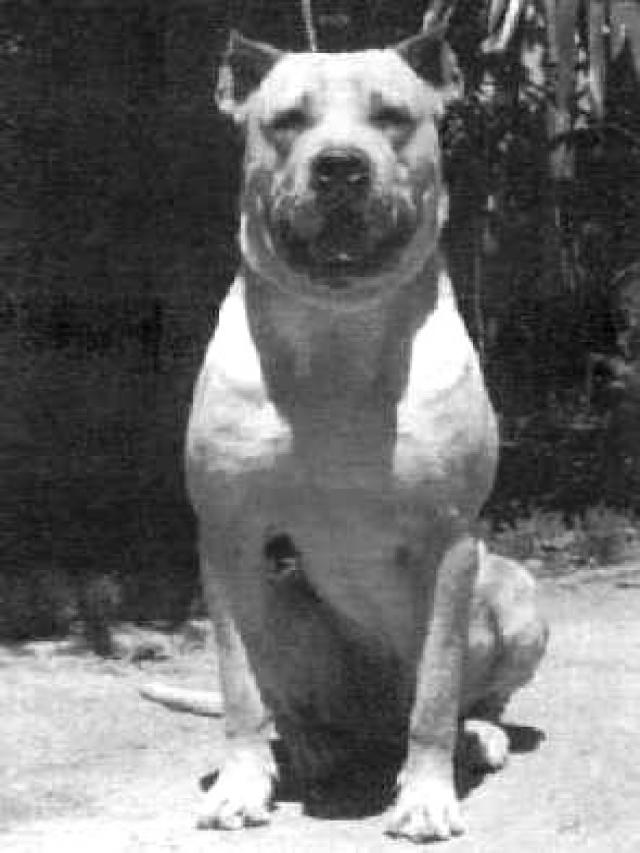 The Cordoba Fighting Dog (Cordobese Dog) is an extinct breed of dog, Argentine-born.
The Cordoba Fighting Dog it was a cross of Mastiff, Bull Terrier, Boxer, and the Old English Bulldog.
The old Cordoba Fighting Dog (PPC) originated in Córdoba (Argentina) in the last century. It was a special animal for combat, tremendous control value and resistance; morían peleando, no rehuían al encuentro jamás. Pero carecían de olfato y velocidad, además su ferocidad hacia sus congéneres los hacía inútiles para la caza.
This, sumado a la cantidad de ejemplares que morían en las peleas de perros, led to its extinction. The Cordoba Fighting Dog was able to hunt in small groups of males and females, de lo contrario se volvían en contra de sus compañeros de caza.
The race was so aggressive towards other dogs, que los machos y las hembras preferían más pelear entre ellos que aparearse.
Pero esta raza primitiva tenía en sí dos cualidades esenciales. An excellent ancestral heritage and great functional gymnastics, Since the rough fighting to which they were subjected from generation to generation, fueron acrecentando cada vez más su valentía original.
This dog, It was almost always white and some with spots barcinas, were given in various streams of blood, to avoid inbreeding, el aporte de las distintas razas que darían como resultado el Dogo Argentino.
The official canine club of Argentina describes the Cordoba Fighting Dog as a "very strong and muscular dog, con mandíbulas poderosas y dientes grandes". Tenía un pelaje corto y blanco, sometimes with markings around the eyes, y podía alcanzar hasta 70 height cm.
Otros nombres:

Córdoba Fighting Dog / Cordobese Dog / PPC.