History, physical characteristics, character and skills, images and videos of dog breeds that begin with the letter R
Dog breeds in Alphabetical Order
It is an excellent watchdog in the farms and homes of the Alentejo.
The Rafeiro of Alentejo (Alentejo Mastiff), as its name
The Rottweiler is a quiet dog, docile and faithful family.
The Rottweiler is one of the breeds of German origin that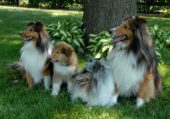 It is a very sweet and affectionate dog, maybe a little shy.
It is characterized by its great sense of orientation and its tendency to avoid being confined.
The Laika is a breed of dog