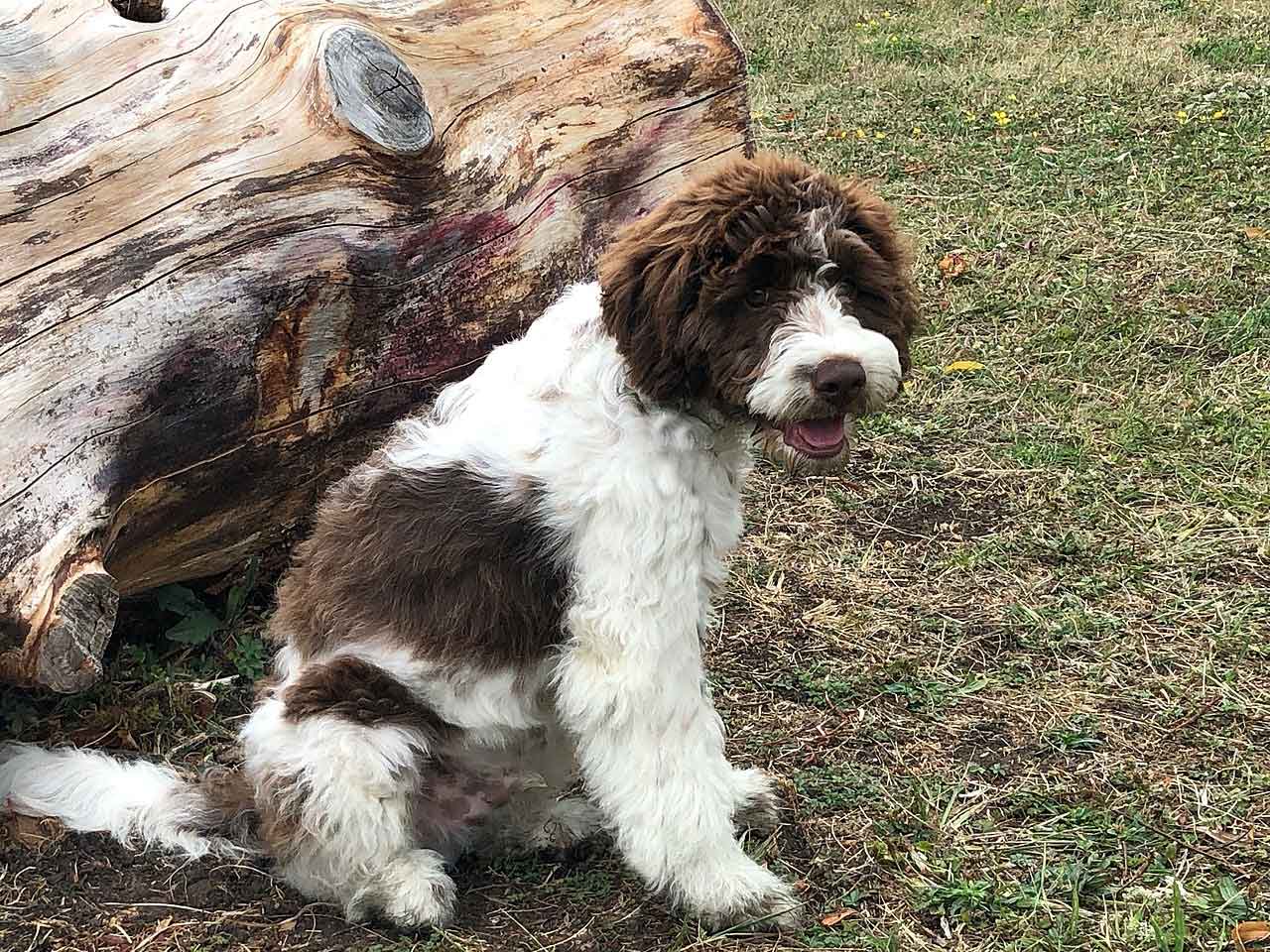 The Lagotto Romagnolo, or "Romagna Water Dog", descended from the Italian dogs that were used to recover game from the water. In fact, your name means "Dog of the lakes of Romagna" in Italian, reflecting its original use and the northern Italian region from which it came, the Romaña.
It was used at least since the Italian Renaissance for this task, especially in the swamps and lagoons present in his native region. Además de hacer compañía a sus amos y vigilar sus casas, he was also very good at recovering dead ducks that were in the water. They are the Italian equivalent of the Spanish Spaniel and the Irish Spaniel.. Many specialists believe that Romagna Water Dog is the oldest breed of Retrievers and that it is the distant ancestor of many more recent races, as the Golden Retriever, the Portuguese Water Dog and the Poodle. It is also believed to be one of the oldest Italian dog breeds.
The first trace of a similar animal dates back to the 15th century, and more specifically to 1474, in a fresco called Parete dell'Incontro, painted by italian Andrea Mantegna. It was also described by the philosopher Erasmus (1466 – 1536) and appeared in some works of the engraver Marcantonio Raimondi (1480 – 1534).
Later, in the XVIII century, the famous naturalist Carl von Linné (1707-1778) describió un perro de aguas mediterráneo que se parecía mucho al Romagna Water Dog.
Towards the end of the 19th century, much of the marshes in the area were drained into farmland, leaving the Romagna Water Dog jobless. However, los agricultores y otros propietarios pronto descubrieron que tenía un gran talento para encontrar trufas, muy apreciadas en el mundo de la gastronomía. In fact, this dog's excellent sense of smell, combinado con su espeso pelaje que le protegía de las ramas, brambles and other weeds, lo hacía muy eficiente. This change of use also implied certain changes in the traits of the breed: his primitive hunting instinct weakened, mientras que desarrolló una férrea concentración muy útil en la búsqueda de trufas. These two facts were combined so that you would not be distracted by the game when you were working.
However, el número de personas dedicadas a la búsqueda de trufas era mucho menor que el número de personas que cazaban. As a result, the breed's population decreased dramatically, so that by the middle of the 20th century there were only a few Romagna Water Dog. It also, truffle hunters weren't really interested in developing a breed in their own right: as long as the dog was good at his task, les parecía bien. Consequently, at the beginning of the 20th century there was a certain decrease in interest in the selection of this dog and several poorly thought-out crosses were made with other breeds.
The rescue and diffusion of the breed in the 20th century
Over the years 70, some thought that the Lagotto Romagnolo había desaparecido por completo. However, aún quedaban algunos en Italia, and some passionate breeders took important steps to preserve them. The group was led by Quintino Toschi, breeder and judge of Ente Nazionale della Cinofilia Italiana (ENCI), la principal organización canina del país. With the support of the veterinarian Antonio Marsiano and from another lover of the Lagotto, Lodovico Babini, se puso en marcha un programa de selección para salvar al perro de la extinción que se cernía sobre él. In 1988, they founded a breed club, the Club Italiano Lagotto, and they did a great job to get the breed to develop again in good condition.
The work carried out by this group was a success and allowed the Lagotto Romagnolo was recognized by the ENCI in 1992.
Then it began to be known and spread abroad, particularly in Europe (France, Switzerland, Germany, Finland, Great Britain…), but also much beyond, as in Australia and the United States. Aunque en algunos de estos países las trufas no son tan abundantes como en Romagna, the Lagotto encontró su lugar en las familias como perro guardián y de compañía. It is also possible to find them - although much more rarely- in the water courses, as hunting retrievers.
The Fédération Cynologique Internationale (FCI) recognized the breed provisionally in 1995. Ten years later, in 2005, granted him full recognition.
In 1997, was founded the Unione Mondiale dei Club Lagotto Romagnolo (Lagotto Romagnolo Club World Union), in view of the worldwide expansion of the breed. Chaired by the Dr. Giovanni Morsiani, permitió preservar los rasgos originales de la raza y coordinar programas de cría de calidad en todo el mundo.
That same year a breed club was founded in the United States., the Lagotto Club of America.
In 2001, the American Kennel Club (AKC) agreed to enroll the Lagotto in its Foundation Stock Service, a prerequisite for full recognition that occurred in 2015. The other reference organization in the United States, the United Kennel Club (UKC), recognized her in 2006.
in Canada, the Lagotto Romagnolo debuted in 1999. El primer ejemplar importado al país procedía de un famoso criadero italiano llamado Farnie. Ese mismo año se creó una primera cría en Alberta. Others followed him in 2000 and 2004, respectively in Ontario and Nova Scotia. Aunque estos criaderos pioneros ya no existen hoy en día, contributed greatly to the spread of the breed in the Canadian territory. The breed was provisionally recognized in 2012 by the Canadian Kennel Club (CKC), and then definitely in 2016.
Finally, en el Reino Unido, the romanian spaniel was accepted by the prestigious Kennel Club in the year 2000.
Photo: "Lagotto romagnolo" of 6 meses by XTY78, CC BY-SA 4.0, via Wikimedia Commons
Distribution and popularity
After having been on the verge of extinction half a century ago, the Romagna Water Dog parece ser hoy en día tan popular en su país de origen como lo fue en algunos momentos de su historia, and it is even more and more successful.
Like this, mientras que el número de registros anuales en el Ente Nazionale della Cinofilia Italiana (ENCI) was around the 1.500 early in the decade 2010, reached the 2.000 in 2014 and even approached the 2.500 at the end of the decade.
In France, the Romagna Water Dog has quickly conquered hearts. At the beginning of the 21st century, el número de perros inscritos cada año en el LOF (Libro de Orígenes Franceses) se podía contar con los dedos de una mano. A midyear 2000 he was already in his fifties, and then shot up to exceed 300 at the end of the decade. The success of Lagotto did not stop in the decade of 2010, quite the contrary: they ended up with some 500 births per year.
In Switzerland, the Lagotto is also well represented. Según las estadísticas de la base de datos oficial Amicus, in 2017 fue la 28ª raza más representada en el país, at around 3.500 animals.
On the other hand, in the UK it is much more discreet, although it seems that it begins to break through. Since the decade of 2000 until early next, there was no more than 20 or 30 births per year registered in the Kennel Club. However, this figure reached about 50 in the mid 2010, and then tripled in no time, to the point of ending the decade with more than 150 by year.
The Lagotto Romagnolo it is also small in the United States. The Lagotto Romagnolo se encuentra en la mitad de la clasificación de la raza según el número de inscripciones anuales en el AKC, around the post 100.
However, la raza se ha extendido por todo el mundo en las últimas décadas, con un éxito en algunos países que no era fácil de imaginar. This is the case of Australia, where the first records in the Australian National Kennel Council (ANKC) go back to the year 2000. Just fifteen years later, in the middle of the Decade of 2010, the organization already counted between 300 and 400 annual births.
The Lagotto Romagnolo it is a small to medium sized dog, solid build and rather square profile. In fact, its length should be approximately equal to its height at the withers. They give an overall impression of robustness and strength.
The back is straight and muscular, with a strong and slightly convex loin. The chest is well developed and reaches to the elbows.
La cola está cubierta de pelo lanoso y rígido. It is not too high or too low and reaches the level of the hocks.
The front legs are well muscled with a fine but robust bone structure. Their feet are rounded and compact, with clenched fingers. As for the hind legs, they are very powerful, while still being well proportioned. The feet are a little more oval than the front ones, with slightly less arched fingers. On all legs, the pads are very resistant, the claws well curved and solid.
The skull is quite wide and slightly convex when viewed from the side. Neck is strong, muscular and much more massive in males than in females.
The ears are medium-sized and triangular in shape, but rather rounded at the tips. Son colgantes y llegan al nivel de las mandíbulas del perro.
The eyes are round, large and quite far apart. Its color can be ocher, dark brown or hazelnut. Then already Romagna Water Dog a very attentive and lively expression.
The muzzle is quite wide and slightly shorter than the skull. Finish off with a nose that can range from flesh-colored to dark brown., it is quite large and has large nostrils.
The lips are rather thin and covered with long and somewhat bristly whiskers.. Cubren unas poderosas mandíbulas en forma de tijera.
The skin is quite fine and pigmented. Goes from very light to dark brown, según el color del pelaje.
The coat consists, first, in a highly water resistant underlayer. It is covered by a very dense top layer, curly and woolly. The tight curls give the impression that the dog is disheveled all over the body. The curls are a little looser on the head, showing the beard, the mustache and bushy eyebrows.
The coat can be whitish, white with brown or orange highlights, orange red, brownish red or completely brown (in any shade of this color). Tan markings are also allowed in all shades, regardless of the dog's coat color.
It is worth mentioning that the fur of the Lagotto Romagnolo tarda en adquirir su aspecto característico, since it is not until 2 or 3 years of age. In effect, her curls form only very gradually; cuando todavía es un cachorro, its fur is very soft.
Last, the breed is characterized by a certain sexual dimorphism. In addition to having a more solid neck than the female, the male is usually taller and more massive than the female.
Size and weight
▷ Male size: 43 – 48 cm.
▷ female size: 41 – 46 cm..
▷ Male weight: 13 – 16 kg
▷ female weight: 11 – 14 kg
The Lagotto Romagnolo is smart and lively, but he is also close to his family, with which he enjoys.
This is especially true of the very young., which makes it a very good dog breed choice for children. Su alto nivel de energía le permite pasar horas jugando con ellos sin cansarse. However, as with any of his peers, should never be left alone with a young child without adult supervision. Esto es tanto más cierto cuanto que tiene un nivel de energía relativamente alto y podría, for example, unintentionally pushing or even knocking down your young partner.
The Romagna Water Dog he also gets along very well with other dogs, whether they live in the same house or just pass each other on a walk. Having largely lost the strong hunting instinct of a few centuries ago, they can also get along with other animals such as cats, rodents and birds. If you have to share your home with one of them, coexistence is so much easier as it is established as soon as you get home. In any case, it is important to socialize him well from an early age and get him used to meeting representatives of other species: así tendrá menos ganas de perseguirlos a lo largo de su vida. In any case, if he is not well socialized and his hunting instinct tends to prevail, or if you do not respond perfectly to the call for attention, it may be preferable to walk it on a leash than in freedom.
El sentido del olfato no es el único que es muy agudo en este perro. In fact, también tiene un excelente oído, that allows you to hear from afar anyone who approaches you. It also, fully fulfills the role of alert dog, barking and warning his owner as soon as an unknown person approaches his house. However, su papel termina ahí: as it is not one of those who threaten or impress, not really a good watchdog.
The Lagotto Romagnolo tends to keep some distance from strangers at first, even if they are invited by their master and the introductions are done correctly: puede pasar un tiempo antes de que confíen. However, once well socialized and educated, he ends up getting used to their presence and is very friendly with them. In fact, some of the breed representatives are open enough to be used as psychological support dogs, visiting hospitals, schools or even prisons, and bringing comfort wherever they go.
To accept new people, you have to be comfortable in your own home, así como en sus patas. As such, debe realizar actividad física durante al menos una hora diaria, for example, through walks, games, puzzles or dog sports like agility or flyball. Sus habilidades físicas y su resistencia también le permiten acompañar alegremente a los señores deportistas en sus carreras, mountain bike rides or hikes. However, it can also be a good match for retired people, siempre y cuando se mantengan lo suficientemente activas y puedan sacarlo lo suficiente todos los días. In any case, how you tend to get bored easily, It is convenient to offer you varied activities and regularly change the places of your walk.
Swimming is also a great way to get your dog to exercise.. In fact, the centuries that it has spent being used as a waterfowl retriever explain that it is a dog that loves water. Le encanta nadar y disfruta de cada momento que pasa en un lago o un río. One of his favorite games is to go to find and recover the objects that his master throws into the water..
If you are not given enough opportunity to exercise and get bored, or if it suffers a lack of attention from its owners (either because they are absent too often and for too long, or because they neglect him), the Romagna Water Dog is likely to develop a number of undesirable behaviors. In particular, may start barking untimely and become excessively loud. Si tiene acceso a un jardín, can start digging holes to search for objects or food under the ground. Degrading objects or stealing food are also part of their history. All these behaviors are the sign of a psychological distress that is important to treat, and for which the owner is often responsible.
On the other hand, siempre que se respeten sus necesidades de atención y actividad física, the Romagna Water Dog he is a very affectionate companion, that he does not stop appreciating the most cuddly moments and that he is very calm.
It also, as long as I have enough outings and activities, can be fully adapted to life in the city and in an apartment, aunque el entorno ideal para él siga siendo una casa con acceso a un jardín. However, no es cuestión de relegarlo al fondo del jardín, for example in a kennel: difícilmente lo toleraría y sería muy probable que aparecieran síntomas de ansiedad por separación.
Last, It should be noted that the female of the Lagotto Romagnolo reaches psychological maturity long before the male.
The Lagatto Romagnolo he is intelligent and devoted: very eager to please, he has in his heart to understand what his owner wants, and meet your expectations. This makes it an easy dog ​​to train and suitable even for a beginner..
The most experienced people can go a long way in their education, because it was selected to quickly understand complex commands. It is not by chance that he often shines in obedience competitions.
Having said that, the practice in which you can excel the most is, of course, la búsqueda de trufas, allowing you to exploit your developed sense of smell. This does not require a great effort, since it is very easy to train a truffle dog, as long as you know how to do it.
Whatever your future mission, it is best to base the training of the Romagna Water Dog en ejercicios lúdicos y variados. In effect, his intelligence and alertness mean that he can get bored quickly if the sessions are repetitive. It is also important not to go for methods that are too strict for your taste.; it is better to bet on positive reinforcement, that motivates you to learn and makes things easier.
In any case, the fact that he is docile and obedient does not exempt you from having clear house rules, and to teach you quickly. As with any dog, You have to decide from the beginning what you can do and what you are not allowed to do., and try to keep it after, that is to say, be consistent over time. This consistency should also apply from one family member to another.: everyone must enforce the same rules, uniformly. If these conditions are not respected, the child is likely confused, having difficulty understanding what is expected of him, what is and what is not allowed.
The Lagotto Romagnolo it is a generally resistant dog: cuando no experimenta ningún problema de salud importante, can live long enough until 17 years, which is significantly above the average of its congeners that have such a template.
It also, its thick coat protects it not only from water and humidity, sino también del frío.Por lo tanto, it can live very well in significantly less accommodating climates than its native Italy., sus orígenes explican que no sea particularmente sensible a las altas temperaturas.
A pesar de su buena salud general, It, like all races, particularly susceptible to certain diseases, in this case, is about:
The

Hip Dysplasia

, a disease whose onset may be favored by a hereditary predisposition, which especially affects medium to large sized dogs.This is an abnormal conformation of the hip joint, that can cause pain, lameness and some difficulty moving.It also promotes the formation of

osteoarthritis a

As the animal ages, if the problem is detected early,

algunas cirugías pueden retrasar los efectos de la enfermedad o aliviar los síntomas

;

The

Dysplasiadelcodo, a developmental problem of the elbow joint that causes pain or lameness., also leads to the development of

osteoarthritis

.Like hip,

una predisposición hereditaria puede aumentar la probabilidad de que ocurra.Es posible limitar las consecuencias gracias a una intervención quirúrgica

, to be done as soon as possible;

The

juvenile epilepsy, an inherited disease of the nervous system characterized by seizures, generally observable from the first 5 to 9 puppy weeks.In most cases,

los síntomas desaparecen por sí solos alrededor de los

4 months of age,

aunque algunos perros con la enfermedad continúan experimentando episodios ocasionales de convulsiones hasta la edad adulta

.The gene that originates it is particularly widespread in Lagotto Romagnolo:

según los datos facilitados por los laboratorios que realizan las pruebas que permiten identificar la enfermedad

(Optigen in the United States, Mydogdna in Germany and Genoscoper in Finland) 46. % of the representatives of the tested breed carry it., only 3%

de la población total padece realmente los síntomas de la enfermedad

;

The

ataxia cerebelosa

, a neurological disease causing an inherited movement coordination disorder., it is also a source of involuntary muscle contractures problems.There is no treatment for

la ataxia cerebelosa

,

cuyos síntomas empeoran y conducen a la

dog euthanasia

about two years after its appearance;

Abiotrofia cerebelosa,

una afección nerviosa que puede heredarse y es causada por la degeneración de ciertas células cerebrales.Sus principales síntomas son temblores y movimientos inapropiados

, especially when facing an obstacle.There is no cure for this disease,

pero no causa sufrimiento físico al perro.Sin embargo

, as the situation progressively worsens, there comes a time when the disability is too severe, so euthanasia is recommended;
Distrofia neuroaxonal, which corresponds to an accumulation of various substances in neurons. It is the particular cause of head tremors,

trastornos del equilibrio o incluso caídas.Estos síntomas suelen aparecer en el primer mes del cachorro.No existe tratamiento contra esta enfermedad potencialmente hereditaria

, which very often leads to the euthanasia of the animal;
Lysosomal storage disease, an inherited neurological disorder that often leads to euthanasia.,

está en el origen de movimientos descoordinados y pérdida de equilibrio.Según un estudio publicado en

2015

en la revista científica PLOS Genetics y titulado

"

Missense in the ATG4D gene links aberrant autophagy with neurodegenerative vacuolar storage disease

", approximately 12% of the Lagotti are carriers of the genetic mutation at the origin of this disease There is no cure and things are only getting worse;Therefore, an affected subject dies very young or ends up being euthanized.

The

waterfall, a disease causing progressive loss of vision due to clouding of the lens, sometimes inherited and mainly affecting the elderly,

se puede curar con una operación quirúrgica

;

Infections of

ear (otitis, etc.), due to the hanging shape of his ears.
It also, the Romagna Water Dog also poses a risk of being overweight. Not to be taken lightly, since being overweight can lead to various health problems, pero también agravar patologías ya presentes en el animal afectado.
However, Many of the diseases to which the breed is exposed are or may be of hereditary origin., the utmost vigilance is required when choosing acreator of Lagotto Romagnolo.A professional worthy of the name, as well as ensuring that your puppies benefit from good socialization from their first weeks, se compromete a maximizar las posibilidades de que estén sanos y se mantengan así.Para lograrlo, is in charge of carefully selecting its breeders, making them pass various genetic tests to avoid any transmission to their descendants of a possible hereditary defect., must be able to present the results of such tests, that may also have been done on the little ones themselves., must present a veterinary certificate attesting to the good health of the puppy whose adoption is being considered, así como su historial de salud o vacunación, este último en particular confirma que el animal ha recibido las diversas vacunas requeridas.
Una vez que este último regresa a su nuevo hogar, It is worth remembering that a dog is particularly vulnerable during its first few months., las actividades físicas inadecuadas (too long and / or too intense) can easily cause injury, but also affect the proper development of bones and joints, with potentially long-lasting consequences., it is better to wait for him to reach adulthood to take him for long walks or hunt for truffles for hours, por ejemplo.Esto es aún más cierto que esta raza es particularmente propensa a algunos problemas articulares (Hip Dysplasiaandelbow dysplasia).
From then on, no es porque sea un adulto por lo que ya no debería preocuparse por su salud.A lo largo de su vida, debería beneficiarse como cualquier perro de un seguimiento riguroso, including a visit to the vet once a year, and even more regularly when you are older, this allows the professional to perform a complete check-up of your health, y en ocasiones detectar un problema que un ojo menos informado como el del propietario no podría, yet, This is also the perfect time to take any booster dose.
Además de las enfermedades contra las que estos últimos lo protegen, it is also necessary to ensure that you are permanently protected against parasites and the risks they imply.So, It is the responsibility of the owner to renew the antiparasitic treatments of his companion throughout the year.Esto es aún más importante para las personas que pasan mucho tiempo al aire libre.
Life expectancy
13 years
Feeding a Romagna Water Dog not particularly difficult: a balanced and good quality industrial feed is perfectly adequate. However, it is important to choose products and establish portions adapted to their age, salud y nivel de actividad física.
Este último puede variar significativamente durante el año, especially in the case of an individual used for truffle hunting during the winter season. Es necesario entonces ajustar al alza la cantidad de alimento que se le da cada día, so that you benefit from a sufficient energy supply and can work in good conditions. On the other hand, once the period in question has ended, servings should return to normal level, to prevent you from suffering from overweight problems.
When the dog is young, the ration must be adapted to the growth period in which it is. Esto es especialmente importante porque una dieta inadecuada podría ser perjudicial para el desarrollo físico del cachorro: if the food is too rich or is given in too large quantities, podría crecer demasiado rápido, lo que podría provocar problemas articulares. Otherwise, una alimentación insuficiente podría provocar carencias y problemas de crecimiento.
This is especially true because the Lagotto Romagnolo is easily prone to obesity. That is why it is important to pay attention to the evolution of your weight and weigh it twice a month.. If a discrepancy is observed, which is confirmed or even increased in the following measurements, it is necessary to visit the vet. Only a professional can safely determine the cause of weight gain, which may not be related to the dog's diet or activity level, but with a disease or a treatment, for example. Once the cause of the problem has been identified, the vet will be able to advise how to remedy it and return the dog to a healthy weight.
In any case, the fact that the Romagna Water Dog being prone to obesity implies that some caution should be exercised regarding the use of treats, aunque pueden resultar muy útiles, especially in the context of training. Lo ideal es optar por productos bajos en calorías y deducir su aporte calórico de su ración diaria.
This propensity to be overweight also justifies dividing your daily ration into multiple meals.: even if I have a sweet tooth, less likely to order food when you know another is waiting for you later.
Last, like any dog, the Lagotto Romagnolo a bowl of clean, fresh water should always be available to you.
The Lagotto Romagnolo is covered in thick, curly fur that needs a lot of maintenance.
First of all, it is necessary to brush it about twice a week, to avoid knot formation. The longer the coat, more important is to take the opportunity to examine it to remove dirt and other weeds, and undo the knots, especially around the joints: this will prevent injury or irritation caused by rubbing. También es conveniente acostumbrarse a examinar su pelaje después de un largo periodo en un entorno húmedo o con una vegetación muy densa.
On the other hand, muda muy poco y no tiene períodos de muda estacionales. If we add to this that he does not drool much, This makes it an especially appreciated companion for people who are very attached to cleanliness., but also for those who suffer from allergies. Thus, are often presented as a hypoallergenic dog breed, but you have to remember that none of them is 100% hypoallergenic and that the amount of allergens emitted can vary significantly from one individual to another, even within the same race. Therefore, there is nothing to replace a test in real conditions, consistente en pasar unas horas en compañía del animal cuya adopción se está considerando.
Regarding the bathroom, a monthly frequency is adequate to keep the dog's coat clean. Lagotto Romagnolo, without affecting its natural ability to resist water and inclement weather. However, es importante utilizar un champú suave especialmente diseñado para perros, otherwise your skin will be damaged, and do not dry or brush it after bathing, lo que podría dañar sus hermosos rizos.
It also, their hairs grow quickly and require regular trimming, at the rate of some 3 or 4 times a year. Esto último puede ser realizado por un peluquero canino profesional o directamente por su dueño, if he knows how to do it.
Ears of the Lagotto Romagnolo require rigorous maintenance, since its hanging shape and the hairs that grow around it constitute fertile ground for the development of infections caused by the accumulation of moisture and dirt. Therefore, it is imperative to examine and clean them weekly, así como después de cada salida larga en la naturaleza. Esto es especialmente importante si el animal ha estado en un ambiente húmedo o ha estado nadando, and it is important to dry it well. It also, se recomienda recortar regularmente el pelo alrededor de las orejas para evitar que la cera y la suciedad se depositen allí.
You should also check your eyes weekly and clean the area around them if they are dirty.. El vello alrededor de los ojos puede hacer que se desarrollen infecciones allí también. If to that we add that they can obstruct the vision of the dog, the interest of cutting them regularly is easily understood.
Regarding the teeth, they must be brushed regularly to avoid the formation of dental plaque, que puede ser en sí misma la causa de muchos problemas bucales. The ideal is daily brushing and, in any case, it is better not to brush less than once a week. In any case, it is advisable to systematically use a toothpaste intended for the canine species.
The claws of the Lagotto Romagnolo they tend to be much less demanding in terms of maintenance, especially if you spend a lot of time outdoors: this usually allows them to file naturally. However, es conveniente asegurarse de que realmente es así. In fact, if they get too long, can hinder the dog's movements, and even hurt you a lot if they break. If you hear them rubbing against the ground when walking on hard surfaces, It is a sign that you have to cut them manually.
Whether the fur, the ears, the eyes, teeth or even claws, take care of a Lagotto Romagnolo requires mastering a series of gestures. If they are not necessarily complex, better make sure you do them correctly, not only for good results, but also and above all so as not to risk hurting your partner, or even injure him. Therefore, the first time it may be wise to make an appointment with the vet or a groomer, to learn from a professional how to proceed. In any case, it is advisable to accustom your pet to this type of manipulation as soon as possible, Since, otherwise, las sesiones de mantenimiento podrían resultarle especialmente desagradables.
Originally, the Lagotto Romagnolo used -and selected- para recuperar la caza que caía al agua. This selection explains its particularly waterproof coat and its very pronounced taste for swimming..
Since the end of the 19th century, after the drying up of many swamps in its Romagna natal, se dedica en cuerpo y alma a la búsqueda de trufas. Today, es la única raza de perro que se cría específicamente para esta tarea. Her highly developed sense of smell and her innate propensity to search by digging holes make her a true expert in this field..
También es un excelente perro de compañía hoy en día, that is sociable and easy to train. They are suitable for beginners and are especially suited to families, especially those who are quite active. They are especially popular with those allergic to dogs, ya que sueltan muy poco pelo y sólo liberan una pequeña cantidad de proteínas alergénicas. However, ningún perro puede considerarse 100% hypoallergenic, therefore compatibility cannot be guaranteed: there is nothing to replace a trial period of several hours with the person whose adoption is being considered.
Wide awake, the Lagotto Romagnolo It is also an excellent alert dog that does not hesitate to bark when an unfamiliar person approaches its home. On the other hand, can't really take on the role of watchdog, since they are not aggressive or threatening to strangers, y sería muy improbable que los ahuyentaran.
On the other hand, His excellent sense of smell obviously works wonders in crawling competitions and, of course, in the romps. También pueden distinguirse en los deportes caninos que destacan su gran energía e inteligencia, like agility, flyball or obedience.
Last, due to his friendly and always uniform temperament, sometimes used as a therapy dog, for example in hospitals, schools or prisons.
In France and Belgium, the price of a puppy Lagotto Romagnolo ranges between 800 and 1.500 EUR, and the average is about 1.100 EUR.
in your country of origin, Italy, you have to tell about 600 to 1400 EUR. For a person who doesn't live very far, import may be an option to consider, ya que hay muchas más explotaciones allí, and therefore a greater offer.
in Canada, breeders usually ask for an amount that is around 2400 canadian dollars. However, patience is often necessary, ya que el reducido número de criadores en el país hace que sea habitual encontrarse en una lista de espera. This is especially true if you are looking for a puppy of a certain color..
The amount to pay to adopt a puppy from Lagotto Romagnolo in the United States it ranges from 1.800 and 2.500 American dollars.
In the case of an import from abroad, It is advisable to bear in mind that additional costs must be added to the purchase price: administrative expenses, quarantine, transport…
In any case, sea cual sea el país, the price that is asked depends on the prestige of the kennel and the lineage from which the puppy comes, as well as its intrinsic characteristics, especially on the physical plane, that is to say, its greater or lesser conformity with the standard. It also, it is this point that explains why important price differences are sometimes observed within the same litter.
Characteristics "Romagna Water Dog"
Coexistence is important that you have with your new friend. Before considering the acquisition of a dog of the breed "Romagna Water Dog" you know certain factors. Not all breeds of dogs are apt to live in an apartment, you must take into account his character, their need for exercise, their interaction with other pets, their care and if you have small children, their level of tolerance towards them.
Adaptation ⓘ

3 out of 5 stars (based on 1 review)

friendly dog ​​ⓘ

4 out of 5 stars (based on 1 review)

hair loss ⓘ

1 out of 5 stars (based on 1 review)

Affection level ⓘ

3 out of 5 stars (based on 1 review)

Need for exercise ⓘ

4 out of 5 stars (based on 1 review)

Social need ⓘ

3 out of 5 stars (based on 1 review)

Home ⓘ

3 out of 5 stars (based on 1 review)

Toilet ⓘ

3 out of 5 stars (based on 1 review)

Friendly with strangers ⓘ

2 out of 5 stars (based on 1 review)

barking ⓘ

3 out of 5 stars (based on 1 review)

Health ⓘ

3 out of 5 stars (based on 1 review)

Territorial ⓘ

4 out of 5 stars (based on 1 review)

Cat friendly ⓘ

3 out of 5 stars (based on 1 review)

Intelligence ⓘ

4 out of 5 stars (based on 1 review)

Versatility ⓘ

3 out of 5 stars (based on 1 review)

Child friendly ⓘ

4 out of 5 stars (based on 1 review)

Surveillance ⓘ

4 out of 5 stars (based on 1 review)

joy ⓘ

4 out of 5 stars (based on 1 review)
Images "Romagna Water Dog"
Photos:
1 – "Romagna Water Dog" by https://pixabay.com/es/photos/lagotto-romagnolo-perro-cachorro-4272671/
2 – "Romagna Water Dog" at the World Dog Show in Poznań by Pleple2000, CC BY-SA 3.0, via Wikimedia Commons
3 – "Romagna Water Dog" La Gottis Campione by Flickr
4 – "Romagna Water Dog" by Rdo01, CC BY-SA 3.0, via Wikimedia Commons
5 – "Romagna Water Dog" during the dog show in Katowice, Polonia by Lilly M, CC BY-SA 2.5, via Wikimedia Commons
6 – "Romagna Water Dog" hembra de 2½ años by Entheta, CC BY-SA 3.0, via Wikimedia Commons
Videos "Romagna Water Dog"
FCI CLASSIFICATION:
Group 8: Retrievers - Flushing Dogs - Water Dogs
Section 3: Water Dogs. .
Federations:
– FCI – Group 8: Retrievers - Flushing Dogs - Water Dogs – Section 3: Water Dogs

ⓘ

– AKC –

Sporting

ⓘ

– ANKC –

Group 3 (Gundogs)

ⓘ

– CKC –

Sporting Dogs

ⓘ

– ​KC – Gundog

ⓘ

– NZKC –

Gundog

ⓘ

– UKC –

Gun Dogs

ⓘ
FCI breed standard "Romagna Water Dog"
FCI -

Romagna Water Dog
1.

Lagotto Romagnolo

(English).
2.

Lagotto Romagnolo, Lagotto

(French).
3.

Lagotto Romagnolo

(German).
4.

Lagotto romagnolo

(Portuguese).
5.

Lagotto romagnolo, Lagotto de Romagna, Perro de laguna de Romagna

(español).