British

Faithful and intelligent

20 to 25 Kg.

59 to 61 cm.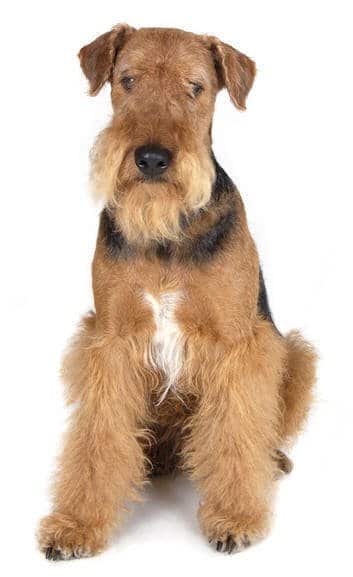 History
Physical characteristics
Character and skills
Images
Videos
The Airedale Terrier It is a large, strong dog breed belonging to the Group Terrier. It is of British origin, of the Yorkshire region. It is believed that he descended from a cross between the Otterhound, otter hunter optimal, Terrier and the Old Español. The breeding of these animals began in the mid-nineteenth century.
In countries where it is most widespread has never managed to be a dog "fashion", so you have some protection of trade and indiscriminate breeding, factors that destroy the zootechnical characteristics of most breeds of dogs.
His personality is cheerful, sometimes relied, insurance. It is almost always on alert but not aggressive, if not annoying or it urges.
Physical characteristics Airedale Terrier
His teeth presents a quadrature and much strength to the of a Rottweiler, Despite having a thinner jaw. His coat is black and tan, varying its intensity but not the distribution, black or gray color extends to the upper neck, back, back, rump, while the flanks, thighs and belly have a mixed shade of gray hairs and golden, the rest of the body, is tan or sand in different shades.
Is from the Terriers larger, muscular and active. His character shines through the lively and alert expression of her eyes, the way that carries its tail erect and ears. He has a lump between 59 and 61 cm in males with an average weight of 25 kg. The females among 56 and 59 cm and weighing approximately 20 kg. The eyes should never be prominent but small, dark and at an angle, with typical expression Terrier, alert and intelligent. The ears are V-shaped, sometimes lighter or darker than the skull. Like other Terrier, are traditionally amputated one third of the tail a few days after birth. However, recently banned the practice in some countries.
It has a long, flat skull. Is well proportioned to the body. The muzzle must not be well modeled as concave or stop abruptly to descend below the eye. The skin should be smooth, firm and tight. The upper and lower jaws are large, powerful and strong, but should not excess development. Scissor bite, namely, the inside of the upper incisors in contact with the outside of the lower incisors preferably set square to the jaws; but if you accept the bite in pincer. The lips are firm and black muzzle.
Airedale Terrier character and skills
It is an intelligent dog, fell, quiet, a stalwart partner who enjoys walks and responds to simple commands basic training without any problems.
In Canada They are used for hunting bear and deer.
They have problems with ears that require continuous observation and a lot of hygiene. They may also have skin problems, known as hot patch.
Imágenes Airedale Terrier
Dogs breeds: Airedale Terrier
Group 3 / Section 1, Large and medium-sized Terrier
FCI 7
1. Airedale Terrier, Waterside Terrier, Bingley Terrier, AIREDALE, King of Terriers (English).
2.

Airedale Terrier, Waterside Terrier, Bingley Terrier, Working Terrier, Warfedale Terrier

(French).
3.

Waterside Terrier, Terrier, Bingley Terrier

(German).
4.

Airedale terrier, O rei dos terriers, Waterside Terrier

(Portuguese).
5.

Airedale terrier, Rey de los Terriers

(Spanish).