Intelligent, fell, quiet and an unconditional companion. in Canada, the Airedale Terrier, used for hunting large bears and deer.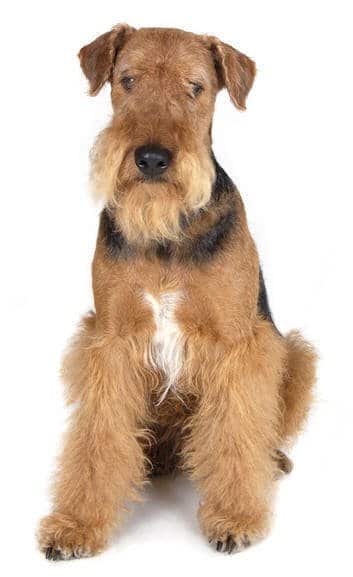 Characteristics "Airedale Terrier"
Coexistence is important that you have with your new friend. Before considering the acquisition of a dog of the breed "Airedale Terrier" you know certain factors. Not all breeds of dogs are apt to live in an apartment, you must take into account his character, their need for exercise, their interaction with other pets, their care and if you have small children, their level of tolerance towards them.
Adaptation ⓘ

5,0 of 5 stars (based on 1 review)

friendly dog ​​ⓘ

1,0 of 5 stars (based on 1 review)

hair loss ⓘ

3,0 of 5 stars (based on 1 review)

Affection level ⓘ

4,0 of 5 stars (based on 1 review)

Need for exercise ⓘ

4,0 of 5 stars (based on 1 review)

Social need ⓘ

4,0 of 5 stars (based on 1 review)

Home ⓘ

3,0 of 5 stars (based on 1 review)

Toilet ⓘ

4,0 of 5 stars (based on 1 review)

Friendly with strangers ⓘ

2,0 of 5 stars (based on 1 review)

barking ⓘ

3,0 of 5 stars (based on 1 review)

Health ⓘ

2,0 of 5 stars (based on 1 review)

Territorial ⓘ

5,0 of 5 stars (based on 1 review)

Cat friendly ⓘ

1,0 of 5 stars (based on 1 review)

Intelligence ⓘ

5,0 of 5 stars (based on 1 review)

Versatility ⓘ

4,0 of 5 stars (based on 1 review)

Child friendly ⓘ

4,0 of 5 stars (based on 1 review)

Surveillance ⓘ

5,0 of 5 stars (based on 1 review)

joy ⓘ

5,0 of 5 stars (based on 1 review)
History of the Airedale Terrier
This King of the Terriers is a breed of large, strong dogs belonging to the group Terrier. It is of British origin, of the Yorkshire region. It is believed that he descended from a cross between the Otterhound, otter hunter optimal, Terrier and the Old Español. The breeding of these animals began in the mid-nineteenth century.
In the countries where it is most widespread, it has never managed to be a "fashionable" dog., so it has some protection from trade and indiscriminate breeding, factors that destroy the zootechnical characteristics of the vast majority of dog breeds.
His personality is cheerful, sometimes relied, insurance. It is almost always on alert but not aggressive, if not annoying or it urges.
Did you know??

The Airedale is the largest of the terrier breeds and was one of the first races trained for police work in Germany and Britain. In World War, he worked as a guard dog and messenger.
Physical characteristics Airedale Terrier
His teeth presents a quadrature and much strength to the of a Rottweiler, Despite having a thinner jaw. His coat is black and tan, varying its intensity but not the distribution, black or gray color extends to the upper neck, back, back, rump, while the flanks, thighs and belly have a mixed shade of gray hairs and golden, the rest of the body, is tan or sand in different shades.
Is from the Terriers bigger, muscular and active. His character shines through the lively and alert expression of her eyes, the way that carries its tail erect and ears. He has a lump between 59 and 61 cm in males with an average weight of 25 kg. The females among 56 and 59 cm and weighing approximately 20 kg. The eyes should never be prominent but small, dark and at an angle, with a typical expression Terrier, alert and intelligent. The ears are V-shaped, sometimes lighter or darker than the skull. Like other Terrier, traditionally a third of the tail was amputated a few days after birth. But, this practice has recently been banned in some countries.
It has a long, flat skull. Is well proportioned to the body. The well modeled muzzle should not have a concave or stop shape that descends abruptly below the line of the eyes.. The skin should be smooth, firm and tight. The upper and lower jaws are large, powerful and strong, but should not excess development. Scissor bite, that is to say, the inside of the upper incisors in contact with the outside of the lower incisors preferably set square to the jaws; but if you accept the bite in pincer. The lips are firm and black muzzle.
Airedale Terrier character and skills
It is an intelligent dog, fell, quiet, a stalwart companion who enjoys going for walks and responds to basic training of simple commands with no problem.
In Canada They are used for hunting bear and deer.
They have problems with ears that require continuous observation and a lot of hygiene. They may also have skin problems, known as hot patch.
Dogs 101 Airedale Terrier
FCI CLASSIFICATION:
Group :
Section : . .
Federations:
– FCI – Terriers 1 Large and medium-sized terriers.

ⓘ

– AKC – Dogs working

ⓘ

– ANKC – Group 6 (utility dogs)

ⓘ

– CKC – Miscellaneous list

ⓘ

– ​KC – Working dogs

ⓘ

– NZKC – Utility dog

ⓘ

– UKC – Watchdog

ⓘ
FCI breed standard "Airedale Terrier"
Origin:
United Kingdom
Date of publication of the valid original standard:
08.10.2012.
Use:
Terriers.
General appearance:
Airedale is the largest of the terriers; he is a muscular dog, Active, pretty compact; you must not have excessively long limbs or your body be disproportionate.
Behavior / temperament:
The dog must have a lively expression, agile movement and be aware of any movement. Its character is revealed by the expression of the eyes and by the size of the ears and its erect tail. Outgoing and confident, friendly, brave and intelligent. Always alert, not aggressive but courageous.
Head:
Without wrinkles. Well proportioned, without any apparent difference between the length of the skull and muzzle.
Cranial region:
Skull: Long, plane, not very wide between the ears and tapers slightly towards eye level.
Depression links (stop): Stop little marked.
facial region:
Truffle: black.
Snout: Well modeled in front of the eyes; should not have a concave shape or a sharp drop below the eye line; should be delicately modeled so that it does not have a sphenoid or flat appearance.
Lips: Firms.
Jaws / Teeth: Large upper and lower jaws, powerful, strong and muscular, since a strong muzzle is highly desirable. The jaws should not be overdeveloped to give the cheeks a round or protruding appearance, since protruding masseters are not desirable. Strong teeth. Scissor bite, that is, the internal face of the upper incisors is in close contact with the external face of the lower incisors and preferably placed at right angles to the maxillae.; However, clamp bite accepted. Upper or lower prognathism are not desirable.
Cheeks: Smooth and not prominent. The "cheeked" dog is unwanted.
Eyes: dark colored, small, never prominent, with typical terrier expression, alert and intelligent. Clear, expressionless eyes are highly undesirable.
Ears: V-shaped and carried to the sides, small but in proportion to the size of the dog. The upper line of the fold slightly above the height of the skull. Drop ears or set very high are undesirable.
Neck:
crisp, muscular, of moderate length and thickness. Gradually widens towards the back, and must not have a double chin.
Body:
Back: Short, strong, straight and level, that does not show looseness.
Pork loin: Muscular. In those dogs that have a short back as well as well-developed and well-placed ribs, there is little space between the lower ribs and the pelvis; when the back is long, there will be some slack in this area.
Breast : Deep (that is to say, almost at elbow level), but not wide. Well arched ribs.
Tail:
Previously the custom was to amputate the tail.
amputee: High insertion and erect bearing, not curved on the back. With good potency and substance. The tip at approximately the same height as the top of the skull.
Without amputating: High insertion and erect bearing. With good potency and substance.
Tips
PREVIOUS MEMBERS:
Hormbros: Long, well tilted back obliquely. Flat Shoulders.
Elbows: Located on the axis of the body; free movement.
Antarms: Perfectly straight and very bony.
Pinis previous: Small, round and compact, large and thick pads, and with moderately arched fingers, without turning in or out.
LATER MEMBERS:
Thigh: Long and strong.
Rodinllto: Well angled, neither turned in nor out.Leg: Muscled.
Metatarsus: Holes well lowered; seen from behind they must appear parallel.
Pinis later: Small, round and compact, large and thick pads, and with moderately arched fingers, without turning in or out.
Movement:
Previous members must take them forward, in free movement parallel to the sides. Moving closer, the front members must constitute a continuation of the straight line of the front, keeping the feet as far apart from each other as the elbows. Subsequent members must provide a strong driving power.
Mantle
Plink: Lasted, bushy and wire, not too long to give the appearance of tattered. Rigid and compact, covers the body and limbs. The outer layer is made up of hard and rigid hair.; the undercoat is made of shorter and softer hair.
Hard coat may be rough or slightly wavy; curly or soft hair is highly undesirable.
Colorr: With black or dark gray frame, like the top of the neck and the dorsal surface of the tail. All other fire colored parts. The ears are often darker in fire color, and there may be a shaded color around the neck and sides of the skull. A few white hairs are accepted on the sill.
Size and weight:
Alturto the cross: Approximate height:
Males between 58 and 61 cm..
Females between 56 and 59 cm..
Fouls:
Any deviation from the aforementioned criteria is considered as a fault and the severity of this is considered to the degree of the deviation to the standard and its consequences on the health and well-being of the dog..
FALTAS DISQUALIFYING:
Aggressiveness or extreme shyness.
Any dog ​​showing clear signs of physical or behavioral abnormalities must be disqualified..
N.B.:
Males should have two normal-appearing testicles fully descended into the scrotum..
Only functionally and clinically healthy dogs, with the typical conformation of the breed, should be used for parenting.
TRADUCCION: Brigida Nestler/ Original version: (IN)
SupTechnical ervision: Miguel Angel Martinez
Source:
F.C.I
- International Cynological Federation
1. Airedale Terrier, Waterside Terrier, Bingley Terrier, AIREDALE, King of Terriers (English).
2. Airedale Terrier, Waterside Terrier, Bingley Terrier, Working Terrier, Warfedale Terrier (French).
3. Waterside Terrier, Terrier, Bingley Terrier (German).
4. Airedale terrier, O rei dos terriers, Waterside Terrier (Portuguese).
5. Airedale terrier, Rey de los Terriers (español).