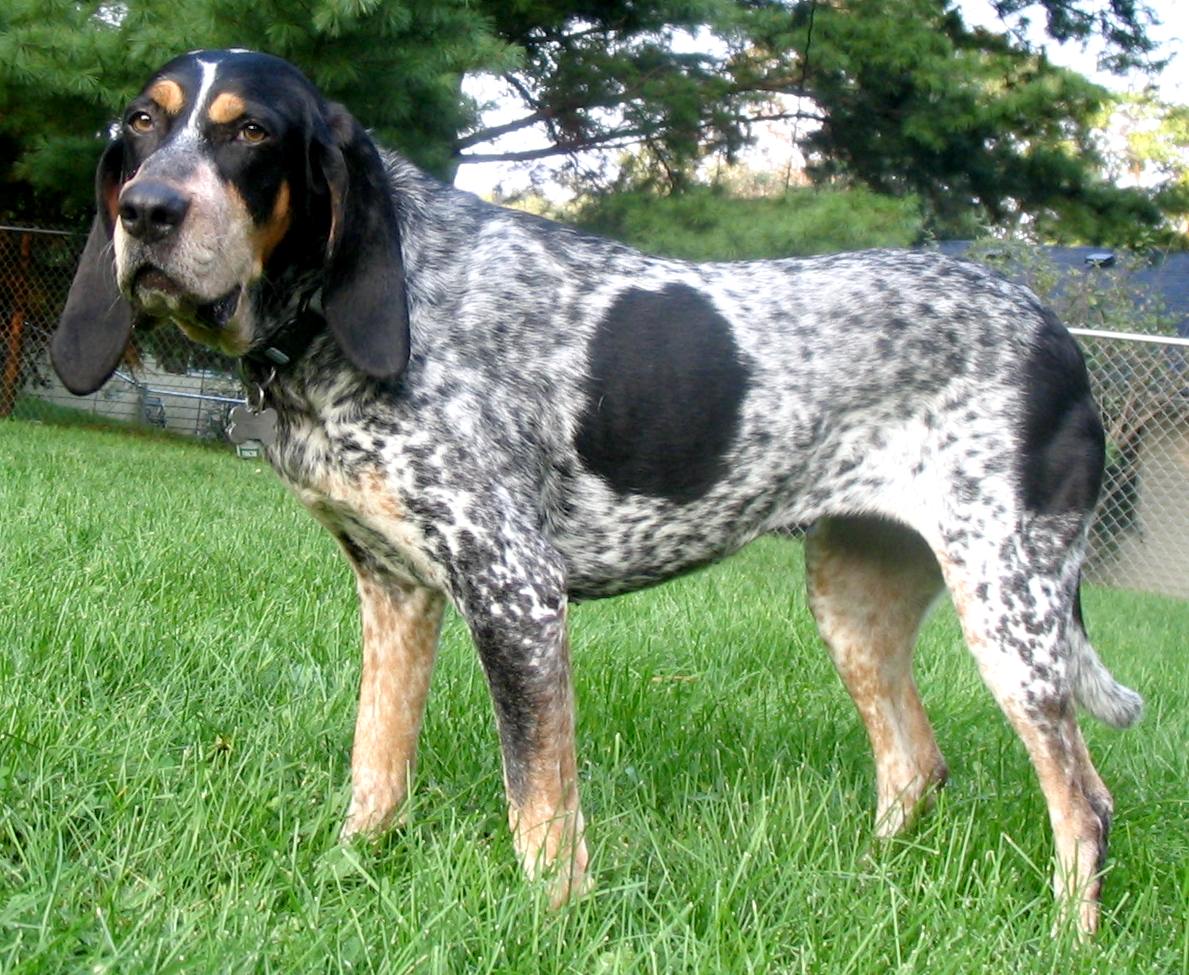 History
Physical characteristics
Character and skills
Images
Videos
The Bluetick Coonhound It is a breed of dog of the Group of Coonhound, usually bred in the South of United States. It originated in Louisiana, fruit of the cross of a Great Gascony blue, Southwest of France dog, of a English Foxhound, of the Foxhound American, and Black And Tan Virginia Foxhound.
The Coonhound Bluetick, Although at the time it was registered, were not recognized by the United Kennel Club, as a separate breed until 1946. They are also recognized by the national canine Council of Australia and the Kennel Club of New Zealand. In April of 2009 the breed was accepted by the American Kennel Club and in December of 2009 He became eligible to compete in AKC Coonhound events.
The general body of the Bluetick Coonhound style is muscular and fast, thick but not built with stupidity. The head is rather high and tail carried over the back, no signs of fear or nervousness.
The Bluetick Coonhound layer should be moderately thick and shiny. The fur is that color "blue" product of the black and white mottled colour that gives the impression of a dark blue color. This spotted covers the body and can be mixed with various patches of black and differently on the back, the ears and sides. Black should predominate in the head and ears. You must have points fire over the eyes and rear cheek will be dark red.
A Bluetick Coonhound male should be measured from 56 to 69 cm and weighs, approximately, of 25 to 37 Kg. Females are considerably smaller, its height is of 53 to 63,5 cm and weigh between 20.5 to 29.5 Kg.
The feet should be like a cat, rounded, with well arched toes. Their paws are larger than nearly all other breeds of dogs. Hind legs must have a curve moderate hocks. All the legs should be straight, seen from the front or rear side.
The Bluetick Coonhound is friendly with children, is a faithful dog and affectionate, but it can be a challenge to train it. Like all the Coonhound, is a very intelligent breed, with an uncanny ability to solve problems. This can be especially problematic if they are limited to a home, a small courtyard in which the dog is bored because look fun as is..., This dog needs plenty of space. Although once trained, they are very obedient.
Like the other Coonhound, It is a race that much drooling and ladradores. They are not recommended for lazy owners dogs, We must not forget that Bluetick Coonhound he was raised to be working and hunting dogs so, requires exercise, and dedication, which leads to sometimes be a great challenge having it as a pet.
Under normal conditions, the Bluetick Coonhound is an excellent dog for share family environment and is very sweet with children. Trained once, they are alert dogs, friendly. However, his great sense of smell can bring problems, so you should try to take food and waste safely, because it will not hesitate to reach those objectives.
Bluetick Coonhound pictures
Vídeos Bluetick Coonhound
Dogs breeds: Bluetick Coonhound