United States

Friend and protector

30 to 40 Kg

55 to 65 cm.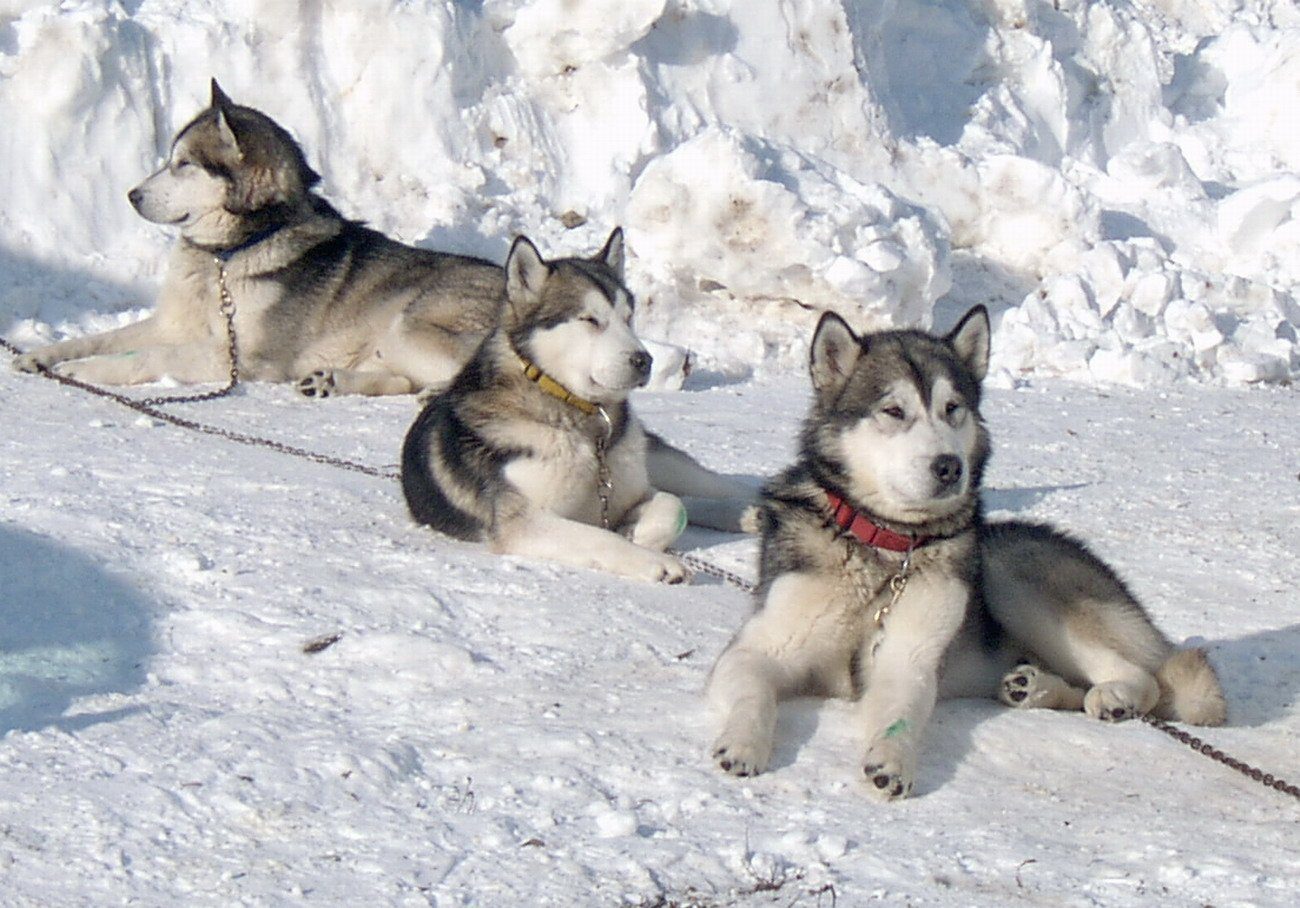 History of the Alaskan Malamute
Also called Alaskan Malamute, Dog is a native of the Arctic, and one of the oldest breeds in the sled dogs.
It's a dog with a strong appearance, strong, with good musculature. It is capable of carrying significant weight (until 20 kg) for tens of kilometres. This is a very ancient race, from the first races of sled dogs.
The Alaskan Malamute was raised by a tribe of Inuit call mahlemiut. The meaning of the word mahle is unknown, but it is known that miut means "town of". Mahlemiut as Mahle people can therefore be interpreted. Following the English phonetics, the diction is then transformed into Malamute.
The area inhabited by the people of the Malamute were the banks of the Kotzebue Sound, a territory between two large rivers: the Kobuk and the Noatak. Men and women of the tribe of the mahlemiut (MALAMUTE) they were highly prized amongst other inuit tribes for their courage, his pride and his skill in hunting and fishing.

These dogs were famous for their beauty and characteristics of strength and endurance, they did of them optimal elements for shooting. They were, in general, larger and more powerful than the other Nordic dogs, with similar in appearance to the Wolf and large and soft tails carried on the back. Contemporary witnesses tell it between 1870 and 1880 approximately, the caribou, for unexplained reasons, they changed their usual migratory routes thus removing the Malamute tribes an important source of livelihood.
In these conditions families no longer could afford keep groups of dogs trained for more than two or three copies: testimonies of the time talking about men, women and even children helped their dogs to pull the sledges. So the population began to decline and the way they ran their dogs.
Its ability to carry heavy loads it is revealed when he is chosen for expeditions to the Arctic Circle, as the two made Admiral Byrd. They were also used as a rescue of injured dog in World War II.
His presence, always with the head-up, It gives some impressive aspect that, However, It is not at odds with a very friendly and playful character with their owners, Although it gives the impression of being a very serious dog anyone that knows no race.
Dogs breeds: Alaskan Malamute
Group 5 / Section 1, Nordic sled dogs
FCI 243, AKC, ANKC,CKC, KC, NZKC, UKC
1.

Alaskan Malamute, Mal, Mally

(English).

2. Malamute de l'Alaska (French).

3. Alaskan Malamute (German).

4. (Portuguese).

5. Alaskan malamute (Spanish).