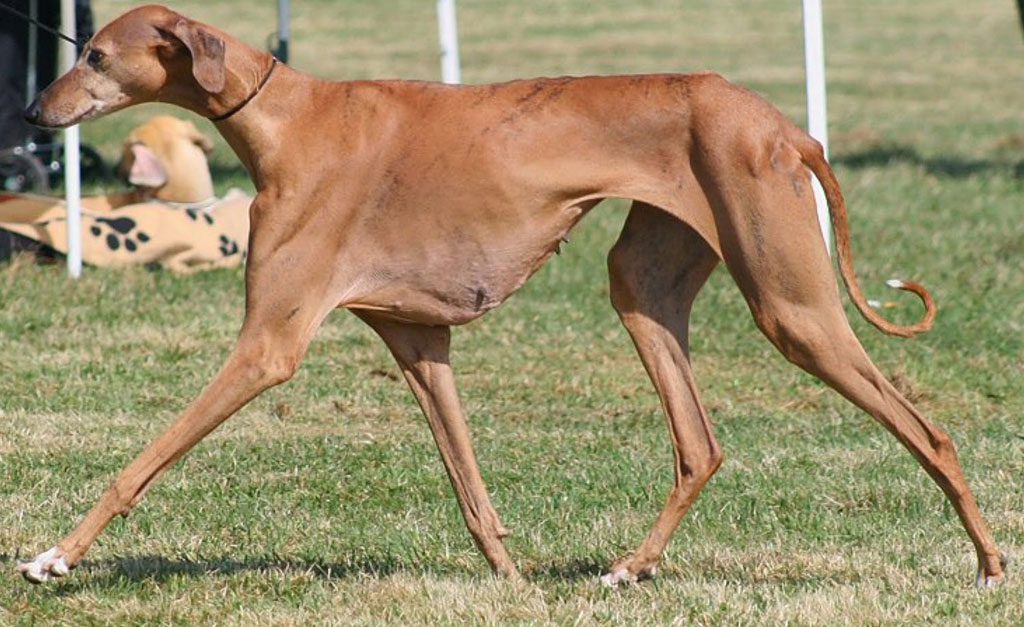 Characteristics "Azawakh (Tuareg Sloughi)"
Coexistence is important that you have with your new friend. Before considering the acquisition of a dog of the breed "Azawakh (Tuareg Sloughi)" you know certain factors. Not all breeds of dogs are apt to live in an apartment, you must take into account his character, their need for exercise, their interaction with other pets, their care and if you have small children, their level of tolerance towards them.
Adaptation ⓘ

3 out of 5 stars (based on 1 review)

friendly dog ​​ⓘ

2 out of 5 stars (based on 1 review)

hair loss ⓘ

2 out of 5 stars (based on 1 review)

Affection level ⓘ

4 out of 5 stars (based on 1 review)

Need for exercise ⓘ

4 out of 5 stars (based on 1 review)

Social need ⓘ

2 out of 5 stars (based on 1 review)

Home ⓘ

3 out of 5 stars (based on 1 review)

Toilet ⓘ

1 out of 5 stars (based on 1 review)

Friendly with strangers ⓘ

2 out of 5 stars (based on 1 review)

barking ⓘ

2 out of 5 stars (based on 1 review)

Health ⓘ

3 out of 5 stars (based on 1 review)

Territorial ⓘ

4 out of 5 stars (based on 1 review)

Cat friendly ⓘ

2 out of 5 stars (based on 1 review)

Intelligence ⓘ

3 out of 5 stars (based on 1 review)

Versatility ⓘ

3 out of 5 stars (based on 1 review)

Child friendly ⓘ

2 out of 5 stars (based on 1 review)

Surveillance ⓘ

3 out of 5 stars (based on 1 review)

joy ⓘ

3 out of 5 stars (based on 1 review)
The Azawakh (Tuareg Sloughi), It is a breed of dog of the type "Short-haired Sighthounds", native to africa. It is also known by other names: Hanshee, Oska, Rawondu, Bareeru, Wulo, Tuareg Sloughi.
Se podría definir a esta raza como un Sighthound African Afroasiatic model which appeared in Europe in the year 1970, procedente de la cuenca media del Níger (Mali) and in particular of the Valley of the Azawakh. Desde hace siglos es el compañero inseparable de los nómadas subsaharianos.
Something curious is that the Azawakh possesses a rare allele of glucose isomerase (GPIB) It is produced only in foxes, jackals, Italian wolves, dogs Sloughi and other rare breed dogs not related to him Azawakh, and they are, mainly, in Japan.
Recientes estudios científicos de una proteína genética y la sangre de los Azawakh, sumado a estudios arqueológicos y observación directa de jaurías, have thrown some ideas about the origin of the breed Azawakh contemporary. One of them says that, provienen de la población de perros vagabundos de África subsahariana, and, also among her ancestors is the Basenji and the Sloughi from the Maghreb. Pese a las similitudes morfológicas, mitochondrial DNA tests show that only very distantly, is related to other dogs.
As a whole, this evidence suggests that the dog population Azawakh count with one patrimonio genético único What, It has been kept pure, perhaps by having been largely isolated from the populations of other dog breeds, for thousands of years.
Su morfología es muy similar a la del lebrel de Medio Oriente y a algunos sabuesos de la India, Although there are several obvious differences. As for example, a very short and smooth mantle, nearly absent in the womb; and hind legs longer than the height with the front to the cross. Moves with a walk, clearly, feline and can be found in a wide variety of colors, in degraded, striped, Although the format is, basically, a solid color.
The Azawakh, is a slim dog, elegant and his eyes the color of almonds, give fair air of sweetness to your eyes.
The standard rules, they require a dog from 15 to 25 kg, and with a height of 61 to 74 cm.. Her bone structure is, clearly, through the skin and like your muscles. Sus músculos se suele decir, are "dry", which means that they are very flat, Unlike in the Greyhound and the Whippet (they have showy, rounded muscle). In this sense (muscle), is more similar to the Saluki.
"Azawakh (Tuareg Sloughi)"
En África, a variety of colors are found in dogs Azawakh, How to be red, beige, blue, grey, and, black and blue rarely. As well, White machitas can be found in different colours (not many). Due to this color variation in the entire native population of Azawakh, el estándar americano utilizado por el AKC y UKC permite cualquier combinación de los colores que se encuentran en África.
In United States, the standard of FCI It has been modified to have no restrictions on color. Los colores permitidos en el estándar de la raza según la FCI, These are sand or light to dark beige; brown, Red and striped (with or without, máscara oscura), with pechera whitetip, the tail and white on the legs (It can be on the tip of the toes or middle high). In the news, las medias blancas que van por encima de la articulación del codo se considera una característica descalificatoria en Francia, así como un collar de cuello blanco o la mitad (the strong Irish).
The Azawakh es un perro muy bueno para la cacería. They are very agile, and despite pretend fragility, they are very hardy dogs and are usually very fast curing injuries caused by their vigorous careers.
Similar to the Tibetan Mastiff (Do-Khy) and the Basenji, the dog Azawakh usually a zeal to the year. Y, so the puppies born healthy, la norma dice que no se debería asistir al animal en el parto. The size of the litters tend to be of 4 to 6 Puppies, but it can have litters as small as a puppy and as large as eight.
The Azawakh, necesita un nivel bastante alto de ejercicio y tener la posibilidad de realizar carreras regulares en grandes recintos cerrados para gastar energía… A menudo cavan agujeros en el jardín, si se sienten aburridos o desbordados de energía.
They are excellent training companions for runners and they are nearly impervious to heat. Soportan temperaturas altísimas (típico de zonas desérticas), temperaturas que matarían a cualquier otro galgo…
The Azawakh que viven en jaurías viven y se orientan en formas sociales de complejas jerarquías. Tienen una memoria tremenda y son capaces de reconocerse entre sí después de largos períodos de separación. A menudo se encuentran durmiendo acurrucados unos con otros en busca de calor y compañía.
the Azawakh is lively, attentive, reserved and little sociable with strangers, with whom you can be aggressive if it feels threatened its integrity or that of his master. He is very affectionate with those to what he considers his friends. They need a master which will give them a firm but fair leadership education.
Unlike other Sighthounds, the main function of the Azawakh in his homeland is that of Protector and guardian of cattle (and people). Suelen desarrollar un intenso vínculo con su dueño, Although they are very independent dog, Although very attached to their masters for all corporate.
to most of the Azawakh, no les gusta nada lluvia y el frío.
With the known and accepted by the family, the Azawakh they are very kind and loving, show reserved with strangers, suspicious and prefer not to bring, not to be touched, but they are not aggressive, as we said, unless they see or feel threatened.
Observations
Initially, era considerado una variedad del Lebrel Árabe.
The Azawakhs they are proud and independent. They respond well to positive reinforcement techniques, But heavy-handed methods or punishments will make them shut down, resist or even be aggressive. However, with the right teacher who gives them the right motivation, learn quickly and easily.
On the other hand, may show adaptation difficulties (for example, when changing ownership, move to another house, etc.). Thus, puppies need extensive socialization with people, new places and situations. This process must continue throughout your life, even after becoming adults.
The Azawakh it is a resistant dog that does not have a special predisposition to certain diseases.
However, due to its short coat and extreme thinness, no es la mejor opción para las personas que viven en climas húmedos o fríos. In general, covering him with a dog coat or fleece can help maintain his body temperature when he is out in winter. Inside, you need a padded pad to rest your bony body.
Life expectancy
12 years
The short coat of the Azawakh requires little maintenance. A weekly brushing is enough.
It also, the Azawakh he is not known for losing a lot of hair.
It also, it is not necessary to bathe the dog: not only does it not develop a doggy odor, but even when it gets dirty in the mud, you just have to wait for it to dry and then remove the residue with a vigorous brushing.
En África, the Azawakh share his masters' ration and get his share of the hunt after the hunt.
Historically, ha estado acostumbrado a una dieta baja en proteínas basada en el arroz, millet and goat's milk. Thus, es propenso a desarrollar problemas digestivos si ingiere una gran cantidad de alimentos ricos en proteínas, as with many dog ​​foods.
The breeders of Azawakh recommend a diet with a 9% fat and a 22% protein. They also recommend 3-4 comidas pequeñas al día, ya que el perro se vuelve glotón si sólo come una vez al día.
It also, this dog appreciates occasional servings of starchy food, like pasta and brown rice, así como la fruta y la verdura (bananas, carrots, etc.).
Last, los críticos que señalan su delgadez como signo de desnutrición deben entender que este perro está hecho para la velocidad y no puede estar gordo. Standards call for thin skin stretched over a bony, muscular frame.
The Azawakh has long been used by Sahelian tribes as a hare hunting dog, antílopes y jabalíes.
También se utiliza como perro guardián y de compañía.
It also, in the western world, stand out in the canirun, a leisure run consisting of chasing a mechanically controlled artificial lure.
Last, these skinny dogs, muscular and resistant they are excellent companions for runners and globetrotters.
FCI CLASSIFICATION: 307
Group 10: Sighthounds
Section 3: Short-haired Sighthounds. Without working trial..
Federations:
FCI – Group 10: Section 3: Short-haired Sighthounds

ⓘ

El American Kennel Club (AKC) – Hounds

ⓘ

Standard KC (The Kennel Club) – Hound

ⓘ

Standard UKC (United Kennel Club) –

Sighthound and Pariah

ⓘ
FCI breed standard "Azawakh (Tuareg Sloughi)"
FCI -

Azawakh (Tuareg Sloughi)
1.

Idi, Hanshee, Oska, Rawondu, Bareeru, Wulo,(formerly) Tuareg Sloughi

(English).
2.

Sighthound, Oska

(French).
3.

Idi, Osca, Tuareg-Windhund

(German).
4.

Tuareg Sloughi

(Portuguese).
5.

Tuareg Sloughi

(español).