Germany

Curious

2,9 to 6,0 kg

23 to 30 cm.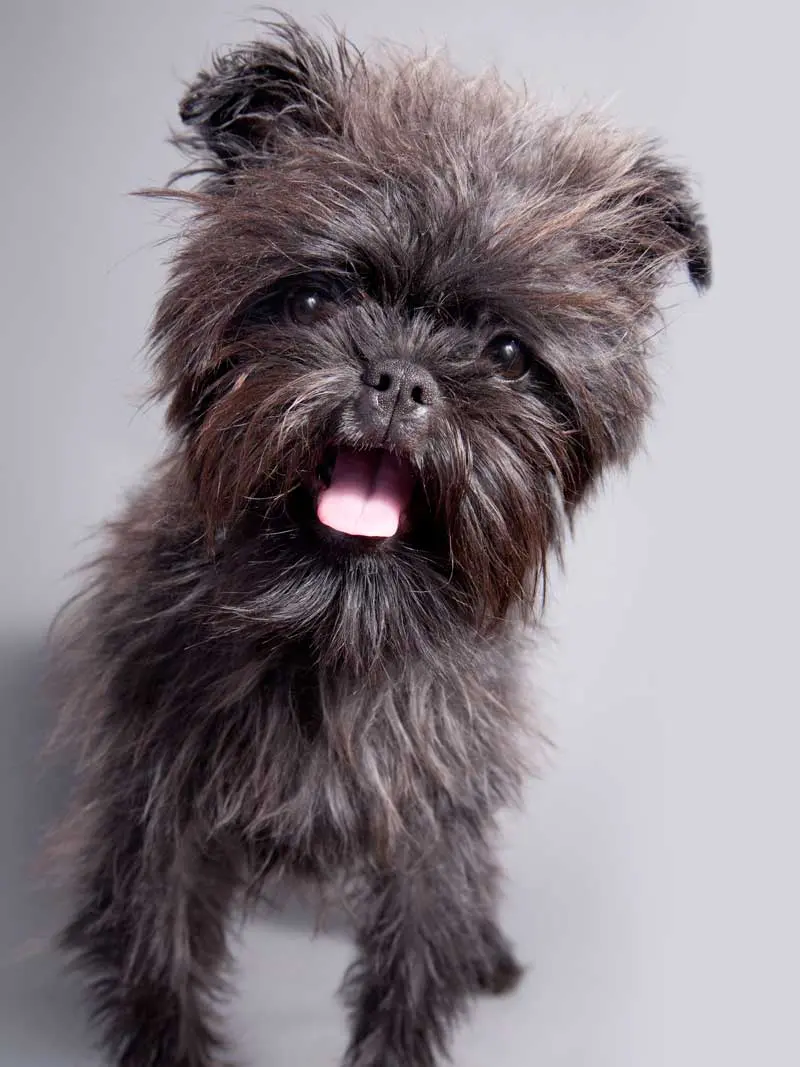 History
Physical characteristics
Character and skills
Images
Videos
The Affenpinscher is a terrier.
The Affenpinscher dogs are known for about 1600, years. At that time, they were somewhat bigger. The Affenpinscher images contained in German 16th century pictures
It's name derives from the German Affe (monkey). The race is ancient and prior to the Brussels Griffon (Brussels Griffon) and Schnauzer miniature.
The pedigree was created to be a hunter of mice, working to eliminate rodents from kitchens, barns and stables.
The first draft of the standard is of 1908 and it was not until the year 1913 When the first official standard is recognized
An Affenpinscher, generally, weights from 2,9 to 6,0 kg and measures of 23 to 30 centimeters tall. It has hard and rough hair, which make him look like a monkey (that's whay the origin of it´s name , because Affe means monkey in german). it´s fur is rough on the head and shoulders, forming a mane, with a lower layer on the front and rear quarters.
The FCI and the standards of the breed KC, specifies that the layer of hair should be black, but the AKC also allows other colors like gray, Silver, black and tan, and beige (a mixture of Brown, black and white red hairs); other clubs have their own lists of acceptable colors, but black is preferential.
The Affenpinschers and Terriers Pedigree have a different temperament. that's what differs them, they usually get along well with other dogs and pets. They are active, adventurous, curious and stubborns, but also cheerful and playful. Because they are affectionates with the family members, the protection is a must to whom they love. It is necessary that, they have a clear education, coherent, if not, it could become difficult to control them. The training must be varied because the dog can get bored easily.
Affenpinschers are somewhat territorial when it comes to their toys and food, That's the reason they are not recommended for younger children. This dog is very quiet, but it can be very aggressive in case it feels attacked or threatened and shows no fear toward any aggressor.
Their life expectancy is around twelve years , It's a typical cycle of life of a pure pedigree dog, but a little bit lower than most pedigrees of their size.
During moulting it lost much hair, so it is advisable to a good brushed daily and a good diet. The better the quality of the best food will be the State of the fur of your dog. A diet low in fat, salts, iodine, Vitamin B, will it result in dryness and hair loss.
The Affenpinscher is a delicate dog that often suffers from intestinal problems.
Dogs breeds: Affenpinscher

Alternative names:

Affen / Affie / Monkey Dog

Group 2 / Section 1 – Pinscher and schnauzer type