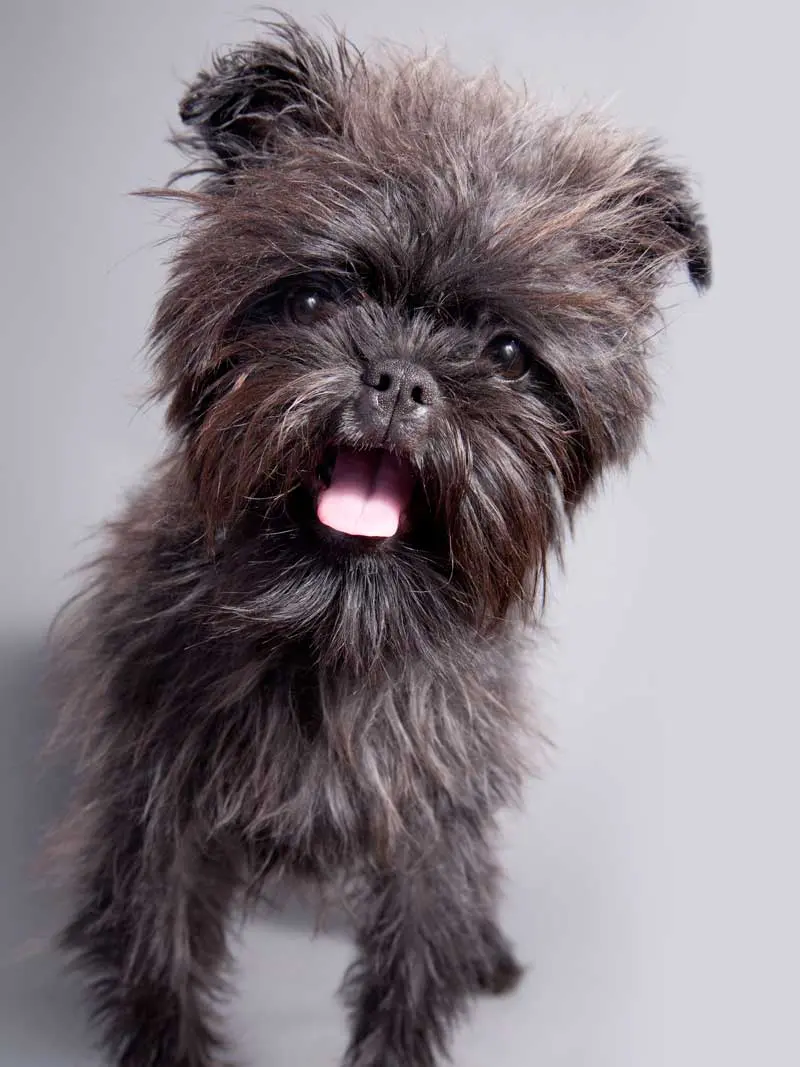 Characteristics "Affenpinscher"
Coexistence is important that you have with your new friend. Before considering the acquisition of a dog of the breed "Affenpinscher" you know certain factors. Not all breeds of dogs are apt to live in an apartment, you must take into account his character, their need for exercise, their interaction with other pets, their care and if you have small children, their level of tolerance towards them.
Adaptation ⓘ

5 out of 5 stars (based on 1 review)

friendly dog ​​ⓘ

3 out of 5 stars (based on 1 review)

hair loss ⓘ

2 out of 5 stars (based on 1 review)

Affection level ⓘ

5 out of 5 stars (based on 1 review)

Need for exercise ⓘ

3 out of 5 stars (based on 1 review)

Social need ⓘ

5 out of 5 stars (based on 1 review)

Home ⓘ

5 out of 5 stars (based on 1 review)

Toilet ⓘ

3 out of 5 stars (based on 1 review)

Friendly with strangers ⓘ

3 out of 5 stars (based on 1 review)

barking ⓘ

3 out of 5 stars (based on 1 review)

Health ⓘ

3 out of 5 stars (based on 1 review)

Territorial ⓘ

5 out of 5 stars (based on 1 review)

Cat friendly ⓘ

3 out of 5 stars (based on 1 review)

Intelligence ⓘ

4 out of 5 stars (based on 1 review)

Versatility ⓘ

3 out of 5 stars (based on 1 review)

Child friendly ⓘ

1 out of 5 stars (based on 1 review)

Surveillance ⓘ

4 out of 5 stars (based on 1 review)

joy ⓘ

5 out of 5 stars (based on 1 review)
Type dogs Affenpinscher They are known since about 1600, years. At that time, they were somewhat bigger. Images Affenpinscher set in sixteenth-century German paintings
It's name derives from the German Affe (monkey). The race is ancient and prior to the Griffon Bruxellois and Miniature Schnauzer.
The race was created to be a buzzard, working to eliminate rodents from kitchens, barns and stables.
El primer esbozo del estándar es de 1908 y no es hasta el año 1913 cuando se reconoce el primer estándar oficial.
Did you know??

Sometime in the 18th or early 19th century, someone had the brilliant idea to raise the Affenpinscher en tamaño reducido, permitiéndole en una popular mascota al convertirse en compañero de las damas.
Physical Characteristics of the Affenpinscher
One Affenpinscher, generally, weights from 2,9 a 6,0 kg and measures of 23 a 30 centimeters tall. It has hard and rough hair, which make him look like a monkey (hence its name, because Affe means monkey in german). Its coat is coarse on the head and shoulders forming a mane, with a lower layer on the front and rear quarters.
The FCI y KC de los estándares de la raza, specifies that the layer of hair should be black, but the AKC also allows other colors like gray, Silver, black and tan, and beige (a mixture of Brown, black and white red hairs); other clubs have their own lists of acceptable colors, but black is preferential.
Tienen un carácter distinto a lo que asociamos con los Terrier. They differ from Terrier en que suelen llevarse bien con otros perros y animales domésticos. They are active, adventurous, curious and stubborns, but also cheerful and playful. Because they are affectionates with the family members, the protection is a must to whom they love. It is necessary that, they have a clear education, coherent, if not, you can be very difficult. The training must be varied because the dog can get bored easily.
The Affenpinschers they are somewhat territorial when it comes to their toys and food, That's the reason they are not recommended for younger children. This dog is very quiet, but it can become very aggressive if it feels attacked or threatened and does not show fear towards any aggressor.
Their life expectancy is around twelve years , is a typical life cycle of a purebred dog, but slightly shorter than most breeds its size.
During moulting it lost much hair, so it is advisable to a good brushed daily and a good diet. The better the quality of the best food will be the State of the fur of your dog. A diet low in fat, salts, iodine, Vitamin B, will result in dryness and hair loss.
The Affenpinscher it is a delicate dog that often suffers from intestinal problems.
All dogs have the potential to develop genetic health problems, just as all people have the potential to inherit a particular disease. Run, do not walk, from any breeder that does not offer a health guarantee on puppies, to tell you that the breed is 100 percent healthy and has no known problems, o que le diga que sus cachorros están aislados de la parte principal del hogar por razones de salud. Un criador de buena reputación será honesto y abierto sobre los problemas de salud de la raza y la incidencia con la que se producen en sus líneas.
The monkeys es una pequeña raza bastante saludable, but individual dogs can develop orthopedic problems like dislocated kneecaps, una condición de rodilla común en los perros pequeños. Los Affen también son propensos a condiciones de la piel que pueden llevar a la pérdida de pelo en los flancos.
Not all of these conditions are detectable on a growing puppy, y es imposible predecir si un animal estará libre de estas enfermedades, por lo que se debe encontrar un criador de confianza que se comprometa a criar los animales más sanos posibles. Must be able to produce independent certification that the dog's parents (and grandparents, etc.) have been examined for common defects and considered healthy for breeding. That's where health records come in..
Don't fall for the lies of a bad breeder. If the breeder tells you that you do not need to do these tests because you have never had problems in your lines, their dogs have been "reviewed by the veterinarian", o cualquiera de las otras excusas que dan los malos criadores para escatimar en las pruebas genéticas de sus perros, váyase inmediatamente.
Careful breeders screen their breeding dogs for genetic diseases and breed only the healthiest, best-looking specimens., but sometimes Mother Nature has other ideas and a puppy develops one of these diseases despite good husbandry practices. Advances in veterinary medicine mean that in most cases dogs can still live a good life. If you are going to have a puppy, ask the breeder about the ages of the dogs in their lines and what they died of.
Recuerde que después de haber acogido a un nuevo cachorro en su casa, has the power to protect you from one of the most common health problems: the obesity. Keep a Affenpinscher with a proper weight is one of the easiest ways to prolong your life. Make the most of your preventive skills to help ensure a healthier dog for life.
The Affenpinscher tiene un pelaje enjuto que puede ser áspero o liso, but the words "smooth" and "rough" pueden ser engañosas. Los perros de pelaje áspero tienen pelo con una textura ligeramente más suave y un pelaje más pesado. Some Affen they have fur that falls somewhere in between. Whatever type of coat you have, the typical monkeys looks clean but a little hairy. Puedes estar seguro de que tendrá hojas y ramitas en su pelaje después de haber estado al aire libre, so you need regular grooming to maintain your appearance.
Las herramientas que necesitará son un cepillo, a stainless steel comb, a cutter, blunt-ended scissors and scissors to reduce thickness. Remove dead hairs, call "peel" the coat, is part of the package when you live with a monkeys.
The rest is basic care. Trim nails as needed, usually every few weeks. Las razas pequeñas son propensas a la enfermedad periodontal, so brush your teeth often for general good health and fresh breath.
Breeders list "Affenpinscher"
In Spain we have not been able to contact any breeder of "Affenpinscher". There are very few international breeders who maintain this wonderful breed that was on the verge of extinction..
Name of kennel
Description
Image
Email
Telephone
Web
Address
id
Details
Cattery in Norway - Kennel IMRUN
We do not send puppies alone,

deben ser recogidos aquí con nosotros

.

No vendemos cachorros fuera de Europa y no vendemos a países en los que nos resulte difícil volver a llevarlos a casa

, if required.



Vendemos cachorros a hogares cariñosos

, we never promise a puppy for the breed or show.

Usamos perros sanos en la cría

,

siempre comprobamos que los padres no tengan luxación de rótula y les hacemos la prueba ocular ecvo antes de usarlos en la cría

.
iaxelsen@hotmail.com
(+47) 93823289
Grinder
Inland
2264
Norway
11
Kennel Caudatus - Sweden
We are a couple living south of Stockholm, Sweden. Breeder of the Affenpinscher breed.

Pequeña crianza exclusiva

, of the integral Affenpinscher without exaggeration.
sp.lundberg@telia.com
073-673 57 97

Mällstensgränd

10
Bandhagen
Stockholm
124 51
Sweden
12
imp

Una pequeña perrera de Affenpinscher en Luxemburgo

.

Nuestros cachorros están bien socializados con buen carácter y sanos cuando nos dejan por una nueva familia

. On our website you will find more information, many photos and videos of our affections.
annick@affenpinscher.lu
Luxembourg
14
Name of kennel
Web
Address
FCI CLASSIFICATION: 186
Group 2: Pinscher and Schnauzer - Molossoid and Swiss Mountain and Cattledogs
Section 1: Pinscher and Schnauzer type. Without working trial.
Federations:
– FCI – Pinscher and Schanuezer dogs. Molossian type Dogs and Swiss Mountain and Cattle Dogs. , Section 1: Pinscher and Schnauzer.

ⓘ

– AKC – Toy

ⓘ

– ANKC – Group 1 (Toys)

ⓘ

– CKC – Group 5 – Toys

ⓘ

– ​KC – Toy

ⓘ

– NZKC – Toy

ⓘ

– UKC – companion breed

ⓘ
FCI breed standard "Affenpinscher"
FCI -

Affenpinscher
1.

Affen, Affie, Monkey Dog

(English).
2.

Affenpinscher

(French).
3.

Affenpinscher

(German).
4.

Affenpinscher

(Portuguese).
5.

Perro Mono, Affenpinscher

(español).