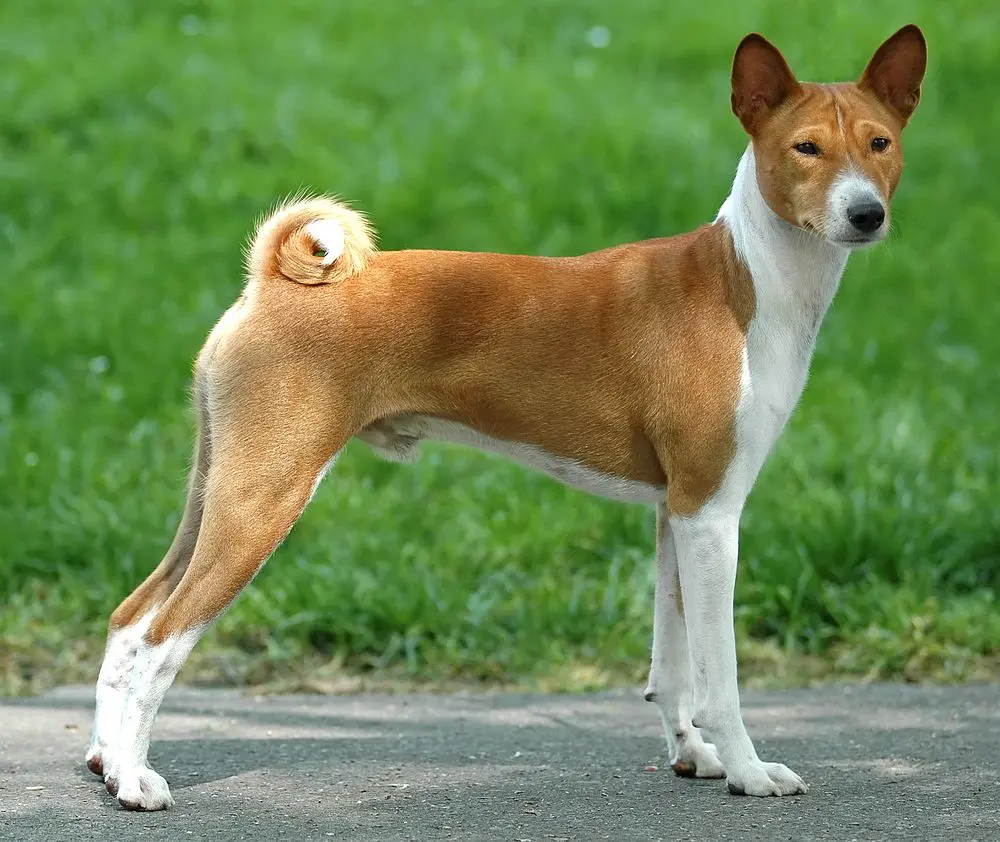 The Basenji It is a breed of dog originating in the Democratic Republic of the Congo. It is a primitive breed used for hunting and tracking.
Basenji dog sings 2
They have the unique feature of not bark, but emit a curious sound-style> yodeling (Yodeling).
The first traces of a dog similar to the Basenji are found in Egyptian tombs and wall drawings five thousand years ago. It is also called the dog of the Congo, was introduced for the first time in England in 1937.
In Africa, the dog was used by the natives as a guide in the forest, to warn of the presence of dangerous animals and to point and retrieve pieces of small game.
This breed was recognized by the AKC in 1944.
The first Basenjis were red and white, tricolor (black and white fire) and black and white. Expeditions in Zaire 1987 and 1988 They introduced 14 dogs with new bloodlines, which brought a beautiful brindle look with tiger stripes.
There are some studies which point to the Basenji as progenitor of all Terrier.
For details of the history of the Basenji —-> basenji.org
The Basenji they are a small breed, elegant appearance, they have short hair, shiny and silky. Their ears are upright, and the tail coiled lead to perfection. Some people, they believe that its appearance similar to a deer in miniature.
They usually weigh 11 kg and the port tends to be of 40,6 cm., athletic and deceptively powerful for its size. Have a walk safe and elegant like a horse to trot.
Recommended for homes with adults. But life keeps an uneasy and playful spirit, When it ends its phase of growth becomes an excellent pet.
The Basenji is alert, loving, energetic, curious and reserved with strangers. It is a little distant, but it can also form strong ties with the people and can be emotionally sticking to a particular Member of the family, generating a very strong link.
Generally does not get along well with other pets other than dogs. You like the humid climate, they tend to be very skilled soaring. It can be described as fast, playful, tireless in the game, and naughty.
One of the curiosities that presents the race, In addition to not bark, It is that sule lick is the hair to be kept clean.
Photos:
(1) – walking… basenji by fugzu [CC BY 2.0], via Wikimedia Commons
(2) – Basenji puppy, Bravo, 10 weeks old by fugzu [CC BY 2.0], via Wikimedia Commons
(3) – Basenji dogs by fugzu [CC BY 2.0], via Wikimedia Commons
(4) – Portrait Basenji – CC0 Creative Commons
Coexistence is important that you have with your new friend. Before considering the acquisition of a dog of the breed "Basenji" you know certain factors. Not all breeds of dogs are apt to live in an apartment, You must take into account their character, their need for exercise, their interaction with other pets, your care and if you have young children, their level of tolerance towards them.
adaptation ⓘ

3 out of 5 stars (based on 1 review)

Dog friendly ⓘ

2 out of 5 stars (based on 1 review)

Hair loss ⓘ

2 out of 5 stars (based on 1 review)

Affection Level ⓘ

2 out of 5 stars (based on 1 review)

Exercise Needs ⓘ

4 out of 5 stars (based on 1 review)

Social Needs ⓘ

2 out of 5 stars (based on 1 review)

Apartment ⓘ

2 out of 5 stars (based on 1 review)

Grooming ⓘ

1 out of 5 stars (based on 1 review)

Stranger Friendly ⓘ

2 out of 5 stars (based on 1 review)

Barking Tendencies ⓘ

2 out of 5 stars (based on 1 review)

Health Issues ⓘ

3 out of 5 stars (based on 1 review)

Territorial ⓘ

3 out of 5 stars (based on 1 review)

Cat Friendly ⓘ

2 out of 5 stars (based on 1 review)

intelligence ⓘ

5 out of 5 stars (based on 1 review)

versatility ⓘ

2 out of 5 stars (based on 1 review)

Child Friendly ⓘ

2 out of 5 stars (based on 1 review)

Watchdog Ability ⓘ

3 out of 5 stars (based on 1 review)

Playfulness ⓘ

5 out of 5 stars (based on 1 review)
African Bush Dog / African Barkless Dog / Ango Angari / Congo Dog / Zande Dog
Group 5 / Section 6 – Primitive type