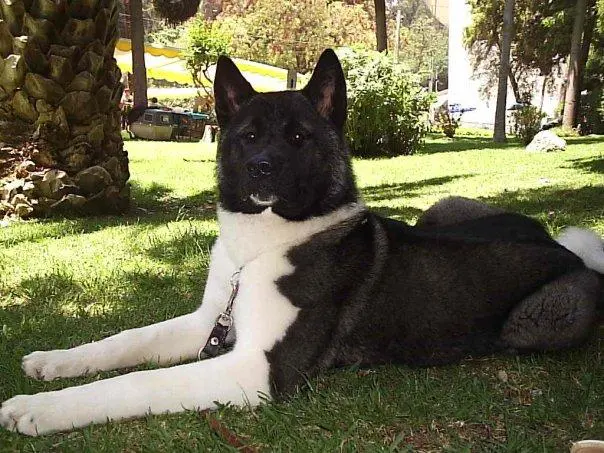 Also known as Great Japanese Dog. This structure Molosser dog has its origins in Japan, in 1603 where his first ancestors come from Akita Prefecture.
Originally, history American Akita It was the same as the Japanese Akita. From 1603, from the Akita Prefecture, the dogs called "Matagi Akitas" (medium-sized dogs for bear hunting) were used as fighting dogs. From 1868, race crossed with Tosa and Mastiffs. For this reason, the increased size of the race, but some features, traits of dogs Spitz type, disappeared. In 1908, by prohibiting dogfighting, This breed has been preserved, prospered and developed into a large Japanese breed. After, in 1931, 9 Dogs of this breed dogs were recognized as excellent.
During the Second World War (1939-1945), often used the dogs' fur for making military clothing.
Police ordered all dogs captured less German shepherds, which were used for military tasks. Some fanciers tried to circumvent the order by crossbreeding their dogs German shepherds.
Al finalizarse the Second World War, The number of Akitas He was down dangerously and the dogs came in 3 ways:
1) Matagi Akitas
2) Fighting dogs Akitas
3) Akita / German Shepherd
.
The situation of the race was bad. During the procedure of restoration of the race after the war, Kongo-go, a dog from the bloodline Dewa, enjoyed a temporary popularity but still very large.
A great number of Akitas of this bloodline, which they exhibited characteristics of the influence of Mastiff or German shepherds, They were taken to USA by US military. The Akita belonging to the Dewa line dogs were intelligent and capable of adapting to different areas. They loved breeders in USA bloodline and was developed thanks to the progressive increase in the number of breeders with a duplicated popularity.
Thus, as 1950 Japanese breeders decided to restore the old type, and use the Akita Inu line ichinoseski, created by Engineer Ichinoseski, and dogs spitz Japanese to recover the traits of the old Akita Inu. Americans raised the Akita Inu Dewa line, and carried, being a big dog and powerful-looking.
Increasingly moves away from its origin are created 2 remained:
The American Akita or (The Great Japanese Dog) It is an animal with an orientation towards defense and may have dark mask without being penalized, and copies are allowed or unmasked blazer, even with a black head; while its "brother" Japanese, the Akita, are more amiable, more fierce and white mask, or the famous Urajiro, because the breed standard Akita, not accept the black mask. The verdicts, it gives preference, in countries affiliated to FCI, to the Akita Inu without masks to Akita Inu with black mask, because the Japanese demanded it, and as the country of origin Akita Inu, dominated his opinion on that topic.
Thus, in the '90s is given a name change that makes the two branches differ: To the American Akita It was called "Great Japanese Dog" and is located in the group II classification in FCI. U.S. experts do not accept the division and decide to continue placing the two races within one in beauty pageants.
Thus, as breeders and breed lovers of countries affiliated to FCI, achieved in the year 2005 that locate him again in the Grupo V, and it is called a definitive, and with the consent of the Japanese as American Akita.
It is necessary to clarify, this discussion of American Akita and your name, wearing a background of difference between Japanese and Americans, and has passed in recent years for the good of the race.
Did you know ..?

The Akita also proves to be unusual with their grooming habits, He is licking his body like a cat. And that's not its only feature "feline": like a tiger, They haunt their prey silently, with the body close to the ground.
Physical characteristics "American Akita"
Describes the standard, which is the ideal expected of the breed, both morphologically and in temperament. These dogs have in their temperament, the essence of ancient Japanese warriors, since as they are stoic, brave, devoted to his master, silent, little bark, They also have a strong prey, guard and defense.
American Akita It is a dog of great physical strength, resistant to pain and thanks to its double coat are quite resistant to cold.
Must wear tail curled over the back and mantle comes in different shades, copy may have a black mask, have no mask, have blaze, your head or be completely black color.
Character and skills "American Akita"
They have a strong territorial instinct and are often aggressive with other dogs, especially if male, so it is advisable to accustom them from puppies to family or other pets.
They are very loyal to your home and your family. It is always recommended to have an obedient dog healthy, provide discipline, exercise and affection in that order.
They need not always be black coffee can I be white but are different from those Akita japoneses. the American Akita They are very playful but very rough when playing.
Characteristics "American Akita"
Coexistence is important that you have with your new friend. Before considering the acquisition of a dog of the breed "American Akita" you know certain factors. Not all breeds of dogs are apt to live in an apartment, You must take into account their character, their need for exercise, their interaction with other pets, your care and if you have young children, their level of tolerance towards them.
Adaptation ⓘ

3 out of 5 stars (based on 1 review)

Dog friendly ⓘ

1 out of 5 stars (based on 1 review)

Hair loss ⓘ

3 out of 5 stars (based on 1 review)

Affection Level ⓘ

4 out of 5 stars (based on 1 review)

Exercise Needs ⓘ

5 out of 5 stars (based on 1 review)

Social Needs ⓘ

1 out of 5 stars (based on 1 review)

Apartment ⓘ

2 out of 5 stars (based on 1 review)

Grooming ⓘ

1 out of 5 stars (based on 1 review)

Stranger Friendly ⓘ

1 out of 5 stars (based on 1 review)

Barking Tendencies ⓘ

2 out of 5 stars (based on 1 review)

Health Issues ⓘ

3 out of 5 stars (based on 1 review)

Territorial ⓘ

5 out of 5 stars (based on 1 review)

Cat Friendly ⓘ

1 out of 5 stars (based on 1 review)

intelligence ⓘ

4 out of 5 stars (based on 1 review)

versatility ⓘ

4 out of 5 stars (based on 1 review)

Child Friendly ⓘ

2 out of 5 stars (based on 1 review)

Watchdog Ability ⓘ

5 out of 5 stars (based on 1 review)

Playfulness ⓘ

4 out of 5 stars (based on 1 review)
Dogs breeds: "American Akita"
CLASSIFICATION FCI: 344
Group 5: Spitz and primitive types.
Section 5: Asiatic Spitz and related breeds. Without working trial.
Federations:
– FCI – Group 5: Dogs type Spitz and primitive type – Section 5: Asian Spitz and related breeds.

ⓘ

– AKC – Group 3: Working dogs

ⓘ
FCI breed standard "American Akita"
| | |
| --- | --- |
| "American Akita" FCI | |
1.

American Akita, Great Japanese Dog

(English).
2.

Akita américain, Grand Chien Japonais

(French).
3.

Amerikanischer Akita, Great Japanese Dog, Großer Japanischer Hund

(German).
4.

Akita americano, Grande cão japonês

(Portuguese).
5.

Akita Americano, Gran Perro Japonés

(Spanish).