The Norwegian Hound was originally called Dunker, in honor of the Norwegian captain and breeder Wilhelm Conrad Dunker (1806-1860), who established the first breed standard in 1850. During the first half of the 19th century, there was a large population of hounds in norway, including various types used for hare hunting. Wilhelm Dunker seleccionó a los que tenían el sentido del olfato más agudo y los cruzó con un Russian Harlequin Hound to produce a versatile hound, able to hunt rabbits and hares by smell rather than sight, and tough enough to withstand the harsh weather conditions of Norway.
In 1902 was founded the Norsk Harehundklub, a club dedicated to hounds. That same year the hounds were divided into two main groups, known today as Dunker y Hygenhounds. El primero era el más numeroso e incluía perros locales de todo el país, proporcionando una amplia y variada base de cría.
Aunque Noruega se vio menos afectada por la Segunda Guerra Mundial que otros países europeos, the demand for these dogs dropped dramatically, which made it difficult for the breeders to continue their work properly. As a result, el número de especímenes disminuyó significativamente.
After the conflict is over, the Dunker regained some popularity and was officially recognized by the Fédération Cynologique Internationale (FCI) in 1956.
However, this bounce was only short lived: lost ground again from the decade of 1970, debido a la competencia de las razas extranjeras de perros de caza importadas al país.
Things did not improve much in the 80, to the point that inbreeding problems began to appear. In fact, the decline in its population led many breeders to resort to inbreeding to continue breeding. This led to a high rate of congenital deafness.. For this reason, in 1987, el comité de cría del Norwegian Hound asked the Norsk Kennel Klubb (NKK), the reference canine organization in Norway, permission to cross the Dunker with other races, but they denied it. However, how things did not improve much, the NKK finally gave his approval for some crosses two years later. This resulted in a more varied and healthy genetic makeup, manteniendo al mismo tiempo los rasgos característicos de la raza.
The United Kennel Club (UKC) recognized it in 1996. However, the other American reference organization, the American Kennel Club (AKC), no ha hecho lo mismo hasta el día de hoy – nor does the neighboring Canadian Kennel Club (CKC) or the prestigious British Kennel Club (KC). In fact, at the global level, recognition of the breed is still quite partial.
It's the same for broadcast. Incluso en los demás países escandinavos, is almost absent, with the exception of Sweden, where the Svenska Kennelklubben registra cada año un número de nacimientos que puede contarse con los dedos de una mano, compared to around twenty in the early nineties. In France, no se hizo ni una sola inscripción en el Libro de los Orígenes Franceses (LOF) during the first two decades of the 21st century.
In Norway, The number of Dunkers recorded each year in the NKK has been around 150 since the mid-decade 2000. However, esto marca una reducción a la mitad del número comparado con el cambio de los años 90. Este número limitado se explica en parte por el problema de sordera presente en esta raza: almost the 75% of its population suffers from deafness.
Photo: A Norwegian Hound by Canarian, CC BY-SA 4.0, via Wikimedia Commons
Physical characteristics "Norwegian Hound (Dunker)"
The Norwegian Hound It is a medium-sized dog distinguished by its long, well-proportioned body, his energetic and clear walk and his light weight. They have solid bones, giving an impression of strength and endurance. The back is straight, firm and long enough to give length to the rib cage. Lets on strong, dry front legs. The tail is wide and thick at the base and tapers at the tip. Descends to the hock or slightly protrudes from the hock.
Quite long, its head is characterized by a slightly domed skull and a marked stop. Located at half height, the ears are flat, without folds, hanging and soft to the touch. De ancho medio, taper towards its tip, which is rounded. Its mouth has scissor-shaped teeth dominated by a square, well-developed snout., a black nose and wide nostrils.
His eyes are round, large and very penetrating. Although they are usually dark in color, there are also individuals with one or two blue eyes, una característica que se asocia con un mayor riesgo de sordera. Minnow eyes are allowed in blue individuals (variegated). Regardless of the color of the eyes, the eyes express calm and seriousness.
The coat of the Dunker consists of short hair, hard, tight and dense. Its coloration is a distinctive sign of the breed: they are either black with light fawn and white spots, or blue merle (¿bigarros?) and mottled with light fawn and white spots. Jet black coats with dark tawny markings are less desirable, and those in which white predominates (to the point of representing at least the 50% Of the surface) are considered undesirable by the norm.
Last, sexual dimorphism is not very marked in this breed: males and females are quite similar in size and weight.
Life expectancy: 12 years of age.
Size of Norwegian Hound
– female weight: Of 24 to 25 kg
– Male weight: Of 24 to 25 kg
– female size: Of 47 to 53 cm.
– Male size: Of 50 to 55 cm.
Character and skills "Norwegian Hound (Dunker)"
The Norwegian Hound is a fast and tenacious hunter with an above-average olfactory ability. They excel particularly in hunting hare and rabbit.
Being also gentle, loving, cheerful and friendly, tienen todas las cualidades requeridas para ser un excelente perro de compañía. Equilibrados, patients, tolerant and devoid of aggressiveness, they are very good playmates for children. However, it is important to note that a dog should never be left alone with a small child without adult supervision, and this applies to all races.
His total lack of aggressiveness and his attraction to humans, even for those you don't know, make it totally impossible to use as a guard dog. In effect, not reserved at all, shy, fearful or aggressive with strangers, rather they tend to welcome them positively and trust them. They are more likely to greet a malicious person with curiosity and licking them rather than barking to warn their master or make them understand that they better go their way.
His sociability extends to other dogs too. Therefore, it is quite possible to share a house with a dog companion without fearing that conflict situations will multiply, and is generally friendly with those he meets on his walks.
With cats and other animals, things are a little more complicated. His hunting instinct naturally leads him to chase any small furry animal that is not part of the canine species.. Although he has grown up with him and must consider his little companion as a member of the family and not as a potential prey, risk can never be ruled out, so it is better to avoid such cohabitation. As for those that can be found on your walks, you probably want to chase them. Therefore, it is preferable to keep it on a leash during excursions, to avoid any accident.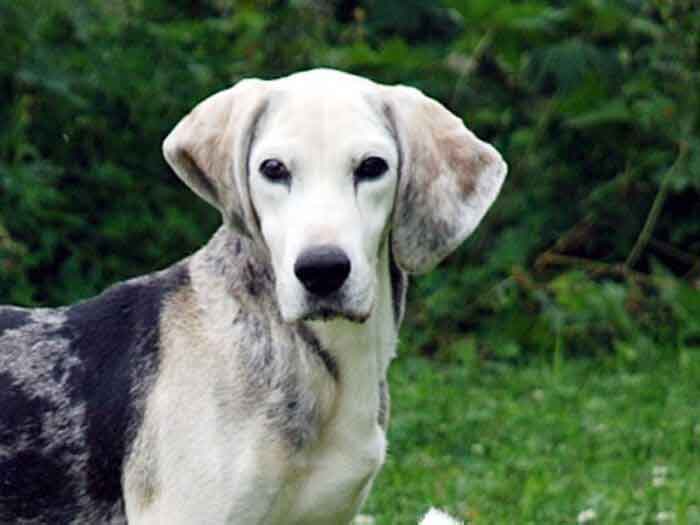 In any case, el miedo a que persiga a otros animales no significa que no debas sacarlo lo suficiente cada día, sabiendo que necesita mucha actividad para gastar su gran energía. Need at least 45 minutes of exercise per day, but his stamina makes him happy to go further if given the chance. It also, es preferible variar los placeres para permitirle gastar plenamente su energía: long walks, run through the park, sports with dogs, etc. Sports that require running (like canicross) and those that appeal to your senses (like tracking) they are the most recommended. In fact, este perro es muy feliz cuando tiene que movilizar sus capacidades físicas y mentales. In any case, in addition to allowing you to exercise, all these activities reinforce the relationship with his master, which is especially important if you are hearing impaired.
From the above it follows that the Dunker not suitable for an elderly or very sedentary person, que no podría darle todo el ejercicio que necesita. The ideal for him is a master of sport, and willing to take his partner in his various activities. Retirees may be right for him, if they are active enough.
In any case, life in the city is not ideal for him, that needs large spaces to fully develop. Una casa con un jardín en el campo es un ambiente mucho más apropiado para vivir. However, es importante asegurarse de que el jardín esté bien cercado y que el entorno sea seguro, as his instincts and hunting instincts soon lead him to follow leads and flee.
Once your need for exercise is satisfied, the Norwegian Hound has an easy and docile character; is far from being as stubborn as many hunting dog breeds. However, your sense of smell can make training difficult, as he is easily distracted by a scent and not really responsive to his master's commands.
Their propensity to bark can also be quite annoying. Es particularmente propenso a hacerlo si su amo está lejos por mucho tiempo sin haberle dado ningún ejercicio de antemano y sin tener los medios para hacerlo por sí mismo. In fact, inactivity can be a burden and cause those behavior problems, así como destrucción, for example. However, as long as you have something to take care of in the absence of your family, not the type of dog that suffers a lot from separation anxiety.
Education "Norwegian Hound (Dunker)"
Like all the other hounds, the Norwegian Hound must be socialized from an early age. In other words, so that he becomes a balanced adult and has no trouble finding his place, should be given without delay a maximum of opportunities to meet all kinds of humans (veterinary, neighbors, delivery man, etc.), Other animals, but also to face various noises, smells and situations. Esto es aún más importante ya que se distrae fácilmente con su sentido del olfato.
The rules established in your education should also be taught to you from an early age, when your ability to learn and docility are at their best. As with any race, los malos hábitos se adquieren rápidamente cuando todavía es un cachorro y se convierten en verdaderos problemas cuando crece.
In any case, the Dunker it is a breed of dog that is easy to train and that listens to its master, as long as he uses a dog-friendly training method. Treatments generally prove to be very effective in positively reinforcing your good deeds and facilitating learning. However, sometimes it is necessary to show firmness and affirm your own authority to prevent this dogged dog from doing what he pleases. También puede ser difícil conseguir su atención, given their tendency to be distracted by their sense of smell.
Since it has a strong inclination to follow its nose and to chase passing small animals, Teaching your dog to call back is especially important to avoid the risk of a frantic tug on the leash or running away if it moves freely.
También puede ser útil tratar de enseñarle a canalizar su propensión a ladrar. However, as it is deeply ingrained in him, should not be expected to be the calmest of dogs. If it is impossible to make him understand that some things do not necessarily require him to bark, at least he can be taught to stop on command.
Last, if the dog is deaf from birth, as is the case with a significant fraction of the representatives of the breed, the master must obviously adapt to this restriction: el entrenamiento de un perro sordo no se hace de la misma manera que el entrenamiento de otro perro que es capaz de oír la voz de su amo. La confianza es entonces aún más crucial en la relación entre el animal y su amo, para que pueda aprender y vivir en buenas condiciones a pesar de su minusvalía. Of course, communication is then done through non-verbal communication, y depende del maestro adoptar un lenguaje corporal explícito, basado en gestos y mímicas precisas, específicas para cada indicación que desee dar.
Health "Norwegian Hound (Dunker)"
The Norwegian Hound is very resistant, generally have excellent health and very good longevity.
Used to living in harsh Norwegian weather, pueden tolerar el frío y la humedad sin dificultad. Their coat is naturally waterproof and offers good protection from the elements. On the other hand, shows some intolerance to high temperatures, even if it is able to adapt to a Mediterranean climate. You simply need to lighten up your activities during hot flashes, or at least privilege those that are carried out inside, para asegurarse de que siempre tiene acceso a un lugar a la sombra o incluso al aire acondicionado y evitarle cualquier ejercicio físico demasiado intenso en las horas más calurosas.
Its small population and its limited diffusion prevent a very important deterioration of health, but it has been shown that it is predisposed to certain problems:
deafness, what is a hereditary disease.

Según la Fundación Ortopédica para los Animales

(OFA), almost the 75%

de la población de la raza es hoy en día sorda en al menos uno

,

si no ambos oídos

;
hip dysplasia, a joint malformation that may be characterized by a hereditary predisposition.

Puede causar dolor en las articulaciones así como dificultades para moverse

;
Elbow dysplasia, which can also be favored by a hereditary predisposition. It is painful and leads to difficulty moving and the development of osteoarthritis;
progressive retinal atrophy, a hereditary and incurable eye disease. Causes loss of night vision first, then loss of daytime vision, to the point that the dog becomes totally blind;
Demodecic scabies, a contagious parasitic disease that causes itching and true discomfort to the dog, gradually losing appetite and sleep;
ear infections (otitis, etc.), due to its hanging shape.
It also, individuals used for hunting are exposed to the various risks associated with this activity: wounds, parasites, thorns, etc.
It also, the Dunker has a strong appetite. How it is usually active, this is not usually a problem. However, if it is not, soon becomes overweight.
Given the hereditary conditions to which the breed is predisposed, the breeder's work plays a decisive role in the adoption of a Norwegian Hound that he is in perfect health and that he will probably remain so. In addition to the results of genetic tests performed on the parents and the puppy to reduce the risk of such diseases, every serious and responsible breeder must be able to present a certificate of good health established by a veterinarian, así como documentos relativos a las vacunas administradas.
It also, cuando el perro es pequeño y aún está creciendo, your bones and joints are particularly fragile: therefore, debe evitarse cualquier ejercicio físico demasiado intenso o prolongado, ya que podría pagarlo un día u otro, with potentially permanent sequelae (malformations, etc.).
Last, it is necessary to consult a veterinarian at least once a year to ensure that the dog is in good health or, on the other hand, para poder detectar lo antes posible cualquier problema cuyos síntomas no sean todavía visibles. This health check is also an opportunity to carry out your immunization reminders, which are another essential lever to keep the dog in good health. Aún en el registro de prevención, it is the owner's responsibility to renew the antiparasitic treatments whenever necessary throughout the year, so your partner is never unprotected.
Care and maintenance "Norwegian Hound"
A tough breed, the Norwegian Hound do not require much maintenance.
However, they lose a lot of hair, así que cepillarse el pelo dos veces por semana no es demasiado para ayudar a eliminar los pelos muertos y mantenerlo en buen estado. Durante sus períodos de muda en primavera y otoño, when it should be done more often (even daily) to prevent hair growth throughout the house.
Since his hair is not very dirty and therefore does not have a strong odor, bathing him two or three times a year is generally sufficient. In any case, a too frequent bath will make the sebum naturally present on the skin disappear, que la aísla y la protege de los elementos. Having said that, do not hesitate to give him a bath if he has gotten very dirty, for example during a particularly muddy hunting trip. In any case, sólo se puede utilizar un champú especialmente diseñado para perros, at the risk of damaging your skin.
The oídos, on the other hand, require special attention, since its hanging shape implies an increased risk of infections (ear infections, etc.). Deben ser limpiados cada semana con un paño húmedo o un producto de limpieza especialmente diseñado para este fin. También deben secarse después de cada baño o de un largo período de tiempo en un lugar húmedo.
Their eyes también deben ser examinados semanalmente y limpiados si es necesario con un paño húmedo.
It is also necessary to brush the teeth de su perro cada semana o incluso cada día para evitar la formación de placa dental y sus posibles consecuencias (bad breath, diseases, etc.). A toothpaste specially designed for dogs should always be used.
It also, it is important to regularly check your dog's claws to make sure they are not getting too long and to trim them if this is the case. Esto no sólo podría dificultar su andar, sino que también podría romperse y potencialmente lesionarse al mismo tiempo. Having said that, while you're active and spending long hours outdoors, natural wear and tear is usually enough to file them.
To know how to proceed during maintenance sessions, es útil beneficiarse de la experiencia de un veterinario o un peluquero la primera vez. In fact, whether the various procedures for grooming the coat, the ears, the eyes, your pet's teeth or claws are not done properly, not only will satisfactory results not be obtained, but the owner may even injure or injure his pet. It also, the owner should get used to his pet very soon, so that throughout his life he accepts to be manipulated without being rebellious.
It also, when your pet returns from a long time in the wild, it is a good idea to systematically take a little time to inspect it carefully: parasites, spikes or dirt may have gotten into their fur, and may also have been injured.
¿Que precio tiene un

"Norwegian Hound"
In Norway, a puppy Dunker It costs around 7000 Norwegian crowns (a few 650 EUR). El precio de venta varía de un individuo a otro dependiendo del prestigio de la cría, el linaje del perro y sus características intrínsecas.
Since the breed does not have a wide international distribution, es casi imposible encontrar un criador de la misma fuera de su país de origen.
Therefore, whether you are in France, Belgium, Switzerland, Canada or elsewhere, who wants to adopt a Norwegian Hound you must opt ​​for the import solution. In this case, keep in mind that transportation and administrative costs are added to the purchase price and, of course, you must respect the regulations to import a dog from abroad.
Characteristics "Norwegian Hound (Dunker)"
Coexistence is important that you have with your new friend. Before considering the acquisition of a dog of the breed "Norwegian Hound (Dunker)" you know certain factors. Not all breeds of dogs are apt to live in an apartment, you must take into account his character, their need for exercise, their interaction with other pets, their care and if you have small children, their level of tolerance towards them.
Adaptation ⓘ

2 out of 5 stars (based on 1 review)

friendly dog ​​ⓘ

4 out of 5 stars (based on 1 review)

hair loss ⓘ

4 out of 5 stars (based on 1 review)

Affection level ⓘ

4 out of 5 stars (based on 1 review)

Need for exercise ⓘ

4 out of 5 stars (based on 1 review)

Social need ⓘ

4 out of 5 stars (based on 1 review)

Home ⓘ

4 out of 5 stars (based on 1 review)

Toilet ⓘ

2 out of 5 stars (based on 1 review)

Friendly with strangers ⓘ

4 out of 5 stars (based on 1 review)

barking ⓘ

4 out of 5 stars (based on 1 review)

Health ⓘ

4 out of 5 stars (based on 1 review)

Territorial ⓘ

4 out of 5 stars (based on 1 review)

Cat friendly ⓘ

2 out of 5 stars (based on 1 review)

Intelligence ⓘ

3 out of 5 stars (based on 1 review)

Versatility ⓘ

3 out of 5 stars (based on 1 review)

Child friendly ⓘ

4 out of 5 stars (based on 1 review)

Surveillance ⓘ

2 out of 5 stars (based on 1 review)

joy ⓘ

4 out of 5 stars (based on 1 review)
Videos "Norwegian Hound (Dunker)"
| | |
| --- | --- |
| Sabueso Noruego (Dunker) – Raza de Perro | Dunker ?? Everything Dog Breeds ?? |
FCI CLASSIFICATION:
Group :
Section : . .
Federations:
– FCI – Group 6: Scent hounds, and related breeds. – Section 1.2: Medium-sized Hounds.

ⓘ

– UKC –

Scenthounds

ⓘ
FCI breed standard "Norwegian Hound (Dunker)"
FCI -

Norwegian Hound (Dunker)
1.

Dunker

(English).
2.

Dunker

(French).
3.

Dunkerbracke, Dunkerlaufhund

(German).
4.

Dunker

(Portuguese).
5.

Cazador noruego, Dunker, Sabueso de Dunker

(español).