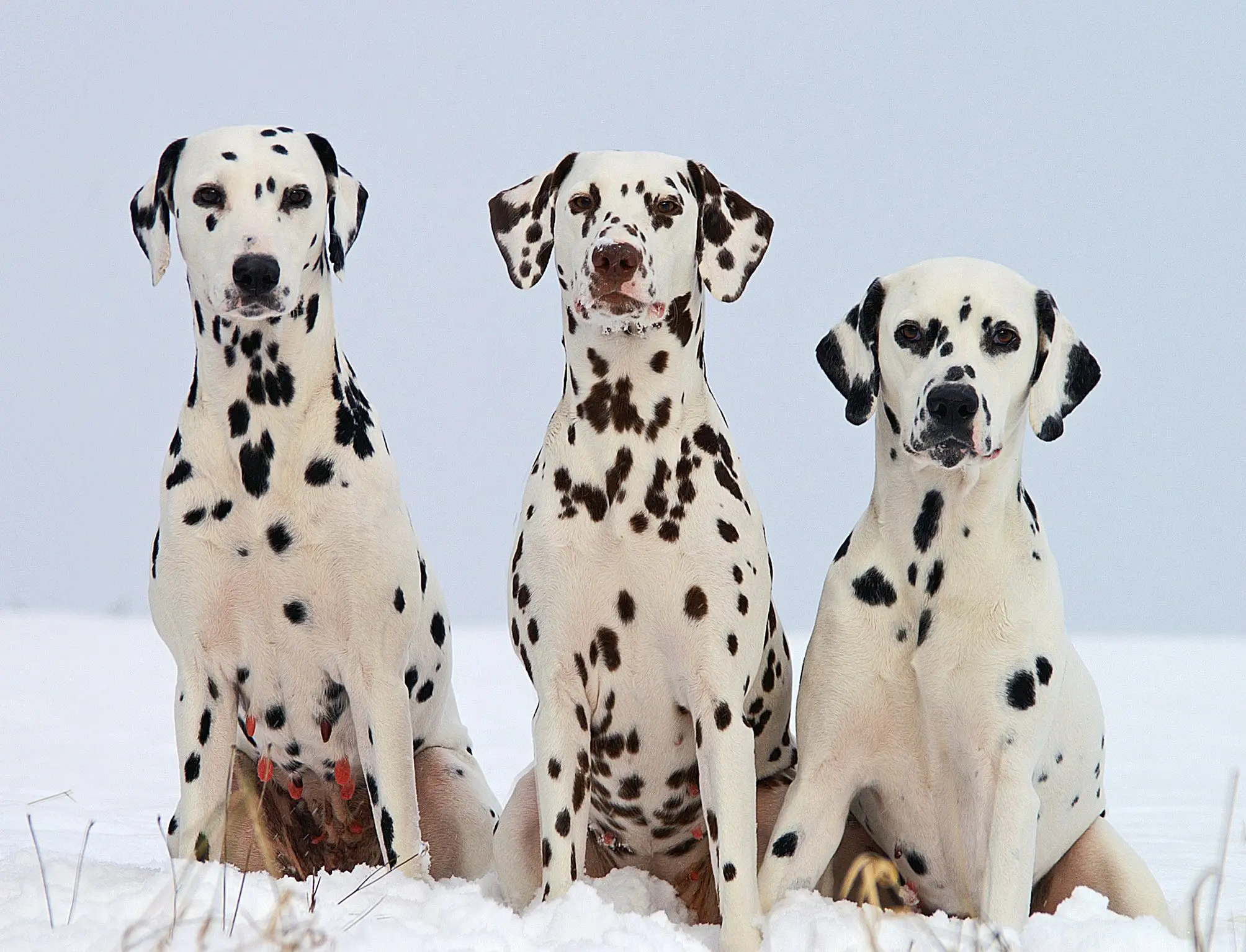 The origins of the Dalmatian they are not very clear. Ecclesiastical chronicles of the 18th century suggest that it originated in the eastern Mediterranean basin, and more precisely in the region of the Dalmatian coast (in croatia), where does it get its name from. In these chronicles, the dogs represented are called Canis dalmaticus. Aunque es difícil definir quiénes son los antepasados del Dalmatian, some believe that the Great Dane and English Pointer contributed to the creation of the breed.
Some experts believe that this dog – or at least their close relatives – ya existía en la época del antiguo Egipto, 2000 years before Christ. This hypothesis is based on the drawings found in the tombs of the pharaohs.
However, between the second half of the 18th and 19th centuries, the Dalmatian viajó por Europa junto con los nómadas romaníes, haciendo su aparición en muchos países. En la segunda mitad del siglo XVIII habría llegado al Reino Unido, where it really began to be bred and developed. Like this, aunque sus orígenes parecen ser croatas, it was the UK that gave him his credentials, and that can be considered as his second homeland, so to speak.
Durante el período de la Inglaterra victoriana (1837-1901), attracted the attention of racehorse trainers, que lo utilizaron para proteger a los caballos de los depredadores y ladrones y para añadir un toque de estilo a su cría.
At the end of the 19th century, a real selection job was started by some English noblemen who bred him to use as a working dog. In fact, in addition to his role as horse groomer, was able to accompany the horses and carriages that pulled, running in front of them and opening the way for them thanks to the barks that alerted and made the animals and people who were on the road move away. Todavía hoy, is also recognized with the Dalmatian a particular affinity for the equine population.
During this time, began to be used for many other tasks. In particular, proved to be very competent as a guard dog, but also as a sheepdog, draft dog and even circus dog.
They were imported to the United States probably in the late 18th century, mainly from the UK. Allí también se distinguió como perro de trabajo acompañando a los bomberos, corriendo hacia el fuego río arriba de los caballos que remolcaban sus vehículos, to clear the way. He then kept an eye on his equipment as they tried to control the fire. Mientras que esta práctica ha desaparecido obviamente hoy en día, many American fire stations have long maintained a Dalmatian like your pet.
In the early 20th century, el Reino Unido se convirtió en el país de referencia de la raza. Some British families were widely recognized for the quality of their upbringing, y muchos de sus cachorros se vendían en todo el mundo. The Wells family, in particular, estaría en el origen de la mayoría de las líneas americanas de Dalmatian shipped to the United States at that time.
Today, se encuentra principalmente como perro de compañía. Su apariencia lo hace particularmente reconocible y los dibujos animados de las películas de Disney Los 101 dalmatians (1961) and the 102 dalmatians (2001) contributed greatly to making him famous.
In the United States, the Dalmatian was recognized by the American Kennel Club (AKC) in 1888, and by the United Kennel Club (UKC) in 1914. The International Cynological Federation (FCI) it took much longer, since it was not until 1955 who did the same.
El Reino Unido sigue siendo probablemente el país más prolífico, at around 1000 new puppies Dalmatian registered each year in the Kennel Club, the reference organization of the country. However, there has been a significant decline, since this figure was just below the 1500 annual births in early 2010. Esta tendencia se observa también en otros países, like australia, donde el número de inscripciones anuales en el ANKC (Australian National Kennel Club) has gone from almost 1500 mid-decade 1990 to 500 in the news.
In France, the breed is fairly well represented, since every year they are registered with the Société Centrale Canine (SCC) a few 700 individuals, that is to say, around the 0,35% of the total of all races combined. It reached its maximum popularity at the beginning of the 21st century, with more than 800 or even 900 new puppies per year. It was particularly during the decade of 1990 when the breed experienced a pronounced boom, ya que el número de nacimientos anuales fue sólo de unos 250 al comienzo de ese período.
In the United States, the Dalmatian ocupa alrededor del 60º lugar (out of a total of 190) en la clasificación de razas basada en el número de registros anuales en el AKC.
In general, la raza ha experimentado altibajos en su popularidad en las últimas décadas. There are countless families who decided to adopt a Dalmatian después de haber visto una caricatura y/o una película en la que aparece, antes de darse cuenta algún tiempo después de que en realidad no estaban necesariamente hechos para tal perro …
The Dalmatian he is a harmonious and well-proportioned dog. They are muscular and lively, con una silueta simétrica y líneas puras. His cross is well defined, followed by a powerful straight back. Their loins are lean and muscular, with slightly sloping rump. The chest should not be too wide, but it must reach up to the elbows.
The front legs are perfectly straight and with solid bones. Shoulders are slightly sloping. Hind legs are straight and parallel when viewed from behind. The legs are round, firm and have strong, elastic pads.
The tail reaches approximately to the hock. It is quite strong at the base and then gradually tapers to the tip. Se busca la presencia en este último de muchas manchas – that however must be smaller than those of the body – but its absence is also accepted by the standard of the Dalmatian.
Its head is quite long and its skull is flat. Las líneas superiores del cráneo y el hocico son paralelas. His nose is the same color as his spots, that is to say, black or brown. The muzzle is long and powerful. Las mandíbulas también son poderosas y tienen forma de tijera.
The eyes are separated without excess, medium-sized, round and shiny. They give the dog an intelligent and very lively expression. Like the nose, its color depends on the color of the spots, so they can be black or brown.
The ears are quite high and have a fine texture. They are broad at the base and rounded at the tip. They also have many well-defined and preferably numular points, that is to say, round.
The coat of the Dalmatian is short, hard and shiny. It´s, of course, the main distinctive feature of the breed, with its numerical spots, que hoy en día son más pequeñas y claras que hace unos pocos siglos, según las representaciones disponibles. However, remain enigmatic, ya que nadie ha establecido aún con certeza de dónde vienen. In any case, the background is always white, and these spots can be black or brown (liver). They must be round and well defined, evenly distributed throughout the body, but the head and tail should be smaller than the others. There are tricolor specimens (blancos con manchas negras e hígado), but they are not accepted by the breed standard.
Nacido para correr y aparentemente dotado de una energía inagotable, the Dalmatian it is one of the most resistant dog breeds. Therefore, is a perfect choice for a sporty owner who dreams, for example, with taking your partner when you go for a run or ride a bike. In fact, this very active dog needs a lot of exercise, and therefore not suitable for apartment living, or even in the city. Necesita acceso a un jardín o un patio, but beware: either at home or on a walk, his instincts for freedom sometimes make him a little runaway. Esto es aún más cierto si no es capaz de hacer todo el ejercicio que necesita, plus this can lead to various behavior problems: aggressiveness, stress, destruction of objects, etc.
Amistoso, loyal and sensitive by nature, le gusta hacer reír a su mundo a través de muchas payasadas, but he also welcomes his masters and friends with a wide smile. Loves to please, rub shoulders with their teachers, follow them everywhere, receive attention, y así aprecia enormemente el contacto humano. It is not an animal that likes to live in its kennel without worrying too much about it: your place is at home. Whether he is left alone or has no place in the room, this family dog ​​can only be unhappy.
Su original y único abrigo hace que sea apreciado por los miembros más jóvenes de la familia. This is a good thing, since it is a breed of dog recommended for children. Además de su carácter afectuoso y la cercanía a su familia, the fact that he is very active and playful makes him the perfect companion for them. On the other hand, su energía, its large size and rather long tail make it not ideal for younger children, who run the risk of being pushed unintentionally. Therefore, it is better for children to be a certain age. The Dalmatian may also be suitable for retirees, siempre que sean activos y estén lo suficientemente sanos como para sacarlo cada día.
Alert and very interested in everything that is around him, makes a good alert dog and warns its owners without fail of the arrival of a person. On the other hand, it's more illusory to expect me to play the watchdog, as it does not show any real aggression or threat to strangers. However, during its history, the Dalmatian was used effectively to guard the houses, but it must be said that its protective instinct gradually faded over the years as its use evolved. It also, when strangers are brought into your home, tends to stay away and not seek too much contact with them, at least initially. In general, although he can be protective when necessary, it is a very friendly dog ​​with humans.
Endowed with a well balanced nature (although sometimes a little stubborn), the Dalmatian todavía necesita socializarse desde una edad temprana, that is to say, getting exposed to many other canine companions, animals, people, sounds and situations. As long as it is done well, puede llevarse bien con la mayoría de los perros y gatos, cuya compañía generalmente disfruta. He also has a special affinity with horses, inherited from your work with them in the past. On the other hand, he has also retained a strong hunting instinct from his ancestors and loves to catch birds, Rats, tops, mice or other rodents. Therefore, it is better to keep an eye on him in situations where he comes into contact with them, and of course prevent me from trying to live with them.
Sus orígenes como perro de bomberos hacen del Dalmatian a reactive being. No es particularmente difícil de entrenar, but it is wise to instill the basics early, in a gentle but strict way. In effect, may have a tendency to be stubborn and take over from a beginner or insecure owner who does not have the opportunity to be trained.
Endowed with an excellent memory, very responsive, eager to please and grateful for rewards, it is particularly suitable for canine training methods based on positive reinforcement, like clicker training. To an old circus dog, loves to learn tricks and show off his clown skills.
Cubs Dalmatian, otherwise, often tend to adopt destructive behaviors, for example, masticar los objetos que encuentran o cavar agujeros en el jardín. Aquí también se le debe mostrar desde joven qué actitudes son deseables y cuáles no. If they are allowed to, they will soon learn bad habits, how do they do with the good guys.
Last, la socialización que comienza a una edad temprana es una garantía de adaptación satisfactoria a cualquier tipo de situación que pueda encontrar más adelante en la vida. Is naturally sociable, but as with any dog, it is better to teach him as soon as possible to react calmly to as many scenarios as possible.
The Dalmatian it is quite easy to care, pero es importante saber que pierde pelo constantemente y tiene una fuerte caída estacional dos veces al año, in spring and autumn. During these periods, se recomienda cepillar al perro todos los días. Outside, one or two brushings per week is enough, although some homeowners choose to brush more frequently to minimize the amount of hair in the house.
In any case, not suitable for people who cannot bear to find hair everywhere in their house: not only loses hair all the time, sino que su pelo es rígido y se aloja fácilmente en las telas, por lo que puede ser difícil de quitarlo de la ropa y los sofás, for example.
Having said that, apart from this significant hair loss, the Dalmatian they are pretty clean dogs, with a not very dirty coat and do not develop a strong body odor. It also, as its fur is short, it is not normally necessary to have your dog professionally groomed.
It is also not particularly necessary to bathe your dog regularly., unless, of course, be really dirty, for example, after a trip outdoors. Apart from this special case, a bath once or twice a year is more than enough.
However, como en todas las razas de perros con orejas caídas, special care must be taken to avoid the risk of infection. Weekly cleaning is ideal, además de la limpieza después de cada actividad al aire libre en zonas húmedas, for example.
It is not normally necessary to trim the claws of a Dalmatian if you regularly spend time outdoors, since natural wear and tear is usually sufficient. However, in the case of less active individuals, they need to be trimmed as soon as they protrude from the pads, that is to say, on average once a month.
Last, as with any dog, it is advisable to take care of your eyes once a week to avoid any risk of irritation or infection.
The Dalmatian generally in good health. However, like any race, is more prone to certain problems, often hereditary in this case. Therefore, when a Dalmatian, es útil pedir al criador los resultados de las pruebas de salud realizadas a ambos padres.
One of the main risks to which you are exposed is that of hereditary deafness, tanto más cuanto que ningún linaje parece estar a salvo. If around the 5% of puppies become completely deaf at 6 weeks old (después de un corto período de tiempo en el que son capaces de oír), es aún más probable que los cachorros se vuelvan completamente sordos de un oído. Su porcentaje es bastante difícil de definir, as often the adopter or owner is unaware of the problem unless they test their partner's hearing. In fact, un perro que es sordo de un solo oído muestra más o menos los mismos reflejos y reacciones a los sonidos y situaciones que un individuo normal. However, some doctors have already investigated the problem. Según varios estudios realizados en los años 90, the percentage of Dalmatian sordos de un oído es de alrededor del 20%. The doctor. Bruce Cattanach, who posted a review of his work titled "The dilemma of Dalmatian: white coat color and deafness" en el Journal of Small Animal Practice en 1999.
In any case, cannot be tested at birth. A puppy, regardless of race, siempre nace con los canales del oído externo cerrados. Se abren alrededor del 12º al 16º día de vida, así que sólo entonces se puede probar la audición. In the dalmatian, deafness appears before 6 weeks of age. It is caused by a deterioration of the organ of Corti (organ of auditory perception) and appears to be caused by the genes that cause its white color. It can be detected with the help of a test from the 6 weeks of age, and this is what any serious breeder of Dalmatian. Deaf individuals are obviously excluded from reproduction.
Representatives of this breed can also suffer from urolithiasis (or bladder stones), a disease caused by a peculiarity of the urinary system of the Dalmatianto. Urine from Dalmatian contiene un nivel particularmente alto de ácido úrico. This acid carries an increased risk of stone formation and makes the urinary system more fragile and sensitive than that of other breeds. This disease can even be fatal if the situation evolves towards a total obstruction of the urinary ducts. Therefore, it is important to make sure that the Dalmatian urinate regularly and without difficulty, and always have easy access to fresh water. To avoid vital diagnosis of the animal, the disease should be detected as soon as possible, and treatment by a veterinarian should follow immediately.
It also, many representatives of the breed suffer from skin allergies. They can be of food origin, in which case, the problem food can simply be eliminated from the dog's diet. They can also be contact allergies, that is to say, caused by a direct reaction to certain substances intended for dogs, as flea treatments, champús para perros y otros productos químicos. Last, the Dalmatian may suffer from inhalation allergies, caused for example by pollen, dust or mold. A menudo van acompañadas de infecciones de oído. Treatment can be prescribed by a veterinarian, depending on the severity of the reactions.
Like many large breeds, the Dalmatian they can also suffer from hip dysplasia, an inherited disease that causes an imperfect insertion of the femur into the pelvic cavity of the hip joint. Some affected people experience pain and lameness in one or two of the hind legs, pero en otras es imposible percibir ningún síntoma. As the dog ages, osteoarthritis problems can also develop. Fortunately, there is a test that can detect individuals with dysplasia, a fin de excluirlos de la cría (and even from the sale, in case of early detection). To minimize the risk, anyone wanting to adopt a puppy Dalmatian should, therefore, ask the breeder about the results of the test in question.
Esta raza también se ve más afectada por la parálisis laríngea, that can occur at a young age. Es una parálisis de los músculos que permiten a la laringe abrirse y cerrarse durante la respiración. The main consequence of this disease is the limitation of the animal's ability to breathe, that is to say, breathing difficulties. While for many breeds this problem mainly affects older individuals, the Dalmatian you risk being affected much sooner. Este problema se puede resolver fácilmente con una operación quirúrgica.
The Dalmatian también puede ser víctima de una enfermedad ocular hereditaria llamada displasia del esfínter del iris. Quite rare, causes a pronounced sensitivity to bright light, poor night vision and partial or even total blindness of the dog.
Finally, es un perro sensible al frío extremo. Therefore, debe vivir absolutamente en el interior en las regiones frías y/o cuando las temperaturas bajan bruscamente en invierno.
Today, son sobre todo perros de compañía activos y duraderos a los que les encanta acompañar a sus dueños al aire libre, for example, during jogging or cycling. They can also be used as an alert dog, but not much more than that: sus habilidades como perro guardián están muy lejos de lo que solían ser.
También es un excelente competidor en los deportes caninos que requieren de sus grandes habilidades físicas, like agility, the flyball or the Frisbee.
The price of a puppy Dalmatian it obviously depends on the kennel it comes from, sus orígenes y sus cualidades morfológicas. On average it is 700 EUR, but it can go up to 1000 EUR.
The price of a female is usually significantly higher than that of a male. Like this, within the same litter, it is not uncommon to see a difference of 200 euros between the two sexes.
Characteristics "Dalmatian"
Coexistence is important that you have with your new friend. Before considering the acquisition of a dog of the breed "Dalmatian" you know certain factors. Not all breeds of dogs are apt to live in an apartment, you must take into account his character, their need for exercise, their interaction with other pets, their care and if you have small children, their level of tolerance towards them.
Adaptation ⓘ

3 out of 5 stars (based on 1 review)

friendly dog ​​ⓘ

4 out of 5 stars (based on 1 review)

hair loss ⓘ

4 out of 5 stars (based on 1 review)

Affection level ⓘ

5 out of 5 stars (based on 1 review)

Need for exercise ⓘ

5 out of 5 stars (based on 1 review)

Social need ⓘ

4 out of 5 stars (based on 1 review)

Home ⓘ

3 out of 5 stars (based on 1 review)

Toilet ⓘ

3 out of 5 stars (based on 1 review)

Friendly with strangers ⓘ

3 out of 5 stars (based on 1 review)

barking ⓘ

3 out of 5 stars (based on 1 review)

Health ⓘ

4 out of 5 stars (based on 1 review)

Territorial ⓘ

3 out of 5 stars (based on 1 review)

Cat friendly ⓘ

3 out of 5 stars (based on 1 review)

Intelligence ⓘ

3 out of 5 stars (based on 1 review)

Versatility ⓘ

3 out of 5 stars (based on 1 review)

Child friendly ⓘ

4 out of 5 stars (based on 1 review)

Surveillance ⓘ

3 out of 5 stars (based on 1 review)

joy ⓘ

4 out of 5 stars (based on 1 review)
Photos:
1 – Dálmata en plena búsqueda by Biel1973, CC0, via Wikimedia Commons
2 – Photo taken in Peru with a camera by Jesús Emerson H., CC BY-SA 2.5, via Wikimedia Commons
3 – A Dalmatian puppy breed by Technological wizard, CC BY-SA 3.0, via Wikimedia Commons
4 – A dalmatian dog by Oliver10203040 at Italian Wikipedia, CC BY-SA 3.0, via Wikimedia Commons
5 – Dalmatian jumping by Biel1973, CC0, via Wikimedia Commons
6 – Dalmatiner by Heinz Höfling, CC BY-SA 3.0, via Wikimedia Commons
FCI CLASSIFICATION: 153
Group 6: Scent hounds, and related breeds.
Section 3: Similar breeds.. Without working trial..
Federations:
– FCI – Group 6: Scent hounds, and related breeds. – Section 3: Related breeds.

ⓘ

– AKC – Non-Sporting

ⓘ

– ANKC – Group 7 (Non-Sporting) (Hounds)

ⓘ

– CKC – Group 6 – Non-Sporting

ⓘ

– ​KC – Non-Sporting

ⓘ

– NZKC – Non-Sporting

ⓘ

– UKC –

Razas de compañía

ⓘ
FCI breed standard "Dalmatian"
FCI -

Dalmatian
1.

Carriage Dog, Firehouse Dog, Plum Pudding Dog, Spotted Coach Dog, Leopard Carriage Dog

(English).
2.

Dalmatinac

(French).
3.

(kroatisch Dalmatinac)

(German).
4.

(em croata: Dalmatinac)

(Portuguese).
5.

Perro Bombero

(español).