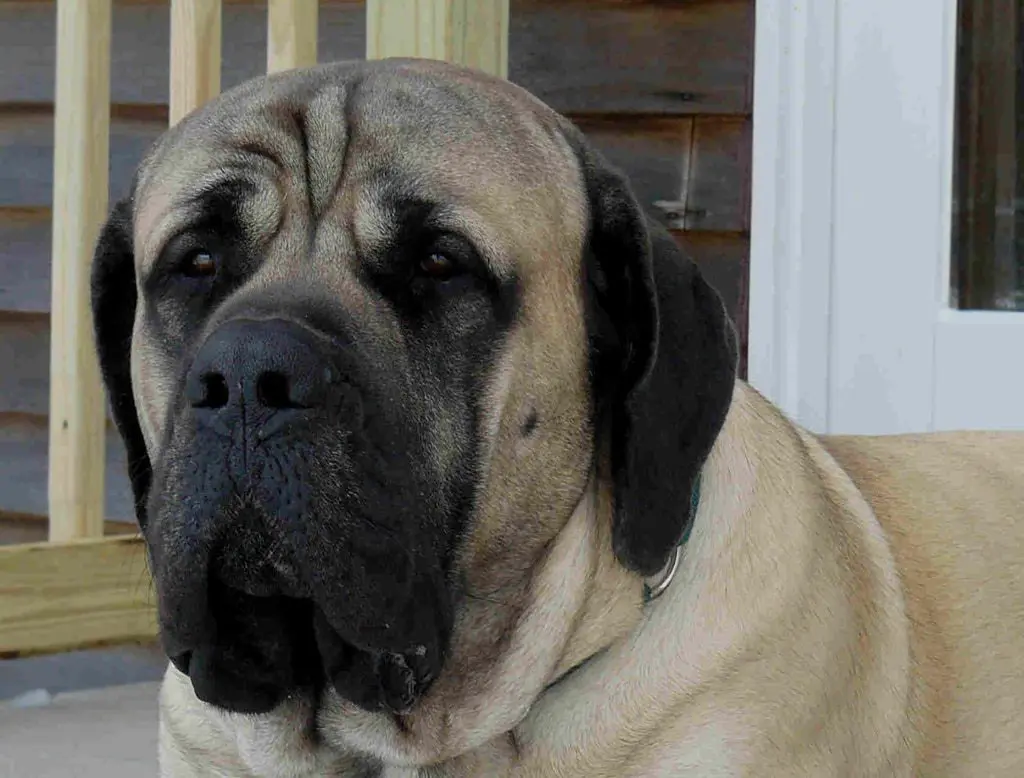 The American Mastiff es una raza perro tipo molosoide que fue desarrollado a lo largo de muchos años de cría selectiva por Fredericka Wagner de "Flying W Farms" (Kennel dedicated to the race), in Piketon, Ohio, ago 20 or 25 years (lo cierto es que me he quemado las pestañas buscando la fecha exacta… y no he dado con ella).
The objective was to develop a dog that had the size, temperament, the provision, y la apariencia de la raza Mastín, pero con menos problemas de salud y que no perdiera tanta saliva como las otras variedades de perro Mastín, and that life expectancy was greater.

To carry out the objective, during the early development of the race felt that the best selection was crossing a English mastiff with a Mastín de Anatolia.
Y, así fue como el actual Mastín Americano, entered our history. A través de una cría muy selectiva que habrá dejado por el camino a muchos "attempts to" de Mastín Americano… as with all breeds.
THE American Mastiff is recognized and registered in the Continental Kennel Club (CKC), He was recognized as a purebred in January of the year 2000. He was raised to be a family dog, y se nota en la descripción de su carácter y temperamento…
We must not confuse the American Mastiff con el 'American Mastiff Panja', ya que tiene líneas de Pit Bull and Rottweiler, among others.
En la actualidad sólo hay nueve criadores de Mastín Americano autorizados por Estados Unidos y forman parte del "AMBC" acrónimo de "American Mastiff Breeders Council (Consejo de Criadores de Mastín Americano)":
Videos "American Mastiff"

Flying W Farms – Mastín Americano


Federica Wagner – Fundadora de la raza y presidente del AMBC. PO Box 845 / Piketon / Ohio 45661. Telephone: 740-493-2401 Fax: 740-493-0072

Sycamore Creek – American Mastiff
Connie Hammond- Vicepresidente de AMBC. Londonderry, Ohio. Telephone: 740-887-2111
Five B Ranch


Lisa Berberich – Secretaria del AMBC

. Terrell, Texas. Telephone: 972-551-1437
Hidden Acres Farm
Diane St. Martin 13 Pleasant St. Southampton, Massachusetts 01073 Telephone: 413-203-1319
AMBer Pines Farm, LLC
Sandy Berger 6610 Reside Rd. Imlay City, Michigan 48444 Telephone: 810-614-8956
Capell Creek Ranch and Kennels
Cameran G. Pridmore 1490 Capell Valley Rd. Napa, California 94558. Telephone: 707-257-2957 or 707-363-7998.
Deepwood Acres American Mastiffs
Jim and Sandy Taylor North East, Maryland 21901 Telephone: 410-398-0769.
Fantastic AMs American home in mastiffs in China Luis Meng, Jessica Wang Meng and Andrew Shanghai, China Email: louismeng@gmail.com
Orion Farms
Melanie and Kevin Ware Reymar, Maryland Telephone: 410-756-1507
Poplar Bluff Ranch


Inicio del Mastín Americano en Canadá

. Bob and Young Wynona PO Box 384 White City, Saskatchewan Canada S4L 5B1 Telephone: 306-771-4516
The American Mastiff He is a great dog size and scope with a moderately broad head, orejas caídas y ojos con expresión amable de color marrón o de color ámbar, the more dark best.
It has thick, powerful neck, chest wide and deep, very muscled back. The tail is wide at the base and will decrease to the end takes her hanging and in rest position forms a slight curve. Tienen una generosa mandíbula con mordida en tijera y los dientes no son visibles cuando tienen la boca cerrada.
The legs are strong, well separated and heavy bones. The feet are large, round and compact. The overall appearance should be slightly longer in body than in height proportions.
The height at the cross in the males is of 81 a 91 cm and the weight of 73 a 91 kg. Females are slightly smaller, measuring of 71 a 86 cm. to the cross and weigh in 64 a 82 Kg.
The coat should be short and dense, color Fawn, Apricot or striped. The muzzle should be dark as about the orbits of the eyes and extends upward between them forming a mask (característica clave de esta raza).
The American Mastiff It, generally, a quiet dog and wonderful with children. They are loyal and affectionate dogs who are not aggressive by nature but perceive danger and need to protect your family, will draw all the power that is available.
While they love to sleep and remolonear Sun, daily exercise will keep them more shaped and happier. Es bueno para su salud física y mental caminar con regularidad.
The life expectancy de un Mastín Americano es of 10 a 12 years.
Images "American Mastiff"
Videos "American Mastiff"