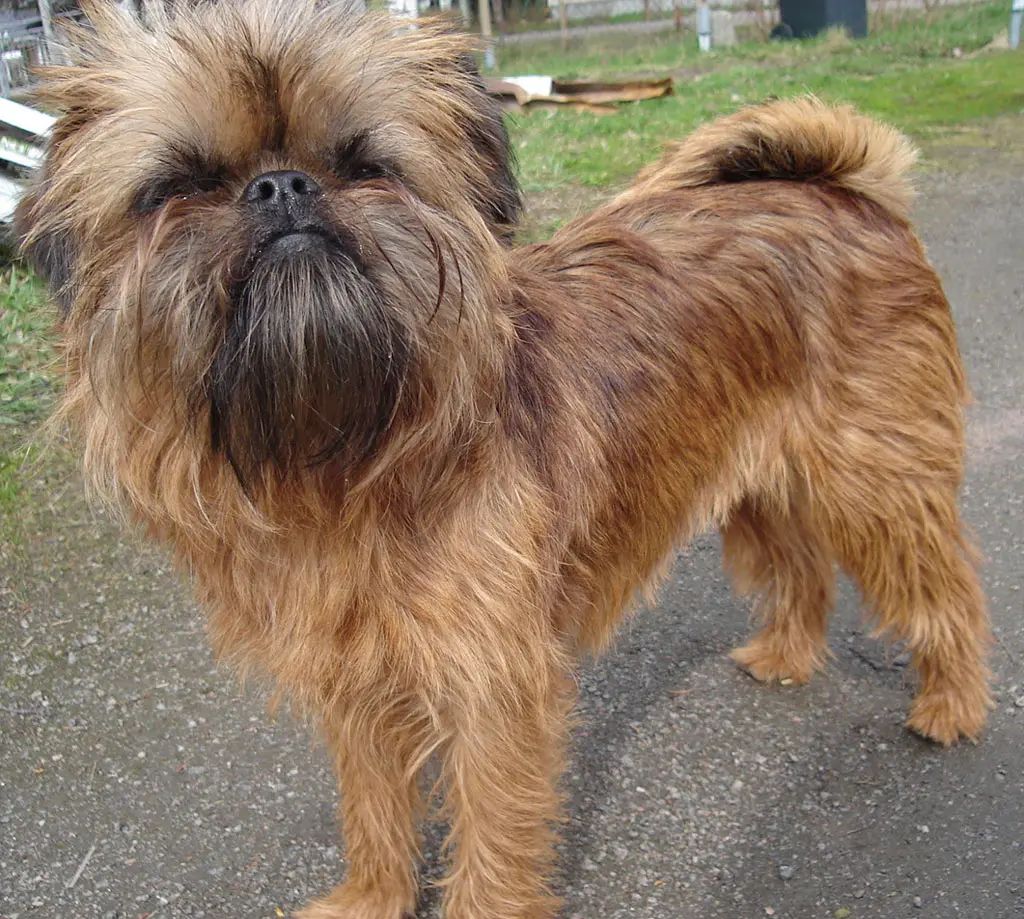 The Griffon Bruxellois, semi-long hair variety, It is the oldest of the Belgian Griffons. It is said to descend from Smousje, a small rough-haired Brussels dog that was used to hunt rats.. Was before 1880 when the selection and improvement of this breed began in Brussels. Crosses were made between the Barbet, the Stable griffon, the Affenpinscher, el Yorkshire Terrier, the Pug and the Cavalier King Charles spaniel (ruby fur; solid red). Presented for the first time in Brussels at 1880, three years later a first standard of the Griffon Bruxellois, which was modified in 1904 to lead to the final version. A first breed club was then created in Great Britain in 1887, and then in the United States in 1945. The breed is recognized by the FCI since 1954.
Like all Grifones belgas, the Griffon Bruxellois was especially popular in the early 20th century, thanks above all to the interest shown by Queen Marie Henriette of Belgium. But, the two world wars brought the breed to the brink of extinction. It only owes its survival to the efforts of enthusiasts., especially the british. In fact, hardly any left Griffon Bruxellois in Belgium at the end of WWII.
Today, is a dog that is still relatively rare.
It is in Great Britain where Griffons are more widespread, while in the rest of Europe, the population is still very low.
The AKC registered its first Griffon Bruxellois in 1910. If not for the dedication of the American and British enthusiasts, the race might not have survived.
The Griffon Bruxellois gained millions of new fans in 1997, when a rogue Griffon Bruxellois named Jill upstaged Jack Nicholson in the hit movie «As Good As It Gets«.
The Griffon Bruxellois is a small companion dog, Intelligent, balanced, alert, proud and robust, almost square in constitution, with good bone, but also elegant in his gait and complexion, drawing attention with his almost human expression.
Fur:
The Griffon Bruxellois has a hard coat with undercoat. The coat is naturally rough, slightly wavy, not curly, but yes skinny. The coat should be long enough to allow the structure to be seen. A coat that is too long damages the silhouette and is not sought after. A silky or woolly coat is a serious fault. The Petit Brabançon has a short coat. The coat is rough, closed and bright, and does not exceed 2 cm..
Color: Red, reddish; a little black is tolerated in head decoration.
In the three races (Griffon belge, Griffon Bruxellois and Petit Brabançon) some white hair is tolerated on the chest, but it is not sought.
Weight:
Of 3,5 to 6 kg.
The Griffon Bruxellois is balanced, alert and proud. With an assertive character and a certain ego, not necessarily suitable in the presence of very young children. In fact, will not appreciate being abused. On the other hand, it will be a very good companion for slightly older children. It also, gets along very well with other animals.
neither shy nor aggressive, the Griffon Bruxellois he is very vigilant and attached to his master. Above all, he needs to be close to his family, and is perfectly suited to apartment living. It also, have a moderate need for exercise: a daily walk is enough for him. This also makes him a suitable dog for an older person, if it is willing to provide the necessary maintenance. With more reason, by not supporting loneliness, will certainly prefer a very available master, with whom you can share games and emotions.
Last, it is a very funny and expressive animal, what will the happiness of home do. Some say that their mimicry is similar to that of a human or a monkey.
In general, they seem to pick up tricks quickly and love to practice them when their attention is drawn to them. to him Griffon Bruxellois loves agility tests, in which they stand out. With his "mad king" look in his fur coat, they can be fun and upbeat if given enough love. As it is a breed that tends to become more attached to a single member of the family, he will have to be accustomed to meeting as many people as possible from a young age so that he does not become excessively protective.
They are not troublemakers, but problems can arise if they become too dependent. They do not like to be alone for a long time because they immediately miss their master. Your love of the game makes it easy to bond. They love to play fetch and seem to be inexhaustible when it comes to having fun.. Once they have tired, they snuggle in your lap and take a well-deserved nap. They need a short leash walk every day, or just the chance to frolic outside, but they don't need a lot of exercise. Recovery usually works very well.
Although the Griffon Bruxellois it is a generally healthy dog, with an estimated life of fourteen years, is nevertheless predisposed to certain hereditary genetic diseases such as displasia coxofemoral, the medial patella dislocation and the respiratory obstruction syndrome. It is also subject to hydrocephalus, "aberrant cilia" (distichiasis and trichiasis) and skin allergies.
For your maintenance, daily brushing is necessary. It is also advisable to groom him regularly and monitor the condition of his eyes and the folds of his face.
His tough fur must be plucked, that is to say, dead hairs must be removed by hand. It is advisable to entrust this removal to a dog groomer.
Breeders of the breed "Griffon Bruxellois"
Tajinastes Kennel | Zoo nucleus B2501363 | Affix Royal Canine Society of Spain 1968 y FCI 55/84 Since the year 1984 – Tajinastes is a hatchery, with the authorized zoological nucleus B2501363, which had its beginnings in the year 1984 in Tenerife and we are currently also in Barcelona where most of our specimens are found. It is born in a family way and because of the love we have always had for this species. We feel privileged to be able to dedicate ourselves to what we like and we cannot conceive of life without having a dog by our side.

PerrosDSalas – Canine kennel – Address: Urb. Miracampos no.. 1 20.160 Lasarte - Oria Guipuzcoa
Characteristics "Griffon Bruxellois"
Coexistence is important that you have with your new friend. Before considering the acquisition of a dog of the breed "Griffon Bruxellois" you know certain factors. Not all breeds of dogs are apt to live in an apartment, you must take into account his character, their need for exercise, their interaction with other pets, their care and if you have small children, their level of tolerance towards them.
Adaptation ⓘ

2,0 of 5 stars (based on 1 review)

friendly dog ​​ⓘ

3,0 of 5 stars (based on 1 review)

hair loss ⓘ

1,0 of 5 stars (based on 1 review)

Affection level ⓘ

4,0 of 5 stars (based on 1 review)

Need for exercise ⓘ

2,0 of 5 stars (based on 1 review)

Social need ⓘ

2,0 of 5 stars (based on 1 review)

Home ⓘ

3,0 of 5 stars (based on 1 review)

Toilet ⓘ

2,0 of 5 stars (based on 1 review)

Friendly with strangers ⓘ

2,0 of 5 stars (based on 1 review)

barking ⓘ

3,0 of 5 stars (based on 1 review)

Health ⓘ

3,0 of 5 stars (based on 1 review)

Territorial ⓘ

4,0 of 5 stars (based on 1 review)

Cat friendly ⓘ

4,0 of 5 stars (based on 1 review)

Intelligence ⓘ

3,0 of 5 stars (based on 1 review)

Versatility ⓘ

3,0 of 5 stars (based on 1 review)

Child friendly ⓘ

1,0 of 5 stars (based on 1 review)

Surveillance ⓘ

3,0 of 5 stars (based on 1 review)

joy ⓘ

4,0 of 5 stars (based on 1 review)
Images "Griffon Bruxellois"
Photos:
1 – «Grifón de Bruselas» by The original uploader was Dan9186 at English Wikipedia., CC BY-SA 3.0, via Wikimedia Commons
2 – "Griffon of Brussels" – Riga, Baltic Winner -2013, 9-10 Nov by Thomas, CC BY-SA 3.0, via Wikimedia Commons
3 – «Grifón de Bruselas» by Canarian, CC BY-SA 4.0, via Wikimedia Commons
4 – «Grifón de Bruselas» by Galawebdesign, CC BY-SA 3.0, via Wikimedia Commons
5 – One-year-old «Brussels Griffon» by Galawebdesign, CC BY-SA 3.0, via Wikimedia Commons
6 – European Dog Champion «Brussels Griffon» 2010 by Ger Dekker
Videos "Griffon Bruxellois"
FCI CLASSIFICATION: 80
Group 9: Companion and Toy Dogs
Section 3: Small Belgian Dogs / Griffons. Without working trial..
Federations:
FCI – Groupo 9 – Section 3.1 «Grifones»

ⓘ

AKC –

Sporting

ⓘ
FCI breed standard "Griffon Bruxellois"
Origin:
Belgium
Date of publication of the valid original standard:
25.03.2003
Use:
Small guard and companion dog.
General appearance:
small pet dog; Intelligent, balanced, alert, haughty, robust, nearly square bodied; with a good bone constitution, but at the same time elegant in its movements and in its construction. It draws attention for its almost human expression.
The two Griffons have hard hair and differ in color., while the Petit Brabançon has short hair.


important proportions:
The length of the body, from the tip of the shoulder to the tip of the buttock, should be as much as possible, equal to the height at the withers.
Behavior / temperament:
Balanced little dog, alert, haughty, well attached to his master, very vigilant. It is neither fearful, nor aggressive.
Head:
It is the most characteristic part of the body and the one that draws the most attention. The head is quite large compared to the body and has an almost human expression. At the Griffon the hair is hard, up and shaggy ; is longer over the eyes, over the nostril, cheeks and chin, thus forming the decoration of the head.
Cranial region:
Wide and round. The forehead is well bulging.
Depression links (Stop) : Well marked.
facial region:
Truffle : black. It is at the same level of the eyes. It's wide and the windows are wide open. The tip of the nose is raised back, which seen in profile places the chin, nose and forehead on the same margin.
Snout : The nasal canal, including truffle, it's very short ; will not exceed 1,5 cm long. In the Petit Brabançon a correct nasal passage appears longer, since there is no ornament. A nostril that is not upturned, as well as a truffle whose upper part is located below the lower eye line, give a bad impression and constitute serious misconduct.
Belfos : Blacks. Upper and lower lips are in close contact and tight. The upper one does not form flews and does not cover the lower one. Too loose spoils the desired expression.
Jaws / Teeth : The lower jaw is well curved upwards, is wide, not pointed and extends beyond the upper jaw ; the breed has lower prognathism. The six incisors of each jaw are preferably planted evenly and in a straight line, those above and below are very parallel. The mouth should be tightly closed and not even the teeth should be visible, nor the tongue. The width and protrusion of the chin are very important. Care should be taken that incisors are not missing.
Eyes : They are well separated, they are big and round, never prominent. Brown in color, as dark as possible. They will be bordered with black and preferably should not show the white of the eyeball. A small or oval eye, or light color, constitutes a fault.
Ears : Small, they are high, far enough apart. The uncut ears are semi-erect and fall to the front. Very large ears are not desirable, as well as ears that hang over the side of the head. Cropped ears are pointed and erect. Cropped ears are both accepted, like the uncut ones.
Neck:
Medium length ; blends harmoniously with the shoulders.
Body:
The length of the body is almost equal to the height at the withers. From the set it is a small square and stout dog.
Cross : Slightly prominent.
Back : Straight, short and strong.
Pork loin : Short and muscular, very little raised.
Rump : Wide, flat, or at most very slightly inclined.
Breast : Large, reaches up to the elbows. The tip of the sternum is marked, which seen in profile, imparts a slightly prominent sill. The ribs are very elastic, but not barrel-shaped, not too flat.
Lower margin : The belly is slightly raised ; the flanks are well marked.
Tail:
She is tall and the dog wears her high. The docked tail is trimmed 2/3 its length. The tail that has not been cut is presented raised, with the tip towards the back, although without touching it or being curled up. A naturally short or split tail, or curled up on the back, constitutes a serious offense.
Tips
Former members
Seen together they are parallel, with a good bone structure and sufficiently separated.
Shoulder : Angulation is normal.
Elbows : Well attached to the body.
Carpi : Strong.
Pies : Small, round, they do not deviate even inwards, nor out. Fingers are good together; fingers sticking together constitutes a fault. Plantar pads are thick and as dark as possible. Nails are preferably black, as pigmented as possible.
Later members
Seen as a whole they have a good bone structure and are well parallel. The angulations are in harmony with the forelimbs.
Babillas : Angled enough.
Hocks : well laid. Seen from the back, not closed, not open.
Pies : See previous members. Dewclaws are not a sought after characteristic.
Movement:
Powerful, parallel movement of the limbs, with a good boost from the posteriors.
Mantle
Fur
Hair quality : The Griffon Bruxellois and the Griffon Belge both have a hard coat and an undercoat. Hair is naturally hard, slightly wavy, not curly, but trimmed and arranged for display. It should be long enough to allow the structure to be appreciated. Too long hair spoils the silhouette and is not what you are looking for. Silky or woolly hair is a serious offense. The Petit Brabançon he has short hair. Hair is rough, smooth and shiny ; has at most 2 cm long.
Head ornament : At the griffon, the ornament (beard and mustache) It starts under the nose-eye line and runs from one ear to the other., covering well the muzzle and cheeks with a very abundant hair and longer than on the rest of the body. Above the eyes, the hair should be longer than on the rest of the skull and form the eyebrows.
Color
Griffon Bruxellois : Red, reddish ; a little black is tolerated on the headdress.
Griffon Belge : Negro, black and tan. Tan markings must be pure and uniform in color. They are presented, in the previous members, from foot to carpus, and in the hindquarters from the foot to the hock. These colors go up the inside of the limbs. They are also seen in the anterior part of the chest, cheeks, chin, on top of the eyes, on the inside of the ears, below the tail and around the anus. Black can be mixed with red-brown, which is accepted although pure black and black and tan are preferred.
Petit Brabançon : The same colors as the two Griffons. Has a dark mask. The gray in the mask of older dogs will not be penalized.
In all three breeds some white hairs on the front of the chest are accepted, although this feature is not sought.
Size and weight:
Weight: It varies between 3,5 to 6 kg.
Fouls:
Any deviation from the aforementioned criteria is considered as a fault and the severity of this is considered to the degree of the deviation to the standard and its consequences on the health and well-being of the dog..


disqualifying fouls:
Aggressiveness or extreme shyness.
Any dog ​​showing clear signs of physical or behavioral abnormalities.
Nose depigmented or other than black.
Constantly visible tongue, being the mouth closed.
Twisting of the lower jaw.
Upper jaw that extends beyond the lower jaw.
Other colors other than those provided by the standard, such as gray, blue and fire, the brown and tan and the liver color (brown).
Any white stain.
N.B.:
Males should have two normal-appearing testicles fully descended into the scrotum..
Source:
F.C.I
- International Cynological Federation
1. Griffon, Griff, Bruss (English).
2. Griffon bruxellois (French).
3. Griffon bruxellois (German).
4. (Portuguese).
5. Griffon bruxellois (español).