Alaskan Husky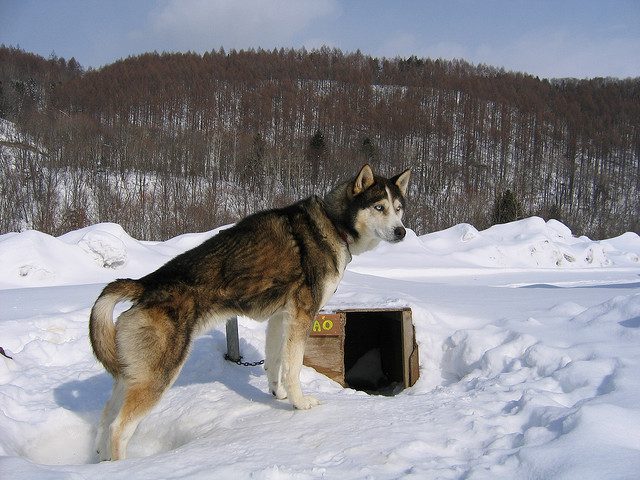 Classified not as much as canine race as a type or category of dog. There are no fixed characteristics of pedigree, but rather for the purpose, it is to be a very efficient sled dog.
The origin of this dog is Alaska and Canada. These fully domesticated dogs came thousands of years ago. Today, the Alaskan sled dogs They can be crossed, type Husky, or a combination of several. They also vary in size and Constitution based on the use of the dog, to compete or work.
Sled drivers usually distinguish between Alaskan Husky and crossbreeding, in an informal way, so it is possible that this type of dog has a degree of appearance of wolffish.
Most of the Alaskan Husky have pointed ears, qualifying, in fact, as spitz type dogs.
There are some specializations within this type, as the Mackenzie River Husky or the MALAMUTE, the Alaskan of Sprint as the Eurohound, or distance.
It must be borne in mind that in sledge racing championships, These dogs can come with loaded sledges to the 30 km/h and runs for three days at a rate of between 30 to 50 km daily.
The Alaskan They are valued for their toughness and resistance. They earn an average speed of 31 km/h.
Alaskan Husky physical characteristics
This type of dogs, at least those that are used to speed racing, are of moderate size, with an average 21 to 25 kg for the males and 17 to 19 kg for the females.
The eyes They can be any color, many are blue. The eyes blues are not considered an essential feature of this race. The fur It has two layers, short hair and of medium length, Although not much, and usually less dense than pure breed of the North, the length of the shortest layer is governed by the need for an effective heat dissipation during races.
Athletic and generally, healthy. Its Life expectancy is usually between 10 to 15 years.
They tend to vary greatly in personality both in colour and appearance. However, in general terms, They are very affectionate dogs, to live with other dogs and humans.
These dogs they are not suited to a lifestyle of urban apartments, that they need a constant source of exercise, and because of its incredible resistance, It seems that they never tire. It is an adventurous and tends to be very quiet in the car rides. These dogs are happy to live outside or inside the home of its owners, But if he leaves out, It is not recommended if you have a perfect lawn, are amateur digging wells…
His hair tends to be self-cleaned just like a Mally or a Siberian Husky, which is why they need less frequent baths, In addition, they do not usually smell. They have a season of hair shedding in the spring and, Unlike in the Siberians, Malamutes or German shepherds, they may not leave large quantities of hair around the House all year round.
Nothing is impossible obstacles to this type of dogs, that they tend to go up to almost two metres away the sitting position. Although swimming is not your Forte, they tend to show any resistance or fear of the water and you can train and motivate them to make them good swimmers. Usually very good vision and sense of smell, which it makes them very good hunters.
Nordic sled dogs
They are not recognized by the AKC, nor by the FCI
1.

Alaskan Husky

(English).

2. Alaskan Husky, Alaskan (French).

3. Alaskan Husky (German).

4. Alaskan Husky (Portuguese).

5. Alaskan Husky (Spanish).