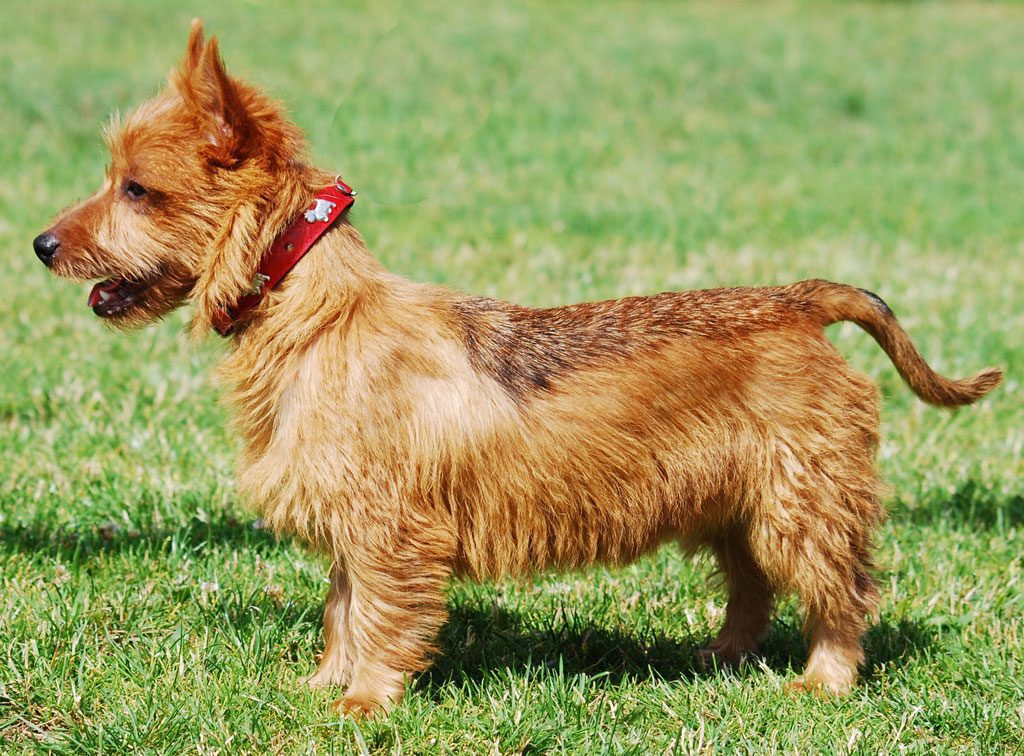 Characteristics "Australian Terrier"
Coexistence is important that you have with your new friend. Before considering the acquisition of a dog of the breed "Australian Terrier" you know certain factors. Not all breeds of dogs are apt to live in an apartment, you must take into account his character, their need for exercise, their interaction with other pets, their care and if you have small children, their level of tolerance towards them.
Adaptation ⓘ

5 out of 5 stars (based on 1 review)

friendly dog ​​ⓘ

1 out of 5 stars (based on 1 review)

hair loss ⓘ

1 out of 5 stars (based on 1 review)

Affection level ⓘ

3 out of 5 stars (based on 1 review)

Need for exercise ⓘ

4 out of 5 stars (based on 1 review)

Social need ⓘ

4 out of 5 stars (based on 1 review)

Home ⓘ

3 out of 5 stars (based on 1 review)

Toilet ⓘ

1 out of 5 stars (based on 1 review)

Friendly with strangers ⓘ

3 out of 5 stars (based on 1 review)

barking ⓘ

5 out of 5 stars (based on 1 review)

Health ⓘ

4 out of 5 stars (based on 1 review)

Territorial ⓘ

5 out of 5 stars (based on 1 review)

Cat friendly ⓘ

1 out of 5 stars (based on 1 review)

Intelligence ⓘ

4 out of 5 stars (based on 1 review)

Versatility ⓘ

4 out of 5 stars (based on 1 review)

Child friendly ⓘ

4 out of 5 stars (based on 1 review)

Surveillance ⓘ

4 out of 5 stars (based on 1 review)

joy ⓘ

5 out of 5 stars (based on 1 review)
The
Australian Terrier
It is a breed of dog in the Terrier family, classified in the section 2.
Due to his appearance, He is often confused with a Yorkshire Terrier large size. Is not surprising because, this breed comes from crossing a Yorkshire Terrier and different breeds of Terrier among the Skye Terrier, Cairn Terrier, the Norwich Terrier and other Irish Terrier.
Its origin goes back in the early 19th century, when accompanied by their Terrier British families travelled to Australia, y las vicisitudes del destino llevaron a que esos Terrier se cruzaran con los autóctonos…, y así es como han nacido muchas razas en el mundo.
In the early years of its existence, the Australian Terrier was known by the name "Broken-coated-Terrier" or "Broken-hair-buel-and-tan".
The wording of the first breed standard, took place in the year 1896, While the official recognition of the same, se sitúa un poco más tarde… en 1933. Y, la última revisión del estándar data de 1962.
Otros nombres: Terrier Australien
Group 3 / Section 2 – Small sized Terrier.
It is a long dog (in relation to your height), rustic looking, robust with short limbs and strong.
The head is elongated, It has the black truffle and scissor closing denture. It has pointed ears being erect and small and dark eyes. The tail is often be amputated.
The height of the Australian Terrier is maximum 25 cm. to the cross in males and 22,5 a 23 in females, el peso medio se sitúa de 4.5 a 5 Kg.
The hair is hard, straight and average length. Ese aspecto rústico, precisely, Since hair is rough to the touch and out gives it.
The fur can be blue or silver, with stains of fire (or bronze) on the limbs and snout, or color sand clear or Griffon.
Puppies are born black solid color and change color in three months.
It is a very robust breed of dog, that often has a high percentage of Diabetes Mellitus.
¿Qué es la Diabetes Mellitus?
Diabetes is defined as a disorder in the metabolism of the hydrates of carbon, las grasas y las proteínas causado por una deficiencia de insulina, It can be absolute or relative.
Insulin is a hormone secreted in the beta cells of the pancreas, whose production allows to control blood sugar (blood glucose levels). Insulin deficiency causes a deterioration in the capacity of tissues to use nutrients, that translates into an increase of glucose in blood (Hyperglycemia).
Diabetes is classified according to the disease in humans, that is to say, as type I and type II.
The type I It is characterized by the destruction of beta cells, What determines the loss progressive and complete end of insulin secretion. Los perros que sufren la Diabetes Mellitus de tipo I pueden tener un comienzo repentino de síntomas debido a la pérdida rápida de la capacidad de producir insulina. These cases require insulinización from the time of diagnosis and are called diabetics 1,811 (DMID).
Other dogs may have a gradual loss of insulin secretion, that their beta cells will be destroyed with slow. Estos animales pueden tener un período inicial en el que la hiperglucemia sea leve o de fácil control, in which case it's diabetic insulinoindependientes (DMIID), Although in the long term these dogs also need her.
Diabetes Mellitus type II es un poco más difícil de entender y se caracteriza por lo que llamamos «resistencia a la insulina» y por células beta «disfuncionales». The secretion of insulin by these cells will be high, low or normal, but not enough to overcome the resistance to it in the peripheral tissues.
It´s, to explain it in a graphic way, It is as if peripheral tissues do not obey the orders of the insulin or were not able to do what send it.
En cuanto al metabolismo o síntesis de glucosa, These dogs may have DMID or DMIID, that is to say, necesitar o no insulina según la magnitud de la insulinorresistencia y del estado funcional de las células beta en cuanto a su capacidad de producir y secretar la hormona en cantidades bajas, normal or high.
Dogs also recognizes a secondary diabetes, produced by a carbohydrate intolerance (glucose) due to the presence of a disease or a drug treatment that it antagonizes or counteracts the effects of insulin and can lead to the exhaustion of the beta cells of the pancreas with the appearance of diabetes insulinodependiente.
The owners of diabetic dogs should be aware that the routine in the treatment with insulin and food has to be respected. Dos dosis fijas de insulina al día asociadas a un alimento palatable que proporcione siempre la misma fuente y la misma cantidad de almidón, always run at the same time it can reduce the risk of hypoglycemia in diabetic dogs.
In North America, area where the Australian Terrier is very popular, se está llevando a cabo una investigación científica sobre la incidencia de esta enfermedad.
El estándar de la raza describe el temperamento ideal Australian Terrier como un espíritu alerta, "with the natural aggressiveness of a Buzzard and a Hunter of coverage".
Taking into account the Clasificación de los perros según su inteligencia funcional y de obediencia (Stanley Coren's "La inteligencia de los perros") el Australian Terrier ocupa el puesto número 34. Means that, is higher than the average, which indicates a good capacity for learning and training.
The Australian Terrier is a lively dog, attentive, with a facial expression that denotes intelligence, loyalty and faithfulness.
En ocasiones puede llegar a ser dominante por lo que un buen adiestramiento desde temprana edad sería lo adecuado.
It is perfectly adapted to any type of housing, whether large or small (apartment, House, vivienda con jardín, etc.). It should be enough with daily brushing and a walk.
Images "Australian Terrier"
Videos "Australian Terrier"
FCI CLASSIFICATION: 8
Group 3: Terriers
Section 2: Small sized Terriers. Without working trial..
Federations:
– FCI – Terriers 2 Small sized Terriers.

ⓘ

– AKC – Terriers

ⓘ

– ANKC – Terriers

ⓘ
FCI breed standard "Australian Terrier"
FCI -

Australian Terrier
1.

Aussie

(English).
2.

Terrier australien

(French).
3.

Aussie

(German).
4.

Terrier australiano

(Portuguese).
5.

Aussie, Terrier Australiano

(español).