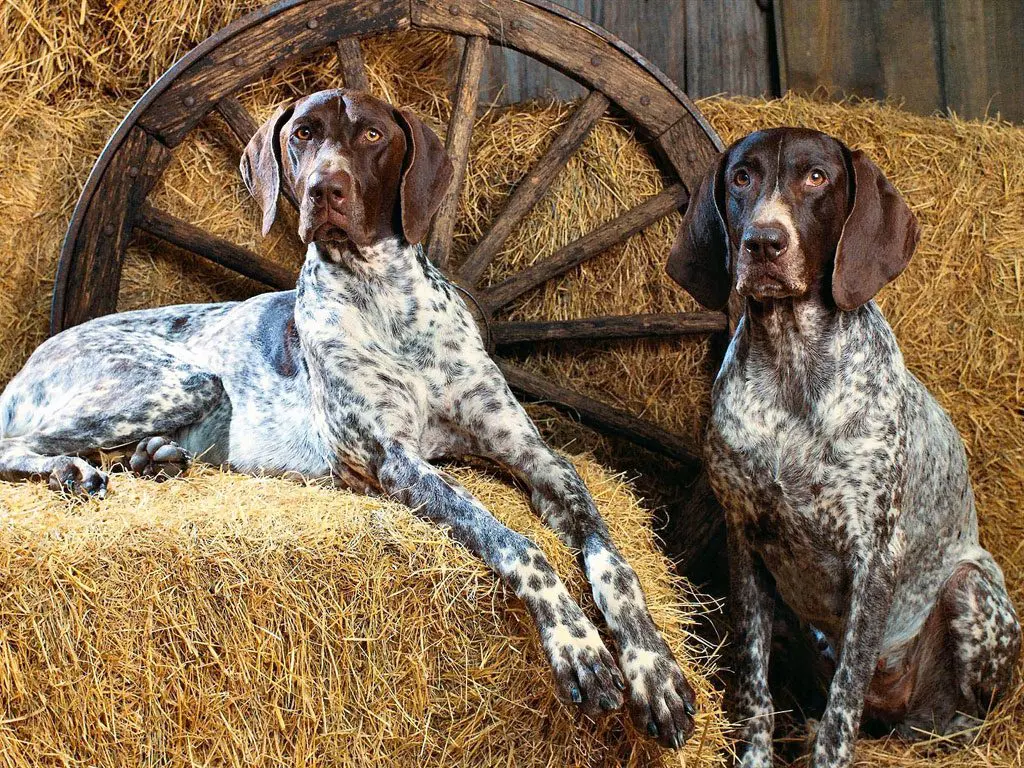 The German Shorthaired Pointer (Deutscher Kurzhaariger Vorstehhund, It is a breed of dog developed in the 1800 in Germany, used for hunting.
The exact origin of the German Shorthaired it is not clear. In accordance with the American Kennel Club, it is likely that the German Shorthaired Pointer is a descendant of a race known as German Bird Dog, which in turn is connected with the Old Spanish Pointer introduced in Germany in the 17TH century.
It is also likely that within their ancestors are German dogs and other tracking dogs, as the English Pointer. However, as the first book of origins is not created until 1870, It is impossible to identify all the dogs that were needed to create this race.
It is a versatile dog, without a doubt the most complete and efficient for hunting breed, Thanks to its physical qualities and innate aptitudes, Standing out mainly in:
Find and display the birds elegantly.
Collect both land and water without distinguishing between the hair and feather.
It is the best partner of the bird of prey and the most characteristic in the art of falconry.
It demonstrates its value facing animals as temperamental and determined as the wild boar.
Able to follow a trail of blood as well as a Bloodhound.
In the home is the faithful, patient and excellent companion of children.
The breed emerged in the 19th century due to the need for a versatile dog, that serve for the various forms of hunting, instead of having a different race for each specialty. With the fixed hunting features, German breeders began the work of selecting dogs for its kind, and arriving at the end of the 19th century to the first racial standard, which over time, It has undergone changes to adapt to the natural evolution of forms of hunting.
Its main features are:
A special smell.
A persistent and effective search.
Great passion for work in water.
Elegant style.
Great physical endurance.
The courage to face large and aggressive animals without hesitation.
Higher than normal canine intelligence (ranks 17 in the list of Stanley Coren's: "The intelligence of dogs").
The males measure of 62 - 66 cm and females in 58 - 63 cm., and weigh in 25 - 30 Kg.
Coupled with this and its easy training, It is currently one of the most prized hunting worldwide breeds.
The sample in the German Shorthaired Pointer it is par excellence a moment of great beauty and emotion, a true expression of the hunting art. It is the culmination of an extensive search, in which the dog after traveling many kilometers, among bushes, thorns, slopes, ravines or immense Plains, Locate the bird carried by their emanations, this makes the German Shorthaired Pointer the best and inseparable companion of the versatile hunter.
The layer of German Shorthaired Pointer, it is short and flat with a dense coat protected by stiff hairs making the coat waterproof and allowing the dog to stay warm in cold weather. The color can be dark brown in English is defined as color "liver" (incorrectly as "chocolate" or "Brown"), black (Despite any area of black it is grounds for disqualification in American Kennel Club), or liver and white or in black and white.
Commonly the head is a solid color or a nearly solid with the body is mottled or "marking" with the liver and white, sometimes with so-called large solid color stains "Saddle".
Although the standard of German Shorthaired Pointer allows a slightly sandy coloring ("Mark Gelber") in the extremities, This color is rare, any yellow coloration in contests of sample is by the AKC and the CKC, and the dog is disqualified.
The German Shorthaired Pointer has a longer life expectancy than many breeds of the same size, generally they live between 12 and 14 years, There have been cases of copies that have lived in 16 - 18 years.
The characteristic coloration of German Shorthaired Pointer provides you with unrivaled camouflage in winter seasons. To be standing next to dead trees and in the dirty snow, the mixture of the colors of Brown layer, black and white makes the dog bit visible.
German Shorthaired Pointer

dogs 101 02-01a german shorthaired pointer [webrip lks]-1.MKV

Klochard in Kenzo
The race generally along well with other dogs, Although females seem to be much more dominant in the interaction. A strong hunting instinct is the most important feature of this breed, It is not always good if you share a home with other small pets such as cats and rabbits.
But with a proper training, the German Shorthaired Pointer, You will learn to distinguish what is the prey and what is not, which is why, You can live in a friendly manner with other family pets.
The German Shorthaired Pointer needs a good daily dose of exercise, post is an aggressive animal and need to spend this accumulated energy, If physical activity is not provided it will look like a hyperactive and it is possible to develop destructive tendencies.
It is good to take into account that this race is not a pet suitable for a home of sedentary or owners without experience.
The German Shorthaired Pointer he is good with children, but be careful because the breed can be a little gross, especially when they are puppies.
Characteristics "German Shorthaired Pointer"
Coexistence is important that you have with your new friend. Before considering the acquisition of a dog of the breed "German Shorthaired Pointer" you know certain factors. Not all breeds of dogs are apt to live in an apartment, You must take into account their character, their need for exercise, their interaction with other pets, your care and if you have young children, their level of tolerance towards them.
Adaptation ⓘ

3 out of 5 stars (based on 1 review)

Dog friendly ⓘ

4 out of 5 stars (based on 1 review)

Hair loss ⓘ

3 out of 5 stars (based on 1 review)

Affection Level ⓘ

4 out of 5 stars (based on 1 review)

Need to exercise ⓘ

5 out of 5 stars (based on 1 review)

Social Needs ⓘ

4 out of 5 stars (based on 1 review)

Apartment ⓘ

1 out of 5 stars (based on 1 review)

Grooming ⓘ

2 out of 5 stars (based on 1 review)

Stranger Friendly ⓘ

4 out of 5 stars (based on 1 review)

Barking Tendencies ⓘ

3 out of 5 stars (based on 1 review)

Health Issues ⓘ

4 out of 5 stars (based on 1 review)

Territorial ⓘ

3 out of 5 stars (based on 1 review)

Cat Friendly ⓘ

2 out of 5 stars (based on 1 review)

intelligence ⓘ

4 out of 5 stars (based on 1 review)

versatility ⓘ

3 out of 5 stars (based on 1 review)

Child Friendly ⓘ

4 out of 5 stars (based on 1 review)

Watchdog Ability ⓘ

2 out of 5 stars (based on 1 review)

Playfulness ⓘ

5 out of 5 stars (based on 1 review)
Photos "German Shorthaired Pointer"
Videos "German Shorthaired Pointer"
CLASSIFICATION FCI: 119
Group 7: Pointing Dogs.
Section 1: 1.1 - Continental Pointing Dogs, type Braco. With proof of work..
Federations:
FCI ⓘ, AKC ⓘ, ANKC ⓘ, CKC ⓘ, ​KC ⓘ, NZKC ⓘ, UKC ⓘ


FCI breed standard "German Shorthaired Pointer"
FCI -

German Shorthaired Pointer
1.

GSP, DK

(English).
2.

GSP, DK

(French).
3.

Deutscher kurzhaariger, Vorstehhund, Deutsch Kurzhaar, Kurzhaar, GSP, DK

(German).
4.

Pointer alemão, Perdigueiro

(Portuguese).
5.

GSP, DK

(Spanish).