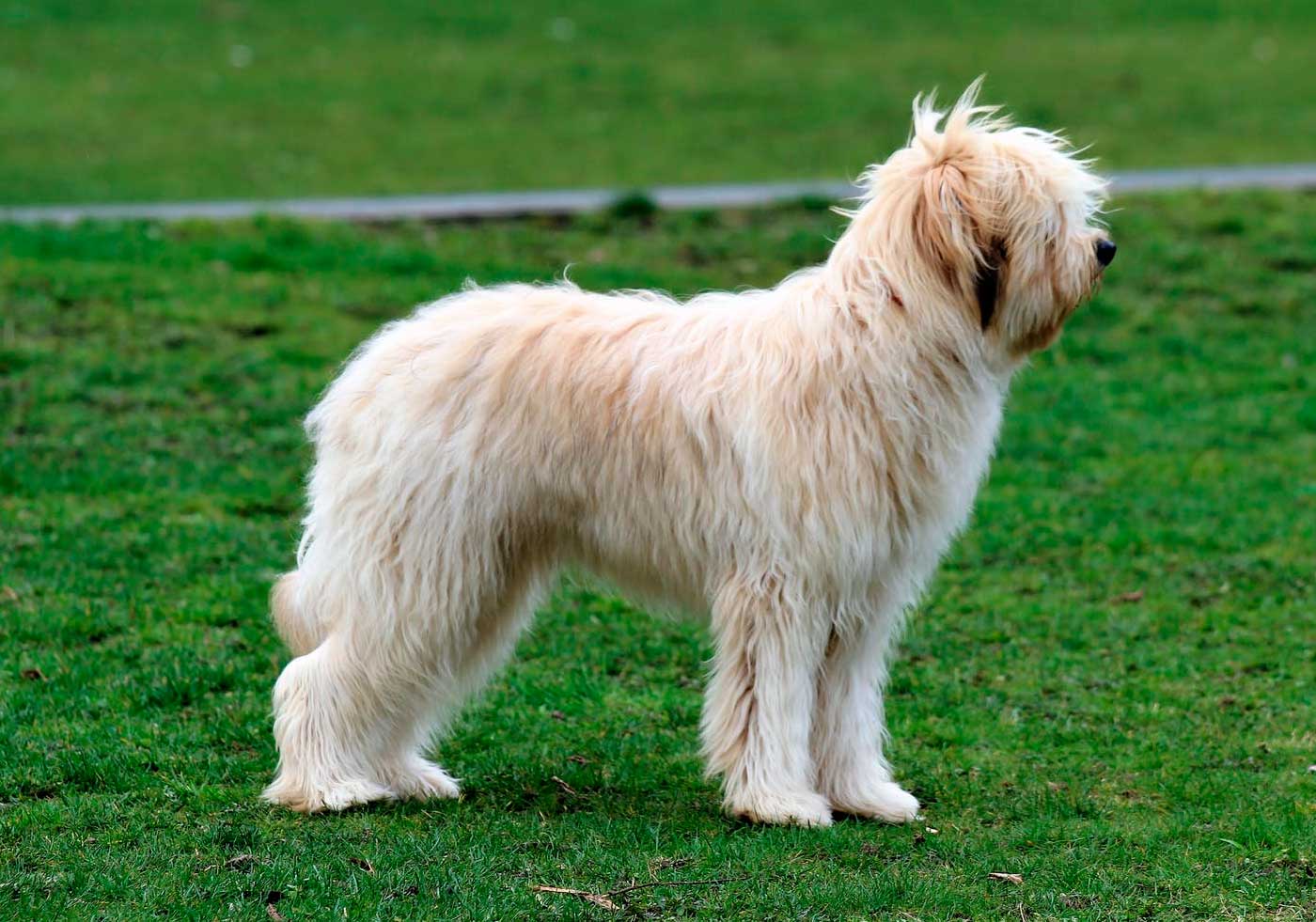 The ancestry of the South Russian Ovcharka It comes from the thick-haired bearded dogs that were brought along with fine wool sheep to the steppe regions of the South from Spain. This fact is mentioned in volume XXVI (1830 and., St. Petersburg) from the complete collection of the laws of the Russian Empire. These agile medium-sized dogs, modern-like Catalan Sheepdog, they were able to corner the flocks of sheep and protect them. These dogs brought from Spain spontaneously mated with local shepherds and hunting dogs, who had been raised there as sheep since ancient times. Later, these crossbreeds spread throughout the southern regions of Russia and they were even known abroad, in western countries or in Europe as "the russian shepherd". In 1867, a gold medal was awarded to Russian Shepherd Dog at the World's Fair in Paris for its beauty. However, the real selection started in 1898, in Crimea, en Askania – Nova, the demesne of the Russian baron of German origin Mr. Friedrich von Falz-Fein. He was the person who gave the breed modern typical traits and called it "South Russian Ovcharka".
Numerous offspring with local hounds had led to increased height and white color dominance, added a certain lightness of confirmation and a few chest flattening typical of fast-running dogs, as well as tucked-in belly and more pronounced angles of the hindquarters. The last typical characteristics of the conformation and the name "South Russian Ovcharka" they were finally assigned to the breed in the period of the USSR, in the early decade of 1930, when the first official breed standard was approved. The dogs of South Russian Ovcharka they are easy to maintain and can easily adapt to various weather conditions due to their resistance, and they are always ready to protect their owners and their properties. These dogs are exceptionally loyal and dedicated to their owners., but at the same time it should not be expected that the South Russian Ovcharka be friendly to strangers.
The South Russian Ovcharka it is a medium to large size dog, medium-bodied, not robust, with strong bones and powerful dry muscles. Sexual dimorphism is well defined, males are more bulky compared to females and have larger heads. The top line is a characteristic feature of the breed; forms a slight curve over the spine. The body, the head, the limbs and tail are covered in thick fur, long and disheveled that gives a deceptive impression of clumsiness and heaviness, but actually the South Russian Ovcharka he is a fast and agile dog. The eyes, slightly almond-shaped, must be dark and horizontally arranged. The ears are relatively small, triangular and hanging.
Hair: the cloak is made up of long hair (10-15 cm.), often dense and slightly wavy, hard with abundant undercoat.
Color: uniform white allowed, White grey (Ash), white with gray traces, stained gray; fawn white robes are rarer, straw and completely gray.
Size: males, minimum 65 cm.; females, minimum 62 cm.. Individuals of 75 cm or more.
Puppies are sometimes born light gray in color and turn white with the first shedding.
It is a dog that reacts fast, is strong, balanced and lively, with a tendency to be dominant and very active in defense. Very smart and responsive, is very balanced but easily takes action if your family's safety is threatened. It is very good with the owners, children included.
Images "South Russian Ovcharka"
Videos "South Russian Ovcharka"
CLASSIFICATION FCI: 326
Group 1: Sheepdogs and Cattle Dogs (except Swiss Cattle Dogs)
Section 1: Sheepdogs. With proof of work..
Federations:
– FCI – Group 1 Herding dogs, Section 1 Sheepdogs

ⓘ

– UKC – Herding dogs

ⓘ
FCI breed standard "South Russian Ovcharka"
FCI -

South Russian Ovcharka
1.

Yuzhnorússkaya Ovcharka, Ukrainian Ovcharka, Ukrainian Shepherd Dog, Yuzhak, South Ukrainian Ovcharka, South Russian Shepherd Dog, South Russian Sheepdog

(English).
2.

berger de l'Ukraine

(French).
3.

Juschnorusskaja Owtscharka, Südrussischer Schäferhund, Ioujnorousskaïa Ovtcharka

(German).
4.

pastor-da-ucrânia

(Portuguese).
5.

Pastor Ucraniano, Pastor del sur de Rusia

(Spanish).
Photos:
1 – Southern Russian Shepherd by https://www.pexels.com/es-es/foto/perro-2042862/
2 – South Russian Ovcharka during dog's show in Racibórz, Poland by user:chained / CC BY-SA
3 – South Russian Ovcharka during dog's show in Racibórz, Poland by user:chained / CC BY-SA
4 – South Russian Ovcharka during dog's show in Racibórz, Poland by user:chained / CC BY-SA
5 – Wikimania Images by Sailesh by Sailesh Patnaik / CC BY-SA