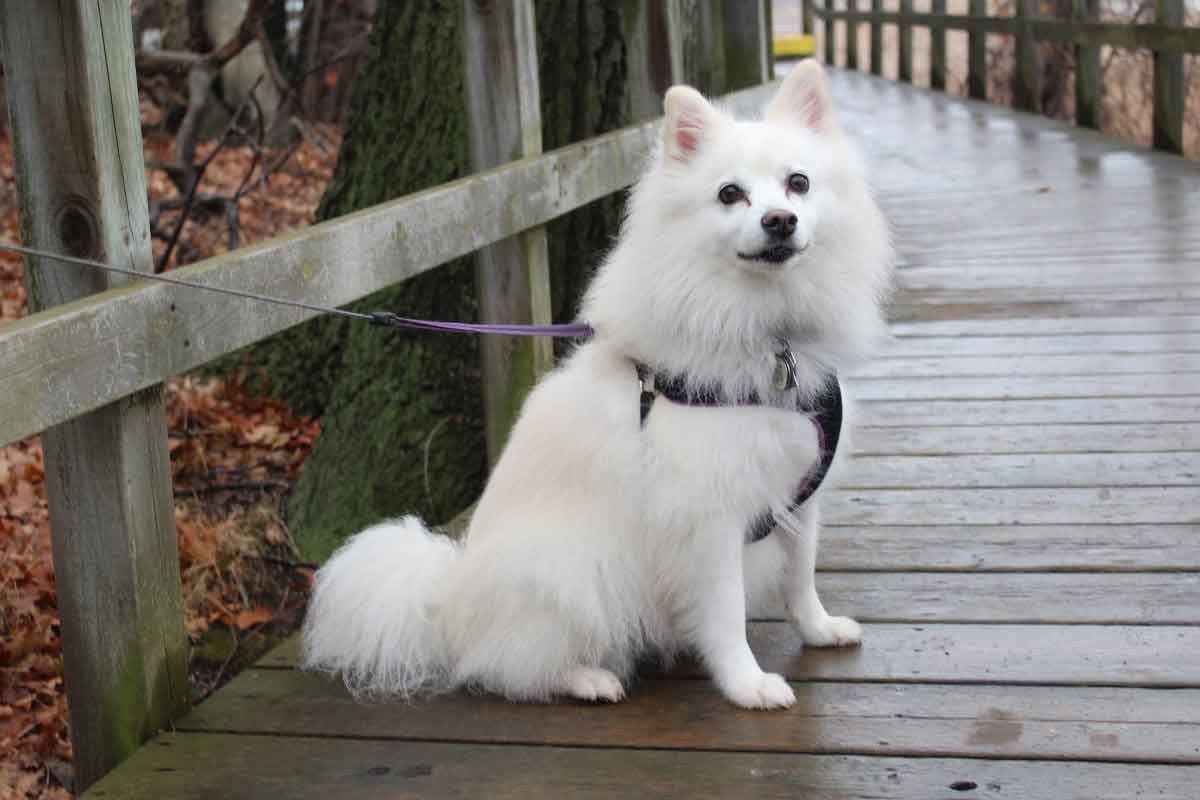 The strong similarity to the Mittelspitz (Standard or Medium Spitz) German allows us to suppose that the Japanese spitz descends from this same race. Other cynologists assume that the Spitz descends from the Nordic Spitz. One thing is for sure: the origin of Japanese spitz not in japan, but in Europe. Desde allí llegó a Japón a principios del siglo XX junto con los viajeros.
The attractive white dog with the charming character quickly gained popularity among the Japanese population. With more caps from China, Canada and the US, se estableció una cría propia en Japón en los años 20. While in Europe an attempt was made to increase the size of the lace, creando así el German Spitz, the Japanese tended to opt for the more original compact form. In 1948 the Japanese Kennel Club established a first breed standard for the first time. Como país de origen se señaló al Japón en la norma. The FCI, that has officially recognized the Japanese spitz from 1964, lo incluye hoy en día en el Grupo 5 (Spitz and dogs of the original type), así como en la Subsección 5 (Spitz asiáticos y razas afines), bajo el Estándar Nº 262.
In his native Japan, the Japanese spitz it was very popular for a long time, especially in the years 50 the last century. Aunque todavía es más común allí en términos de números que en Europa, the demand of the little companion is gradually changing. Mientras que en Japón el número de cachorros registrados recientemente está disminuyendo, is increasing in North America and Europe.
Physical characteristics "Japanese Spitz"
This breed is distinguished by the fact that it is exclusively pure white.. Thanks to his straight and dense hair, the Japanese Spitz seems strong. What is no less important, it is also caused by the swollen inner layer. The beautiful ruffle on the shoulder, neck and sill contributes to attractive appearance. Típico de la cola es una larga y voluminosa bandera.
Despite her short legs, the Japanese Spitz is sporty and extremely agile. Due to its balanced proportions, la apariencia de este perro de pedigrí compacto es a la vez llamativa y armoniosa.
The height at the cross – the elevated transition from neck to back – tends to be of 30 a 38 cm in adult males. Females reach a somewhat smaller size. The Japanese Spitz weighs between 4,5 and 11 kg.
Character and skills "Japanese Spitz"
The well balanced nature of the Japanese Spitz fits the very harmonious appearance. He is an attentive guard. Anyone who approaches him is not immediately signaled with a savage bark. Sólo cuando el perro con pedigrí japonés siente una amenaza seria, gets loud and fights back vehemently.
At home, the Japanese Spitz behaves quite calmly. Abroad, on the other hand, le gusta mostrar la energía que tiene dentro de él. To enjoy the Japanese Spitz, you must like a little dog who likes to play. También deberías divertirte en los viajes largos con tu amigo de cuatro patas.
The Japanese Spitz he is a very people-oriented dog. Whether it belongs to one person or has a master or caregiver at the same time, he does not care. He also likes to live with the family. La compañía de las personas es la prioridad. No basta con los animales domésticos o con otros animales de compañía. Although the Japanese spitz usually get along with them. Así que si tienes poco tiempo para un perro, a Japanese Spitz probably not the right thing for you.
El cachorro blanco disfruta de la compañía de la gente y le gustaría estar con ellos siempre y en todas partes. He is very receptive and eager to learn. Which makes education in combination with devotion quite easy even for untrained dog owners.
An apartment in the city is suitable for him, as long as you are well occupied with extensive walks and activities.
Despite the hereditary predisposition to many diseases, Many of the ailments can be avoided by taking proper care of your Spitz. Dental problems in particular can be prevented through regular dental care, that is to say, brush your teeth at least once a week, or better daily. Diseases or inflammations of the eyes, nose, los oídos y las garras también pueden detectarse y tratarse en una fase temprana mediante los cuidados adecuados y los controles regulares. Another important aspect of grooming is the care of the coat of the Japanese spitz. Despite the impressive and luxurious fur, This is not very elaborate and therefore it is usually sufficient if the hair is combed or brushed thoroughly twice a week. Only in the coat change phase (twice a year) grooming effort increases until daily styling.
An indication of good and serious parenting is the presentation of genetic test results.. Los animales de cría utilizados deben tener una composición genética impecable para excluir las enfermedades genéticas desde el principio. Los perros en los que se han producido enfermedades hereditarias típicas de la raza deben ser excluidos de la cría por el bien de la salud de la raza. This also includes the tendency to dislocate the patella (deslizamiento de la rótula fuera de su guía), which can also be inherited in many dogs, especially in small dog breeds. Also eye problems, such as distichiasis or narrowing of the tear ducts, así como problemas dentales pueden ocurrir con el Japanese spitz. No se conocen otras enfermedades típicas de la raza.
The correct nutrition of the "Japanese Spitz"
In a special way, correct nutrition contributes to the health and well-being of the Japanese spitz. Small dogs with a very compact constitution have a strong tendency to be overweight. Too many pounds can easily lead to joint disease and heart and circulation problems.. Overweight dogs are also at higher risk for diabetes.
Como propietario de un Japanese spitz, you should always keep the amounts recommended by food manufacturers. What's more, the dog should not be given too many treats between meals.
It is not only the quantity but also the quality of the food that is important. Besides vegetables or rice, good dog food consists largely of high-quality meat. Poor quality food often contains an excessive amount of cereals. Under no circumstances should it contain flavor enhancers or sweeteners.
Before buying, you should find out the exact composition of the dog food in the manufacturer's instructions. Several vendors offer good and safe dog food, tanto secos como húmedos.
It is not unusual for dog owners to prefer homemade dog food. This can also be an alternative to the ready-to-eat food available in stores for the Japanese spitz. However, es esencial que adquiera los conocimientos necesarios para cocinar por sí mismo comida para perros equilibrada.
The diet BARF it is also a good way to feed Japanese spitz with a healthy diet. BARF means "Bone And Raw Food" (Bones and raw foods). All food components, like meat, fish, vegetables or fruit, they are only given raw. Various vendors and specialty stores facilitate BARF to the dog owner. Like cooking food, this feeding method requires a certain amount of knowledge about the correct use of raw ingredients.
You must feed a puppy of 3 a 5 times a day, an adult raw food and bones 2 times a day.
Compra de un

"Japanese Spitz"
Despite the growing popularity and demand in the European and American continent, the Japanese spitz still belongs to the rare dog breeds. El período de espera para una nueva camada en un criador puede ser muy largo. Who doesn't necessarily care about a purebred puppy, but also consider buying a Spitz adult, should – paralelamente a la búsqueda de un criador – also look around the animal shelter, where over and over again Spitz or the crosses of Spitz they are waiting for a new and loving home. A puppy, on the other hand, should only be purchased from a serious and certified breeder.
¿Cómo reconozco a un criador serio

?
When choosing a suitable breeder, various factors play a role. It's not just "formalities" the ones that must be correct, that is to say, the papers, el pedigrí y el contrato de venta, sino también los motivos personales los que deciden en última instancia la compra. The breeder must, first, be understanding with you, and this cannot be found out with a short email or a short phone call. One or better several meetings are necessary to get a complete picture of the breeder and his dogs.. ¿El criador te invita a su casa? ¿Le muestra de buena gana su "dog pound" and the animals live in close contact with the breeder's family? The first weeks are very important for the socialization of the puppies and therefore the environment must correspond absolutely to the affectionate nature of the puppies. Japanese spitz. What's more, un criador serio podrá decirle mucho sobre la raza y sus características. They will also ask you about your life circumstances to make sure your puppy has fun with you..
Characteristics "Japanese Spitz"
Coexistence is important that you have with your new friend. Before considering the acquisition of a dog of the breed "Japanese Spitz" you know certain factors. Not all breeds of dogs are apt to live in an apartment, you must take into account his character, their need for exercise, their interaction with other pets, their care and if you have small children, their level of tolerance towards them.
Training ?

5 out of 5 stars (based on 1 review)

Suitability of the apartment ?

4 out of 5 stars (based on 1 review)

Can be alone all day ?

2 out of 5 stars (based on 1 review)

Suitable as a first dog ?

5 out of 5 stars (based on 1 review)

Weight gain ?

5 out of 5 stars (based on 1 review)

Health ?

4 out of 5 stars (based on 1 review)

Intelligence ?

4 out of 5 stars (based on 1 review)

Kindness with child ?

5 out of 5 stars (based on 1 review)

Tendency to bite ?

2 out of 5 stars (based on 1 review)

Tendency to bark ?

2 out of 5 stars (based on 1 review)

Tendency to flee ?

2 out of 5 stars (based on 1 review)

Fuerza de caída del cabello

?

5 out of 5 stars (based on 1 review)

Suitable as a guard dog ?

3 out of 5 stars (based on 1 review)

Joy ?

4 out of 5 stars (based on 1 review)

Cat friendliness ?

4 out of 5 stars (based on 1 review)

Nivel de energía

?

4 out of 5 stars (based on 1 review)
Photos:
1 – Japanese spitz by https://pxhere.com/es/photo/1273902
2 – Japanese Spitz Siberia by 0894Leanne, CC BY-SA 3.0, via Wikimedia Commons
3 – Japanese Spitz Puppy by mostlegendary@gmail.com, CC BY-SA 3.0, via Wikimedia Commons
4 – Japanese spitz by https://www.pikist.com/free-photo-sixhn
5 – Japanese spitz by https://www.pxfuel.com/en/free-photo-xghfb
6 – Japanese Spitz by Trev Grant, CC BY 2.0, via Wikimedia Commons
7 – Japanese spitz by HTTPS://www.pikrepo.com/fflza/japanese-spitz-near-wall
| | |
| --- | --- |
| Kubo – Japanese Spitz Puppy – 2 Weeks Residential Dog Training | "Japanese Spitz" / Breed of dog |
FCI CLASSIFICATION: 262
Group 5: Spitz and primitive types
Section 5: Asian Spitz and related breeds. Without working trial..
Federations:
– FCI – Group 5:

Perros tipo Spitz y tipo primitivo

– Section 5: Asian Spitz and related breeds.

ⓘ

– ANKC – Group 7 (Non-Sporting)

ⓘ

– CKC – Group 6 – Non-Sporting

ⓘ

– ​KC – Utility

ⓘ

– NZKC – Non-Sporting

ⓘ

– UKC – Northern Breed Group

ⓘ
FCI breed standard "Japanese Spitz"
FCI -

Japanese Spitz
1.

Nihon Supittsu

(English).
2.

Nihon Supittsu

(French).
3.

Nihon Supittsu (Japan-Spitz), Japanischer Spitz

(German).
4.

Nihon Supittsu

(Portuguese).
5.

Nihon Supittsu

(español).