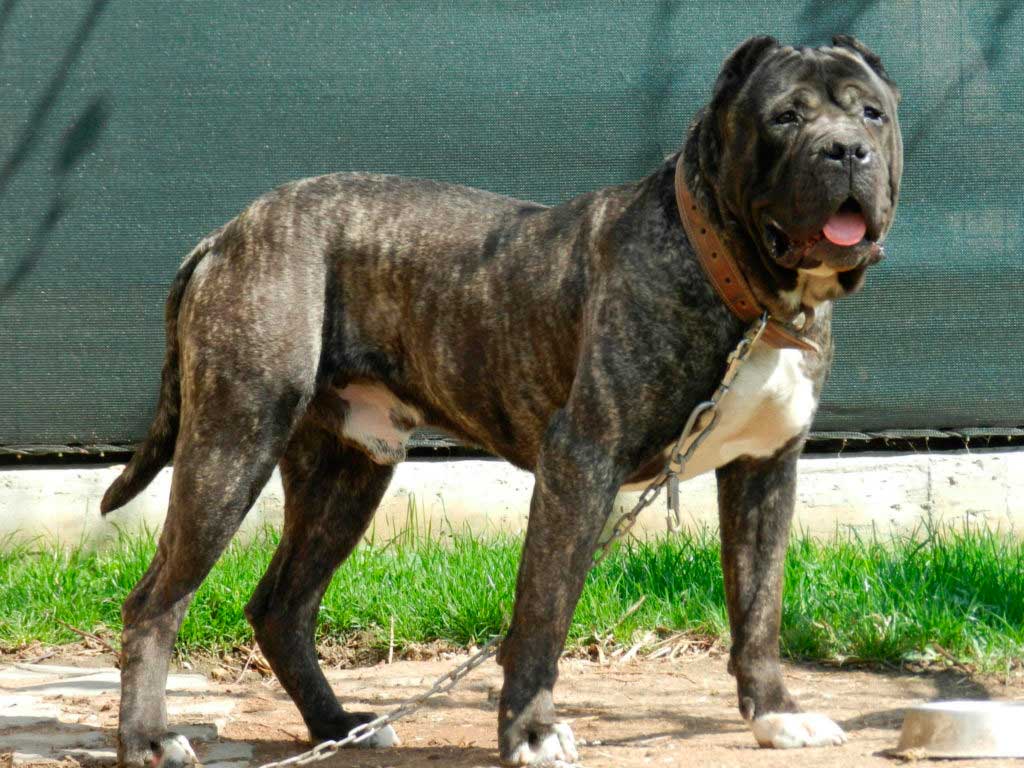 The Dogo Canario It is a classic moloso. Es la descendencia de un antiguo y en esta forma antigua sólo se encuentra raramente en Europa Central hoy en día. It has many names: Presa Canario, Perro de Presa, Perro de Toro, Alano o Presa Canario. Dogs of the current type Dogo Canario existían todavía hace 200 years everywhere. They were the old saupackers, bear teethers, guard dogs, butcher dogs, the ancestors of the current great danes, bulldogs, boxers and mastiffs. They are extremely strong and bulky dogs, que aún hoy se resumen como molosos. Ya fueron criados en la antigüedad y siempre han sido muy apreciados. They were used on large farms, with livestock herds or for example on merchant ships such as guard and protection dogs, sirvieron como perros de pastoreo y como perros de caza para jabalíes u osos. They served rulers like Hammurabi as war dogs, they had them carved in stone in full recognition does 3700 years.
Due to its strength, courage and determination, have been used as fighting dogs in the arenas of animal fighting since Roman times. Molossians have a commanding head with a rather short snout and long lips.. The ears are usually worn hanging. Según las tradiciones de la antigüedad en palabras e imágenes, the main characteristics of the molossian have remained essentially the same for thousands of years, pero en los últimos siglos y especialmente debido a la moderna cría de perros, the classic type of molosser has been lost to some extent. In extreme cases strange shapes have been bred with many extremely short folds or snouts such as bulldogs or giants like him Great Dane or the Mastiff. The Dog is still raised in his homeland only for his performance at work.
Therefore, chances are that the Dogo Canario todavía personifique el tipo Molosoide como era común en los viejos tiempos. It is clearly recognized as trotting, pero no sufre de exageraciones cultivadas de ninguna característica o rasgo corporal. Sólo se puede esperar que siga siendo así. Unfortunately, breeders are very much at odds with Dogo Canario. They haven't even managed to agree on a name and a registry office. Since 1991 has been officially considered as "The Canary Presa Dog" entre los símbolos naturales de las Islas Canarias. Meanwhile in 2001 the Spanish Ministry of Agriculture recognized these dogs as a national breed also under the name of Dogo Canario, the same dogs were then provisionally recognized as Dogo Canario by the world federation FCI in 2001 and finally in 2011. Other names are Perro de Presa y Alano. Alano It is an old word that means Great Dane.
The Dogo Canario, Perro de Presa, Perro de Toro, Alano o Presa Canario – all designations for the same four-legged friend – he is an elegant dog that radiates athletic power. He is an athletic, muscular, alargado pero sin embargo típico moloso.
The skull-muzzle ratio is approximately 6:4. The upper lip rests a little flaccidly on the lower one. The eyes, medium-sized, they are oval and hazelnut, the ears, high, they are separated from each other and are shaped like a button; únicamente se las amputa para recordar su función original de perro de combate. The neck, long and muscular, shows a slight dewlap. The tail is implanted high: thick at the base, is tuned to the extreme. El vientre está retraído, pero las últimas costillas destacan sólo ligeramente, giving a harmonious harp shape. Limbs are sturdy, muscular and perfectly plumb; angulation of the hind limbs is not very marked.
The difference between male and female bulldogs desired by the FCI standard is therefore unnaturally large. In any case, desires of this standard for outward appearance should not be taken so seriously.
Because fortunately this originally preserved dog breed, robust and healthy has set its standard "por sí misma", more exactly for their performance at work, and has kept it in the practice of life until today. People, que ahora quiere ponerlo en un estándar de la cría moderna de perros con pedigrí, don't even agree to the principle, as we can see in its history of the breed. La cría moderna de perros con pedigrí no le ha hecho bien a ninguna raza de perro, both in terms of health and character. In old times, the Bulldog fitted with pleasure to the ears, de modo que éstas sobresalían hacia arriba. This is now prohibited. Hoy en día muestran grandes orejas colgantes hacia abajo.
Fur: short, without Undercoat, pretty hard.
Color: leonado or atigrado. The tabby specimens have a wide range of colors,

desde los muy oscuros hasta un gris claro de tono bastante frío

.
Size: males, of 61 to 66 cm.; females, of 57 to 62 cm..
The Dogo Canario is a quiet dog, equilibrado y seguro de sí mismo. He is a powerful and defensive athlete who can show his performance at any time. Like all molossi, he is extremely kind, tiene nervios fuertes y un alto umbral de estímulo. However, está más ansioso por moverse y no tan letárgico como la mayoría de los molosos criados hoy en día sólo como compañeros. One Dogo Canario well socialized is friendly to people who know and like children. It is very sociable. Towards strangers is at first a little distant without fear. He is an incorruptible guardian, intrépido y protector de su familia sin ser agresivo por sí mismo. The FCI standard describes the character desired by the breed:
Calm appearance; alert look. It is especially suitable as a watchdog… Su temperamento es equilibrado y tiene mucha confianza en sí mismo. Deep barking. He is docile and kind to his family members and with strong ties to his master, but you may suspect strangers. Un comportamiento seguro de sí mismo, elegant and somewhat distant. When you are alert, his attitude is confident and alert.
It must be added that the Dogo Canario rarely barks. But if it barks once, it's pretty awesome.
The Dogo Canario is undemanding in terms of external conditions. Of course: un pequeño apartamento en la gran ciudad no sería óptimo para su actitud. But other than that it's easy to maintain. It is also a working dog, a guard, a driver, un perro de caza para la caza de jabalíes. The Dogo Canario it is suitable as a family dog ​​only on the condition that it is well socialized, bien educado y físicamente en forma. You also have to take into account a fact: It is considered a "dangerous dog" en muchos países.
The Dogo Canario can be trained well, pero aún no es un perro para principiantes. It is intelligent, very sociable and eager to work. But at the same time he is very powerful and assertive. In case of doubt, always the strongest end of the strap. Therefore, su amo o cuidador no debe dejar dudas sobre su papel de líder y esto sobre la base de la autoridad natural. Entonces este perro dejará gustosamente el papel principal a sus bípedos sin reservas. But it must be filled. The Dogo Canario it is even suitable for demanding tasks such as training as an assistance or protection dog. El requisito básico es que provenga de un criador serio y que ya haya sido socializado allí.
Dogo Canario health and care
The Dogo Canario has no special demands on your care.
Typical diseases
No se conocen las enfermedades específicas de la raza. Debido a su todavía corta carrera como perro de pedigrí oficial, it can be assumed that the population of the Dogo Canario, Presa Dog or Presa Canario – Whatever this ancient breed of dog is called – enjoys robust health.
Nutrition / Food
The Dogo Canario has no special demands on their diet.
Life expectancy Dogo Canario
There are no reliable figures on life expectancy. Seriously raised, the Dogo Canario debería poder vivir de 10 to 12 years.
Buy Dogo Canario
Before making a purchase, be aware that the restrictive attitude of the State can cause many problems in daily life and additional financial burdens. The Dogo Canario it is a large and powerful dog that belongs to the hands of an experienced teacher or lover. The cost of a Dogo Canario is of some 1200 EUR.
Characteristics "Dogo Canario"
Coexistence is important that you have with your new friend. Before considering the acquisition of a dog of the breed "Dogo Canario" you know certain factors. Not all breeds of dogs are apt to live in an apartment, you must take into account his character, their need for exercise, their interaction with other pets, their care and if you have small children, their level of tolerance towards them.
Adaptation ⓘ

4 out of 5 stars (based on 1 review)

friendly dog ​​ⓘ

1 out of 5 stars (based on 1 review)

hair loss ⓘ

3 out of 5 stars (based on 1 review)

Affection level ⓘ

4 out of 5 stars (based on 1 review)

Need for exercise ⓘ

4 out of 5 stars (based on 1 review)

Social need ⓘ

1 out of 5 stars (based on 1 review)

Home ⓘ

3 out of 5 stars (based on 1 review)

Toilet ⓘ

2 out of 5 stars (based on 1 review)

Friendly with strangers ⓘ

2 out of 5 stars (based on 1 review)

barking ⓘ

3 out of 5 stars (based on 1 review)

Health ⓘ

4 out of 5 stars (based on 1 review)

Territorial ⓘ

5 out of 5 stars (based on 1 review)

Cat friendly ⓘ

2 out of 5 stars (based on 1 review)

Intelligence ⓘ

4 out of 5 stars (based on 1 review)

Versatility ⓘ

2 out of 5 stars (based on 1 review)

Child friendly ⓘ

2 out of 5 stars (based on 1 review)

Surveillance ⓘ

5 out of 5 stars (based on 1 review)

joy ⓘ

3 out of 5 stars (based on 1 review)
Photos:
1 – Canarian Presa Dog – Dogo canario by Kamen rider snipe / CC BY-SA
2 – Presa Canario dog – Dogo Canario by Basil Dragon / CC BY-SA
3 – Presa Canario by https://pxhere.com/es/photo/732874
4 – Canary bulldog, edited by Canecorsodog (en.Wikipedia) edited by Caronna 12:25, 6 February 2008 (UTC) / CC BY-SA
5 – Zai-Kan de Irema Curtó. Canary prey perro byManuel Curtó Jr. / CC BY-SA
6 – Presa Canario by Wikipedia
7 – Presa canario dog by https://pxhere.com/es/photo/75916
FCI CLASSIFICATION:
Group :
Section : . .
Federations:
– FCI – Pinscher and Schnauzer-Molossoid type dogs – Swiss Mountain Dogs and Cattledogs. Section 2.1 Molossoid, mastiff type.

ⓘ

– AKC – FSS

ⓘ

– UKC – Watchdog

ⓘ
FCI breed standard "Dogo Canario"
FCI -

Dogo Canario
1.

Canary Mastiff, Canary Catch Dog, Canarian Dogo, Presa Canario.Dogo Canario, Presa

(English).
2.

dogo Canario

(French).
3.

Presa Canario, Kanarische Dogge

(German).
4.

Perro de presa canário, Dogo canário

(Portuguese).
5.

Perro de presa canario

(español).