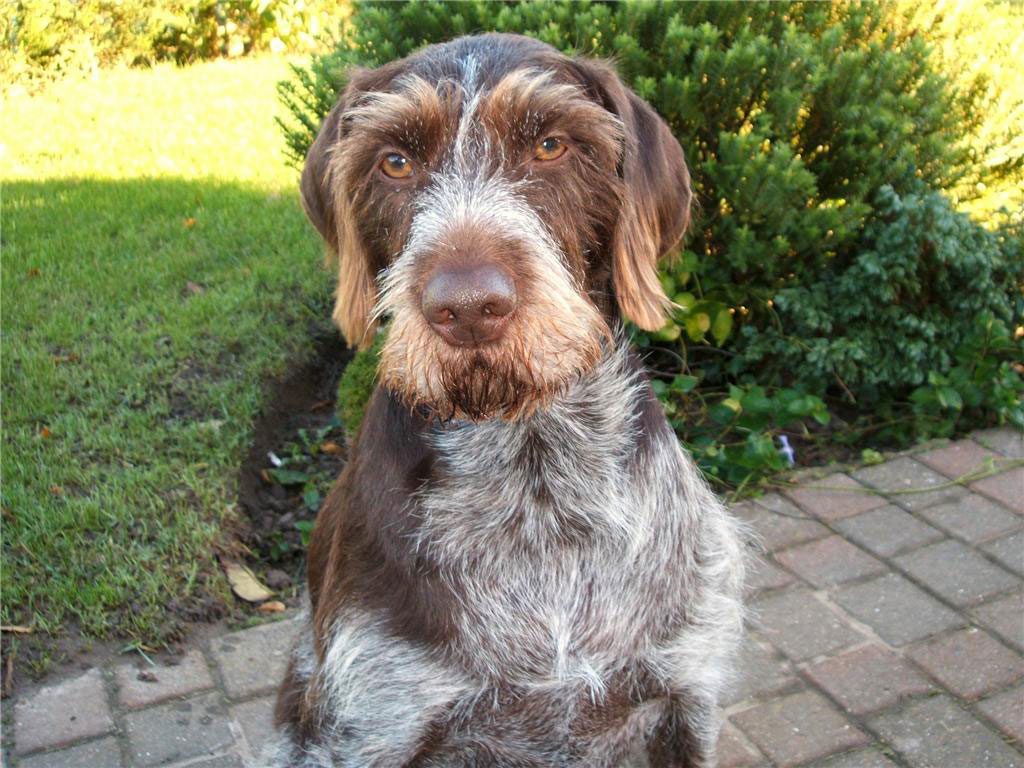 History
Physical characteristics
Character and skills
Images
Videos
The German Wirehaired Pointer (Drahthaar or German Wirehaired Pointer) is a breed of German origin.
In this long-haired Hunter dog is gathers blood hounds, hunters of birds, water dogs and hunting with Falcons and therefore has a tendency to great versatility.
The origin of this breed has barely a century. A group of breeders proposed to obtain a sample of wire-haired hair. A German rough hair sample dog, the pudelpointerl, the Griffon and the German short hair sample dog they contributed to the formation of the breed. Some experts added to the AIREDALE terrier and to the Hound Italian wire-haired to this list of participants in the creation of the German Wirehaired Pointer.
As of the year 1879 the pure breeding was carried out and settled the essential characteristics of the breed.
In the year 1897, the Baron Schorlemer established the first standard of the Sample German hair long dog and this was the basis for the current pure breeding. It became one of the major races for hunting in Germany in the latter part of the 20th century.
It is strong, muscular, under, fluid lines, is medium-sized. Heavy dogs are not desirable. Some specimens are likely to develop hip dysplasia, ear infections, genetic eye diseases and skin cancer.
The coat colors vary, It can be color solid liver, black and white with colour marked liver, color liver with white markings, solid black and a mixture of three colors.
The fur of the German Wirehaired Pointer, its most distinctive feature of the breed, the Ogres functional. A dog must have a correct fur to be of the correct type. The layer is resistant to weathering and, to some extent, water repellent. The inner layer is dense enough to in isolating the cold winter, but it is fine in summer. The distinctive outer layer of the breed is straight, hard, rough to the touch and lisa. In the ears, the head and legs the hair is smoother.
The weight of the males is of 34 to 40 kg. And in females, of 30 to 36 kg. Measuring the males of 61 to 68 cm and females 57 to 64 cm..
The German Wirehaired Pointer is very affectionate, active and intelligent. It seems that you have always wanted to learn and is very loyal to his family, you need a person of reference who knows mark the limits. Like it to be occupied and enjoy working with its owner. They are friendly with people who know and reserved with strangers, They must be socialized at an early age.
They need plenty of exercise, any type of game to include the search for objects in any type of terrain, will be your happy Pointer. It has a very fine nose which allows you to track recover any object both on Earth and as in the water.
Photos German Braco of hair hard
Video German Wirehaired Pointer
Alternative names:

Deutscher Drahthaar / Deutscher Drahthaariger Vorstehhund / Drahthaar / Braque allemand à poil dur / german wire-hair pointing dog

Group 7 / Section 1.1 – Continental show dogs, tipo braco
Dogs breeds: German Wirehaired Pointer