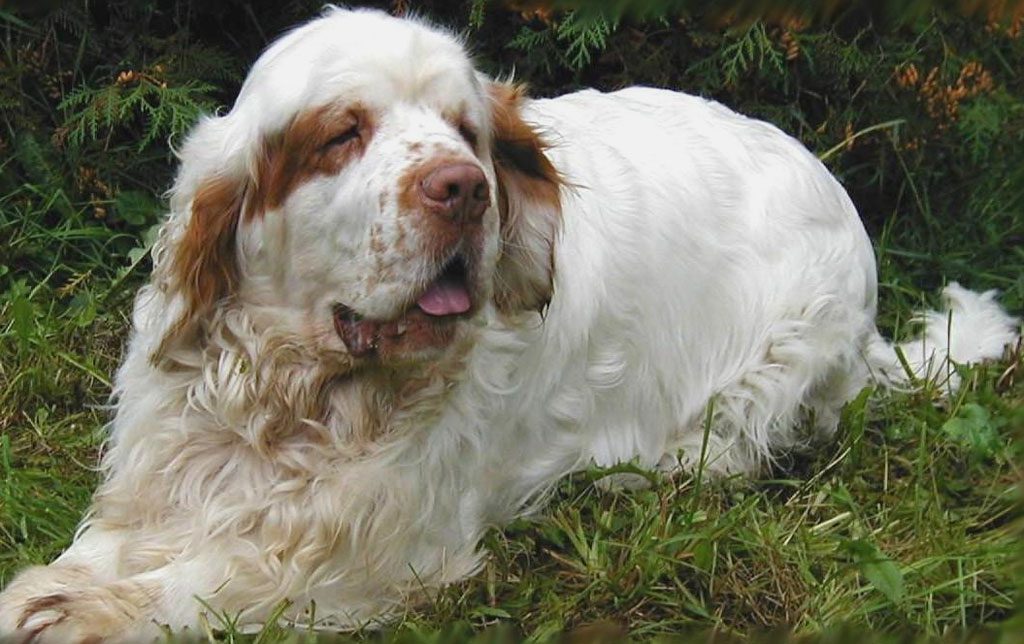 The Clumber Spaniel It is a breed of dog developed in Great Britain. There are no references before the middle of the 19th century.
A theory, He notes that this breed is originally from France, indicates that the Duc de Noailles during the time of the French Revolution, and because it, due to deliver his precious Spaniel Kennel to the Duke of Newcastle, Nottinghamshire Clumber Park, England, to avoid being sacrificed, and from these copies would have developed this breed.

Another theory holds that the race was developed in Britain from the oldest breeds of Spaniel hunting, Perhaps crossing them with copies of Basset Hound or with Bloodhound.
Anyway, What is sure is that this breed acquired its name from Clumber Park (Clumber Park), place where the Duke of Newcastle received these dogs. In addition, It has been noted that the warden of the Duke, William Mansell, It would have been who developed and improved the breed.
Prince Albert, Consort of Queen Victoria, He was a fan and promoter of the breed, like his son, King Edward VII, that it raised in the town of Sandringham, in Norfolk, England.
The race was exhibited in England from 1859 onwards. There are some references to it in the diary of Queen Victoria, for example, the 16 in October of 1840 She wrote: "I walked out directly after breakfast before that Alberto was to throw. He had his 7 fine Clumber spaniels with us and went towards the slopes, with a fun old warden, Walters, so I could see how the dogs found their prey. They are a few very dear dogs, Welcome to".
The breed was not well known in the United States age 60. In 1844, Lieutenant Venables, an officer of the British Regiment stationed in Halifax, Nova Scotia, introduced the Clumber Spaniel to North America. The first Clumber Spaniel included in the register of the American Kennel Club dates back to around of 1878 and the copy is called "Bustler", an orange and white dog owned by Benjamin Smith of Nova Scotia.
The Clumber Spaniel has a body of medium-sized, long and heavy. Its size is of 43 to 51 cm and his weight is situated in lathe to the 35 to 38,5 kg.
It has a large head, and big ears, sagging and covered with hair. The fur is white, with brown spots, abundant and silky. The tail is slightly long and abundant hair.
In general it is a dog who enjoys good health. Hip Dysplasia, formerly, It was a serious problem in this breed. Diligent breeding programs have reduced significantly their occurrence in recent years. Other health problems that can affect the Clumber Spaniel are the entropion and ectropion (conditions relating to the eyelids) and hypothyroidism.
It is an efficient hunting dog, Although it is not as fast as others. It is excellent for hunting on the Tablelands, and can be a good Retriever dog when it is trained.
It can also be a companion dog, because it has a good temper and is very affectionate with his owner.
Clumber Spaniel