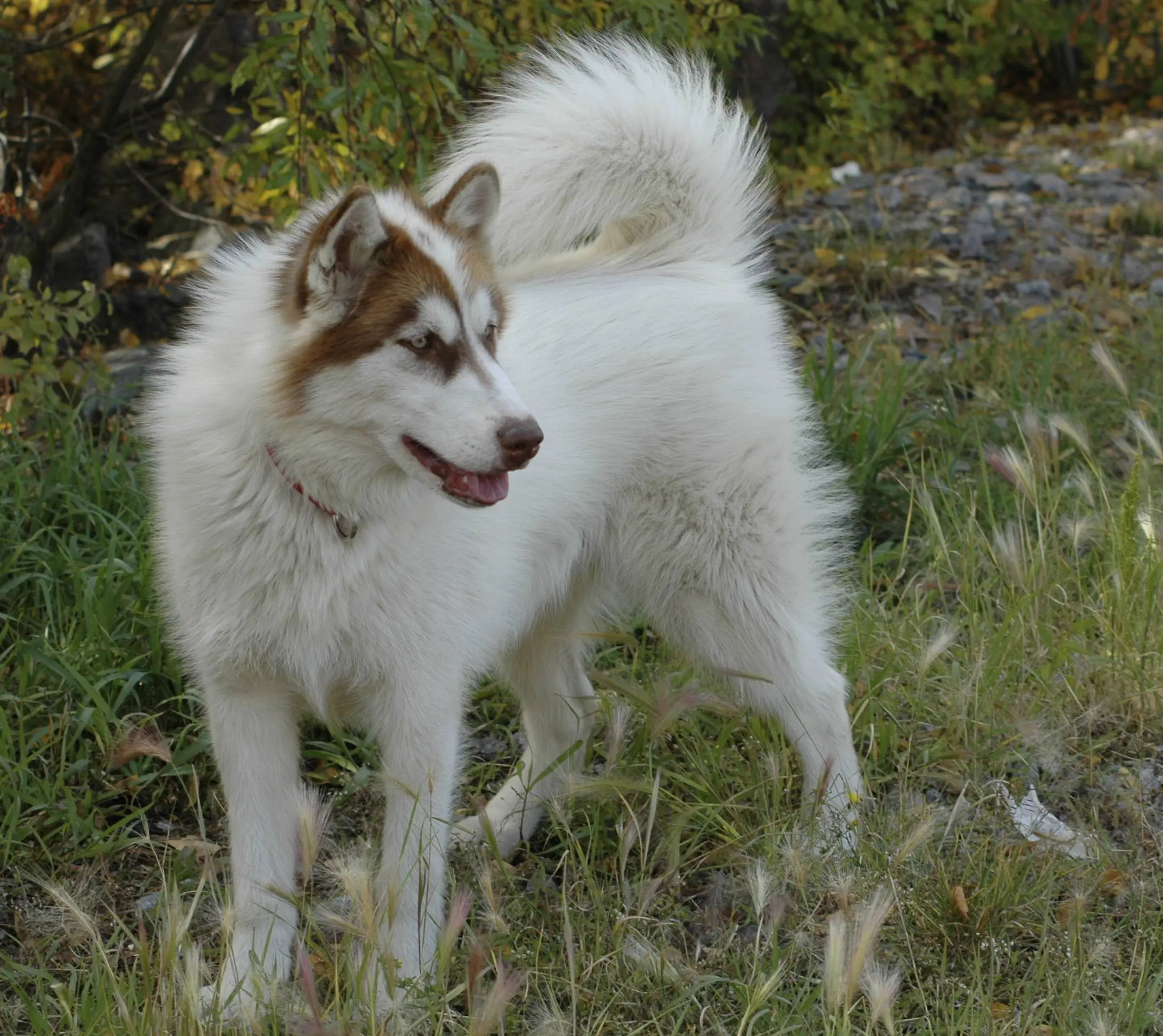 Similar to the Hotocho (or Mongolian sheepdog), the Canadian Eskimo (or Qimmiq en inuktitut) it is a very old canine breed, perhaps one of the first to accompany man to this part of the globe, almost ago 4.000 years. Faithful companion of the Inuit people of Thule, was bred and trained to become a tough working dog, able to travel long distances at a steady pace. It also, your complexion, their excellent sense of smell and intelligence were used to locate the breathing holes of seals for hunting and to protect families from musk oxen and polar bears..
In the Decade of 1920, el esquimal canadiense seguía estrechamente asociado a la cultura inuit, With almost 20.000 Eskimos working alongside men in the northern territories. However, this golden age was not going to last. In effect, the arrival of the snowmobile in the years 60, the massive and systematic killing of Inuit dogs by the Canadian government (officially, por razones de salud pública – unofficially, say some, to intimidate and forcibly assimilate Inuit peoples, eliminando su principal herramienta de trabajo y un símbolo de su cultura), the introduction of new breeds of sled dogs such as the Siberian Husky, así como una cierta vulnerabilidad a las enfermedades que traen estos últimos, are literally decimating purebred Canadian Eskimo populations. In 1963, sólo había un Canadian Eskimo Dog registrado en el libro de cría del Canadian Kennel Club, which then declared the race extinct.
This statement proved premature. However, it did not count on the tenacity of William Carpenter, Bill Thompson, John McGrath (founders of the Research Foundation of the Canadian Eskimo Dog) and Brian Ladoon (breeder and musher, that is to say, sled driver). With government support to preserve Inuit cultural heritage, el cuarteto emprendió una expedición a las regiones más remotas del Ártico canadiense con el objetivo de encontrar ejemplares esquimales canadienses de pura raza. Their efforts paid off and, thanks to the specimens unearthed in the Inuit villages, se puso en marcha un programa de cría. Pocos años después, in 1970, había nada menos que 200 animals. Today, this figure reaches the 300 individuals around the world.
Although the United Kennel Club American recognized the Canadian Eskimo as a race in its own right in 1996, was not up 2018, year in which the breed was recognized by the International Cynological Federationand (FCI) and Central Canine Society, cuando la raza pasó realmente a la primera línea del mundo canino y el público en general y los aficionados ilustrados conocieron no solo las cualidades de este perro, but also the precariousness of its existence.
However, although some specimens have crossed the Atlantic to the United Kingdom, the spread of the breed remains for the time being essentially limited to Canada and the United States, e incluso allí, the breeders of Canadian Eskimo Dog they are still scarce.
At first sight, it is clear why the Canadian Eskimo has helped the Inuit people for so long. Strength, power, resistencia y vigor son los primeros adjetivos que vienen a la mente al describir a este perro capaz de realizar un esfuerzo constante en condiciones ambientales difíciles.
The Canadian Eskimo is of medium build, with a strong neck and chest, but with legs of medium height. Con sus huesos y músculos bien definidos, su físico poderoso y majestuoso refleja que es principalmente un perro muy resistente, not very fast. It should be noted in passing that females are slightly smaller and less muscular than males.
It is also interesting to note that the Canadian Eskimo is quickly big enough to work: although it does not reach full maturity until around the 3 years of age, it is capable of transporting loads from the 7 months. Puppies are often described as miniature adults, with the ears upright and upright on the skull and the tail coiled from the third week.
Like most of the Spitz, the head of the Canadian Eskimo is angular and elevated, with straight, thick ears. The eyes are placed at an angle and give the animal a serious attitude. The bushy tail is carried high or curled on the back.
The coat of the Canadian Eskimo It is thick, with a smooth top layer and a dense and uniform wool bottom layer, providing optimal thermal insulation for adverse weather conditions. Esto los convierte en una de las razas de perros más adaptadas al frío. Males also have a long mane that covers the neck and shoulders. Females usually have the shortest upper layer, which contributes to give the impression of a finer animal.
The breed standard does not allow smooth fur. So, the Canadian Eskimo must always have a coat with a combination of colors, without the distribution of one color taking precedence over the others:
Completely white fur with pigmentation around the eyes, on the nose and lips (is not an albino);
white coat with only a very small amount of red,

buff

(including cinnamon shading), gray or black around the ears and eyes;
white coat with red markings, beige, cinnamon, gray or black around the ears and eyes, or the head completely marked with these colors, sometimes with small spots of the same color on the body, usually around the hips or on the flank;
Red and white, or buff and white, or cinnamon and white, or black and white, with a distribution to 50% of each of the two colors in the different parts of the body;
red or beige or cinnamon, with white on the chest and/or on the legs and lower part of the body;
Sabre body or black or dark gray, with white on the chest and/or on the legs, under the body, occasionally extended to the neck like a gola;
silvery grey or greyish white fur;
Brown bottom layer and black top layer.
The white mask shaded around the eyes and/or around the nose, with or without dots above the eyes, es una característica física común en los perros con un color bien definido en la cabeza. Very rarely, the dots above the eyes, así como las marcas de las mejillas, can be buff-colored, adding a third color to a normally bicolored dog.
Size and weight
▷ Male size: 58 a 70 cm.
▷ female size: 50 a 60 cm.
▷ Male weight: 30-40 kg
▷ female weight: 18-30 kg
The character of Canadian Eskimo reflects the harsh environmental conditions in which he lives and the work that dots his daily life. So, it is closer to the wild animal domesticated by the tribal peoples in a logic of labor collaboration than to a real pet overflowing with affection for its master. Intelligent, brave, but always on guard, so sometimes it may seem distant.
This does not prevent this dog from being gentle and affectionate with his family, or express a friendly curiosity towards strangers your family welcomes. But moderation remains the key word for him.. The Canadian Eskimo rarely celebrates his master, although he does not hesitate to ask for a caress as a sign of recognition. As a pack dog, is fiercely loyal to his master, al que considera el líder del clan, and is less distant with it. Cuidado con quien muestre signos de animosidad hacia este líder: the Canadian Eskimo it will quickly remind you of the meaning of the word respect, with many grunts.
The herds of Canadian Eskimo have a reputation for being very organized. From time to time some fights and scratches may occur, pero no es un signo de lucha seria o de rebelión contra el líder establecido.
It also, unlike many recent dog breeds, the Canadian Eskimo has retained a very sharp hunting instinct. El más mínimo estímulo, either the food, the start of a game or a fight, gives rise to a quick and very enthusiastic response by this dog. In fact, this dog is more suitable for a family of adults and should never be left with children, ya que esto podría provocar lesiones involuntarias. You can live with dogs that do not belong to your herd, but with some reservations, since he tends to regard any animal smaller than him as a prey to devour rather than as a companion with whom to live. The cats, rodents and small dogs will be tested if they have to cohabit with it.
Last, as an outdoor dog par excellence, que aprecia las temperaturas frías y prefiere dormir al aire libre si se le da la oportunidad, the Canadian Eskimo is not at all a breed of dog adapted to a floor. Necesitan pasar muchas horas al aire libre cada día para mantener su forma física y mental. Sporty and hyperactive dog, used to pulling sleds, the ideal for him is to have a master as tough as him. In other words, it is a perfect companion for those who want to practice cani-rando, cani-mountain biking, ski jöering, canikart… Sin una actividad física a la altura de sus capacidades, becomes a destructive and/or aggressive dog.
Last, being a very intelligent dog, is the king of escapes and mischief. There is no delicate plant or reinforced fence that resists it. If you have decided to be a runaway dog, será muy difícil detenerlo.
The Canadian Eskimo tiene unas excelentes disposiciones físicas que lo hacen resistente a muchas de las enfermedades genéticas que suelen darse en perros de razas similares.
However, although they are a force of nature in their natural environment, are more susceptible to parasites and skin diseases that develop in warmer temperatures. Therefore, it's important not to forget dog vaccine reminders, and give regular preventive treatment against ticks and fleas.
It also, like many Nordic dogs, has predisposition to the following diseases:
– Hip Dysplasia
– waterfalls
– Arthritis;
– Torsión gástrica;
– entropion.
Life expectancy
10 – 15 years
Characteristics "Canadian Eskimo Dog"
Coexistence is important that you have with your new friend. Before considering the acquisition of a dog of the breed "Canadian Eskimo Dog" you know certain factors. Not all breeds of dogs are apt to live in an apartment, you must take into account his character, their need for exercise, their interaction with other pets, their care and if you have small children, their level of tolerance towards them.
Adaptation ⓘ

4 out of 5 stars (based on 1 review)

friendly dog ​​ⓘ

3 out of 5 stars (based on 1 review)

hair loss ⓘ

3 out of 5 stars (based on 1 review)

Affection level ⓘ

4 out of 5 stars (based on 1 review)

Need for exercise ⓘ

5 out of 5 stars (based on 1 review)

Social need ⓘ

3 out of 5 stars (based on 1 review)

Home ⓘ

2 out of 5 stars (based on 1 review)

Toilet ⓘ

2 out of 5 stars (based on 1 review)

Friendly with strangers ⓘ

3 out of 5 stars (based on 1 review)

barking ⓘ

2 out of 5 stars (based on 1 review)

Health ⓘ

2 out of 5 stars (based on 1 review)

Territorial ⓘ

4 out of 5 stars (based on 1 review)

Cat friendly ⓘ

3 out of 5 stars (based on 1 review)

Intelligence ⓘ

4 out of 5 stars (based on 1 review)

Versatility ⓘ

3 out of 5 stars (based on 1 review)

Child friendly ⓘ

4 out of 5 stars (based on 1 review)

Surveillance ⓘ

3 out of 5 stars (based on 1 review)

joy ⓘ

3 out of 5 stars (based on 1 review)
FCI CLASSIFICATION: 211
Group 5: Spitz and primitive types
Section 1: Nordic Sledge Dogs. Without working trial..
Federations:
– FCI – Group 5 – Section 1 Nordic Sledge Dogs.

ⓘ

– CKC – Nordic Sledge Dogs

ⓘ
FCI breed standard "Canadian Eskimo Dog"
FCI -

Canadian Eskimo Dog
1.

Canadian Inuit Dog, Qimmiq, Canadian Husky

(English).
2.

Inuit canadien, Qimmiq

(French).
3.

Canadian Eskimo Dog

(German).
4.

(em inglês: Canadian Eskimo Dog), Qimmiq

(Portuguese).
5.

(español).