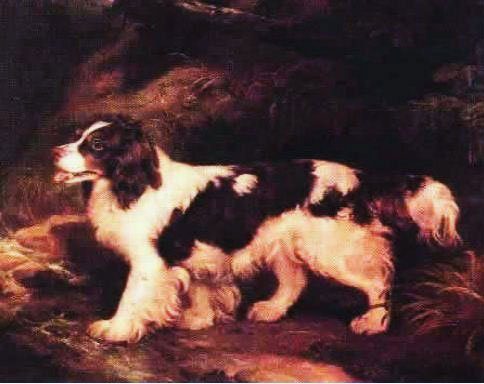 English Water Spaniel (Water Dog) It is a breed of dog that has been extinct since the first part of the 20th century, fue visto por última vez en la década de 1930. Is of English origin.
He was very famous for his skill in hunting waterfowl and being able to dive like a duck. Se describía como similar a un Collie or a cross between a Poodle and Curly-coated Springer Spaniel y por lo general era de color blanco con manchas color hígado o marrón.
The English Water Spaniel is prior to Irish Water Spaniel (Whiptail). Historians of the race, They claim that they have been mentioned by Shakespeare en su obra "Macbeth", and they believe that they have influenced genetically in several modern dog breeds, including therein to the American Water Spaniel, the Curly-coated Retriever and the Field Spaniel, Although it is unknown if the race was involved in the creation of Irish Water Spaniel.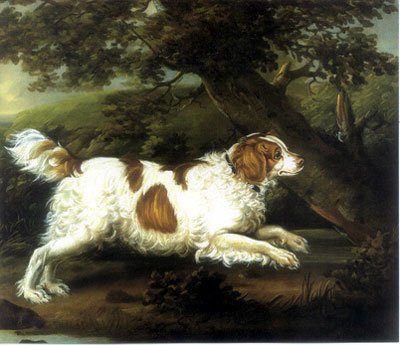 In 1570, the Dr. John Caius wrote a description of the English Water Spaniel. But the race is officially mentioned by name in 1802, en el "Sportsman's Cabinet" (organization that nuclear all hunting sports), where they describe the English Water Spaniel como un perro "natural hair is long and curly, and compact, not loose and messy", la descripción fue acompañada de un grabado en el que aparecía un English Hair Spaniel color blanco con manchas hígado. This shows that the English Water Spaniel is prior to Irish Water Spaniel, not developed as a breed recognized until the Decade of 1830.
During the first half of the 18th century, the English Water Spaniel It was used for hunting ducks in East Anglia.
The Kennel Club –initially– tenía una clasificación específica en la que se agrupaban todos los "Non-Irish water dogs". Ese estándar fue creado específicamente para el English Water Spaniel by Hugh Dalziel in one of his books dedicated to the races of water dogs.
En un artículo suyo publicado en el año 1897, Hugh Dalziel, ensured that, no creía que la raza se hubiese extinguido, on the other hand, aseguraba que aún había muchos ejemplares de la raza distribuidos a lo largo y ancho del país, and keeping alive the race passed through motivate breeders from the most important clubs and canine committees, in the perpetuation and improvement of the breed. But later, Dalziel, regretted the fact that while the Irish Water Spaniel became famous, the English Water Spaniel was absorbed by other breeds of spaniel, under the eye of the most important clubs and canine committees, until you reach the extinction…
In 1967, the author John Fawcett Gordon (y político de Irlanda del Norte) decía: "Después de dos siglos de cría el English Water Spaniel has become extinct. No se ha vuelto a ver ningún ejemplar en los últimos treinta años".
At least, It is believed that the English Water Spaniel ha dejado su legado en razas descendientes…
Some authors include within these races the American Water Spaniel which was also developed using additional genetic material from the Irish Water Spaniel and of the Flat-coated Retriever. The Curly-coated Retriever is considered to have descended from Poodle, of the Setter, of the extinct St. John's Water Dog and of the English Water Spaniel.
The records for the origin of the modern breed Field Spaniel are more precise and show that one of the four parent dogs used in the creation of the breed was a English Water Spaniel crossed with a Cocker Spaniel officially registered as a Sussex Spaniel, debido a sus manchas color hígado. ¿Es lioso, truth?
The English Water Spaniel se parecía más a una versión de pelo rizado del Springer Spaniel, with some features of the Collie, Pudelhund, and Setter.
De pelo blanco y manchas color hígado (brown), medían unos 51 cm in height to the cross. They were thin, de patas largas características de algunos Spaniel, with the tail and long ears, White under belly and Brown dorsum. With a head long and narrow small and those long ears covered with thick and very defined curls. The body was moderately thick, barrel-shaped, but not as much as the Field Spaniel.
Water Dog

, Water Rug