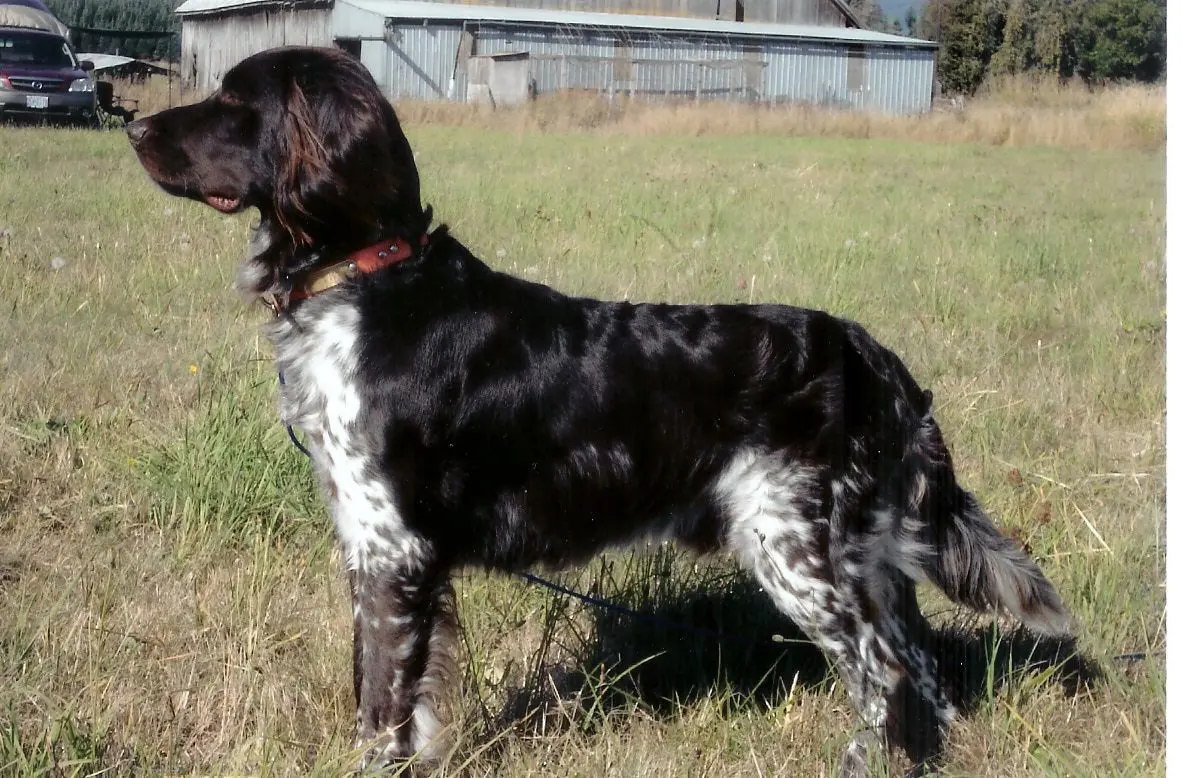 The Little Münsterländer, It is a breed of dog in German, Spaniel type. Born in the region of Münsterland from where derives its name.
About the year 1870 se conocían en Münsterland, many dogs of Spaniel type alemanes que animales muy seguros de sí mismos, very good trackers and bailiffs. But the needs of the aristocracy and his fondness for hunting unleashed a series of changes in the canine world…
In the year 1906 the poet Hermann Löns, se dedicó a investigar todo lo relacionado al –entonces- so-called "Roten Hannoverischen Heidebracke" o "Red Hanoverian Heath Hound". In an abbreviated manner, lo llamaban "Heidewachtel".
El Conde von Bevervörde – Lohburg y el Maestro Principal Reitmann de Burgsteinfurt, at the same time they achieved the first results with its crianzas. En los años siguientes comenzó a aparecer en Westfalia el "Dorsterer Schlag".
Y, in March of 1912 se fundó la "Asociación del Pequeño Perro de muestra Münsterländer". The objectives of the Association were: "promover la pureza y crianza de alto nivel del pequeño perro de muestra de pelo largo tal como se criaba en Münsterland desde hacía décadas".
La falta de características comunes de la raza tuvo una influencia negativa tanto en la crianza como en la actividad de la asociación.
It was from the year 1921 cuando comenzó a llevarse a cabo un programa de cría –mayoritariamente- consensus and supported in the standard of the breed to the Dr. Friedrich Jungklaus publicó su trabajo científico sobre Small Munsterlander.
It is this study, describía todas las características de raza. Esa descripción de la raza sigue siendo –fundamentalmente- válida hoy en día y es la que distingue al Small Munsterlander, other German long-haired and versatile hunting dogs.
Then, resumiendo…, the Small Munsterlander was born from the crossing of Spaniel with the German Longhaired Pointer in the early 20th century.
But his selection, Although it is very similar to the of the Large Münsterländer, since they share as ancestor the German Longhaired Pointer, they have been developed separately.
The Small Munsterlander, is an elegant dog, your body has a structure medium-sized, strong and harmonious, balanced proportions. Elegant head. With an upright posture, muestra las líneas fluidas de su cuerpo y su cola con un porte plano.
Its hair bright should be smooth to slightly ondeado, not too long and bushy.
The length of the body measured from the tip of the breastbone to the ischium must be greater than the height at the cross as maximum 5 cm..
The skin is very adherent, without forming folds. The fur is thick, long Middle, smooth to something ondeado, well glued and waterproof. Its silhouette outline should not be hidden under a too long hair.
The hair thick should be the best possible protection against the inclement weather, influences of the ground and to avoid injuries. Is a short, smooth fur.
The fur It should be Brown and white and Brown Roan with Brown plates – the mantle – mottled, allow a whitelist in the head, fire on the snout markings are tolerated, eyes and around the anus (Jungklaus brands).
The height will of 52 a 54 centimeters.
El Münsterländer Pequeño es un perro inteligente, adept at learning, temperamental and balanced.
It is a very versatile dog, It adapts smoothly to any type of hunting, climate and terrain, es una raza perfecta tanto para la 'muestra' como para el 'cobro', It is risky and not afraid of anything or anyone.
Como perro de compañía es estable, attentive and friendly people (the family), playful, lively and cheerful.
The Small Munsterlander learn very fast.
Often relate well with other dogs and always retain its passionate and persevering instinct towards the dam, sus condiciones múltiples para la caza y sus nervios templados y agudeza.
Observations
It is the smallest of the Pointing Dogs alemanes.
Since Puppy suele aprender rapidísimo a hacer sus necesidades fuera de la casa, because they have a tendency of innate to keep clean the place in which they live.
The Small Munsterlander he is an intelligent and confident dog. They are easy to train and educate, and very rarely do they disappoint their teacher in their speed of learning. Enseñarles trucos no debería ser mucho más complicado que enseñarles las reglas de la vida.
Having said that, It is recommended to start learning early and start socializing the puppy as soon as possible, especially for an individual who will live in the city, to develop your confidence and ability to resist your stalking instincts.
If the dog is destined to hunt, must be trained for hunting through play and not through repetitive training. It is also important to teach him that he should not hunt anywhere and at any time.. Fortunately, memory learning, either by voice or gestures, works great with this breed.
In summary, the consistency, the kindness, la estimulación intelectual y la asiduidad son necesarias para hacerlos el compañero familiar perfecto y canalizar su energía.
The Small Munsterlander it is resistant and, due to its large gene pool, has no diseases of its own.
Su único talón de Aquiles son sus orejas: sufre de infecciones de oído y de oídos un poco más a menudo que la mayoría de las razas.
Take care of Small Munsterlander requires little effort: brushing your dog's coat every now and then is enough to keep his coat shiny during normal activity.
Cepillar y revisar las orejas del perro debería ser sistemático después de las salidas al bosque o al campo, to make sure there is no dirt trapped between the longest hairs. Secarlos bien después de nadar también reduce el riesgo de infecciones de oído repetidas.
For sale "Small Munsterlander"
Are needed between 500 and 800 euros to adopt a puppy from Small Munsterlander.
El precio de un cachorro de esta raza difiere según el sexo: a female is more expensive than a male.
Characteristics "Small Munsterlander"
Coexistence is important that you have with your new friend. Before considering the acquisition of a dog of the breed "Small Munsterlander" you know certain factors. Not all breeds of dogs are apt to live in an apartment, you must take into account his character, their need for exercise, their interaction with other pets, their care and if you have small children, their level of tolerance towards them.
Adaptation ⓘ

4 out of 5 stars (based on 1 review)

friendly dog ​​ⓘ

4 out of 5 stars (based on 1 review)

hair loss ⓘ

3 out of 5 stars (based on 1 review)

Affection level ⓘ

5 out of 5 stars (based on 1 review)

Need for exercise ⓘ

4 out of 5 stars (based on 1 review)

Social need ⓘ

4 out of 5 stars (based on 1 review)

Home ⓘ

3 out of 5 stars (based on 1 review)

Toilet ⓘ

3 out of 5 stars (based on 1 review)

Friendly with strangers ⓘ

3 out of 5 stars (based on 1 review)

barking ⓘ

2 out of 5 stars (based on 1 review)

Health ⓘ

4 out of 5 stars (based on 1 review)

Territorial ⓘ

3 out of 5 stars (based on 1 review)

Cat friendly ⓘ

2 out of 5 stars (based on 1 review)

Intelligence ⓘ

5 out of 5 stars (based on 1 review)

Versatility ⓘ

4 out of 5 stars (based on 1 review)

Child friendly ⓘ

5 out of 5 stars (based on 1 review)

Surveillance ⓘ

3 out of 5 stars (based on 1 review)

joy ⓘ

4 out of 5 stars (based on 1 review)
Images "Small Munsterlander"
Videos "Small Munsterlander"
FCI CLASSIFICATION: 102
Group 7: Pointing Dogs
Section 1: Continental Pointing Dogs. 1.2 Spaniel type. With proof of work..
Federations:
– FCI – Group 7: Pointing Dogs. – Section 1: Continental Pointing Dogs. 1.2: Spaniel type

ⓘ

– CKC –

Miscellaneous

ⓘ

– ​KC – Hunting dog

ⓘ

– UKC –

Gun Dog

ⓘ
FCI breed standard "Small Munsterlander"
FCI -

Small Munsterlander
1.

Munsterlander (Small), Kleiner Münsterländer, Vorstehhund, Spion, Heidewachtel

(English).
2.

Petit münsterländer

(French).
3.

Vorstehhund, Spion, Heidewachtel

(German).
4.

(em alemão: Kleiner münsterländer)

(Portuguese).
5.

Pequeño Münsterländer

(español).