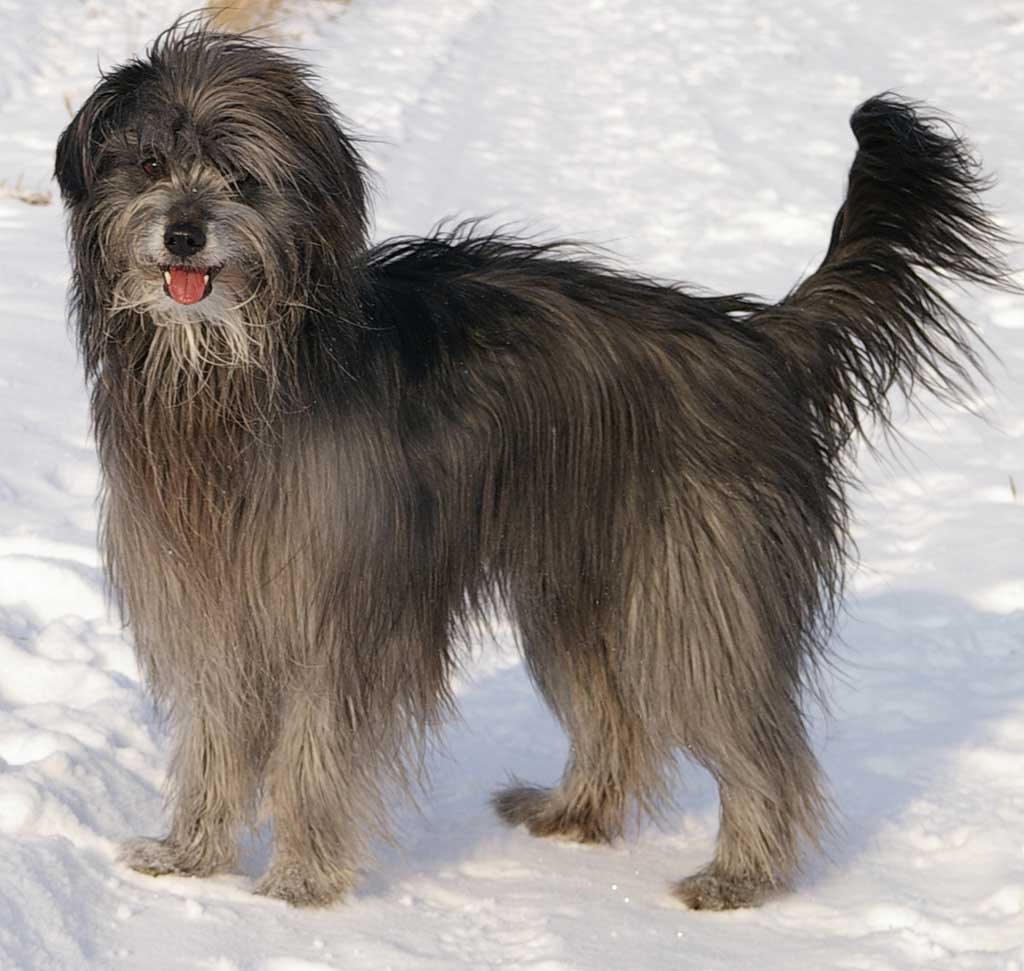 The Pyrenean Shepherd is a breed of dog originating in France monitoring pastor, consists of two different varieties: the Pyrenean Shepherd Long Hair and the Smooth-faced Pyrenean Shepherd.
This breed of dog is very old, the oldest dog is French pastors, but in reality, its origins are unknown.
Its origin and its history is supposed to be the same, than the other dogs of pastor European descendants of Asian dogs.
After World War I, the Pyrenean Shepherd obtained a great recognition in France thanks to his excellent and courageous work during the War as a post office, in rescue and search of dogs, and as guard dogs, from then on, was more common to see it as a pet.
Is of medium height, of about 38 to 50 cm., and in between 8 and 14 weight kg. Strong and rich in energy, extremely nervous. He is cunning and alert, with high speed in their movements. It has a characteristic bearing with fine bones.
There are two varieties:
The Pyrenean Shepherd Long Hair ???? (FCI: 141), It has hair soft semi-largo or long hair and short, fine hair on the muzzle, with a modest collar around the face and neck, and some fringes along the legs, the tail and belly.

Español

FCI –

Pastor de los Pirineos de Pelo Largo

English

FCI –

Pyrenean Shepherd Long Hair

Français

FCI –

berger des Pyrénées à poil long

Deutsch

FCI –

Langhaariger Pyrenäenschäferhund

The Smooth-faced Pyrenean Shepherd ???? (FCI: 138), on the other hand, has coarse hair, with most long hair on the muzzle and face, though never enough as to cover or hide from the eyes or create an effect of semi-largo and beard or hair length, thick in the rest of the body. The Smooth-faced Pyrenean Shepherd can also have more long hair on their hindquarters and front paws.

Español

FCI –

Pastor de los Pirineos de Cara Rasa

English

FCI –

Smooth-faced Pyrenean Shepherd

Français

FCI –

Berger des Pyrénées à face rase

Deutsch

FCI –

Pyrenäen-Schäferhund mit kurzhaarigem Gesicht

The Pyrenean Shepherd only needs one brushing a week to keep his coat in good condition.

Discarding the solid black, its fur can be of various colours, shades of beige are the most typical of the breed, with or without a mask and black cloak. Brindle and different shades of gray are also very common.. Less common are the colors Blackbird (blue merle, striped Merle, Griffon Merle), and the solid black. All colors are accepted with some white on the head, the chest and toes, but the solid colors are preferred.

Some scholars of the race argue that the variety of Smooth-faced Pyrenean Shepherd with harlequin or blue merle fur may have been one of the base breeds for the creation of the Australian Cattle Dog.

The Pyrenean Shepherd It was designed to be a shepherd dog, and as such, has the same energy as other herding dogs, but within the existing variety of pastoral dogs, is the smallest.

This dog, through adaptation, You can perform all work in the field, is a natural Shepherd. It is a dog that -to be fully happy- need a job, their intelligence makes it ideal for grazing and canine sports such as flyball , obedience, competitive and agility .

It is not yet a well-known breed outside of its native France., but its size, intelligence and attractive coat, What are Aweigh popularity. Even more, Once a copy of this breed, He won the world of Agility for dogs of medium size in the year 2003.

It is a bold and agile dog that knows to attack not only to the Wolf, but also to bear. Of stubborn character is, hard, shy and reserved with strangers.

It is a hypersensitive dog, It is capable of detecting mood of each Member of the family, in moments..., It seems that you read it the mind, perhaps this extreme sensitivity is one of the characteristics that make it a very easy dog ​​to train.

The Pyrenean Shepherd he is good with children, above all with those who have raised, because it develops a strong protective effect, and treated as if they were their children.

Images "Pyrenean Shepherd"

Videos "Pyrenean Shepherd"

FCI CLASSIFICATION: 293
Group 1: Sheepdogs and Cattle Dogs (except Swiss Cattle Dogs)
Section 1: Sheepdogs. With proof of work..

Federations:

– FCI – Group 1 Herding dogs, Section 1 Sheepdogs

ⓘ

1.

Chien de Berger des Pyrénées in French

(English).
2.

Berger des Pyrénées

(French).
3.

Berger des Pyrénées, Museau normal

(German).
4.

(em francês: Berger des Pyrénées)

(Portuguese).
5.

Pastor de los Pirineos

(español).