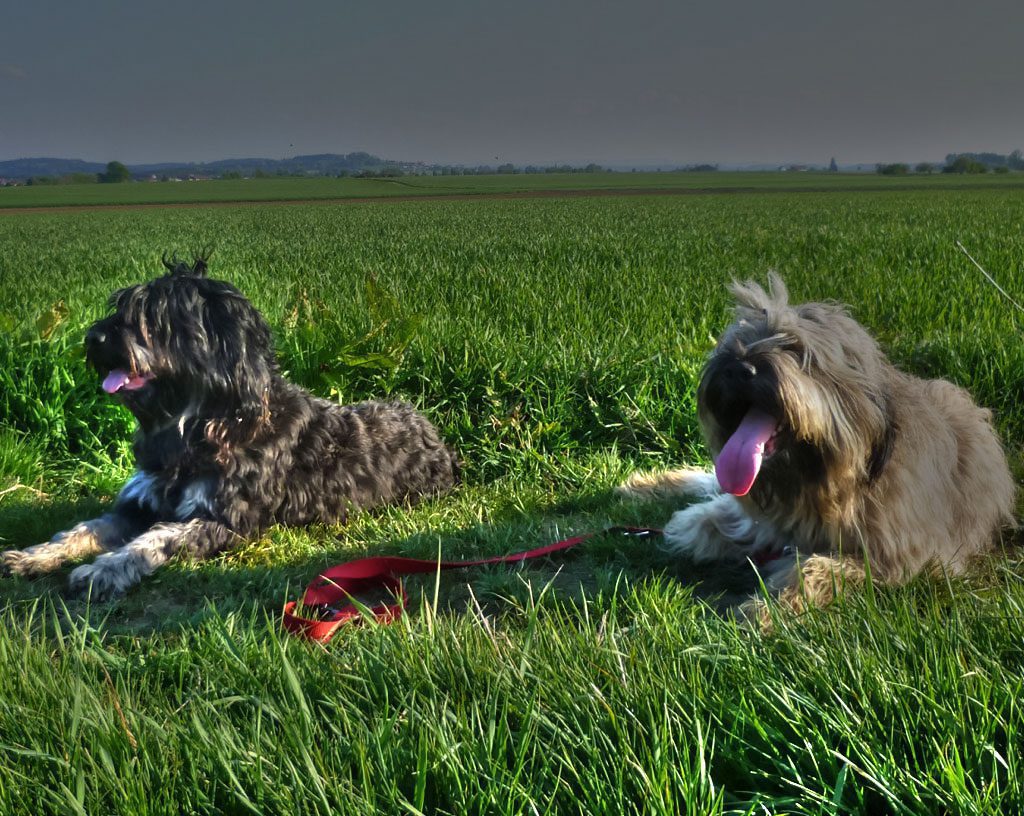 The Portuguese Sheepdog has nearly 100 years.
This hairy, use livestock and guardian of the plains of the Portugal South may descend from the Berger de Brie, imported by the conde de Castro Guimarães and which in turn bred with local mountain dogs.
Despite the similarities with the Berger de Brie and the Catalan Sheepdog, There is no reliable evidence to suggest a direct line of descent.
During the greater part of the last century, the Portuguese Sheepdog was the companion of the shepherds in southern Portugal, but in the Decade of 1970 was almost extinct.
Fortunately, the beauty of your fur and your docile predisposition came to knowledge of the breeders. To this day many owners in Portugal are the owners of this breed and their future is assured.
Although it is virtually unknown outside their home country, This dog of woolly appearance is a class dog, worthy of greater international recognition.
The owners say that these small dogs "monkey", nicknamed so by its peculiar look and picturesque expression, they have been part of the agricultural activity and family life for a very long time. As with many working breeds, the ability to work was more important than the appearance, and the standard was not set up to 1930.
Recognition: CKC, FCI, NKC, APRI, ACR, DRA
The fur of the < is long and smooth, with a light ripple. Do not have a background layer.
The colors We accept yellow, Brown, the fawn to red and more or less stained gray with red fire. There may be greater or lesser amount of white hairs scattered around the mantle, but never forming stains, except in the chest.
The previous tips they are symmetrically covered with long hair.
It has a beard that gives a mature look. The eyes they are round and dark, with a friendly expression. The ears moderate size usually hang on the sides of the cheeks, Although sometimes clipped. Trimming is banned in some European countries. Their feet they are particularly adaptable to rough terrain. Their legs they are strong and their chest deep.
Males can measure of 45 - 55 cm., while females measure of 42 - 52 cm.. The weight must be between 12 and 18 kg.
The hair is longer on the head giving these dogs a curious and messy bangs.
It has a head wide and robust, with a prominent nose and a strong jaw. The tail, very close from the base, the high boot, it reaches the Hock and tapered.
Their life expectancy is of 12-13 years.

The Portuguese Sheepdog It is one of the smartest Sheepdogs. This is a great dog, joyful, happy and always ready to work. Very loyal, and paired with their own town.
The Portuguese Sheepdog needs a well-balanced training. It has a above average intelligence and learns quickly and easily, but he can be stubborn and dominant if they feel that their owners do not have the same mentality. Therefore, It has always been a challenge for pastors. Trained once, This is the dog more reliable an owner may have. It requires educators safe and strong. These dogs can live with other animals, Although some males may try to dominate other males. They can live happily with other pets, provided that they have been properly socialized.
The Portuguese Sheepdog is usually patient with children, but the males, in particular, they can be very possessive within its territory. This race is reserved with strangers and they do a good job as a watchdog.
It is very good Shepherd with cattle, that will tirelessly defend. These dogs are known for their fast attitude, intelligent and are particularly good to bringing back stray dogs. They love its owner above all on Earth. Not usually bite unless cause you.
Images "Portuguese Sheepdog"
Videos "Portuguese Sheepdog"
CLASSIFICATION FCI:Group 1 –> Herding dogs, except Swiss Cattle Dogs . / Section 1 –> Sheepdogs. Without working trial.
FCI 93
Federations: FCI

ⓘ

, AKC

ⓘ

, ANKC

ⓘ

, UKC

ⓘ

FCI standard of the breed Portuguese Sheepdog (Monkey dog)
1.

Monkey dog, Cão da Serra de Aires

(English).
2.

Berger de la Serra de Aires, CHIEN DE BERGER DE LA SERRA DE AIRES

(French).
3.

PORTUGIESISCHER SCHÄFERHUND

(German).
4.

Serra-d'aires

(Portuguese).
5.

Perro de pastor portugués

(Spanish).