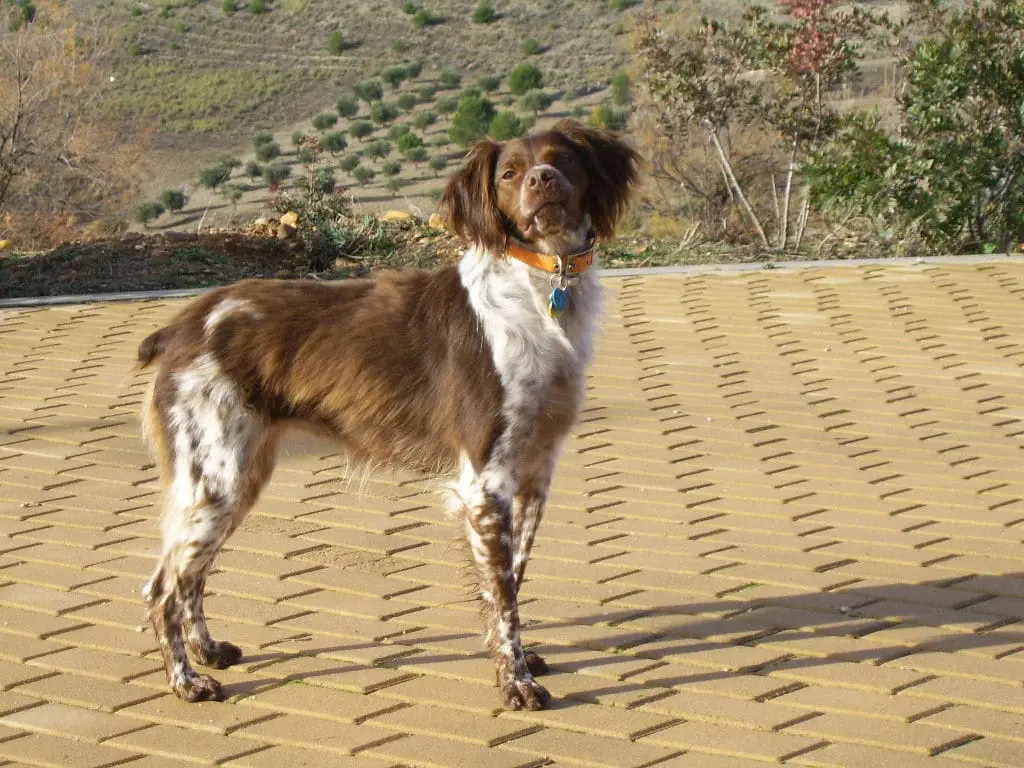 The Brittany Spaniel It, as its name suggests, originally from the Breton region, in the extreme west of France. It is probably one of the races Spaniel type and "Pointing Dogs" más antiguas del país.
Some historians argue that it was developed a long time ago, about 150 years AD. In any case, los primeros rastros de perros blancos y rojos que se parecían a él y que eran sin duda los ancestros del actual Brittany Spaniel date back to 17th century tapestries and paintings. The dogs in question are represented hunting.
The most likely hypothesis is that the development of the breed began in the 18th century, pero hay relativamente pocos datos sobre sus orígenes exactos. However, specialists believe that it probably originated from the "Welsh Springer Spaniel", the English Setter and various breeds of "French Spaniel". The first representatives of the breed were surely born in the village of Ponthou, situado en el departamento de Finistère, and are most likely the result of the first crosses between the "Welsh Springer Spaniel" and "french dogs".
During the 19th century, in the city of Callac and its surroundings (departamento de Côtes-d'Armor), los perros así creados se cruzaron con el English Setter. La ciudad se especializó entonces en la cría de los perros resultantes de estos cruces, and today it is considered the capital of Brittany Spaniel.
Existen varias teorías sobre el desarrollo exacto de la raza, including how the English Setter utilizado para la cría. Una de las teorías es que pertenecían a familias británicas que pasaban sus vacaciones en Bretaña, mientras que según otra fueron traídas por cazadores de la misma nacionalidad que vinieron a cazar a la región.
About 1850, Reverend E. W. Davies, Anglican writer, minister and hunter who liked to spend winters hunting in the Breton region, mentioned in his writings a medium-sized hunting dog, type Pointer, with short tail. This was definitely the Brittany Spaniel as we know it today, since this short or even absent tail, debida a un ancestro inglés que introdujo el gen correspondiente en las líneas de sangre, it is one of the peculiarities of the breed.
From the beginning of its development, the Brittany Spaniel was bred as both a pointer and a collection dog, regardless of time. In fact, was (and it still being) very adaptable, which allowed it to spread later in many French regions, así como en varios países europeos, like the UK. French breeders, However, they predisposed him to hunt birds.
Used to working in collaboration with man and eager to please him, the Brittany Spaniel he was not only at the service of hunters, but also integrated into their homes. When i wasn't working, voluntarily stayed with their masters in their homes. His reputation as a good pet was quickly established.
Dog shows also played an important role, as they allowed the breed to become known outside their homeland. In fact, el final del siglo XIX y el principio del XX estuvieron marcados por un importante desarrollo de estos acontecimientos en Gran Bretaña y otros países europeos, especially in France.
The year 1907 marked the creation of the Club l'Épagneul Breton à courte queue naturelle. Next, a first draft of the breed standard was written, which was adopted at the first plenary meeting of the association the following year in Loudéac. It was later modified into 1923 and again in 1933, 1956, 1995, 2001 and 2003.
Al igual que con muchas razas, la Segunda Guerra Mundial marcó el fin de la cría de los perros de aguas de Bretaña. Then it suffered a certain decline, However, it could be compensated once the conflict ended thanks to the work of the breeders and the evolution of certain rules.. In effect, como el acervo genético de la raza se había reducido demasiado en toda Europa, it was decided to accept individuals with black spots, lo que no ocurría hasta entonces.
The problem did not arise in the United States and Canada, so local organizations did not follow the example of their French counterparts, British and others. The situation has not changed since then: this particularity is still not recognized by the American Kennel Club (AKC), el United Kennel Club (UKC) and the Canadian Kennel Club (CCC).
The popularity of the "Brittany Spaniel"
in your country of origin, the Brittany Spaniel It is very much appreciated, and its popularity has not waned over the decades. Like this, el número de nuevas inscripciones anuales en la Société Centrale Canine (SCC) has never been below 4.000 since the middle of the years 70, y la mayoría de las veces incluso supera las 5.000. However, there has been a certain decline over the years 2010, en los que el número de nuevas inscripciones ha bajado de casi 5.500 a year at about 4.500.
The Brittany Spaniel es el único "French Spaniel" que también es muy popular fuera de su país. Official recognition of the breed by the Fédération Cynologique Internationale (FCI) in 1954 obviously contributed to it.
He did not wait for the FCI to gain a foothold in the United States, where their first representatives arrived in 1931. Crossbreeding with other type dogs "Setter" made the breed gain in size and muscle, desviándose así del modelo original. In fact, ahora existe una clara distinción física entre los tipos americano y francés, más allá de la posible presencia de manchas negras en este último.
The Brittany Spaniel was recognized already in 1934 by the AKC under the name of Brittany Spaniel, luego este último fue acortado en 1982 in favor of the simple denomination Brittany. In fact, both in Europe and America, este perro tiene probablemente más en común con los "Pointers" what with the "Spaniels". Es la misma elección que hizo la otra organización de referencia del país, the UKC, when he also accepted the breed in 1948, again with the simple name of Breton. El UKC tiene la particularidad de ser la única organización que reconoce los dos tipos de Brittany Spaniel like two different races. In fact, seeing how "Brittany" americanano había acabado divergiendo de su ancestro francés, decided on 2002 also recognize the "french guy" as a race in its own right, con el nombre que lleva en su país de origen.
However, This quick recognition should not obscure the fact that the lack of a tail was initially a major disruption to American hunters., so the Brittany Spaniel tardó en hacerse un hueco en el país. However, the general qualities of the breed eventually overcame this reluctance and the breed became very popular. Although it was also used as a hunting dog, sus cualidades como perro de compañía, starting with his medium size and good character, also contributed greatly to its success. Esto último es real, since it occupies around the post 25 (of something less than 200) en el ranking de razas establecido por el AKC en función del número de nacimientos anuales registrados en la organización. This is even an improvement over the first decade of the 21st century., when he was around the post 30.
Also in North America, the Canadian CKC also recognizes the breed, y es bastante apreciada en el país.
Closer to France, Great Britain contributed to the genesis of the breed thanks to "Welsh Springer Spaniel" and to the English Setter, and adopted her in turn, siendo sus representantes utilizados tanto para la caza y los espectáculos como para la compañía. However, its inhabitants seem to have subsequently moved away from it. Like this, was not up 1975 when the Kennel Club, la organización canina de referencia del país, recognized the Brittany Spaniel. En cuanto al número de sujetos inscritos cada año, we cannot say that it reflects a great fondness for this dog, since it is below a hundred. This figure is even on the decline, since in the first semester of 2010 it was rather between 100 and 150.
However, otros países europeos le han dado una acogida mucho mejor. This is the case, in particular, of Italy, where hunting is very popular and widely practiced. This is, without a doubt, one of the reasons why, at the beginning of 2010, ocupaba el 5º puesto en la clasificación de los perros más representados del país, en función del número de inscripciones anuales en el Ente Nazionale Cinofilia Italiana (ENCI). However, since then the number has dropped steadily; ahora se sitúa más o menos en torno a los 3.000, which is still considerable.
Worldwide, a classification established in 2013 y basada en la suma de las estadísticas de registro anual de 25 organizaciones nacionales entre el centenar de miembros de la FCI sitúa al Brittany Spaniel in the post 30, which confirms to what extent it has been able to gain a foothold around the world.
The Brittany Spaniel is within the "Pointing Dogs" smallest in the world, pero es más largo que la mayoría de los perros "Spaniel type". They are of the braccoid type, muscular and agile, quite high-legged and with a compact silhouette. They are distinguished from dogs of type "Pointer" by his head, típica del "Spaniel", and the frequent absence of tail.
Recto y rígido, his back is generally as long as his height at the withers. The chest generally descends to the tips of the elbows, while the shoulders are long and very mobile.
Due to a genetic mutation introduced in the 19th century, the tail of Brittany Spaniel is absent or very short. When it is present, se sitúa en la parte alta de la grupa y suele medir entre 3 and 6 cm., but the breed standard accepts up to 10 cm.. Hubo un tiempo en el que el uso de la amputación de la cola era común para los perros con una cola demasiado larga para el gusto de su dueño. However, esta práctica está prohibida hoy en día en un gran número de países, like belgium, France, Switzerland and Quebec.
As for the legs, they are long and strong, and have flexible joints that allow them to run lightly without much effort. The feet are usually larger on the hind legs than on the front legs.. In all cases, they are well rounded, compact and have tight toes.
The head of the Brittany Spaniel rests on a moderately long neck, fine and strong. Whether viewed from the side or from the front, the skull is somewhat rounded. The stop is quite well defined. What's more, this dog is slightly brachycephalic, which means that its muzzle is shorter than its skull. It ends in a nose with wide nostrils whose color corresponds to that of the fur, y domina las mandíbulas de mordida de tijera.
Located on the top of the head and provided with semi-long hairs, sometimes wavy at the top, the ears are wide, short, triangulares y caídas. They are extremely mobile when you are on the lookout for something.
The eyes are slightly oblique and their color usually corresponds to the predominant color of the coat. His intelligent gaze shows the great alertness of this dog.
If there is no undercoat, the mantle of Brittany Spaniel consists simply of a thin layer of medium length hair, which is not very thick and can be smooth or slightly wavy. El color más común es el leonado sobre blanco, but there are also brown and white dogs, fire and tricolor (black, Orange and white, or brown, Orange and white). Confidentially, esta última ha ganado en popularidad en los últimos tiempos. As for the black and white fur, there is debate: accepted by some organizations, as the Fédération Cynologique Internationale (FCI), but others reject it, as the American Kennel Club (AKC) or the Canadian Kennel Club (CCC). In any case, regardless of its color, some individuals have spots on the snout, the lips, around the eyes, on the legs or even on the chest.
Last, It should be noted that there are two very different types: the Brittany Spaniel French type and the Brittany Spaniel american type. They differ mainly by their size: the second (the most represented in the United States and Canada) it is bigger and more massive than the first (majority in Europe). As to the nature, tends to be more active and awake. These differences are explained by the fact that the first representatives of the breed imported to the United States in the decade of 1930 they quickly interbred with type dogs "Setter".
Whatever the type, there is only a very slight sexual dimorphism between males and females, although the former may be a bit larger and heavier. What's more, regardless of gender, representatives of the breed reach their adult size between 14 and 16 months of age.
Height and weight
▷ Male size: Of 49 a 50 cm.
▷ female size: Of 48 a 49 cm.
▷ Male weight: Of 14 a 16 kg
▷ female weight: Of 13 a 16 kg
Varieties:
Aunque no sean estrictamente variedades, there are two types of Brittany Spaniel: the original French type and the American type, that appeared after the breed's arrival in the United States in the years 30 and their crossing with local Setters. This resulted in a larger dog, stronger and faster with a livelier temper.
Smaller and more compact, the Brittany Spaniel French type is easier to train and handle during hunting parties.
These two types can also be differentiated by their fur. The Brittany Spaniel American type has no black spots, unlike his cousin. What's more, they tend to have shorter hairs.
El United Kennel Club (UKC) estadounidense es la única organización que reconoce estos dos tipos como razas distintas. In 1948, the Brittany Spaniel was recognized as Brittany. Llegado al país menos de 20 years before, este perro seguía siendo en líneas generales idéntico al encontrado en Francia. However, as the gap widened over the decades, the race finally decided that the "Brittany" It corresponds to Brittany Spaniel american type, and in 2002 decided to also recognize his ancestor, the french type, under the name of Brittany Spaniel.
The Brittany Spaniel it is one of the most popular dog breeds in France, and even to a certain extent the world. In effect, is sociable, Intelligent, attentive and cheerful. With the, it seems impossible to get bored and in a bad mood, ¡tan contagiosa es su alegría de vivir!
Having said that, as it happens with many races, el temperamento de este perro puede variar según el sexo. For an individual destined for hunting, a sterile male is often preferred, as it is considered calmer and more gentle than an uncastrated female or male.
In any case, es una alegría para toda la familia, 'y se lleva especialmente bien con los niños. He loves to play actively with them and can be quite protective if he perceives a threat to them. However, su energía y entusiasmo ilimitados pueden llevarle a empujar o incluso a derribar involuntariamente a un niño pequeño. In any case, as with any dog, should never be left alone with a very young child without adult supervision, and those whose age allows it must learn to behave with respect towards him.
Loyal to his family and little tolerant of loneliness, this dog requires a lot of presence and affection to feel good: if he is left alone too long or does not receive enough attention from his masters, can quickly develop destructive behavior or bark excessively. Su necesidad de atención e interacción también significa que no es adecuado para un hogar en el que los miembros estén a menudo ausentes durante largos períodos de tiempo.
Sharing your home with another little companion is an interesting option to help you pass the time when your caregivers are away. In fact, the Brittany Spaniel not only appreciates humans: he is also very sociable with his peers, tanto si se cruzan durante los paseos como con los que tendría que convivir a diario. También agradece no ser el único perro de la familia. You can also plan a coexistence with a cat, as soon as I am in contact with him from a very young age. On the other hand, when he meets an unknown feline, you probably want to go after him. Good socialization is not enough for you to live under the same roof as a small prey-like animal, like a rodent or a bird. In fact, hunting instinct is in his genes and he is likely to regain the upper hand at any moment, ending this coexistence prematurely.
Their propensity to hunt small animals that pass by, así como su permanente deseo de correr, implica también que si vive en una casa con jardín, this must be well fenced, at the risk of sometimes going too far. A property with a large fenced area is the ideal environment for him, but it is quite adaptable. Therefore, siempre que se satisfaga su necesidad de ejercicio cada día con la ayuda de largos paseos y otras actividades, you can even live in an apartment and in an urban environment.
However, keep in mind that they can be sensitive to noise. Therefore, can get stressed out when your home is particularly noisy, for example, by very noisy children. The same type of problem can arise if you live in the city or move regularly (for example, when walking) in a very crowded environment, especially if you haven't gotten used to it from a very young. On the other hand, used since its inception for hunting, he is indifferent to the noise of rifle shots.
Aunque vivan en el tranquilo campo y tengan acceso a un jardín muy grande en todo momento, this is not enough for this particularly active and hardy dog ​​to be comfortable with his head and paws. Para poder gastar su gran energía, needs at least an hour or two of daily activity. It's not about being much less active during the week and trying to make up for it on the weekend.: si este perro no gasta suficiente energía cada día, can quickly develop behavior disorders, such as excessive nervousness or hyperactivity.
Given your level of activity, it is easy to understand that the Brittany Spaniel it is not at all adapted to elderly or very homey people. On the other hand, he is the best friend of an active master who likes to run, hiking or taking long bike rides and dreams of taking his animal with him. Knowing that he also likes to swim, do not hesitate to take him swimming in a lake from time to time, or in planning a swim break when there is a water point along the way during any activity. It can also be very good at practicing canine sports such as cani-cross or cani-VTT. In fact, usually always willing to do any activity that involves exercise, especially if it is fun or is accompanied by other dogs.
During the walks, It is important to bear in mind that at any time you can run after a bird or any other animal that is in your way, or you can be tempted by a smell that will not leave you indifferent. Your determination and stamina can go a long way, even to get lost. To avoid this, the most effective solution is, of course, always carry him on a leash, but this is by no means ideal for your well-being, as he urgently needs to vent. Therefore, it is better to put the emphasis on learning to withdraw, teniendo en cuenta que es imposible confiar completamente en un perro así: Investing in a connected dog collar is a good way to prevent walks from being a source of anxiety, since then it is possible to know where it is at all times.
However, no basta con darle ejercicio físico para mantenerlo equilibrado: you also have to keep him mentally busy. Therefore, the ideal is to keep him mentally occupied with activities that appeal to his intelligence, like certain canine disciplines (obedience, agility or flyball, for example), o solving puzzles and other problems. As a working dog, he likes his owner to assign him tasks, and usually takes them very seriously.
Esto es tanto más cierto cuanto que su cercanía a su cuidador, her desire to please him and her intelligence make the Brittany Spaniel an easy to train dog that learns very quickly. They are especially attentive to the orders of their owner, attentive to every facial expression and ready to react and respond to any request.
Unlike other races, the Brittany Spaniel no son particularmente destructivos o difíciles durante su adolescencia, which starts around 6 meses y continúa hasta los 18 months of age. Even if you start to adopt undesirable behavior, his great desire to please makes him very easy to correct.
Last, because of his personality, not very assertive by nature, not a good watchdog, although it can be protective in especially threatening situations. He does not hesitate to bark to warn of the arrival of a stranger, but it is not usually the kind that does much more to deter the intruder. They can also be especially loud barking at the top of their lungs when they are home alone.. He has a groan that is his own and that he can also show when he is in this situation, or when scared or intrigued.
The education of Brittany Spaniel it's pretty easy, because it is an obedient dog that likes above all to please its master. Thus, not the type to use his intelligence to try to exploit loopholes and challenge his master's dominance, but it allows you to learn very quickly. This makes it a recommended dog breed for a beginner..
With the, sweetness is the key word. In fact, is sensible, does not support violence and is not at all receptive to education based on punishment or negative reinforcement. If these methods are used, is likely to show signs of anxiety and stress at work. Positive reinforcement, that is to say, a work method based on the assessment of good behavior through rewards (petting, stimuli, candies…) is much more effective and allows you to feel real pleasure from your work.
Hunting individuals can quickly learn their future role. In effect, the Brittany Spaniel has a great hunting instinct, to the point that it is not uncommon to see a cub that begins hunting from the 3 months of age. It is possible to take your dog hunting from the 5 months of age. Obviously, it is not at that moment when he catches his first woodcock, but it allows you to become familiar with the environment and hunting. It is important, However, stick to short games and be fairly sure to watch the game, so as not to demotivate him. What's more, al estar todavía en crecimiento y ser frágil, avoid trying too hard. Only when it reaches its adult size, between 14 and 16 months, you can fully participate in this activity.
Although not intended for hunting, any activity that reinforces their persecution instinct should be prohibited in their education. Obviously, this should not detract from your need to be active and exercise properly. The learning and regular practice of a dog sport, like agility, obedience or flyball, for example, is a good alternative, although it can also be practiced perfectly by an individual employed as a hunter.
Enseñar a su perro a recordar también es útil para evitar que dé rienda suelta a sus instintos depredadores en circunstancias inapropiadas. However, dado que incluso los perros bien adiestrados son difíciles de confiar por completo, the leash is more or less often essential for your safety and that of the animals and people around you. Therefore, learning to walk on a leash is another important aspect of your education.
Last, like any dog, the Brittany Spaniel should benefit from great socialization from a young age, especialmente porque puede tender a ser desconfiado y tímido con los extraños, or being especially stressed when in a noisy environment. Getting used from a young age to meet all kinds of people and fellow humans, pero también a vivir en diferentes lugares y a enfrentarse a una gran variedad de situaciones y estímulos (noises, smells, etc.), we give you all the possibilities to make you feel good in your head, calm down and easily find your place with humans.
The Brittany Spaniel was developed to be a versatile hunter. Notable en la búsqueda, the signaling and collection (both in water and on land), is specialized in hunting birds (especially the woodcock and the duck), actúa en solitario y no en jauría y sigue siendo, aún hoy, the hunting dog breed preferred by many hunters.
From the beginning of its history, has also found its place in the homes of its owners, gracias a su personalidad amistosa y su cercanía natural al hombre.
Today, sigue siendo apreciado como perro de compañía y es una excelente opción para cualquier persona activa y disponible, hunter or not, wanting nothing better than hiking with your dog or taking it with you when you go for a run or ride a bike.
Su energía, his resistance and his desire to please also make him a perfect student for many canine disciplines such as agility, the flyball, obedience, the cani-cross or the mountain bike.
Due to her very moderate hair loss throughout the year, its lack of undercoat and its little tendency to tangle, the fur of the Brittany Spaniel requires little maintenance: a weekly brushing is enough. Your seasonal shed, in spring and autumn, it is not very pronounced, but still requires more regular brushing, on the order of 2 or 3 times per week.
También es posible llevar al perro a la peluquería para que le corte los pelos medianos de las patas (o hacerlo tú mismo), to avoid knots, since this part of the body is especially prone to them. However, this is not essential: depends on the preferences of each caregiver.
How their coat is generally kept clean, it is not necessary to bathe the dog more than 2 or 3 times a year. In any case, unless it got especially dirty, avoid bathing him too close, ya que podría dañar seriamente la piel o el pelaje. In any case, es importante utilizar siempre un champú especialmente diseñado para perros, since the pH of human skin and that of your best friend are different.
La forma caída de las orejas del Brittany Spaniel implies an increased risk of infections at this level (otitis, etc.), as it facilitates the accumulation of dirt and moisture. Therefore, it is essential to examine and clean them weekly, así como secarlos después de cada momento prolongado en un lugar húmedo, and of course every time you swim.
The weekly maintenance session is also an opportunity to check the condition of your partner's eyes and clean the contours. This also greatly reduces the risk of infection. This is all the more important since the Brittany Spaniel es bastante sensible de los ojos y puede presentar un cierto número de enfermedades oculares: the sooner they are detected, best.
Caring for a Brittany Spaniel it also involves taking care of your teeth, always using a toothpaste specially designed for dogs. This helps limit the build-up of dental plaque., which can lead to tartar formation, which can be the cause of many problems, some of which are potentially serious. The ideal is daily brushing and, in any case, it is better to avoid brushing less than once a week.
Last, the activity level of this hyperactive dog causes claw wear to occur normally naturally. Therefore, they rarely need to be cut, unless, for example, your mobility is limited by a health problem. If you hear them rubbing when you walk on the hard ground, it's time to take care of them. Otherwise, podrían obstaculizar sus movimientos o incluso romperse y lesionarse.
Como con cualquier raza, the steps to take care of a Brittany Spaniel (either its fur, his eyes, his ears, their teeth or claws) should not be taken at random. In fact, beyond the risk of being ineffective, podrían herirlo o incluso lesionarlo. Therefore, it is wise to see a vet or professional groomer the first time, to learn from him the best way to proceed. The sooner the animal gets used to these different manipulations, it will be easier for you to let them do it throughout your life. The sessions can then be beautiful moments of sweetness and complicity, instead of being tests feared by the two protagonists.
Another habit to take - and that also leads to manipulation- is to systematically examine your body when you return from every long moment you spend outdoors, in particular its fur, its feet and its pads. This ensures that you have not been injured, nor has he caught spikes or parasites.
In general, the Brittany Spaniel enjoys robust health, lo que queda ilustrado por el hecho de que un buen número de representantes de la raza están celebrando su 15º cumpleaños.
What's more, sus orígenes bretones hacen que el mal tiempo no le impresione ni le impida realizar sus actividades al aire libre. It is also capable of adapting to many weather conditions, even at extreme temperatures.
However, like all dogs, have a predisposition to develop certain diseases, many of which are hereditary:
Hip Dysplasia, a potentially inherited joint malformation that mostly affects medium and large dogs. Causes pain and lameness to a greater or lesser extent,

así como artrosis a partir de cierta edad

;
Cleft palate, a congenital and often inherited malformation responsible for poor communication between the puppy's mouth and nose. Then you may suffer from feeding difficulties, swallowing problems, choking or coughing.

La dificultad para alimentarse puede provocar un retraso en el crecimiento y es necesario intervenir quirúrgicamente para corregir el problema

;
Spinal muscular atrophy,

un síndrome a veces hereditario que provoca una disminución de la masa muscular

. This can cause, among other things, difficulty moving, breathing problems or trouble eating properly. It is a progressive and often fatal disease for which there is no treatment;
La abiotrofia cerebelosa, a disease that causes tremors and a significant loss of coordination, that affects young men more.

Estos síntomas se presentan inicialmente sólo cuando el animal está en movimiento

, and then they get worse over time, more or less quickly, until they appear when idle. There is no treatment for this rare disease, but it is not painful for the animal;

La epilepsia

, a sometimes inherited disease causing more or less severe and often impressive seizures. Various treatments allow limiting or even eliminating them, so that, usually, those affected continue to lead an almost normal life;
Hypothyroidism, an endocrine disruption that corresponds to a defect in the regulation of thyroid hormones.

Puede presentar todo tipo de síntomas

: weight gain,

disminución del ritmo cardíaco

, dry skin,

caída del cabello

,

aumento de la sensibilidad al frío..

;
Hemophilia, an incurable inherited disease that causes a deficiency in coagulation and, Therefore, excessive bleeding. They can appear mostly under the skin, during tooth growth, in urine and feces, during vaccination or when the animal is injured. They can also be internal and invisible, and often lead to death;
Lupus erythematosus, a skin disease resulting from a deficiency of the immune system, what causes, among other things, depigmentation of certain parts of the body (nose first, then the ears and legs),

erosiones y úlceras

;
external otitis,

debido a la forma caída de sus orejas

.
The Brittany Spaniel it is also predisposed to certain eye diseases:
Dislocation of the lens, causing instability and abnormal movement of the lens in the eye. In this breed, most often it is the result of hereditary transmission. Very painful, can lead to total loss of sight if not treated with surgery;
The waterfall, a potentially inherited eye disease that usually develops in old age. Cataracts cause a cloudy lens that gradually reduces the dog's vision until total blindness occurs.

Puede tratarse mediante cirugía

;
Glaucoma, an often inherited disease that can cause sudden loss of vision. It is the result of an abnormal increase in pressure in the dog's eye and must be treated quickly, otherwise its consequences are irreversible.
What's more, specimens used for hunting are at increased risk of injury, parasites and spikes.
Last, despite its high level of activity, the Brittany Spaniel does not get rid of obesity, that can cause or accentuate many health problems. También constituye un círculo vicioso, since an overweight individual tends to be less active.
However, la larga lista de enfermedades a las que está predispuesta la raza no debe ocultar el hecho de que la mayoría de sus representantes pasan la mayor parte de su vida en perfecto estado de salud. Así lo confirma un estudio realizado en 2004 by the British Kennel Club and the British Small Animal Veterinary Association, which established that the leading cause of death in this breed is simply advanced age.
On the other hand, this list leads to many inherited conditions, or that are likely to be hereditary. This underlines how important it is to go to a serious and competent Brittany Spaniel breeder who rigorously selects his breeders.. Si no es capaz de presentar los resultados de las pruebas genéticas realizadas a los padres o a la cría para evitar cualquier transmisión de dicha enfermedad, it is better to go your way and go to another breeder; no lack of options. In addition to these documents, any serious professional should be able to provide a certificate from a veterinarian proving that the puppy is in good health, así como su cartilla sanitaria o de vacunación, confirm that you have received all necessary vaccinations.
Adopting a healthy animal is one thing, pero su utilidad es limitada si no te aseguras de que siga así. Therefore, it is essential to note that, until the age of 14 a 16 months, a puppy of Brittany Spaniel está todavía en su fase de crecimiento, and therefore is particularly fragile. A lo largo de este período, it is important to only very gradually increase the duration and intensity of your activities, at the risk of impairing the proper development of your bones and joints, o incluso de provocar lesiones y/o malformaciones que podría sufrir a lo largo de su vida. This is all the more important since you are predisposed to hip dysplasia.
Last, one of the best ways to keep your dog healthy is to take him to the vet at least once a year for a thorough check-up to detect any possible problems, which may not be visible to the inexperienced eye. It is also a great opportunity to take stock of vaccinations and any necessary withdrawals.. What's more, antiparasitic treatments also help protect your pet against a number of diseases: it is up to the owner to renew them throughout the year, whenever necessary.
Life expectancy
Of 12 a 15 years
In Switzerland, la menor popularidad de la raza hace que el número de criadores de Brittany Spaniel be quite limited. A solution to have many more options is to buy directly in France.
in Canada, el número de criadores apenas supera la decena, y también aquí los precios son muy dispares, generally ranging between 750 and 1500 canadian dollars. Of course, It is also possible to go to the United States, where you have to have some 800 US dollars for a good quality puppy.
In the case of a purchase abroad, keep in mind that transportation and administrative costs are added to the price of the puppy and, of course, make sure you respect the regulations regarding the importation of a dog.
Characteristics "Brittany Spaniel"
Coexistence is important that you have with your new friend. Before considering the acquisition of a dog of the breed "Brittany Spaniel" you know certain factors. Not all breeds of dogs are apt to live in an apartment, you must take into account his character, their need for exercise, their interaction with other pets, their care and if you have small children, their level of tolerance towards them.
Adaptation ⓘ

3 out of 5 stars (based on 1 review)

friendly dog ​​ⓘ

4 out of 5 stars (based on 1 review)

hair loss ⓘ

3 out of 5 stars (based on 1 review)

Affection level ⓘ

5 out of 5 stars (based on 1 review)

Need for exercise ⓘ

5 out of 5 stars (based on 1 review)

Social need ⓘ

4 out of 5 stars (based on 1 review)

Home ⓘ

4 out of 5 stars (based on 1 review)

Toilet ⓘ

2 out of 5 stars (based on 1 review)

Friendly with strangers ⓘ

3 out of 5 stars (based on 1 review)

barking ⓘ

3 out of 5 stars (based on 1 review)

Health ⓘ

3 out of 5 stars (based on 1 review)

Territorial ⓘ

2 out of 5 stars (based on 1 review)

Cat friendly ⓘ

2 out of 5 stars (based on 1 review)

Intelligence ⓘ

4 out of 5 stars (based on 1 review)

Versatility ⓘ

4 out of 5 stars (based on 1 review)

Child friendly ⓘ

5 out of 5 stars (based on 1 review)

Surveillance ⓘ

2 out of 5 stars (based on 1 review)

joy ⓘ

5 out of 5 stars (based on 1 review)
Images "Brittany Spaniel"
Photos:
1 – An eleven-month-old male Brittany Spaniel dog, named "Kinwashkly That's Mr. Jagger To You" (nickname "Mick"). by Pharaoh Hound, CC BY-SA 3.0, via Wikimedia Commons
2 – We had front row seats the second night of Westminster at Madison Square Garden in NYC. 2/2009 by Kjunstorm, CC BY 2.0, via Wikimedia Commons
3 – A liver and white Brittany Spaniel. by John Blyberg, CC BY 2.0, via Wikimedia Commons
4 – Brittany Spaniel Dog. Hank watches other dogs misbehaving at the dog beach by Uber Phot, CC BY-SA 2.0, via Wikimedia Commons
5 – "Brittany Spaniel" by https://commons.wikimedia.org/wiki/File:Epagneul_Breton.jpg
6 – "Brittany Spaniel" by https://pixabay.com/photos/brittany-brittany-spaniel-dog-3410384/
Videos "Brittany Spaniel"
FCI CLASSIFICATION: 95
Group 7: Pointing Dogs
Section 1: Continental Pointing Dogs. 1.2 Spaniel type. With proof of work..
Federations:
– FCI – Group 7: Pointing Dogs. – Section 1: Continental Pointing Dogs. 1.2: Spaniel type

ⓘ

– AKC –

Deportivo

ⓘ

– ANKC –

Group 3

ⓘ

– CKC –

Perros Deportivos

ⓘ

– ​KC – Gundog

ⓘ

– NZKC –

Gundog

ⓘ

– UKC –

Gun Dog

ⓘ
FCI breed standard "Brittany Spaniel"
FCI -

Brittany Spaniel
1.

Brittany Spaniel, Brittany Wiegref, Epagneul Breton, French Brittany

(English).
2.

Épagneul breton

(French).
3.

Brittany, Bretonischer Vorstehhund

(German).
4.

Brittany, (em francês: Épagneul breton)

(Portuguese).
5.

American Brittany Spaniel, Bretón Americano, Pointer Bretón, Spaniel bretón, Bretón Español

(español).