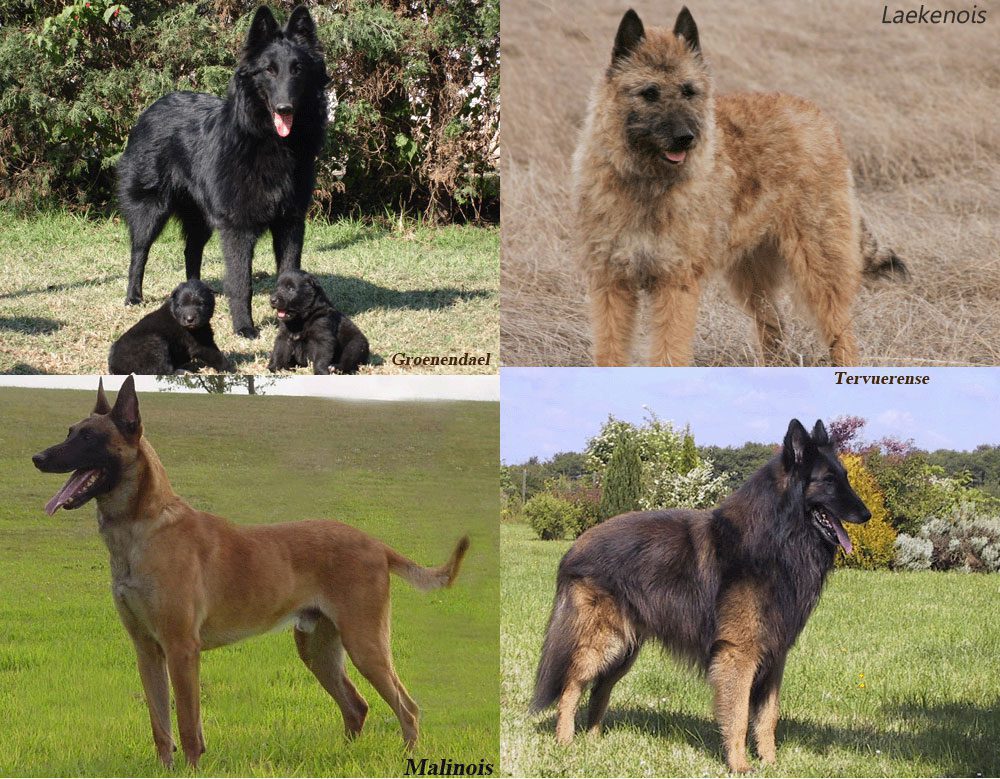 The Belgian Shepherd Dog is the name of four breeds or varieties of dogs, depending on the Cynological Association we consult. The four breeds or varieties are: Groenendael, Laekenois, Tervueren and Malinois.
At the end of the 19th century, existía en Bélgica un gran número de perros conductores de rebaños cuyo tipo era heterogéneo y sus pelajes eran de una gran diversidad. In order to put order into this situation, some cinófilos (cinógrafos) apasionados constituyeron un grupo que tuvo como guía al profesor A. Reul, the school of veterinary medicine of Cureghem, who can be considered as a true pioneer and founder of the race.
The Belgian Shepherd was officially born as a race between 1891 and 1897. The 29 in September of 1891, founded in Brussels the "The Belgian Shepherd Dog Club" and that same year, the 15 November, Professor A.. Reul manages to gather in Cureghem, 117 dogs, allowing you to carry out a census and form a group with the best copies. In the following years becomes a real selection, making an extreme inbreeding on some stallions.
The 3 in April of 1892, the "Belgian Shepherd Dog Club" She wrote a first well detailed standard of the breed. Was admitted a single race, with three varieties of hair. In any case, at that time, el Pastor Belga era sólo un perro de gente humilde y por lo tanto una raza que carecía aún de prestigio. Por consiguiente, is not until 1901 que los primeros Pastor Belga fueron registrados en el Libro de los Orígenes de la Société Róyale Saint Hubert (L.O.S.H.).
In the course of the next few years, the leaders cinófilos fans to the Belgian Shepherd pursued tenaciously to unify the type and correct defects. We can affirm that towards the 1910 the type and character of the Belgian Shepherd were already established.
Throughout the history of the Belgian Shepherd, the issue of the different varieties and accepted colors has given rise to many controversies. On the other hand, en lo que concierne a la morfología, the character and fitness to work, There has never been any disagreement.
Según el esquema de clasificación de la Federation Cynologique Internationale, It's four different from same breed varieties. Other organizations such as the American Kennel Club recognize only under the name of Belgian Shepherd Groenendael. Las organizaciones cinológicas de Australia y Nueva Zelanda los clasifican como cuatro razas distintas.
However, en muchos países como Canadá, Great Britain, Puerto Rico, Mexico and South Africa, among others, using the classification of the CRF, recognizing them as four varieties of the same species.
From the middle ages are known, sólo que en esos tiempos existían diferentes variedades clasificadas únicamente por su función y no tanto por su morfología puesto que el interés de su crianza se cimentó en la búsqueda de una raza eficiente para el pastoreo.
Según la FCI se encuentran clasificados en el Grupo 1 Sheepdogs and Cattle Dogs (except Swiss Cattle Dogs). Section 1 Sheepdogs. With working trial. Use: Grazing, compañía y guardia.
The desirable average size of a Belgian Shepherd is of 62 cm in males and 55 cm in females. Tolerance is of 2 cm less and 4 cm. more. The weight of 25 a 30 kg, in males and in females approximately 20 a 25 kg.
All are smart dogs, workers and approximately the same size and temperament, Although they differ superficially in their appearance and coat. They are closely related genetically to the point that crosses two dogs of the same "type" It is possible that being born puppies of different "variety".
The Belgian Shepherd life expectancy (in any of its 4 variants) in 2004 in United Kingdom was around of 14 years. What is high for this size breeds especially if you consider used them, and highlights the utility and work. Of 113 United Kingdom copies, the main cause of death was cancer (23%), age (23%) and failure of internal organs (heart, kidneys, liver) (13%).
The Belgian shepherds suffer from common diseases of dogs in relation to reproductive issues, Musculoskeletal and skin issues.
Se los utiliza todavía como pastores, y su facilidad para el aprendizaje los transformó en auxiliares de la policía, competing as equals with their German relatives.
With regard to their nature, the Belgian shepherd dog is a vigilant and active, a great vitality, She loves children. Her innate aptitude of flock guardian joined the unique qualities of the best guard dog of the property.
It is a dog that stands out in the defence of his master and property, This is necessary to provide you with plenty of exercise. It is good to train since childhood but without ill-treatment, that they can give as a result, a nervous and little obedient animal. They are very watchful and protective to children.
Since the length, the address, the appearance and the colour of the hair are varied in the Belgian Shepherd, This point as the criterion has been adopted to distinguish the four varieties of the breed: Groenendael, Tervueren, Malinois and Laekenois. These four varieties are judged separately.
It is a rustic dog, supports both high and low temperatures. La República Argentina tiene lugares de temperaturas extremas y existen ejemplares en todo el país. In some cases must be checked for hip dysplasia.
Images of the Belgian Shepherd
FCI CLASSIFICATION: 15
Group 1: Sheepdogs and Cattle Dogs (except Swiss Cattle Dogs)
Section 1: Sheepdogs. With proof of work..
Federations:
– FCI – Group 1 Herding dogs, Section 1 Sheepdogs

ⓘ

– AKC –

Herding

ⓘ

– ANKC –

Group 5 (Working Dogs)

ⓘ

– CKC –

Group 7 – Herding

ⓘ

– ​KC – Pastoral

ⓘ

– NZKC –

Working

ⓘ

– UKC –

Herding Dog

ⓘ
FCI breed standard "Belgian Shepherd"
FCI -

Belgian Shepherd
1.

Belgian Sheepdog

(English).
2.

Berger belge

(French).
3.

Belsche Schéiferhond, Chien de Berger Belge

(German).
4.

(em francês: chien de berger belge)

(Portuguese).
5.

Ovejero belga, Perro pastor belga

(español).