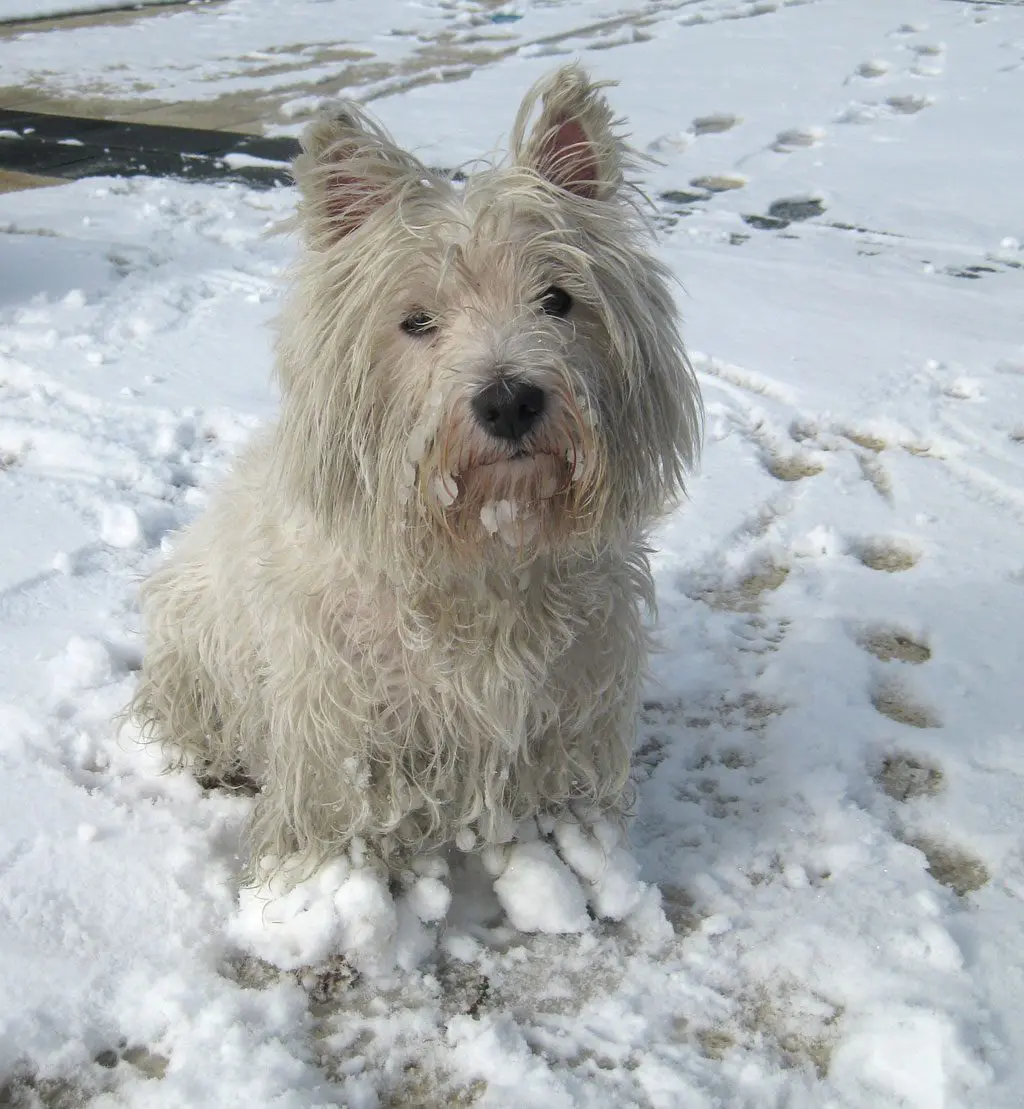 The West Highland White Terrier they are a breed of dog known for its personality and brilliant white color. This race fans often refer to them as simply Lion. Are user-friendly and balanced. As most of the Terrier are energy and courageous by nature.
You don't need to exercise frequently, one of the ideal to live in apartments pets due to their small size and average level of energy.
Its weight is approximately 5 to 11 kg and its average altitude is of 28 cm to the cross. Its tail - typically- in "form of carrot" It must not be cut. The tail is usually measured between 6 and 14 cm.. They have a hard and dense inner layer of hair than, contrasts with an outer layer of coarse hair of approximately 5 cm long. His mantle of hair requires regular care and preparation.
Natural fur is medium long and somewhat messy as the of the Cairn Terrier. Some enthusiasts prefer to have arranged his hair in the face with a kind of Teddy bear cut, and the rest for very long cut-out body hair.
This race, It descends from the Cairn Terrier and some of its features are the tenderness and great affection towards other animals.
However, It is necessary to train him in a regular and consistent. It is usually a dog which is in a position to alert coming out in defence of its territory when it feels threatened, which due to its small size makes it an excellent dog alarm, that ladrará furiously when perceived noise or strange people approaching.
If he doesn't start to teach as he arrives home to respect other pets may be he shows aggressive with them.
Like all dogs, West Highland White Terrier responds enthusiastically to the affection and good forms rather than the cruelty and ill-treatment. Being a Terrier, his obstinacy will be legendary, and it will make the training a test of patience for the owner. It is advisable to begin to train since entering the House (normally being puppy) to adapt and learn how to behave, as his character will test the limits in search of the leader and only used from the beginning to the commands you will learn to live in harmony.
The West Highland White Terrier are prone to eruptions with the skin dry and frequent bathing can aggravate these problems. The bathing them once a month – or a longer interval- does not usually cause problems. It is advisable to use neutral soaps or shampoo to baby and avoid products with aggressive substances, except veterinary prescription.
After bathing they should pay particular attention in dry him very well the ears with a towel. If brushes you daily or regularly, his hair will remain healthy and bright.
It is also advisable to occasionally perform a brushing through the grubbing-up of dead hair (referred to as striping), It is a totally painless method which is performed by a professional expert in canine aesthetics. This type of arrangement will maintain the texture and characteristics of the white robe of the lion. Also, It should be cleaned them ears weekly with a piece of cotton dampened with water to remove wax buildup and avoid possible infections.
We must pay special attention to clean with a damp cloth around the snout hair after eating or having dug a hole. The same, the lagrimales should be cleaned to avoid the accumulation of lagañas, Since a dog be white if not caring - diligently- maintain clean those parties they will wear an unsightly Brown and will make it look dirty or neglected. When they are pets should wash with wet wipes for babies, especially the part of the belly already to be a dog with short legs, It gets wet when they make Pee and end up picking up an ugly yellow color.
West Highland White Terrier Puppies may be illness called "Osteopathy West", known as "Jaw of the lion or Scottie" It consists in the abnormal growth of bone of the jaw. This genetic disease is autosomal recessive in nature, that means that what a puppy the present both parents should have the gene and transmit it to the puppy; Unfortunately the only way to know if some copy playlist contains this gene is born a puppy and has that abnormality. By the same, Perhaps the own breeder won't know that some copy lacks this until that is born the litter.
Is condition usually occurs when the puppy is between 3 and 6 months of age and disappears to the 12 months.
The diagnosis is usually performed after taking x-rays. Treatment of the symptoms is to provide medicines to help the puppy to cope with this period, allowing him to eat and use its snout while it suffers from pain. Corticosteroids are therapeutic agents that are used most frequently. Disease disappears spontaneously when the period of growth ends. Only in very severe cases, It does not respond to treatment, is euthanasia.
The West Highland White Terrier, they come from the Terrier group, and it seems that, the origin of the breed is in the selection of white copies for hunting use, that some hunters felt that it was useful to have dogs in the Pack of white, to differentiate them from their prey of dark colors (rabbits and foxes).
In this way is considered as the main promoter of this race to the Colonel Edward Donald Malcolm, He counted among his greatest hobbies hunting of rabbits, and it originates the West Highland White Terrier breed during the 19th century. Other sources, However, they support the theory that was one of the leaders of the Clan Campbell, the 8th Duke of Argyll, the creator of the breed.
They were known as Poltalloch Terrier and then as Roseneath Terrier. At the end of the 19th century was called white Roseneath Terrier and, At last, West Highland White Terrier, the white variety of the Scottish Terrier.
Dogs breeds: West Highland White Terrier