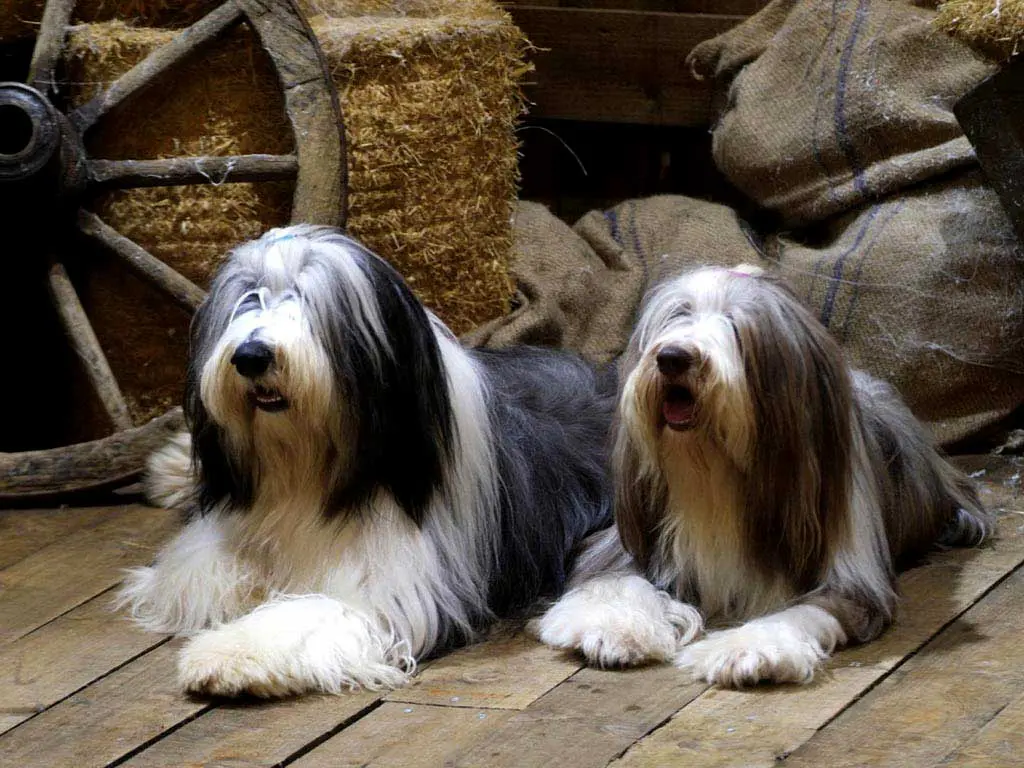 The Bearded collie (Bearded Collie) It is a breed of dog of medium size and long coat, It was originally used in tasks of grazing by Scottish shepherds. He is originally from Scotland, and their closest ancestors are a race of imported Polish shepherds in 1514.
The history of the Collie-as we have said in another post of race– is a mixture of reality and legend. One story recounts that Kazimierz Grabski, a Polish merchant, went to Scotland in 1514 in order to negotiate a shipment of grain for sheep in several pastors, apparently brought six copies of pastoral dogs (Poles) it performed tasks of grazing in his native Poland, and at the destination they would help to move the cattle. A Scottish Shepherd, He was so impressed with the ability of herding dogs of Kazimierz Grabski, which changed several sheep by some of those six dogs. Y, was that, These Polish shepherds dogs were bred with the local dogs from Scotland and from there was born the beautiful Bearded Collie. This is one of the theories.
Another theory, raises that Mrs G. Olive Amestoy founded modern Collie Barbudo race with his Brown dog, Jeannie of Bothkennar. Jeannie, was - allegedly- a dog Pastor of Shetland, at least that race was which had been commissioned, but Mrs Amestoy was a very similar to the current Barbudo Collie accidentally bitch. Despite knowing that it was not the dog that was looking for, She became fascinated with the copy received and its sole objective, Thereafter it was to begin to raise the dogs of your bitch Jeannie, so began searching for a dog suited to the characteristics of your copy.
An afternoon, While walking along the beach, He met a man who had emigrated from Scotland with his grey dog, David, who became in a very short time in "Bailie of Bothkennar", the boyfriend of Jeannie. Then, This story tells that Bailie and Jeannie of Bothkennar are the founders of the modern breed of Collie Barbudo.
But the stories do not there, If we escarbamos a bit we find name that have been very important for the development and prosperity of the race, for example..., Nicolas Broadbridge and Betty Foster…
The race became very popular during the latter half of the 20th century, Thanks to a Collie Barbudo, that turned out to be the best winner in the Crufts event in 1989. The Crufts is an annual International Championship of canine exhibition organised by the Kennel Club of the United Kingdom, currently held every month in March at the National Exhibition Centre (NEC) Birmingham, England. It is the largest annual canine exhibition that exists in the world, as stated by the Guinness World Records Guide (Guinness World Records), the event lasts for four days.
Today it is still a breed in many countries, in United States, for example, Bearded Collie ranks 104 of 155 in the annual ranking of popularity of the American Kennel Club breeds.
Bearded Collie is now mostly a great pet companion of many families, but originally it was used to drive sheep and cattle. It´s, essentially, a working dog, raised to be durable and reliable., able to cope with harsh and difficult conditions, like driving a herd of rebel sheep but successfully.
Collie Barbudo's work has become less common in recent decades and may have become extinct, were it not for the dedication and efforts of some pastors as Tom Muirhead and Peter Wood (and breeders like Brian Plummer), that they have dedicated themselves to keep active the most ancient part of the race. From his dedication of these gentlemen, Collie Barbudo specimens have been exported (Working) Australia and United States, It was where more support found among those who sought an independent and intelligent dog. They founded the "Working Bearded Collie Society's" (Working bearded Collie society).
The "Working Bearded Collie Society's" mission is to preserve the capacities of these dogs work "barbets" as them were their ancestors. "They have a website called"Shepherds with beardies" (Shepherds with Beardies) with much valuable information for lovers of the - now- small population of working bearded Collie.
The registration of dogs Bearded Collie has fallen significantly in Wales, Scotland and other countries due to lack of interest of the community with regard to the rearing of working dogs, lately the premium aesthetics, and breeders tend to develop lines of samples with excessive layers, for example. However, in some countries (as Sweden and United States) have developed programs focused on grazing for the race. Several organizations have also been established in different countries that encourage, actively, breeders to stress other qualities besides appearance.
The bearded Collie, as we said at the beginning, is a medium-sized dog, they have an average weight of 18 to 27 kg. The males measure approximately 53 to 56 cm in height to the cross, While the females are somewhat smaller, measuring of 51 to 53 height cm.
They have a mantle of double layer, the hair is long, smooth (or slightly wavy) and soft to the touch. Several colors are supported, It may be black, blue, Brown or beige with white markings or Tan.
Collie Barbudo is an excellent pet for those willing to adapt to its high level of energy and the care of their long melenas… Weekly brushing is mandatory to keep his long hair healthy and without knots.
Collie Barbudo is an energetic dog, Let us not forget that - originally designed- to work in the Highlands of Scotland raising of ovejas… They need exercise and tasks to do, How to care for children, Yes, will be an excellent Kangaroo!
It is a faithful and family dog. The females., often, they are more expressive and stubborn than males. In training, males are more likely to follow the instructions and the females are more independent.
Bearded collie